Kyoto streets.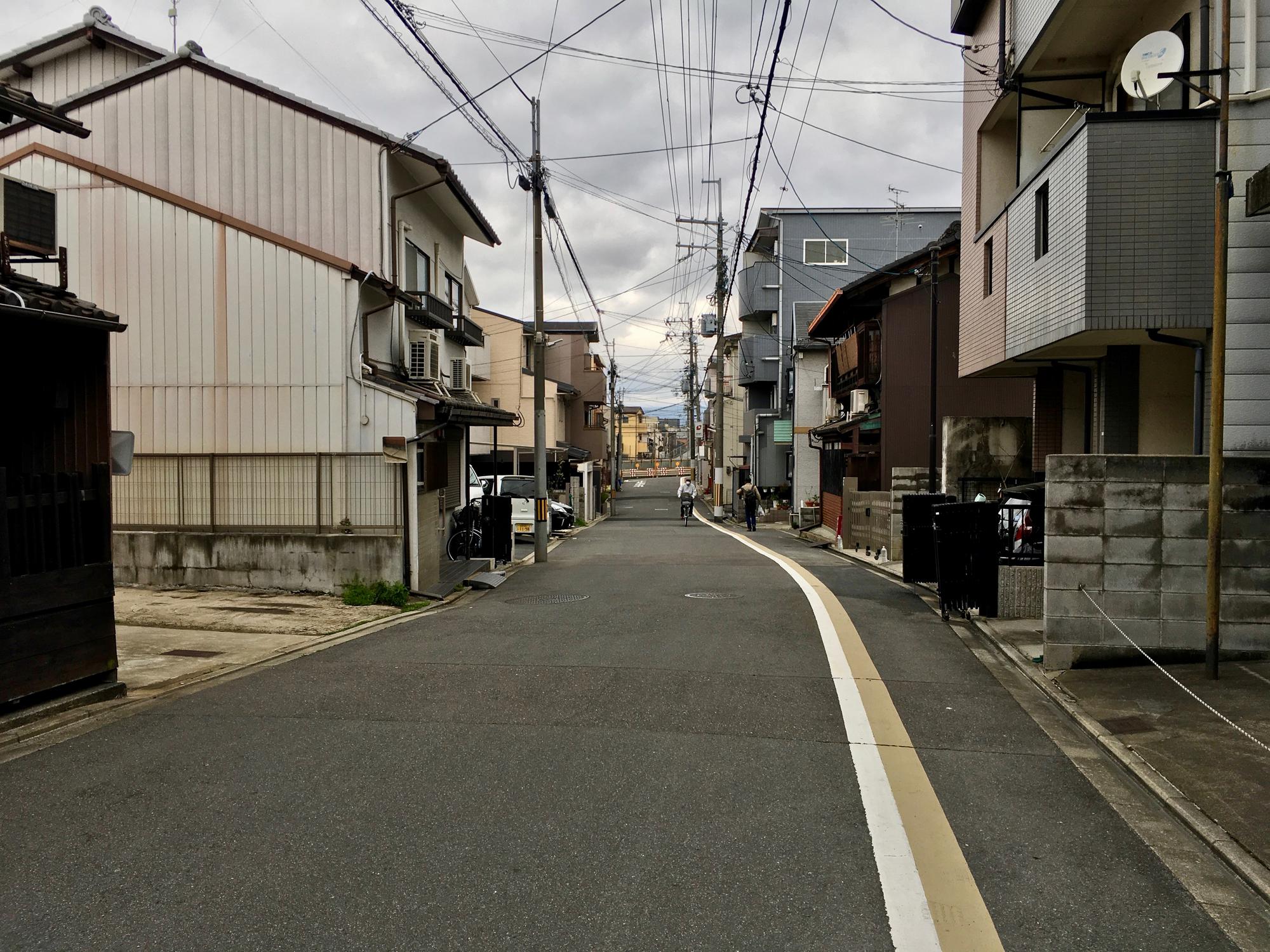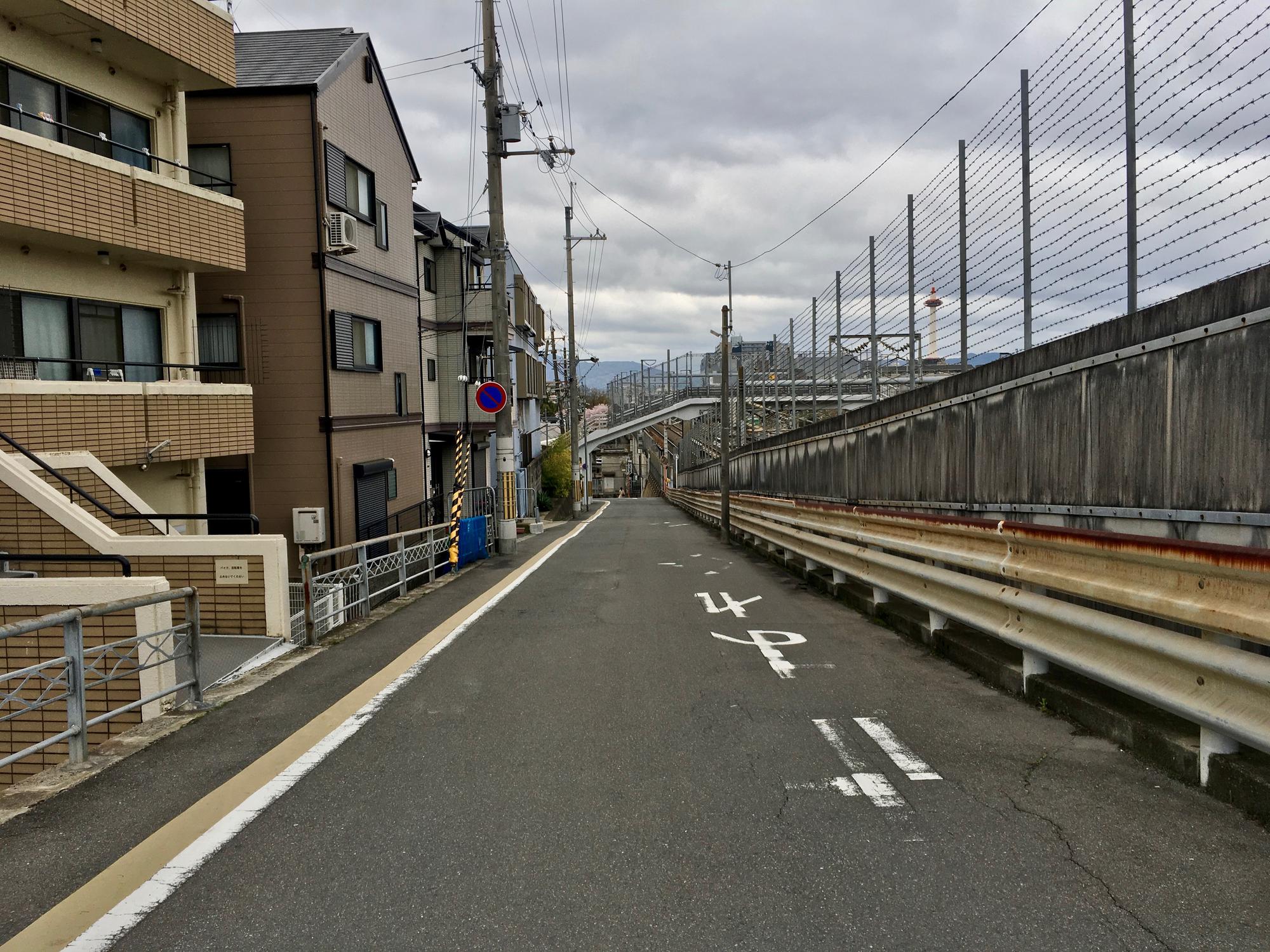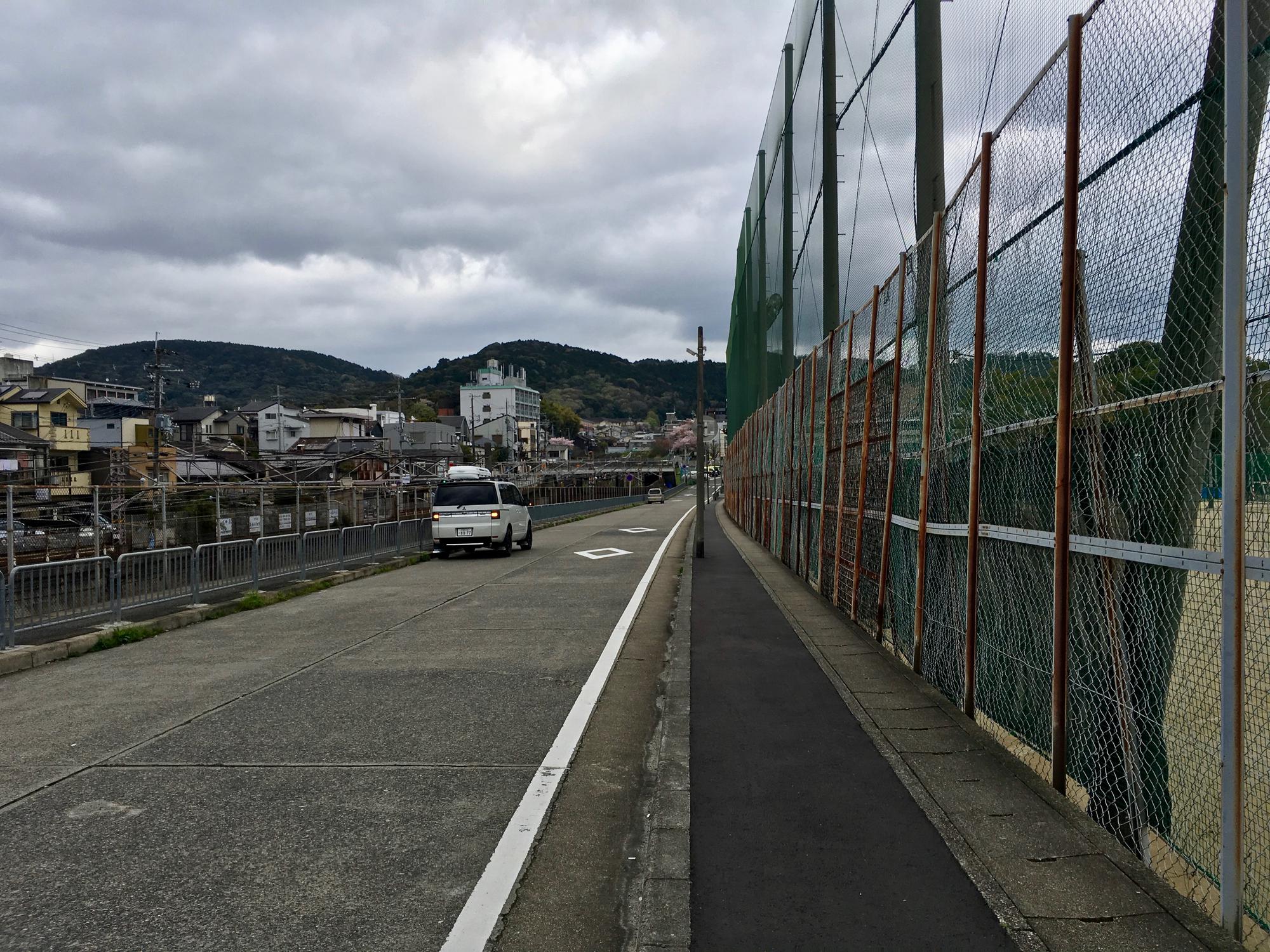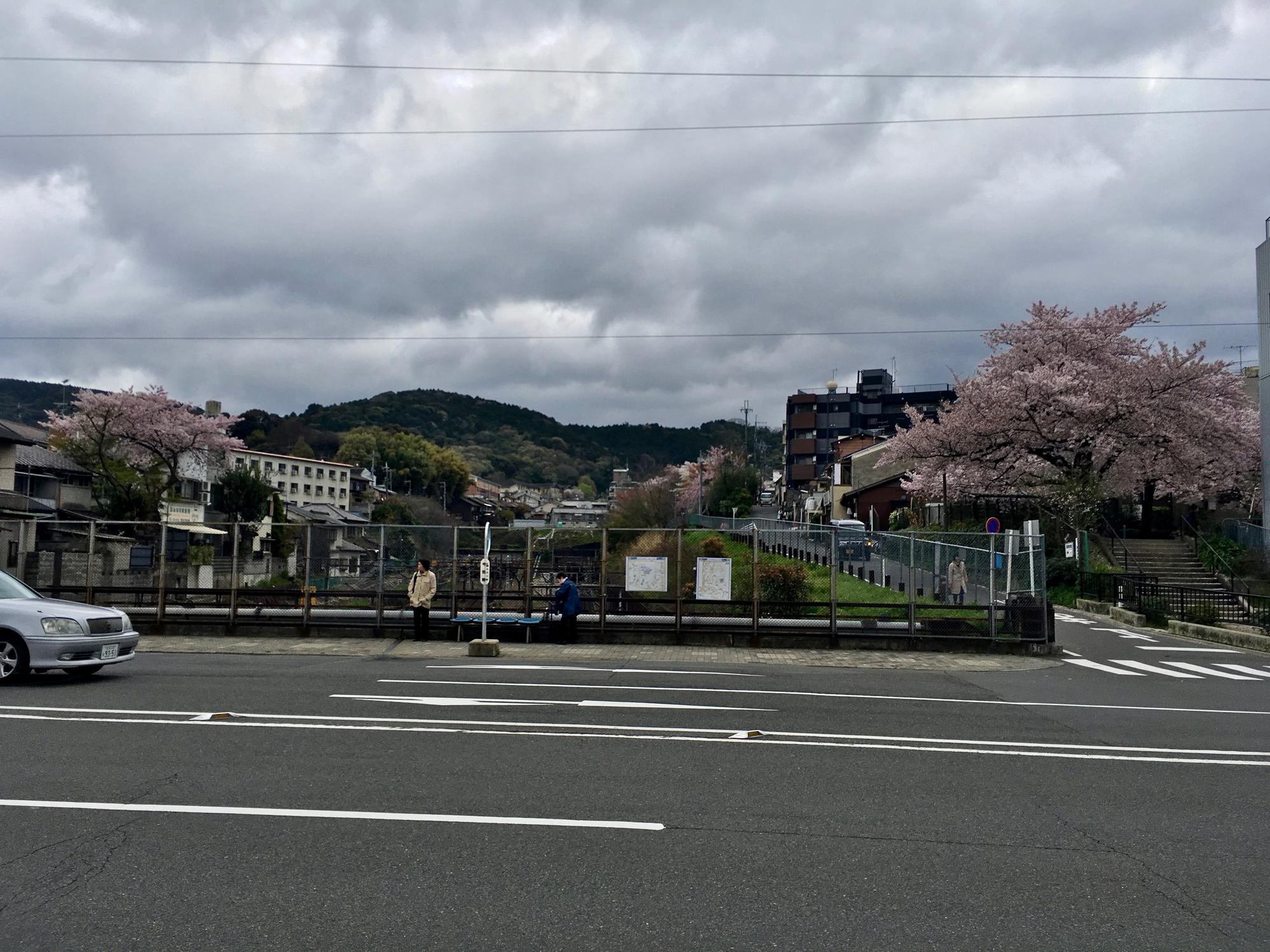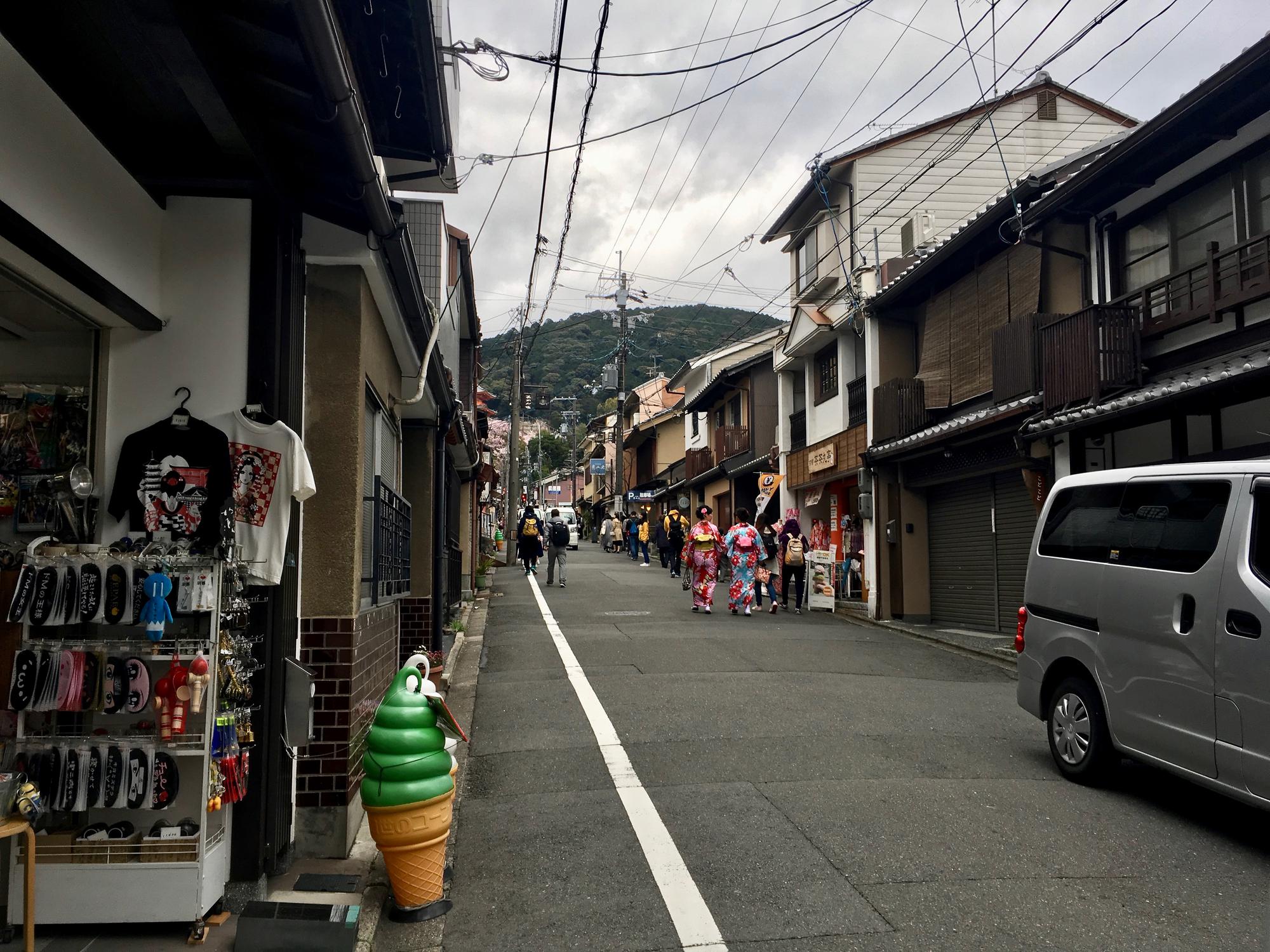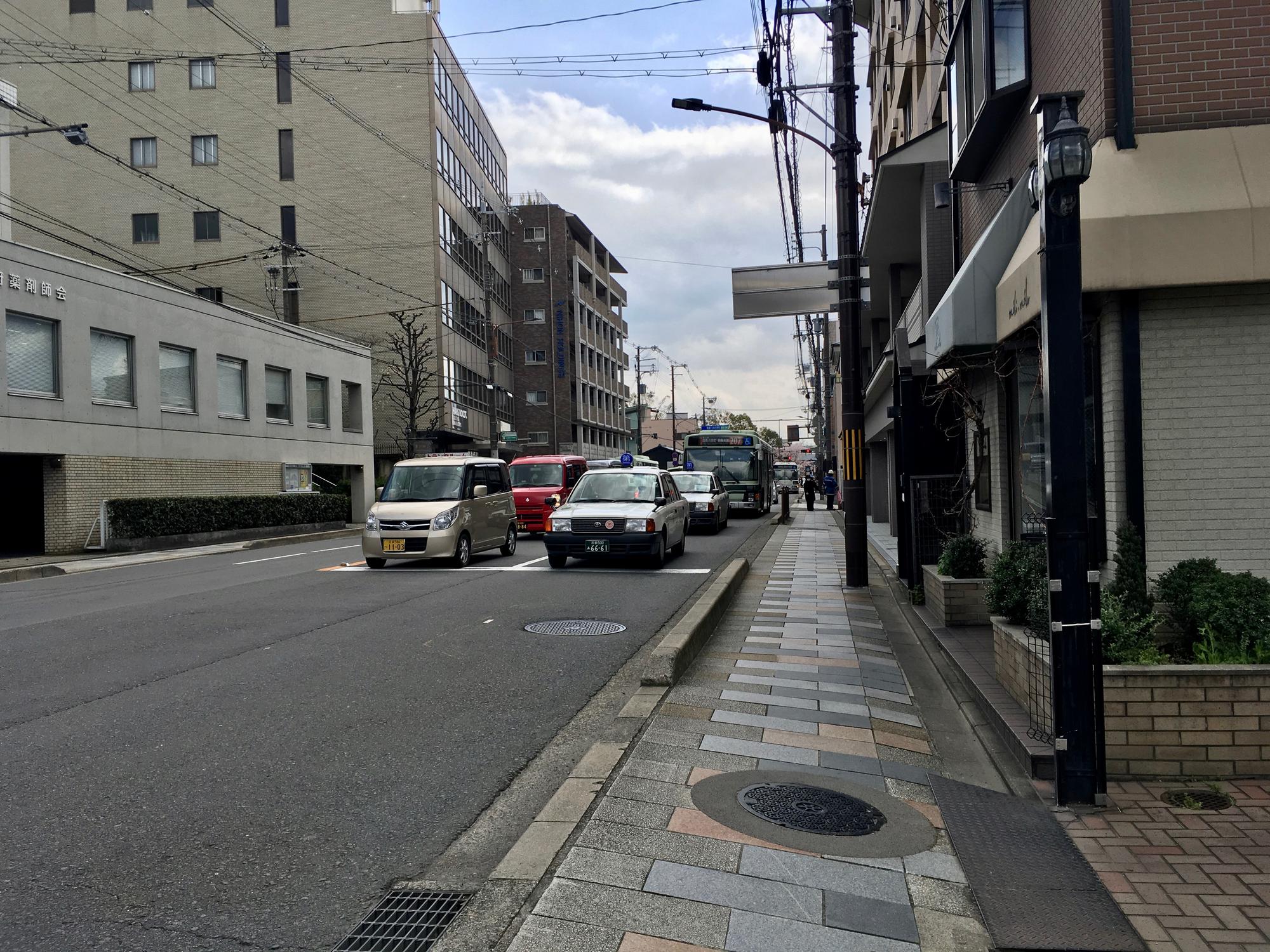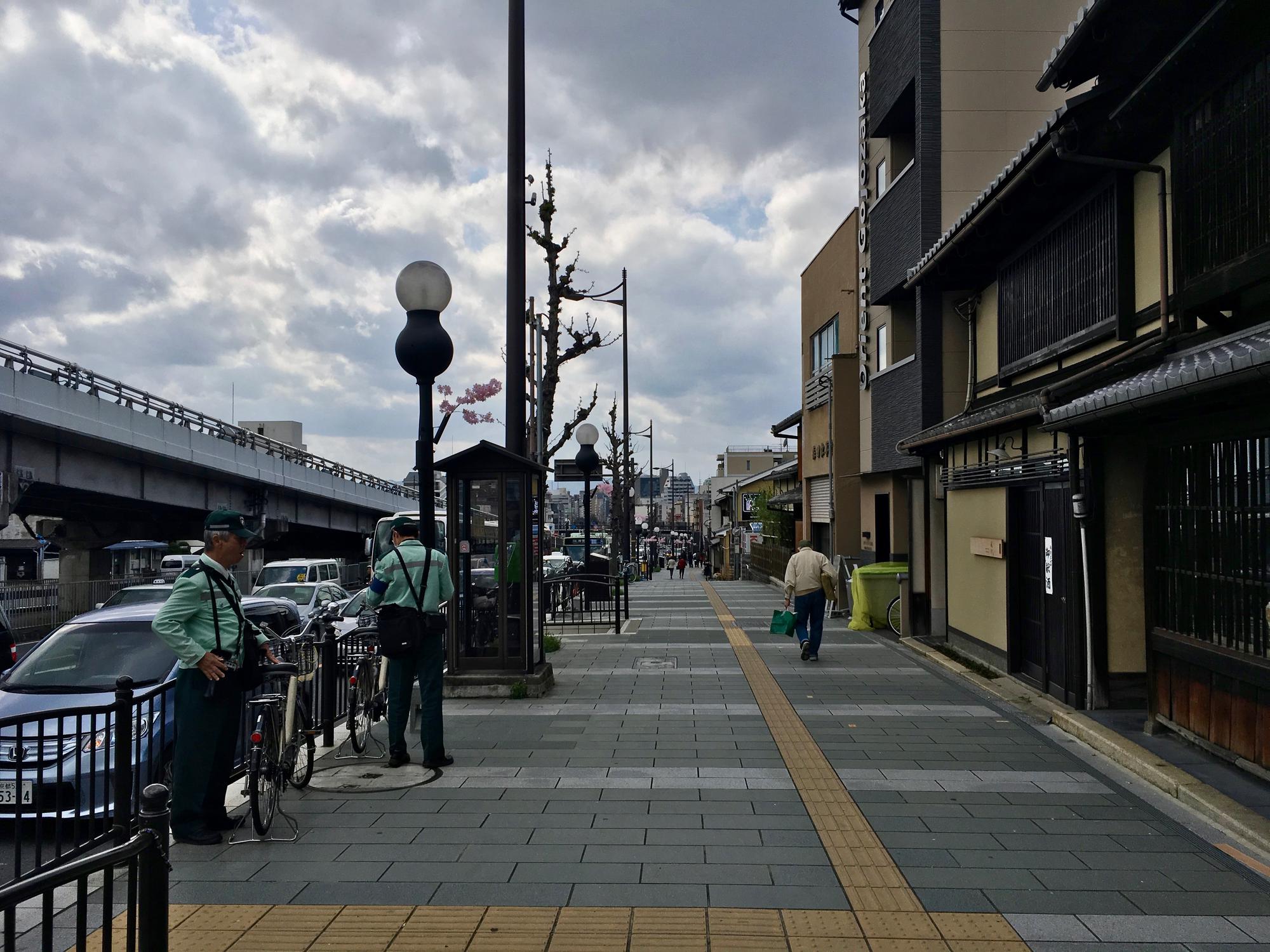 Trains.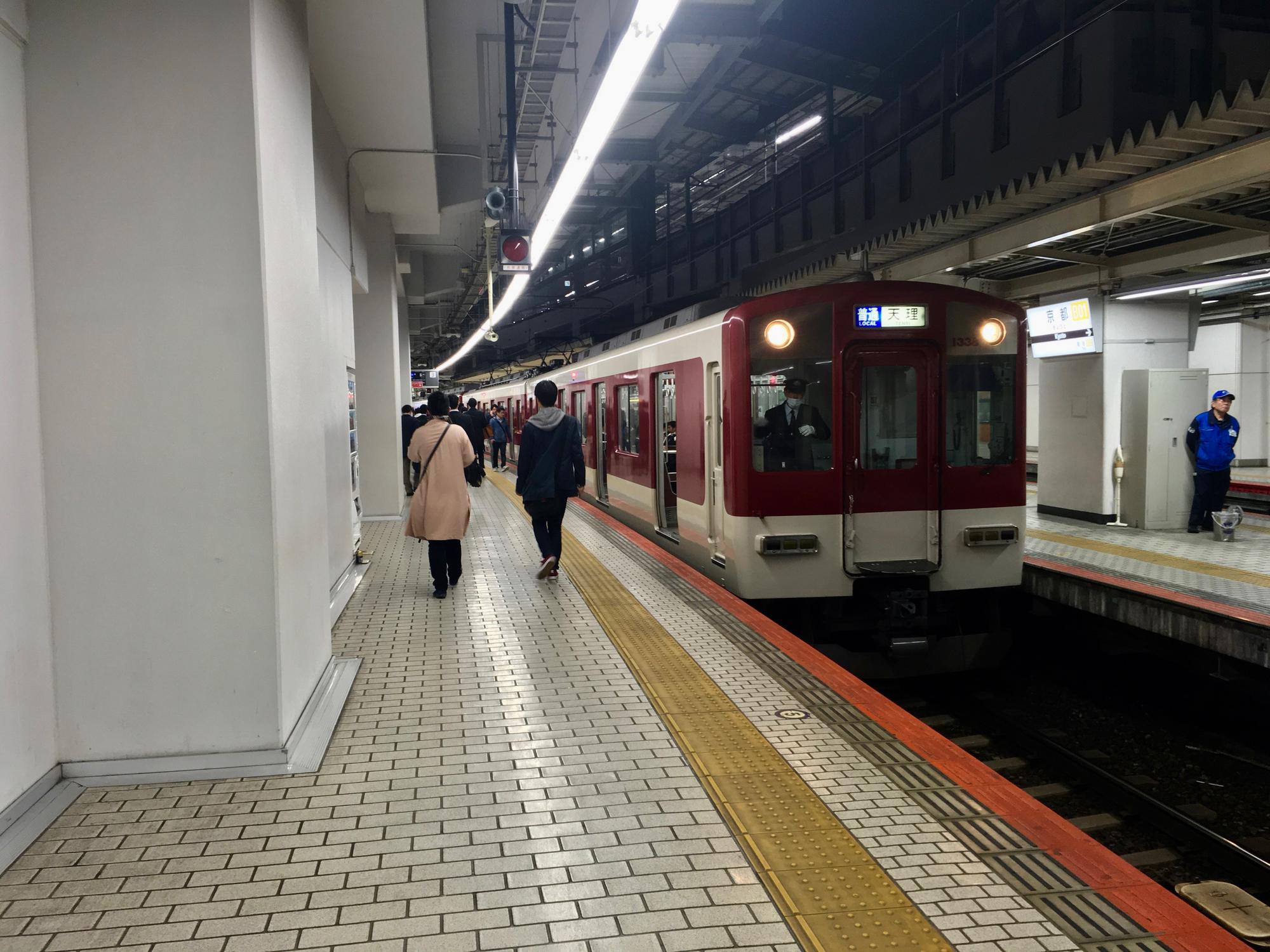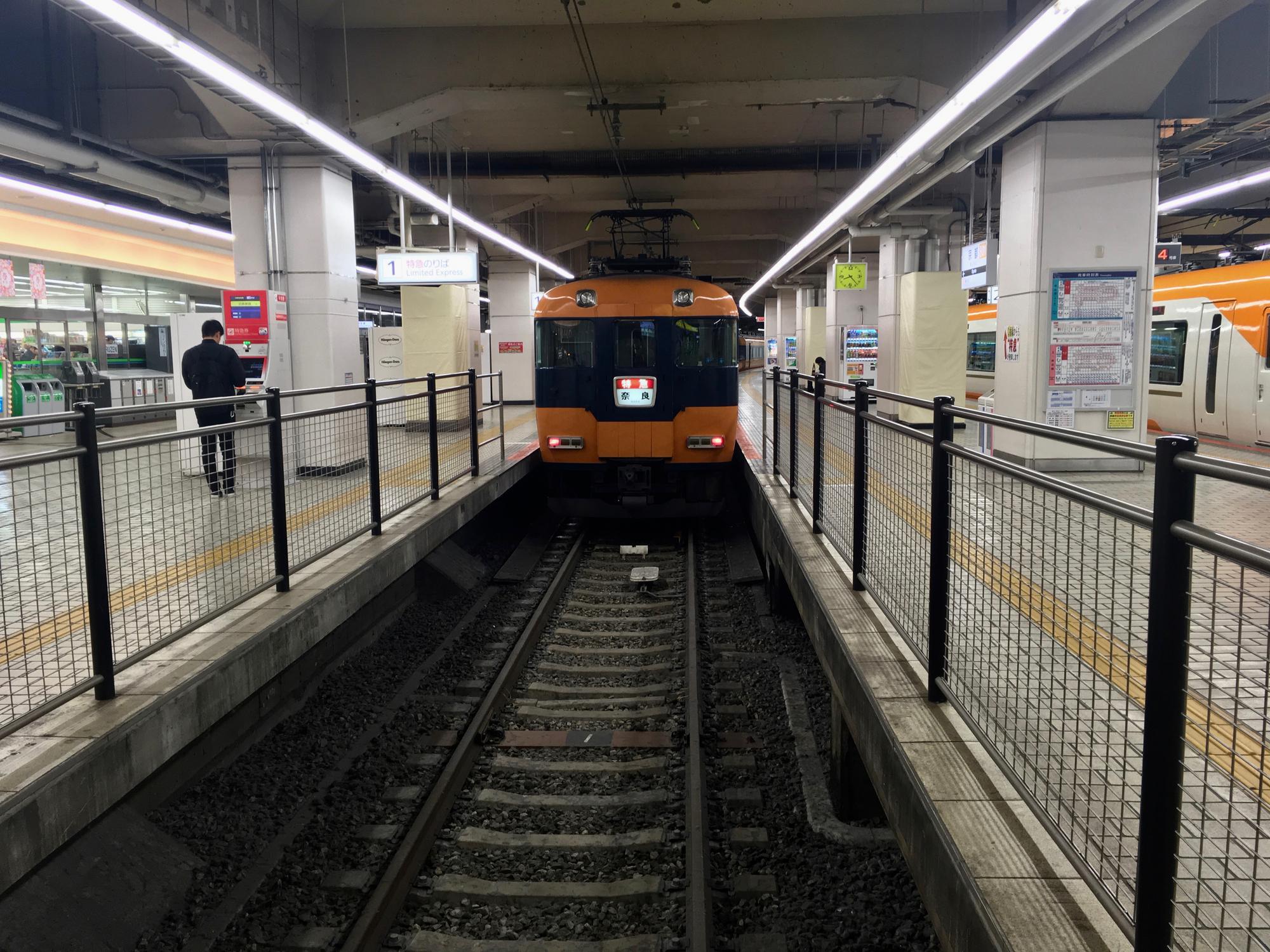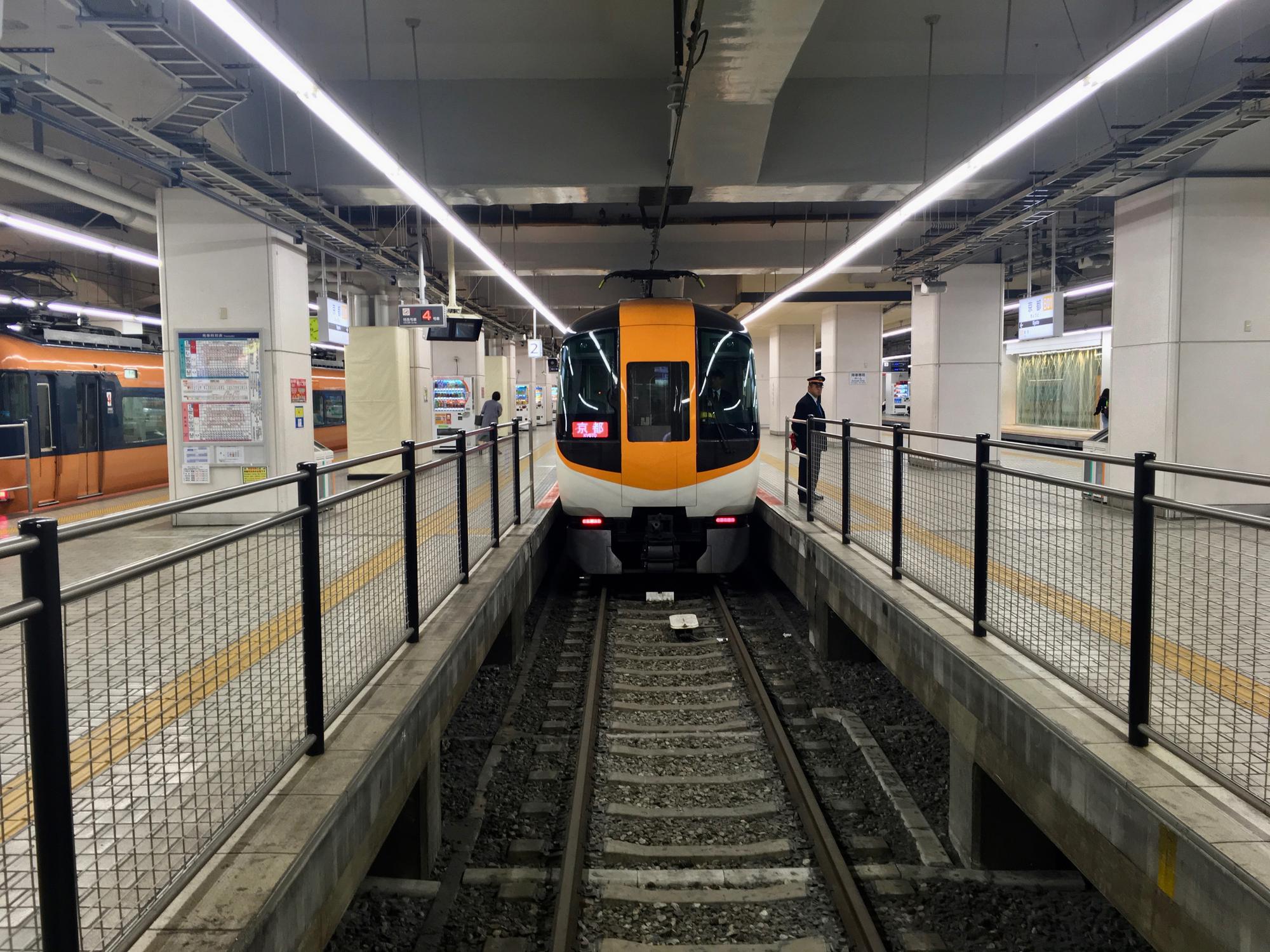 Railroad.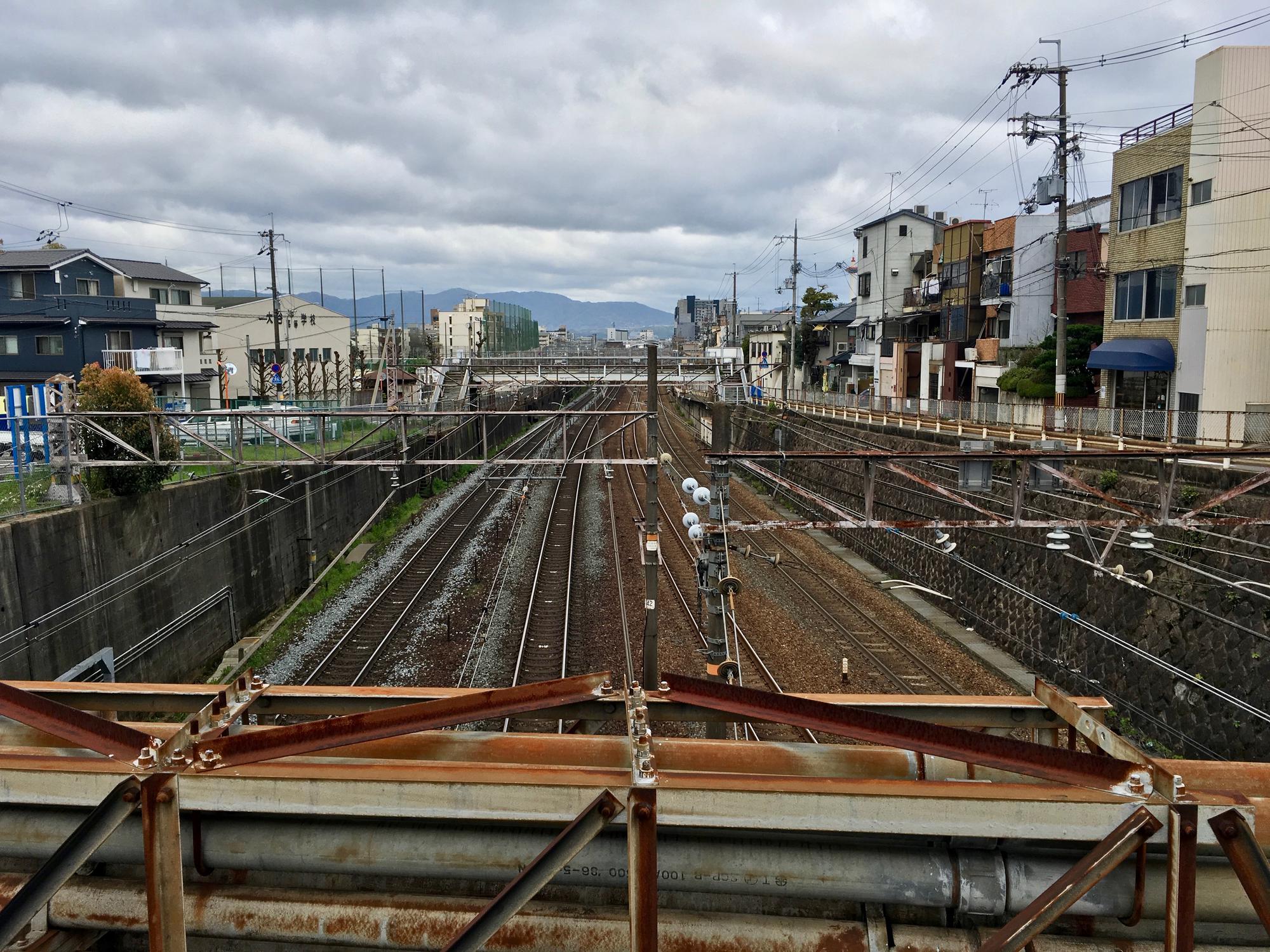 Bus stop. Circle icons under routes tell how far the bus is from here. 207 is a few stops away, 202 is almost here.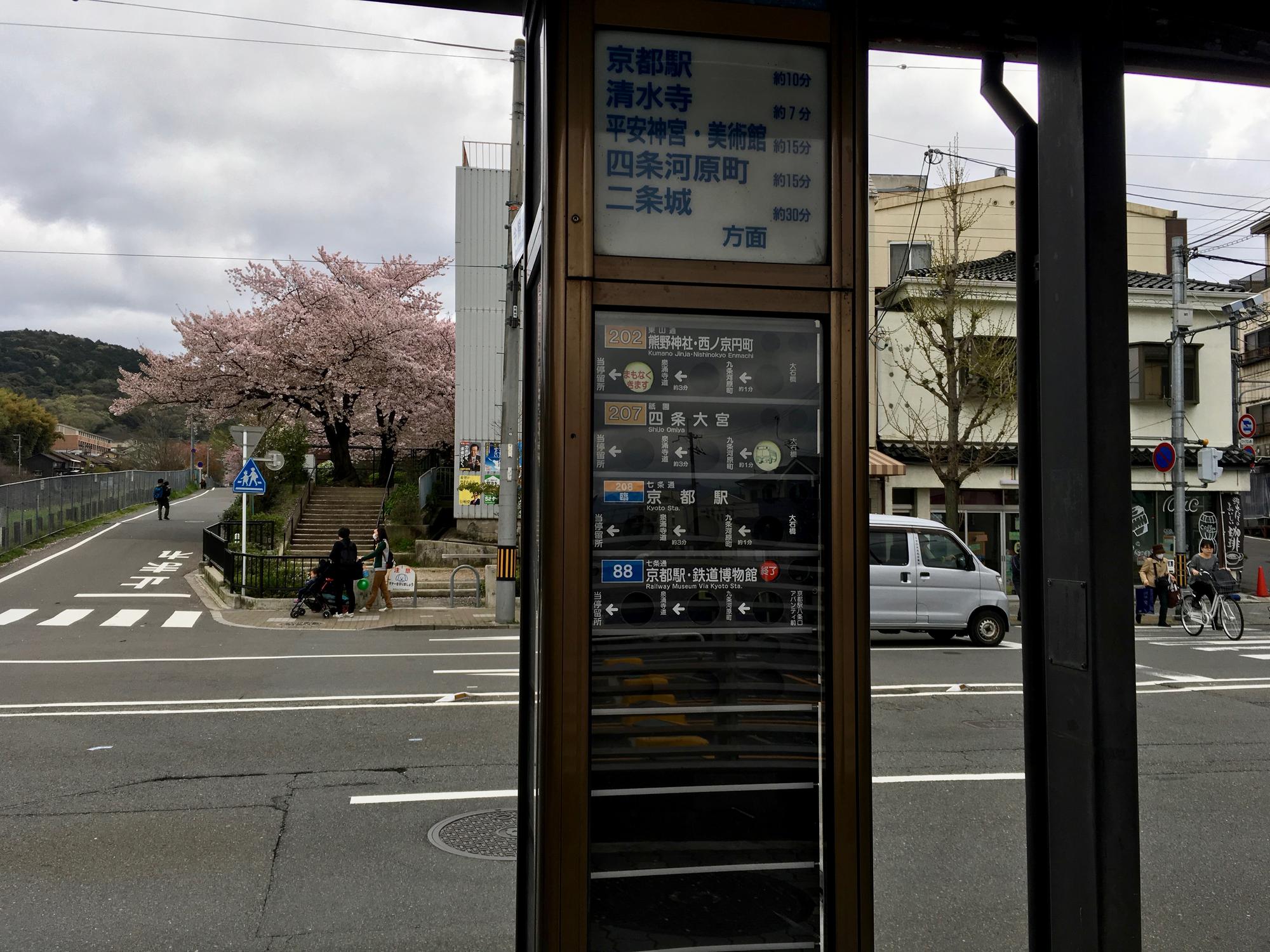 Detailed schedule.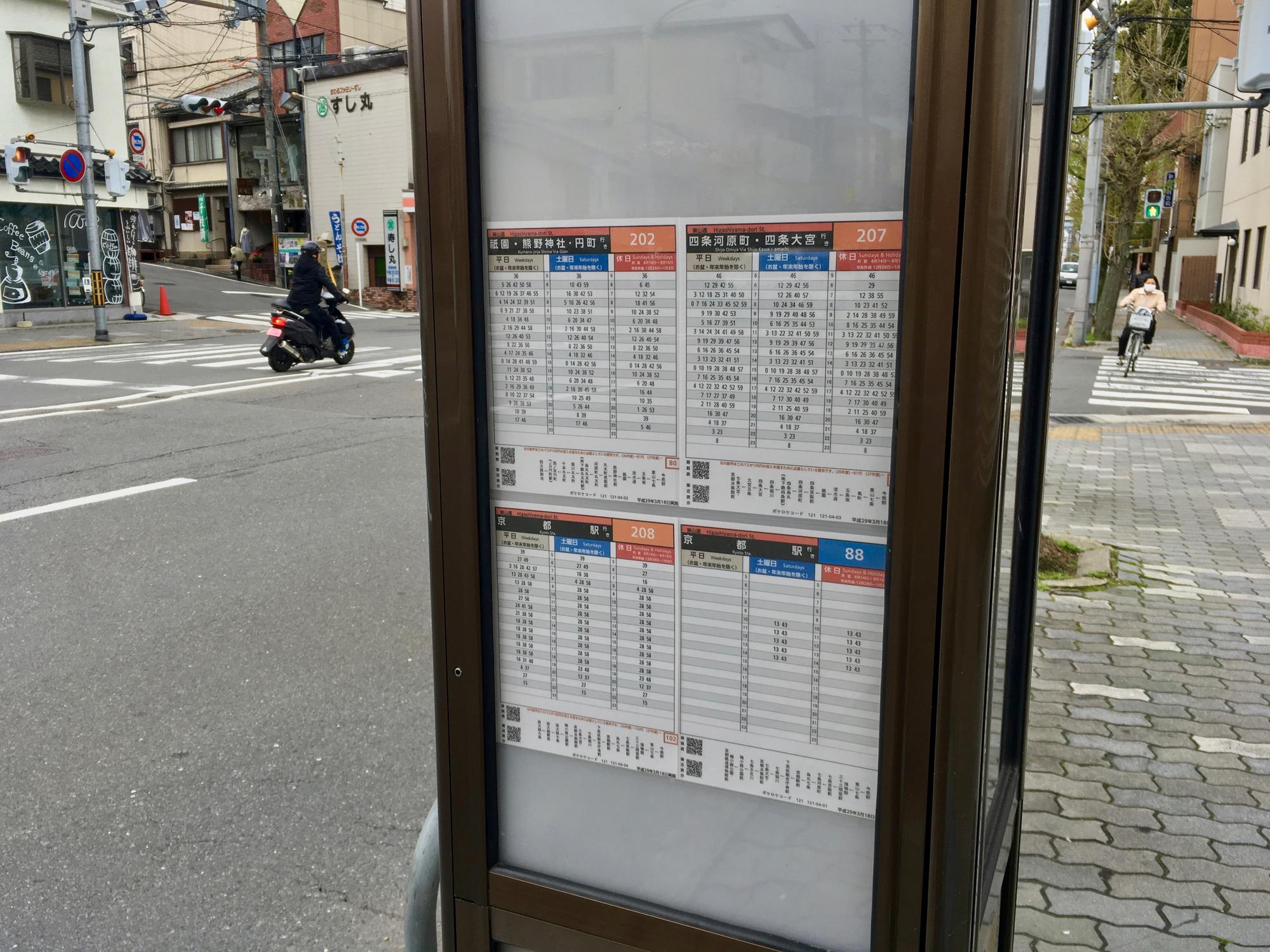 Inside the bus.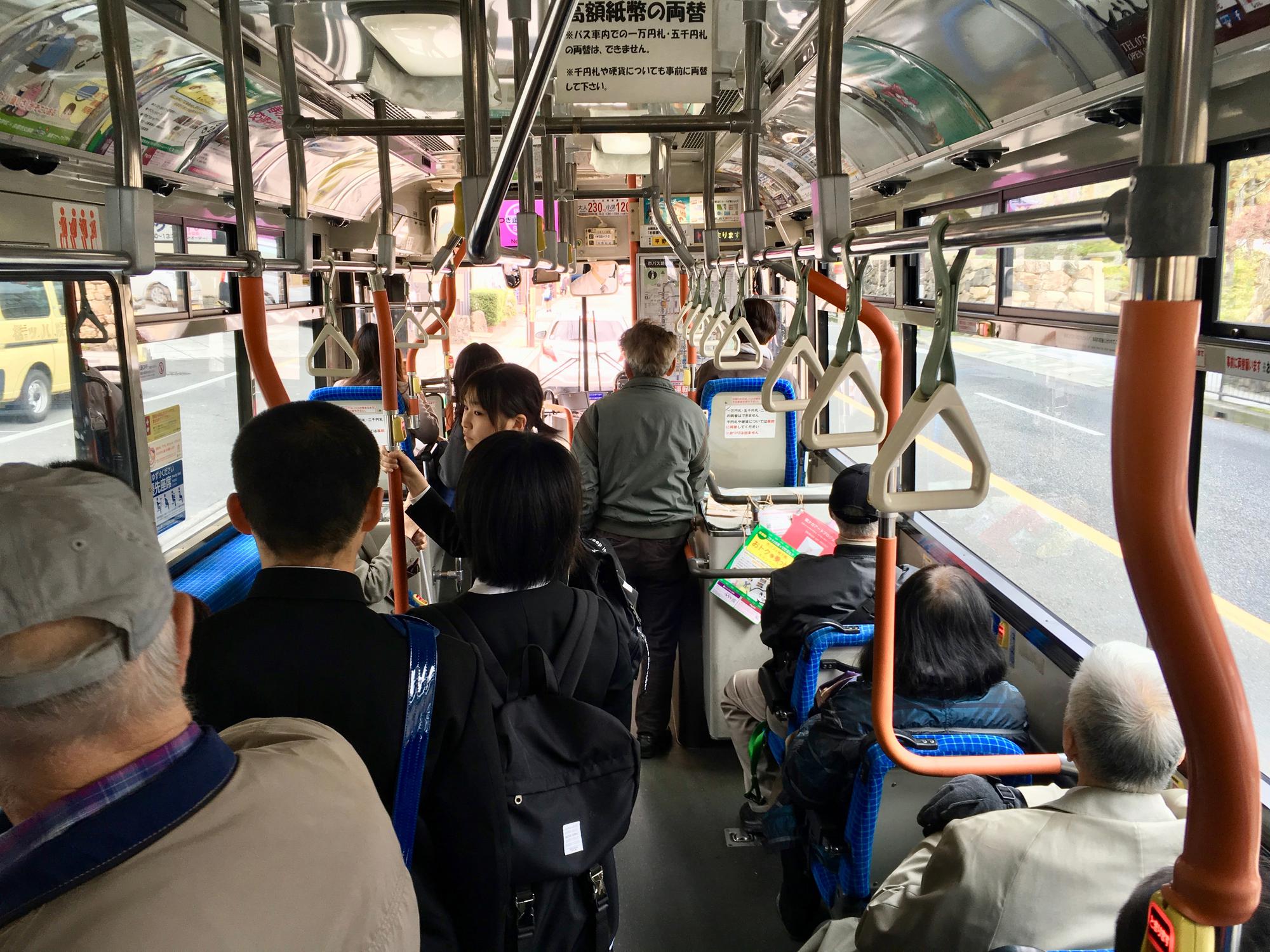 Only front half of the bus is low-floor, there is a step up to its rear half.
There is a stop button near each seat. The bus has 25 seats? There would be 25 buttons then. The driver could skip a stop if no button was pressed. Passengers are asked to stand up and get off only after full stop is made and doors are opened.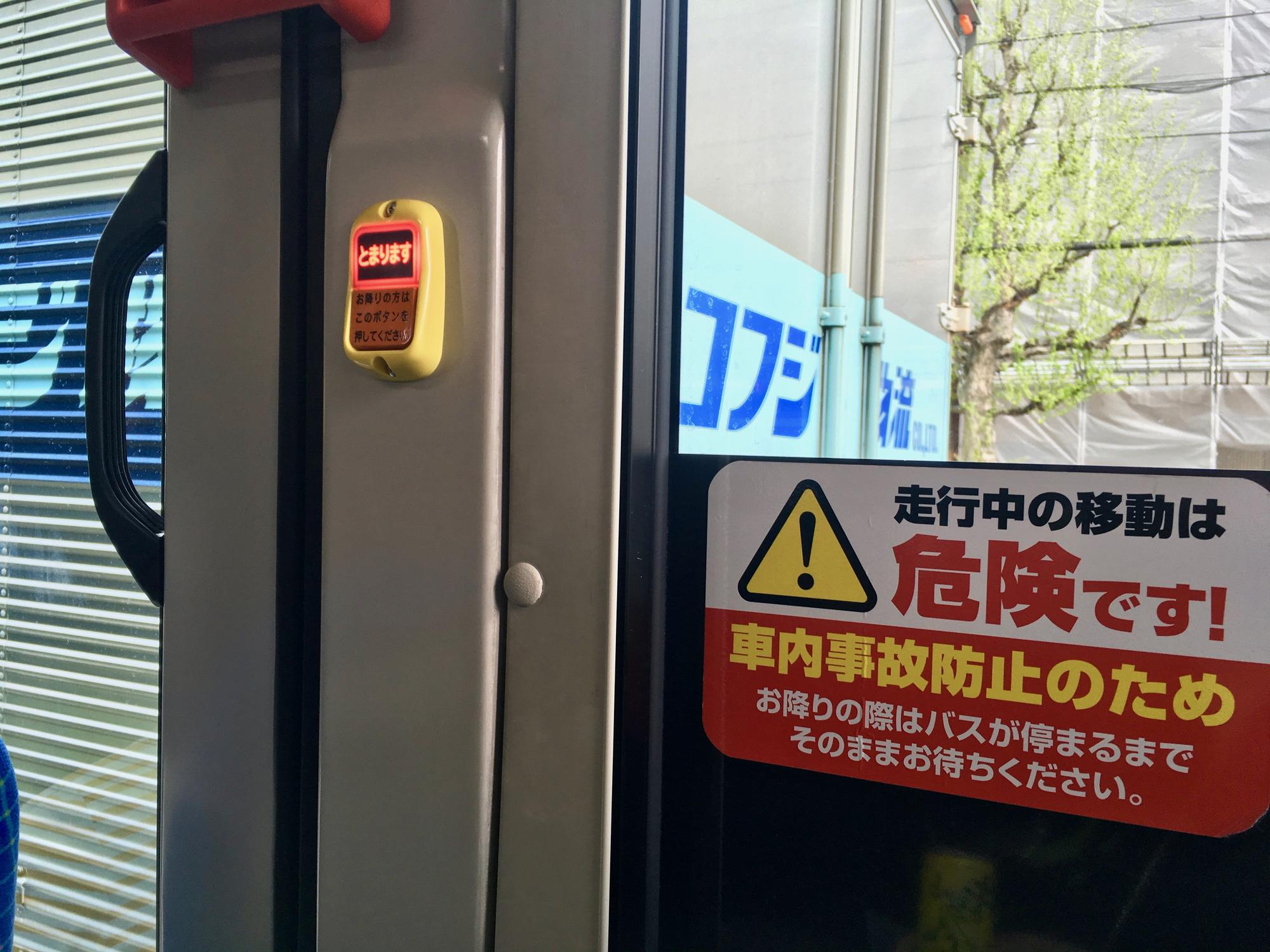 Unusual balconies.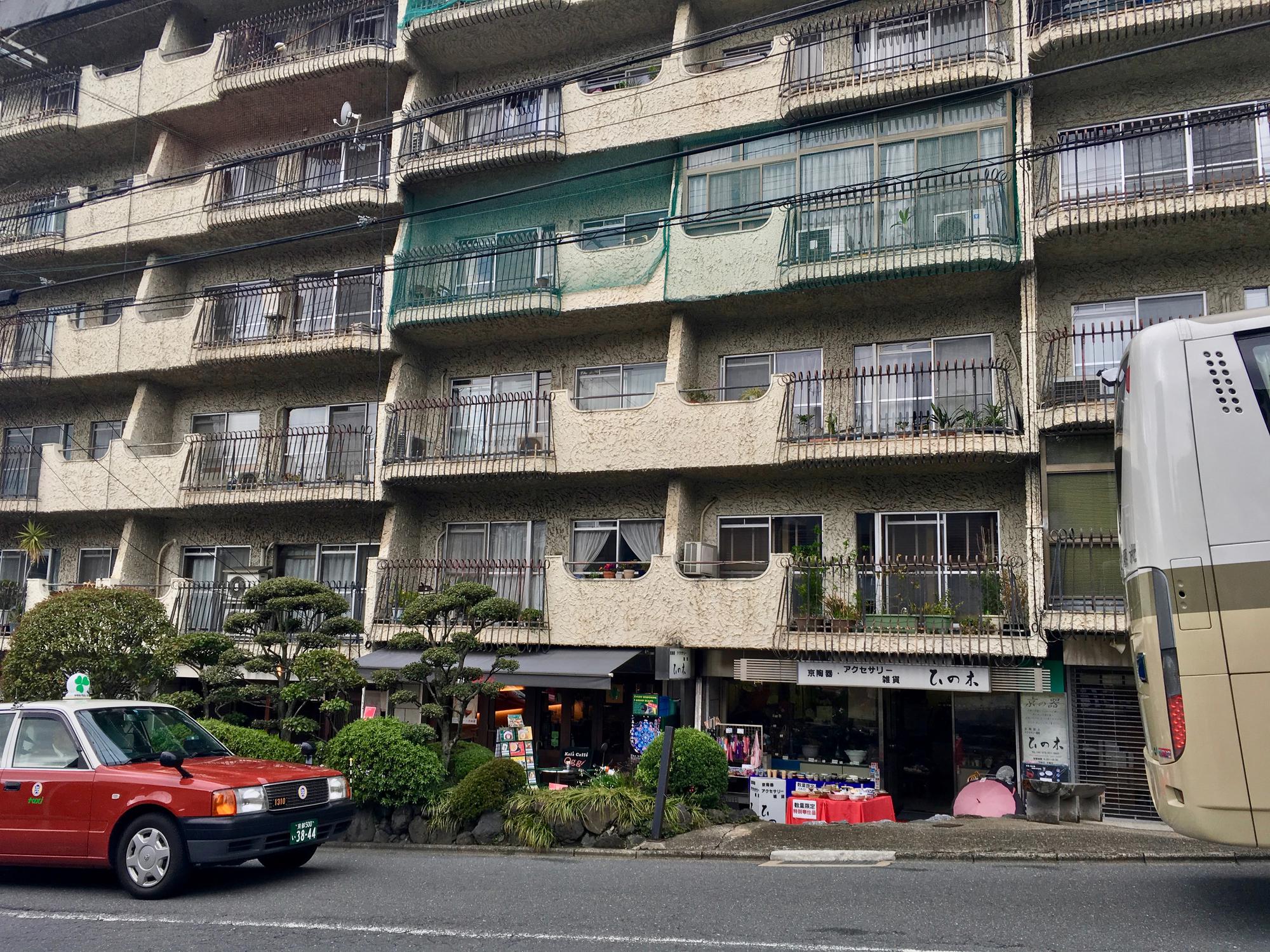 Yellow car hides in the yard.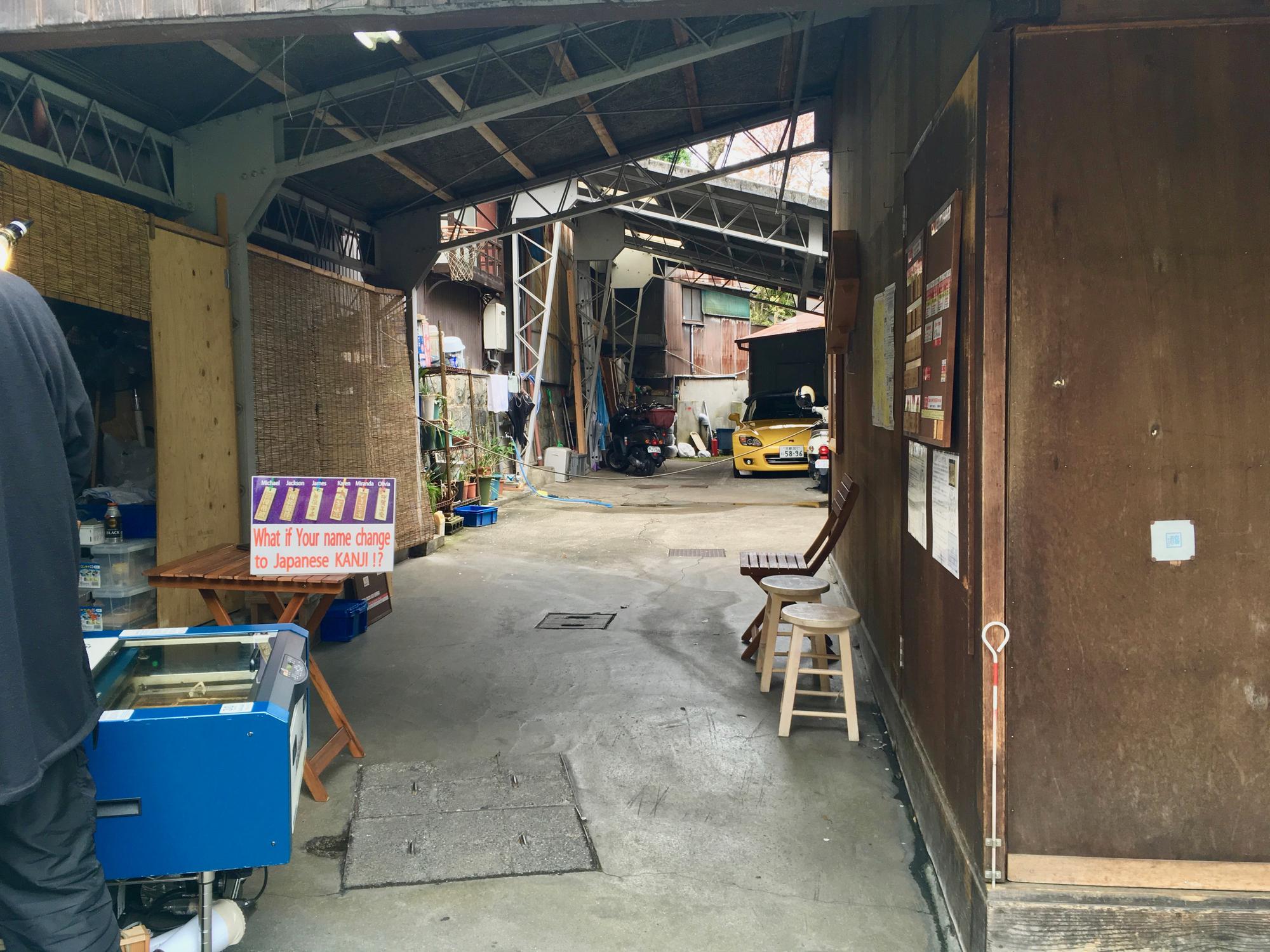 Panorama.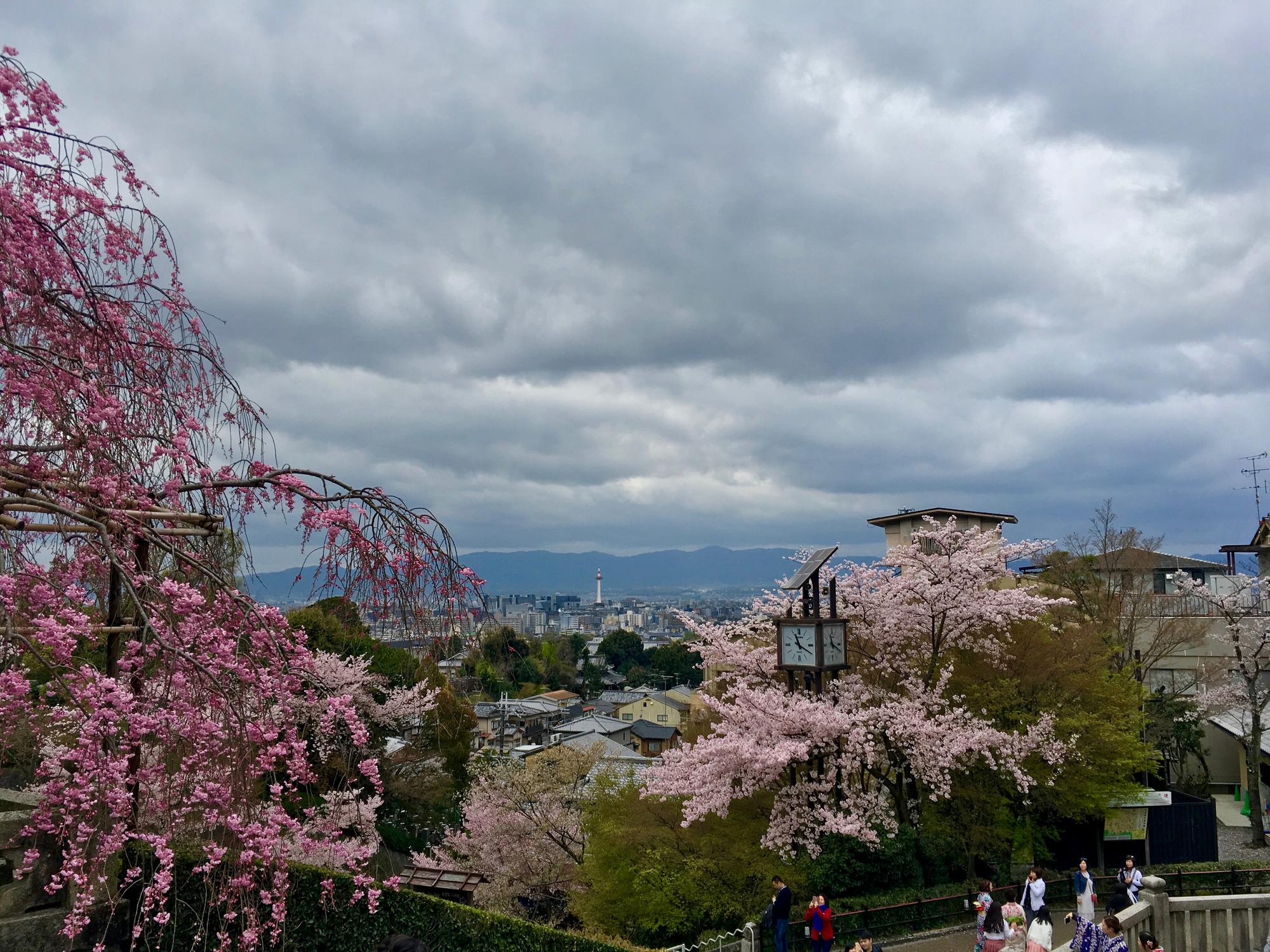 Higher panorama.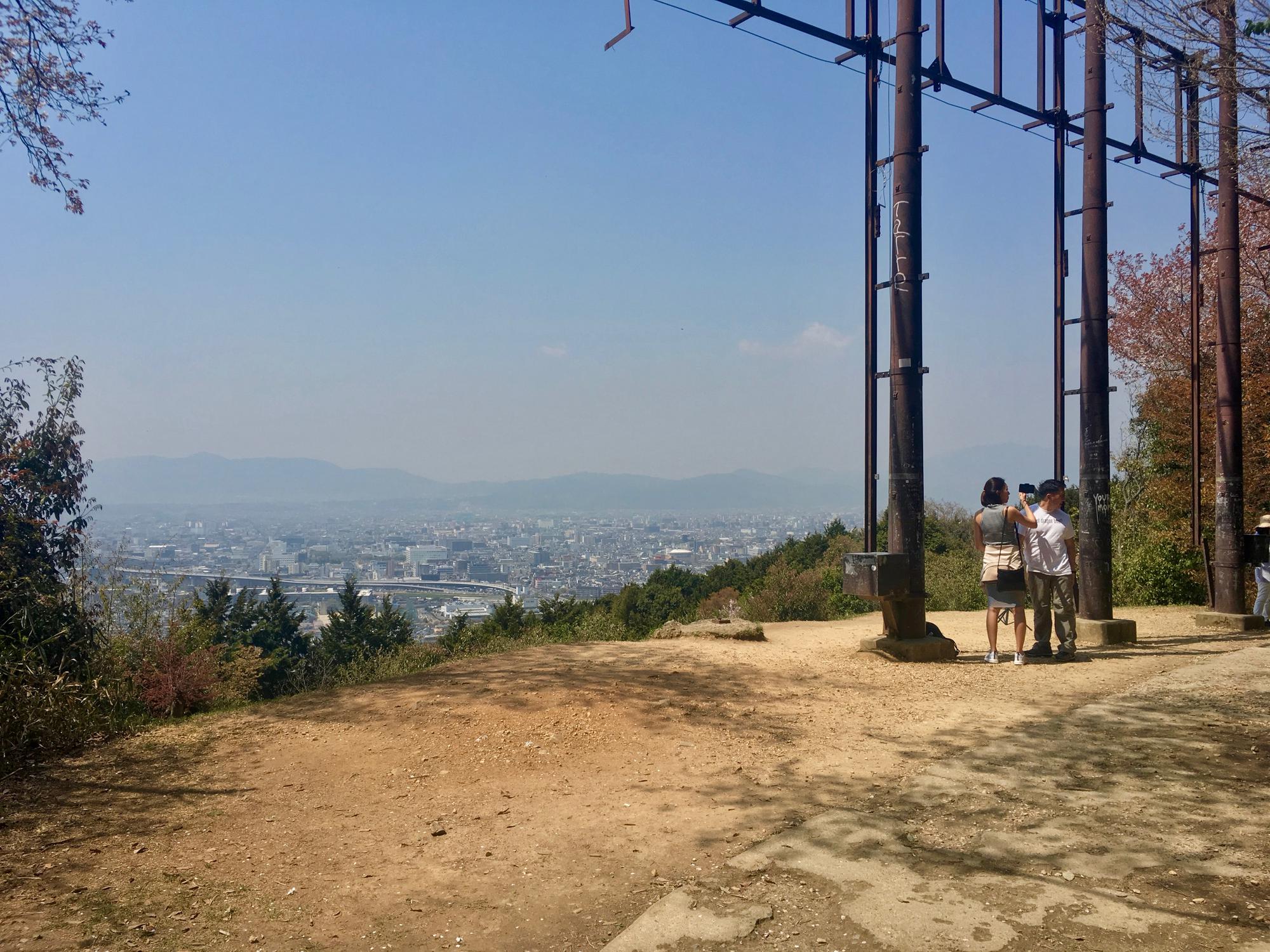 Bicycle parking near the entrance to the building. An enormous amount of tactile paving throughout the country.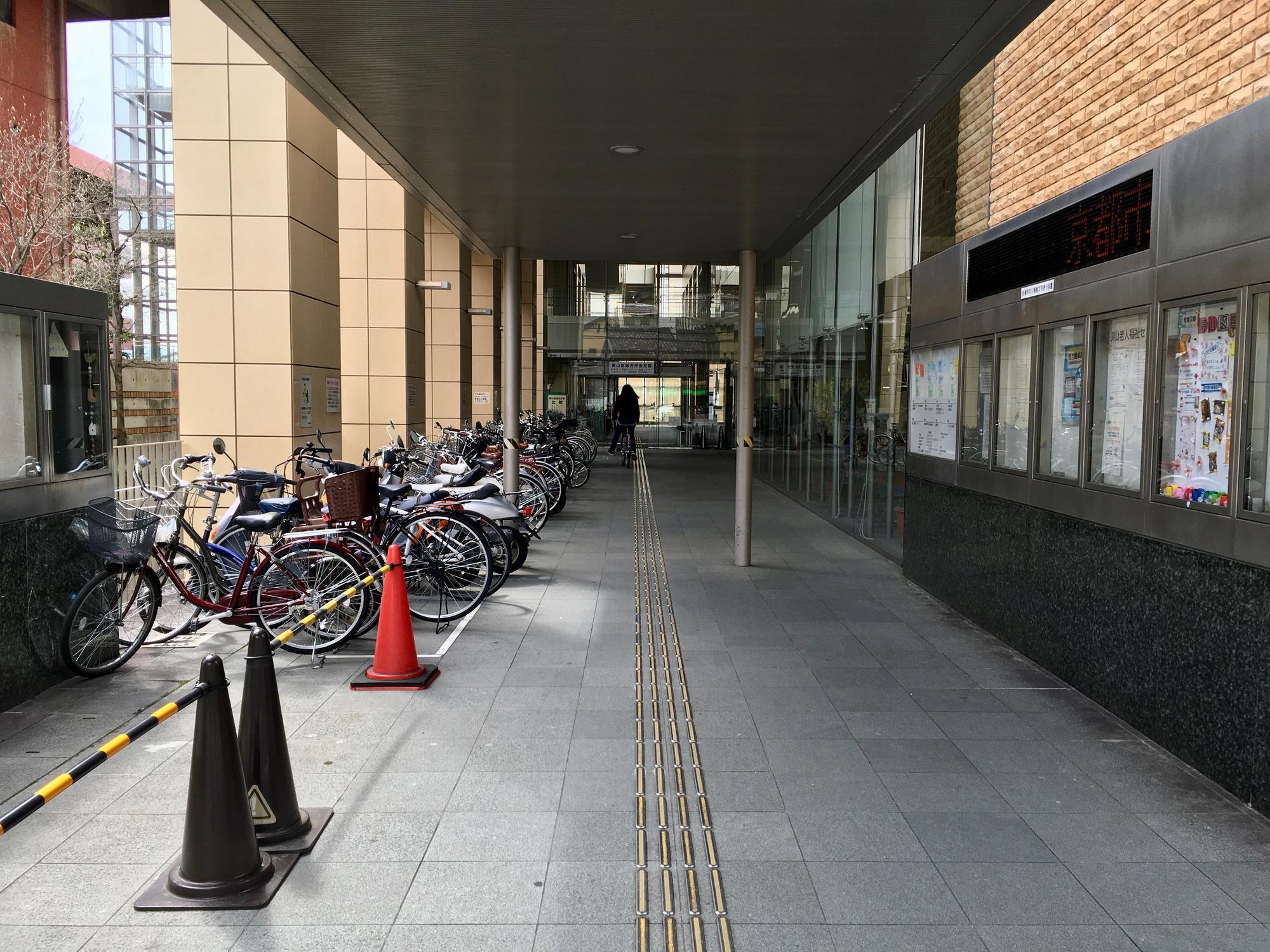 Opened side street.
Temporarily closed side street. A man with a flag is always in front of transport, repair or construction work mostly for traffic control and extra caution.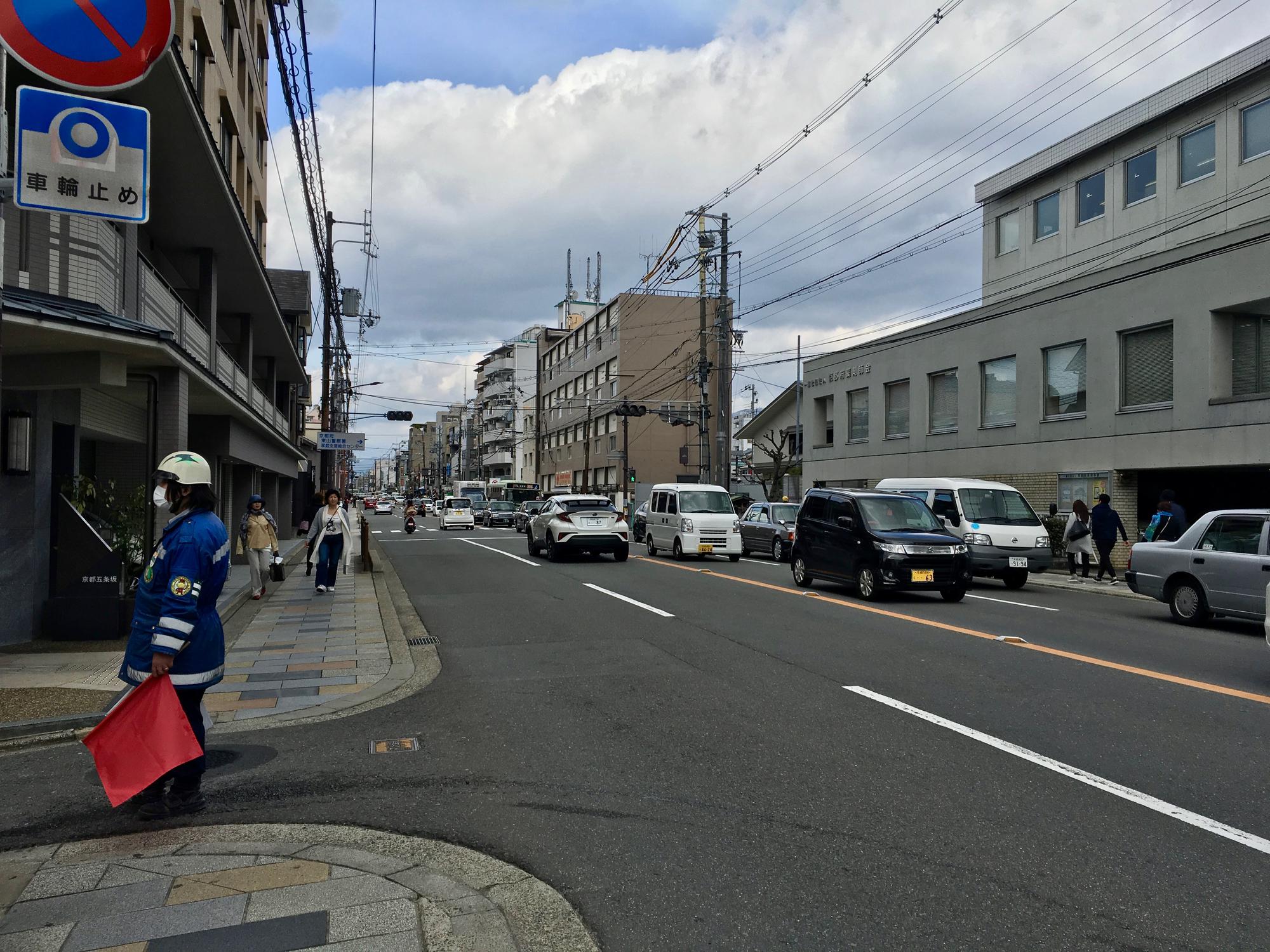 You need the middle door to get on and front door to get off the bus. If you have a card like Suica or Pasmo it is enough to touch terminal inside, so minimum fare calculates automatically. If you have no card you need to take a ticket when you get on and drop it with coins into a box near the driver when you exit. That's why you need to exit through the front door. No change is given when you pay, so there is an exchange machine nearby. How do you know how much to pay? Well, a navigation app can tell you when you plan the route. Otherwise, there is a display in the bus with fares under stop names. The farther you go, the more you pay. You can also buy a day pass from the driver, so you just show it when you get off.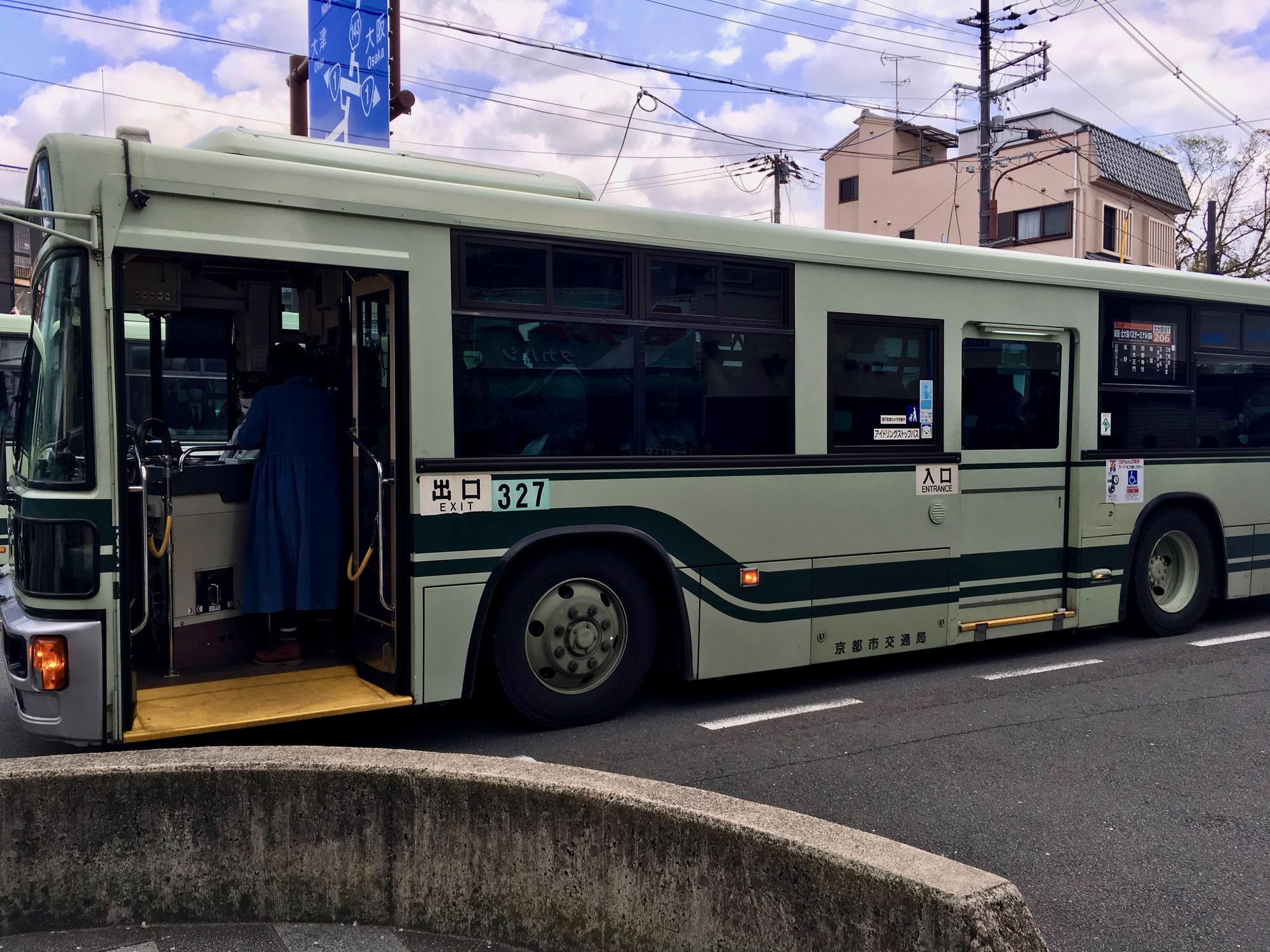 Flowers in front of the house. Meters are outside.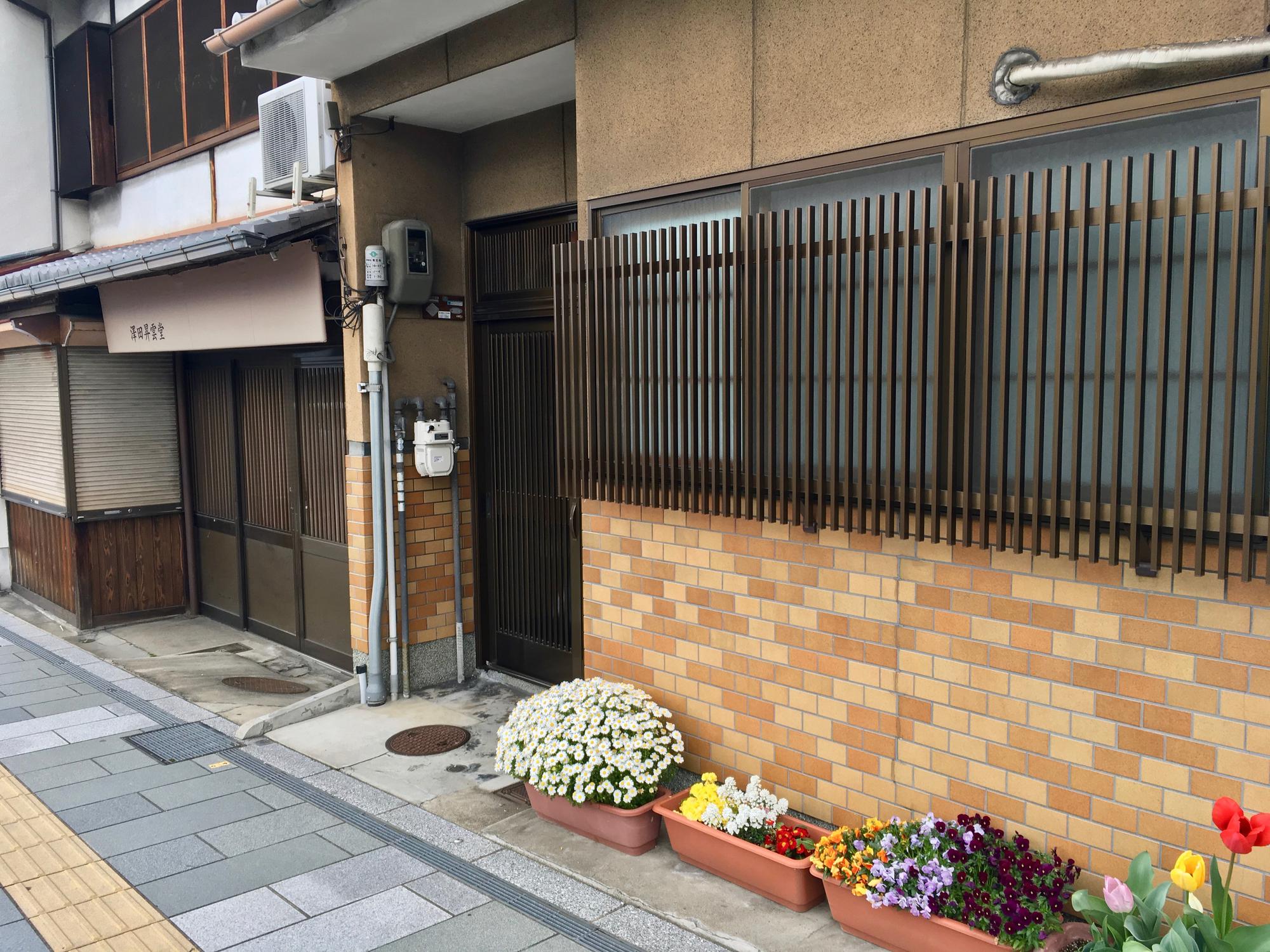 Gates called torii.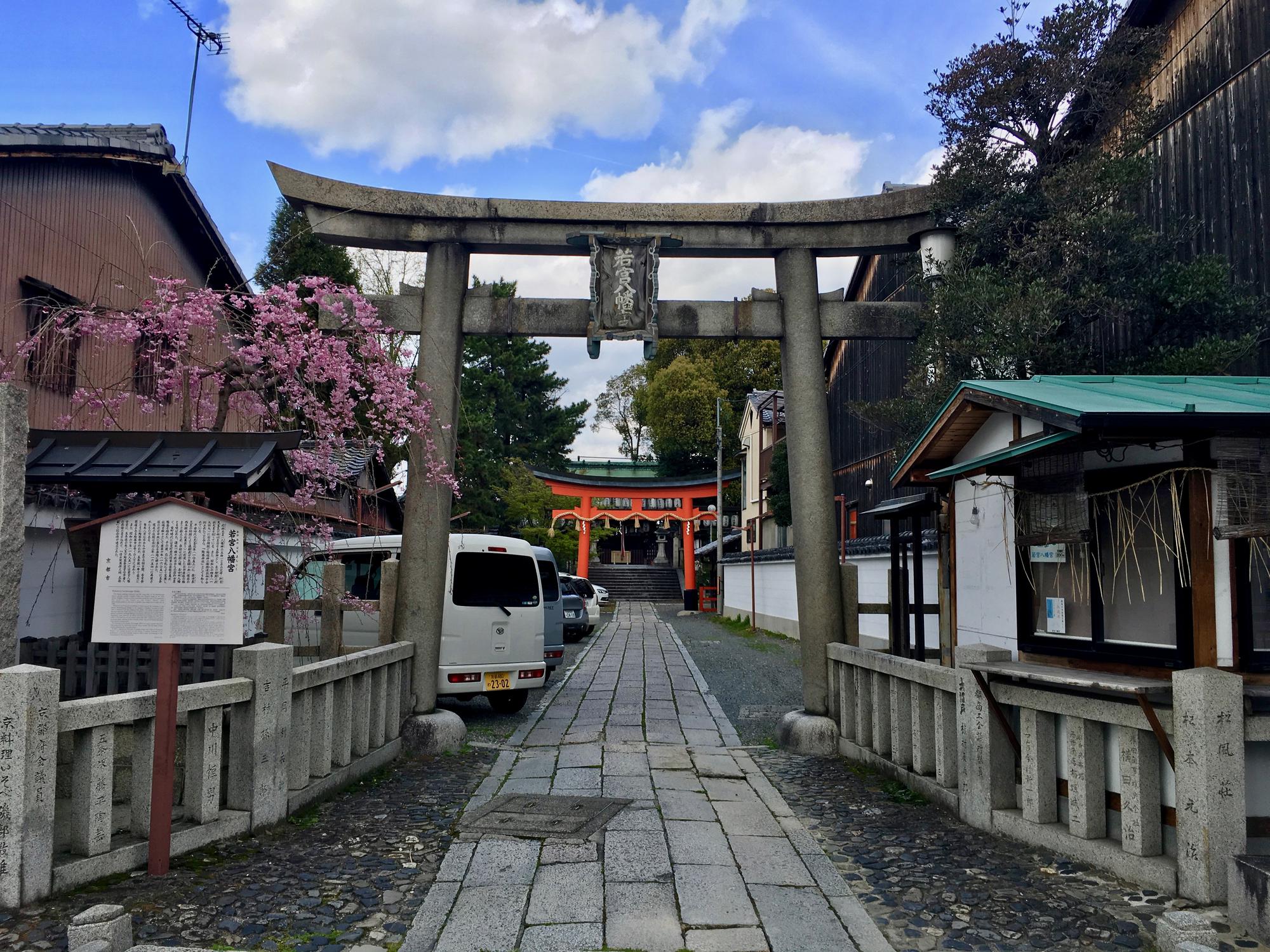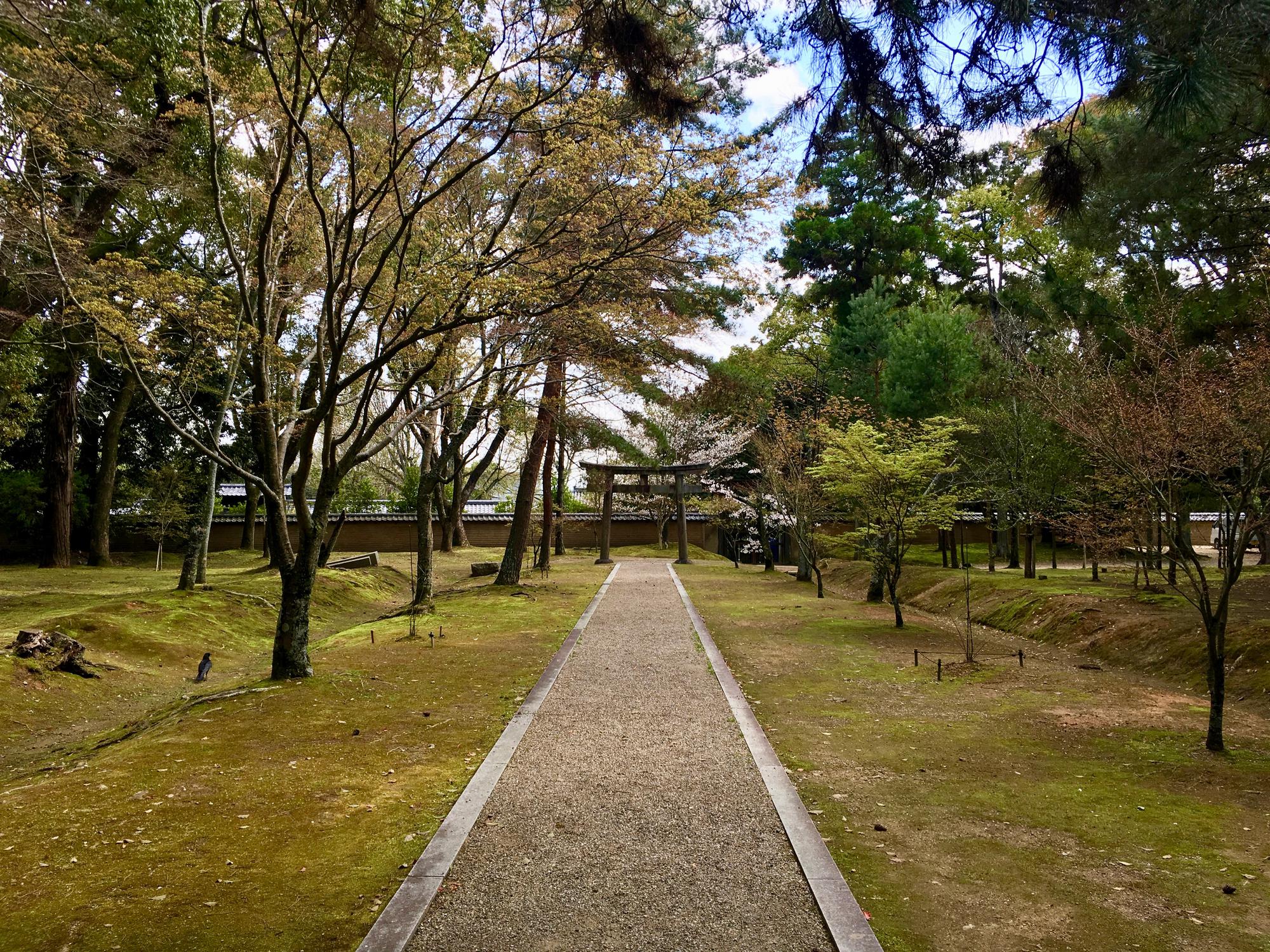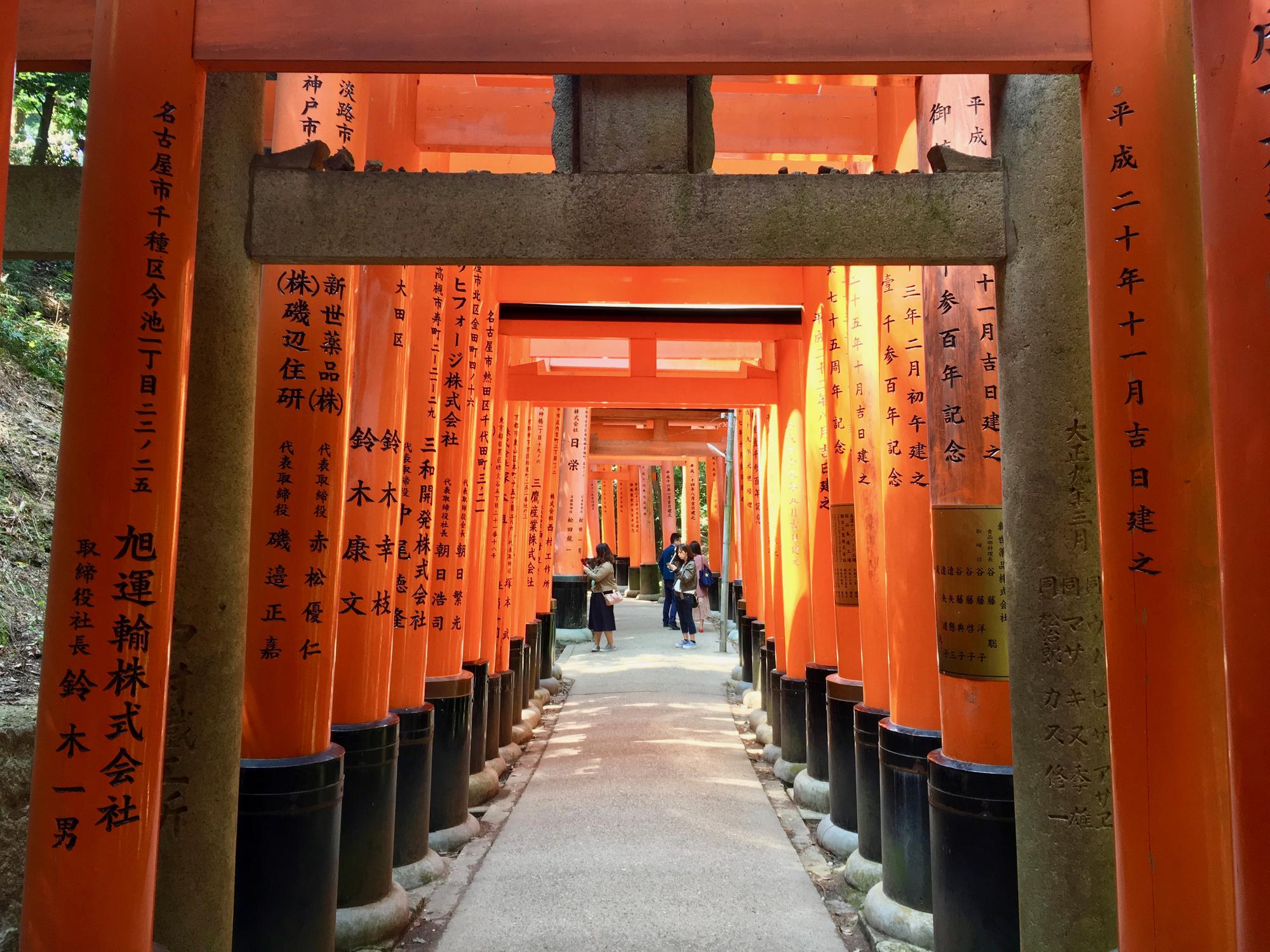 Roads.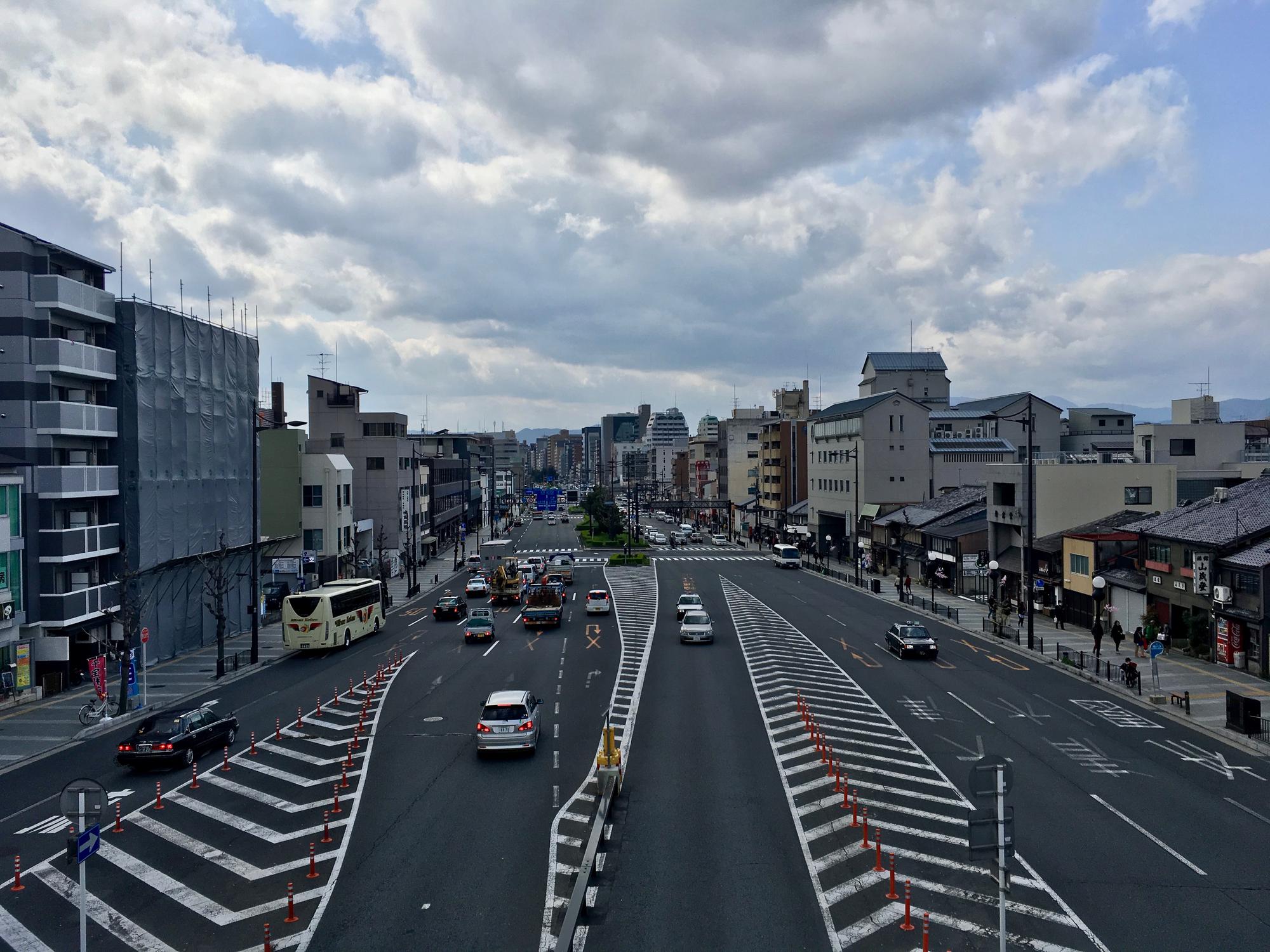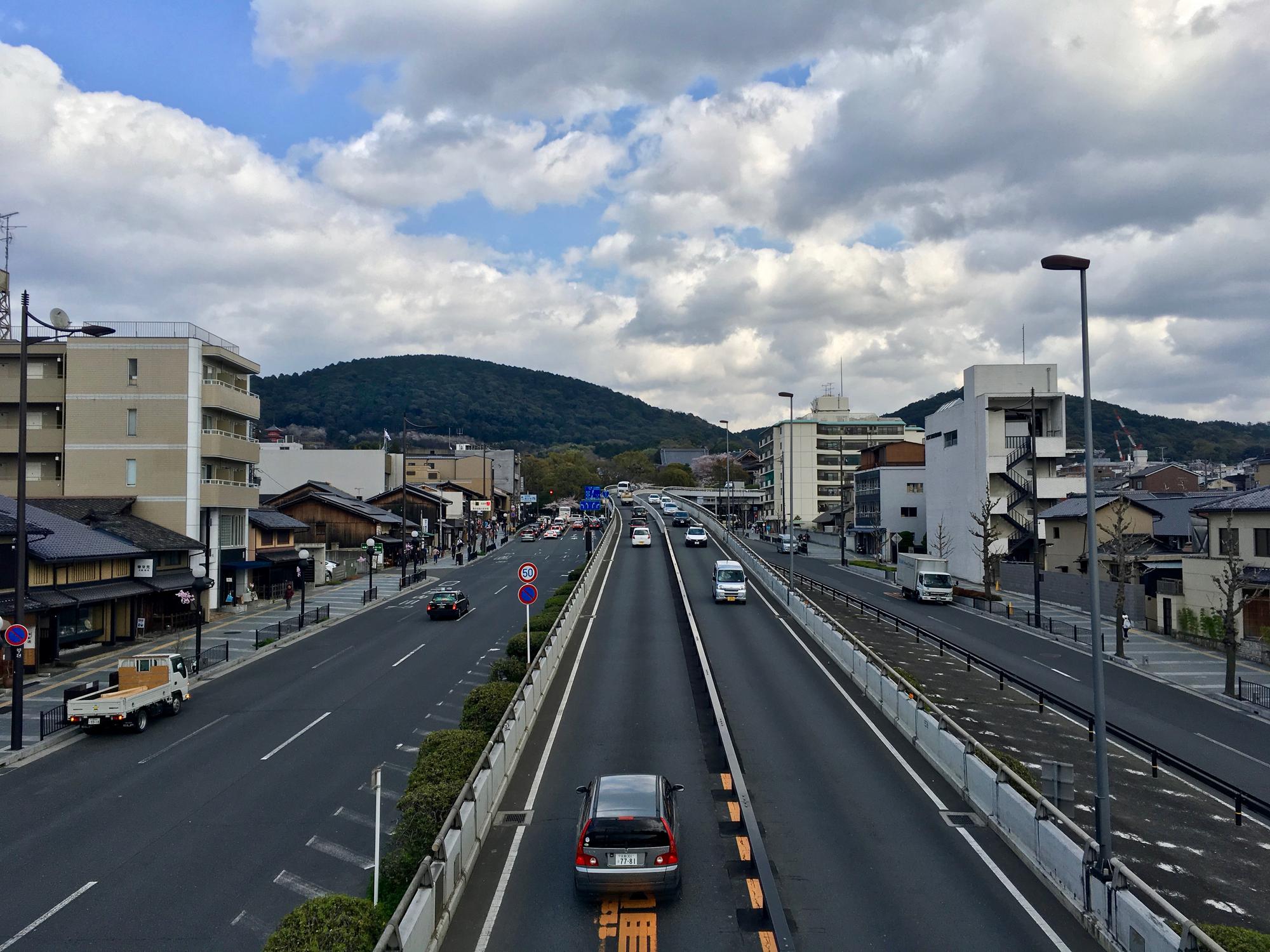 Parking, its cost and a parking meter.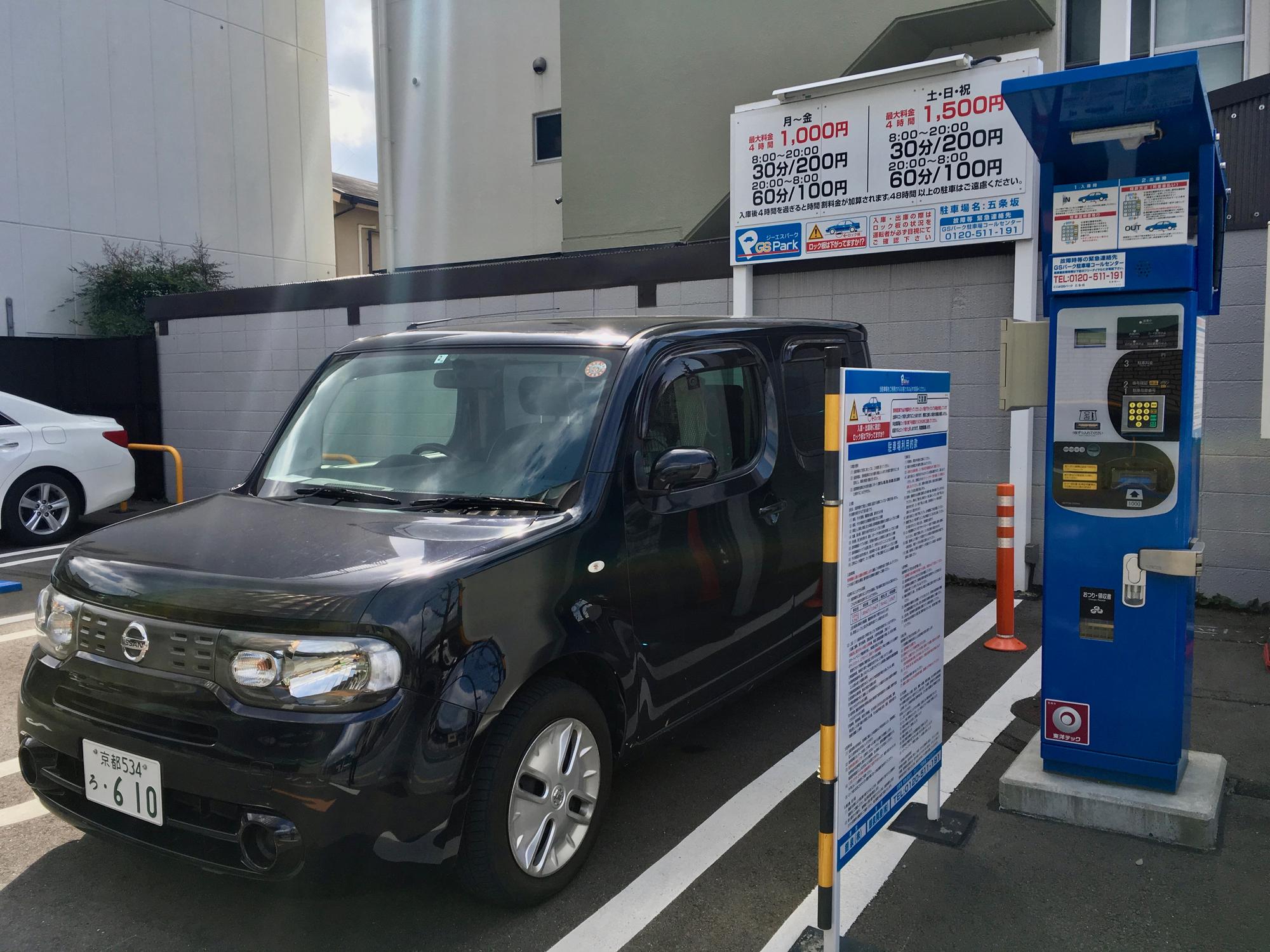 Another parking.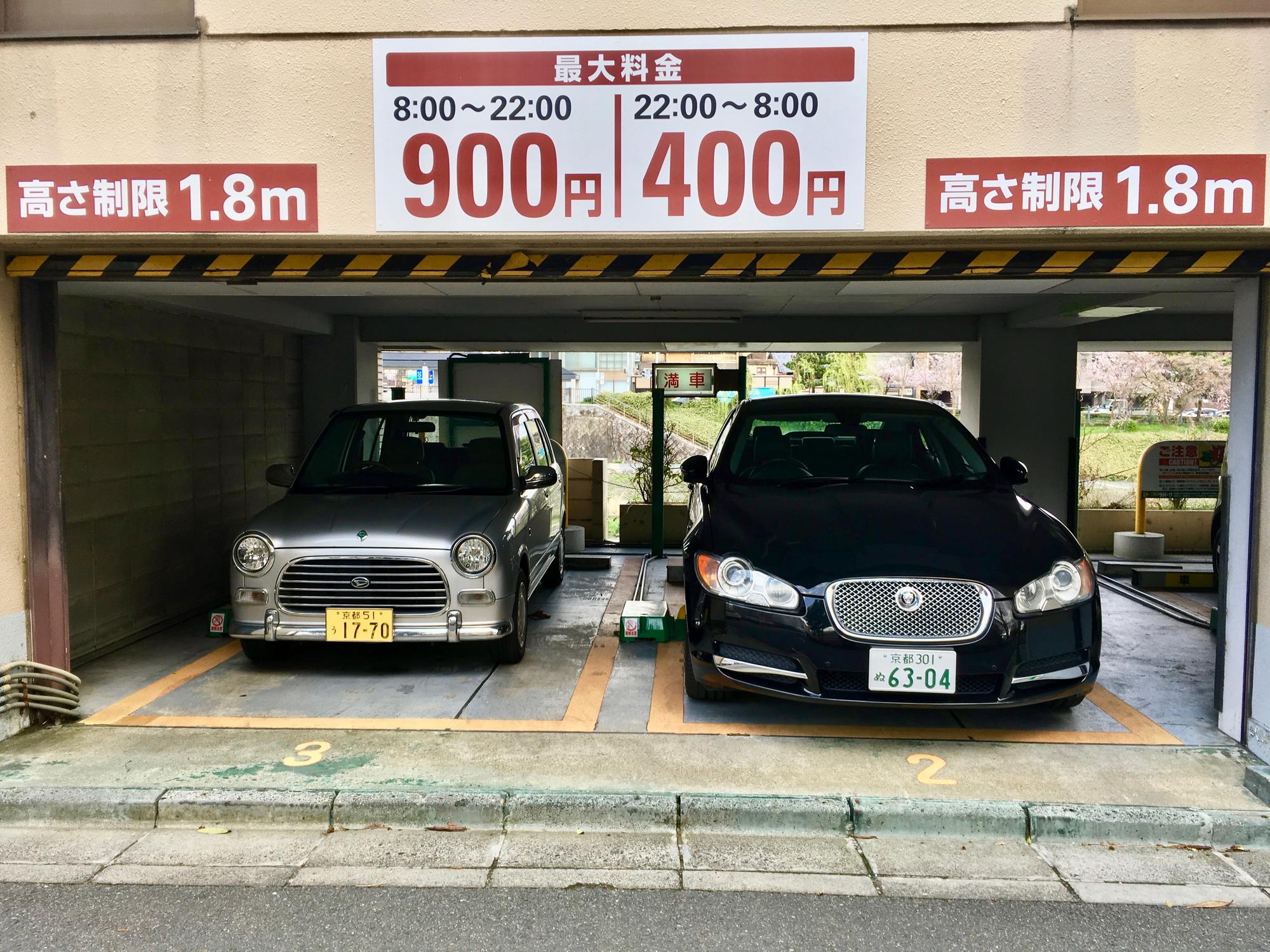 And one more parking.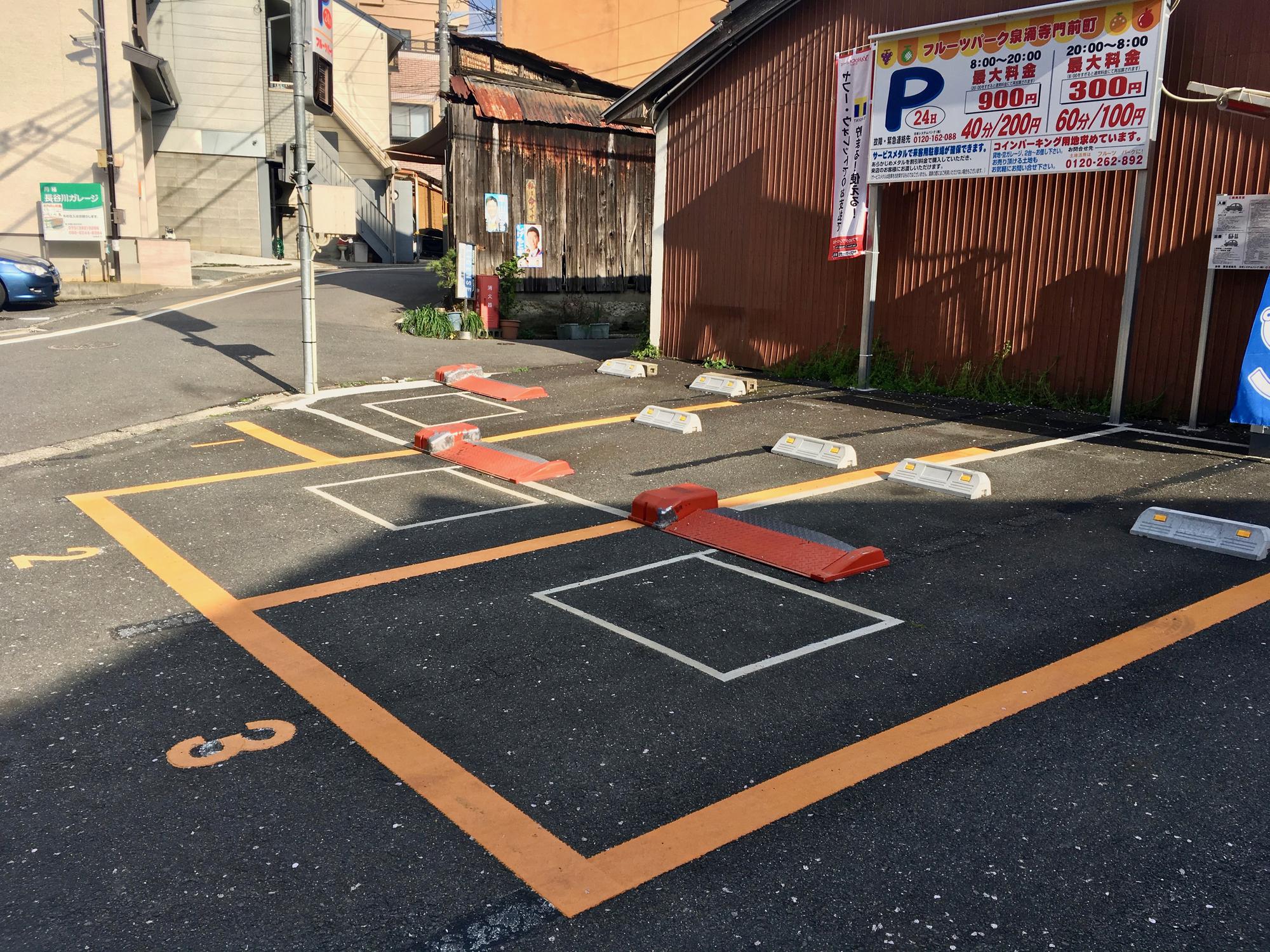 Pedestrian cross.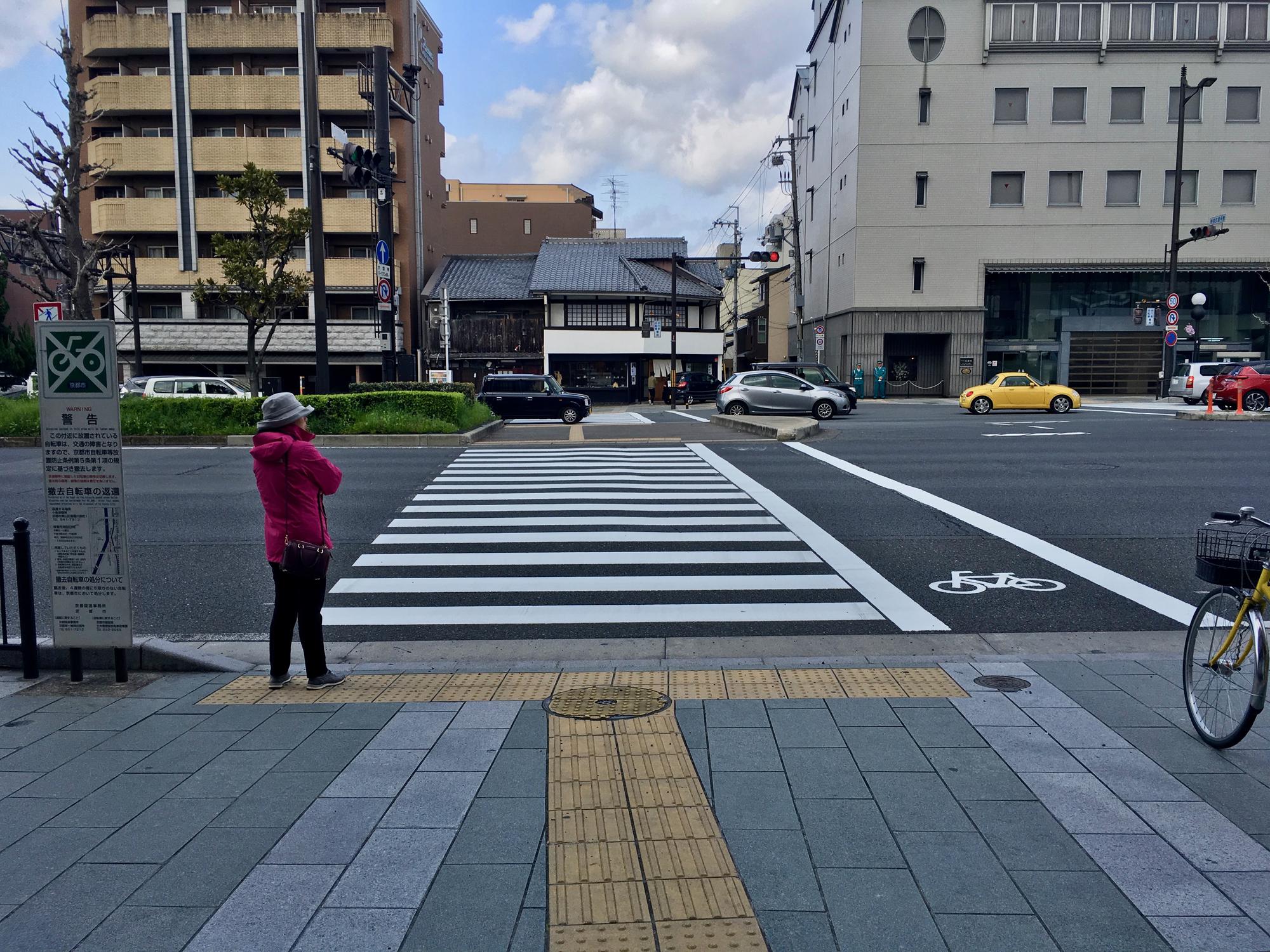 Embankments.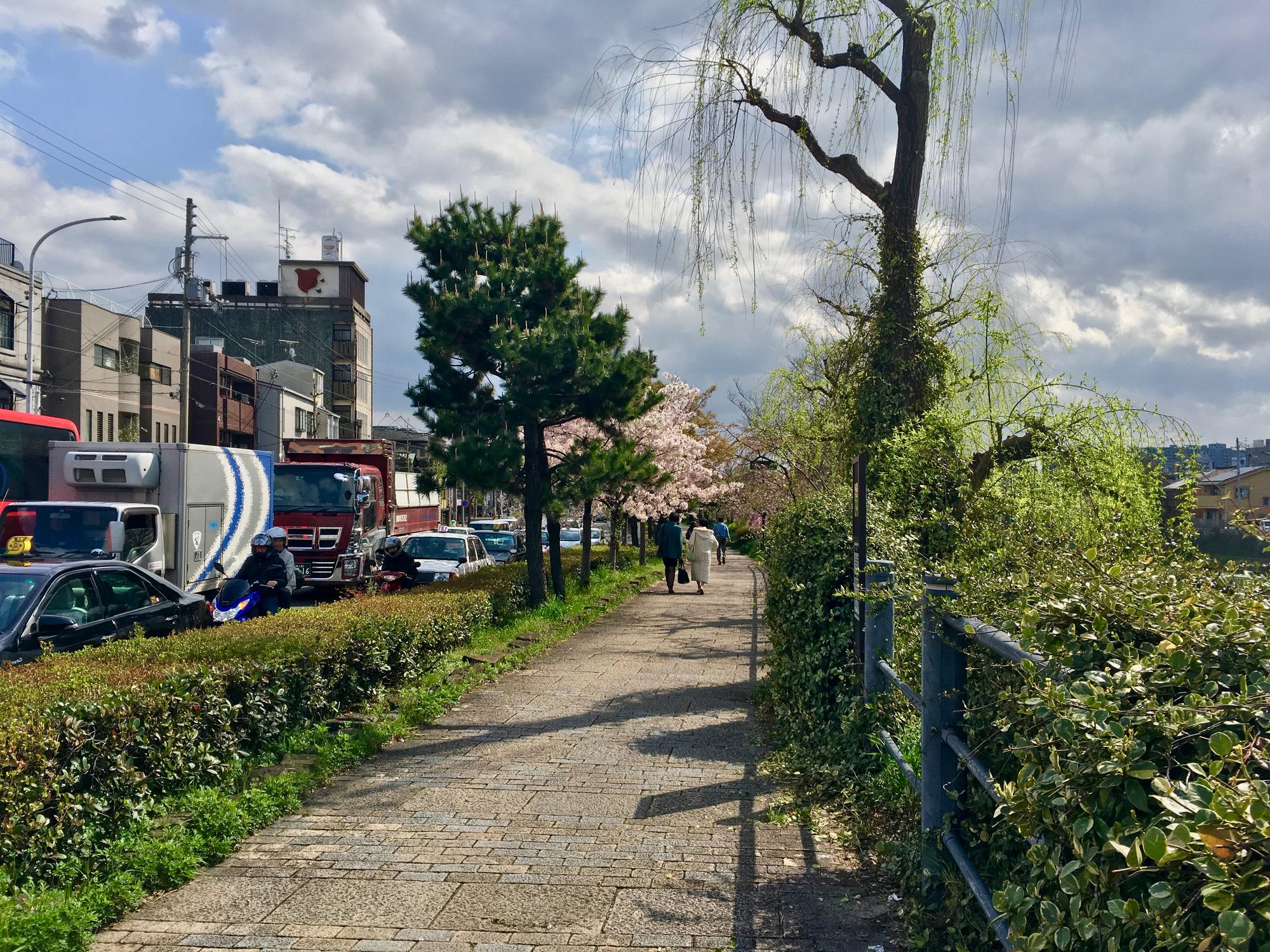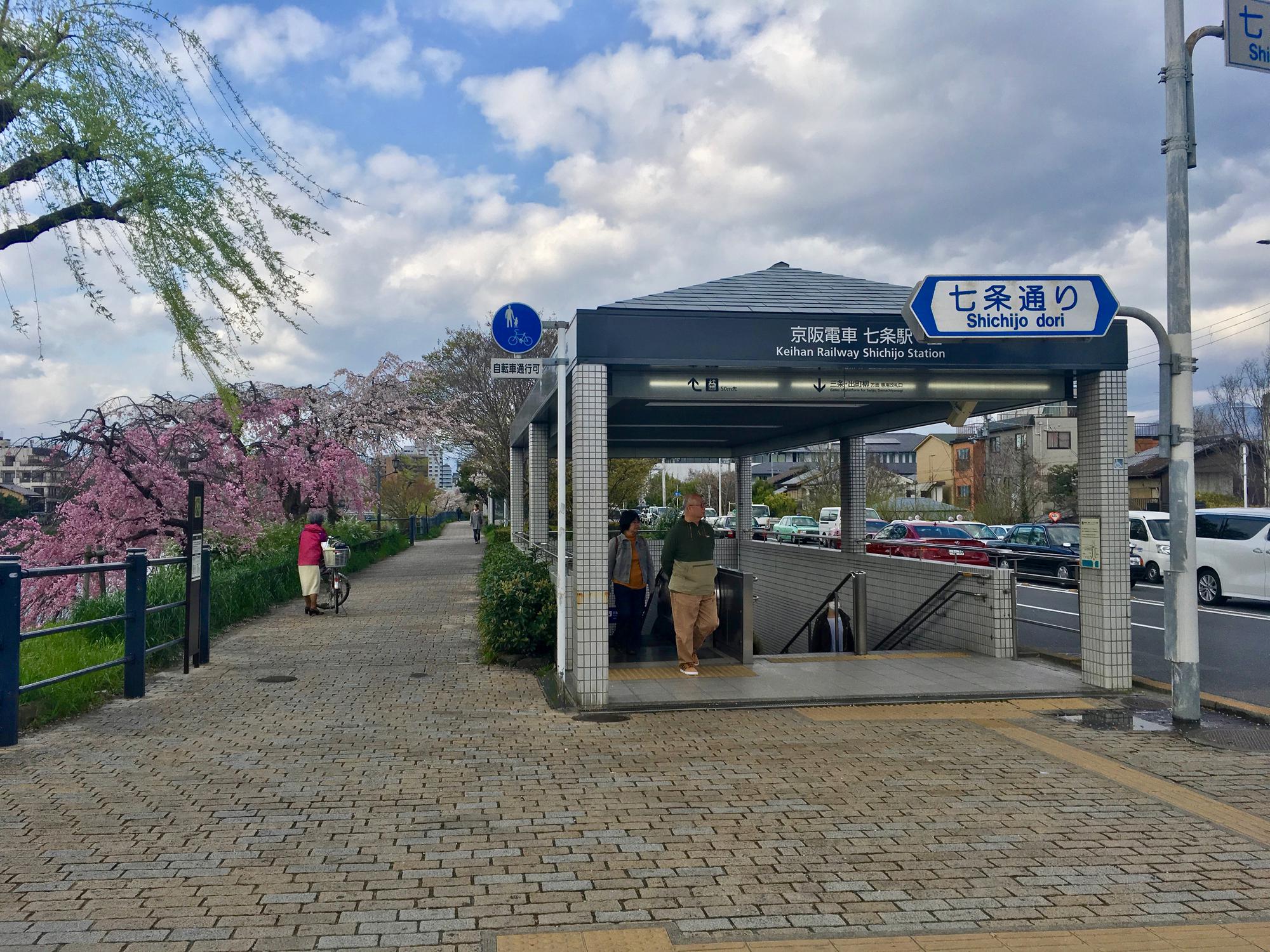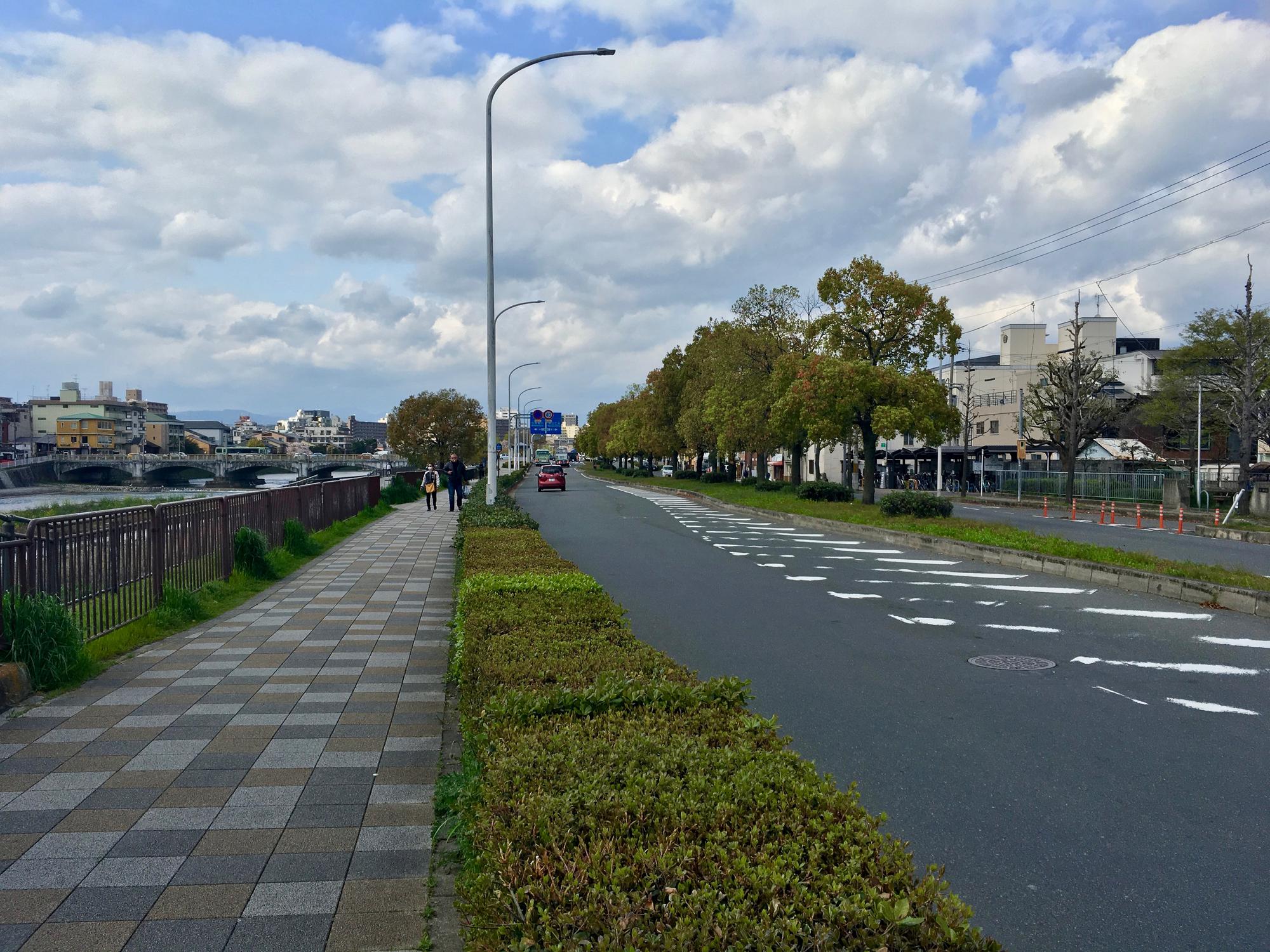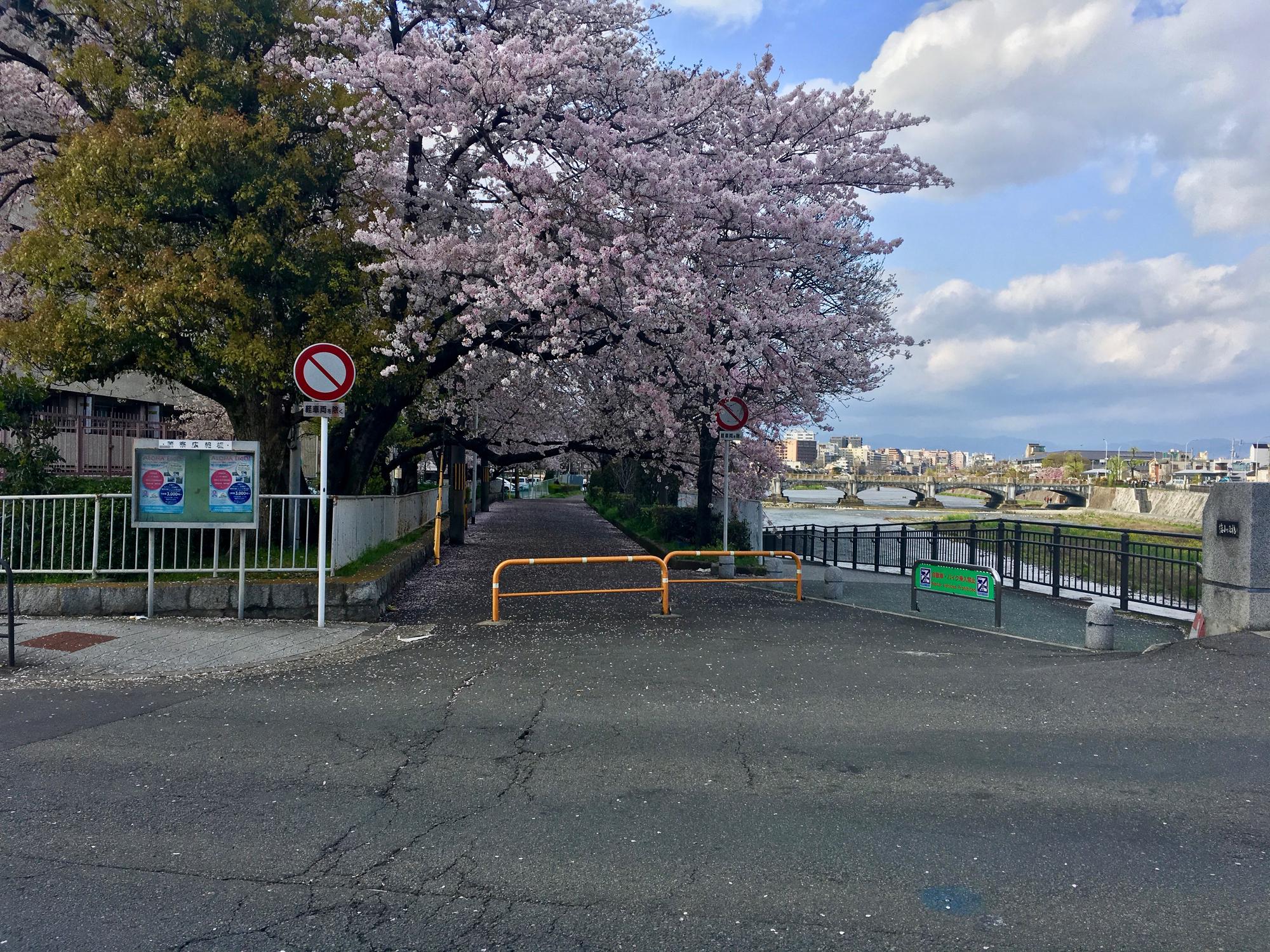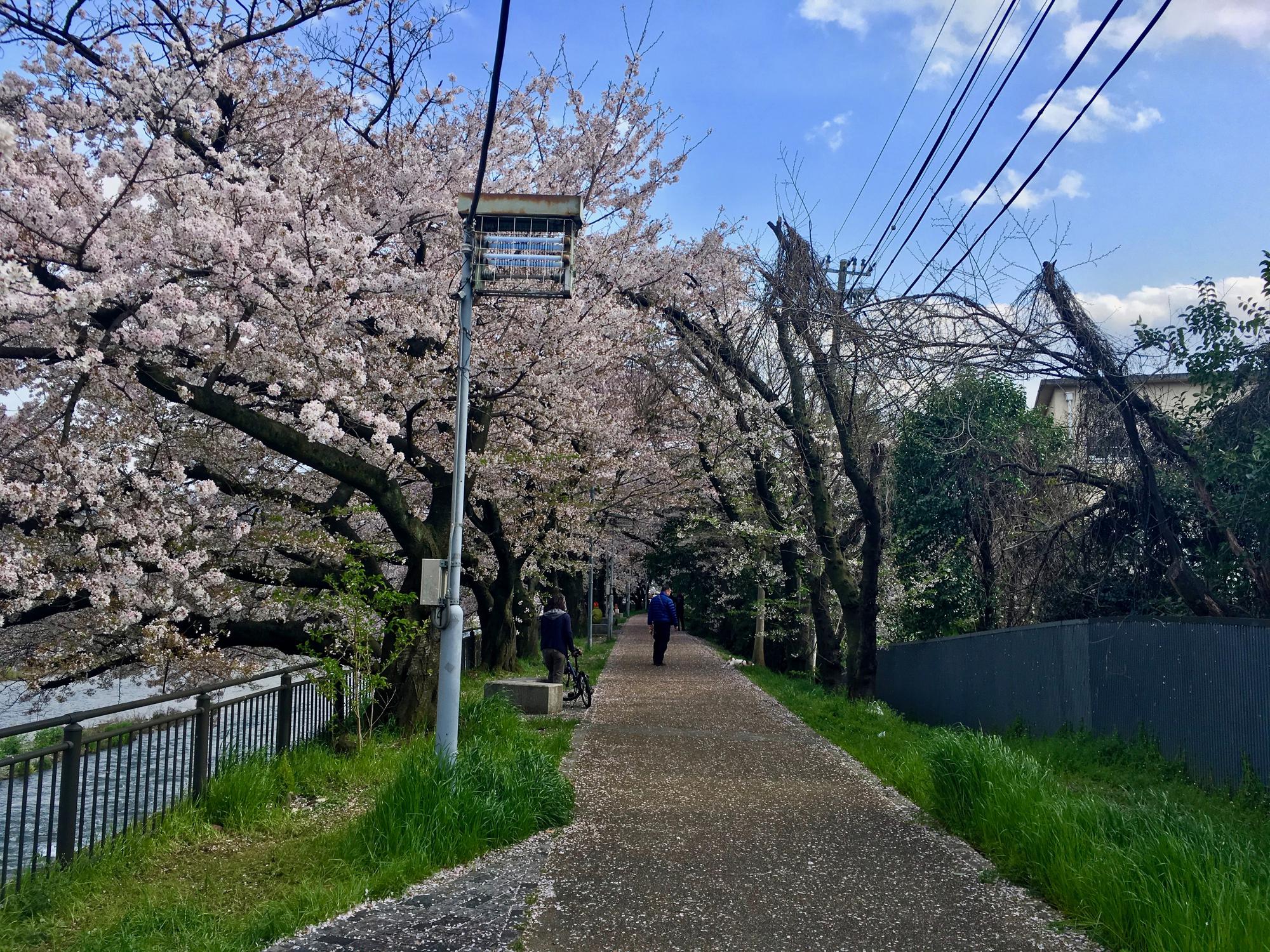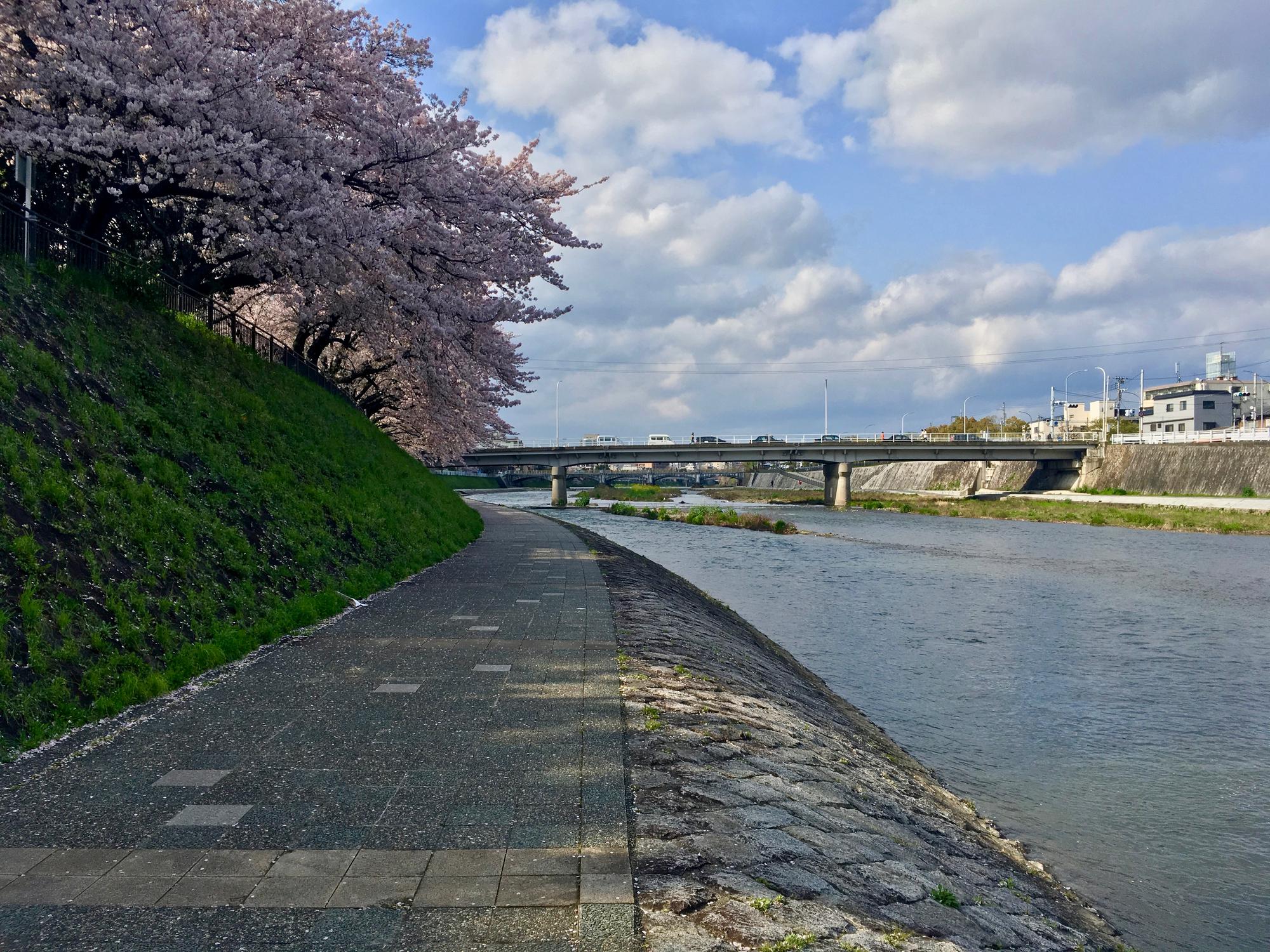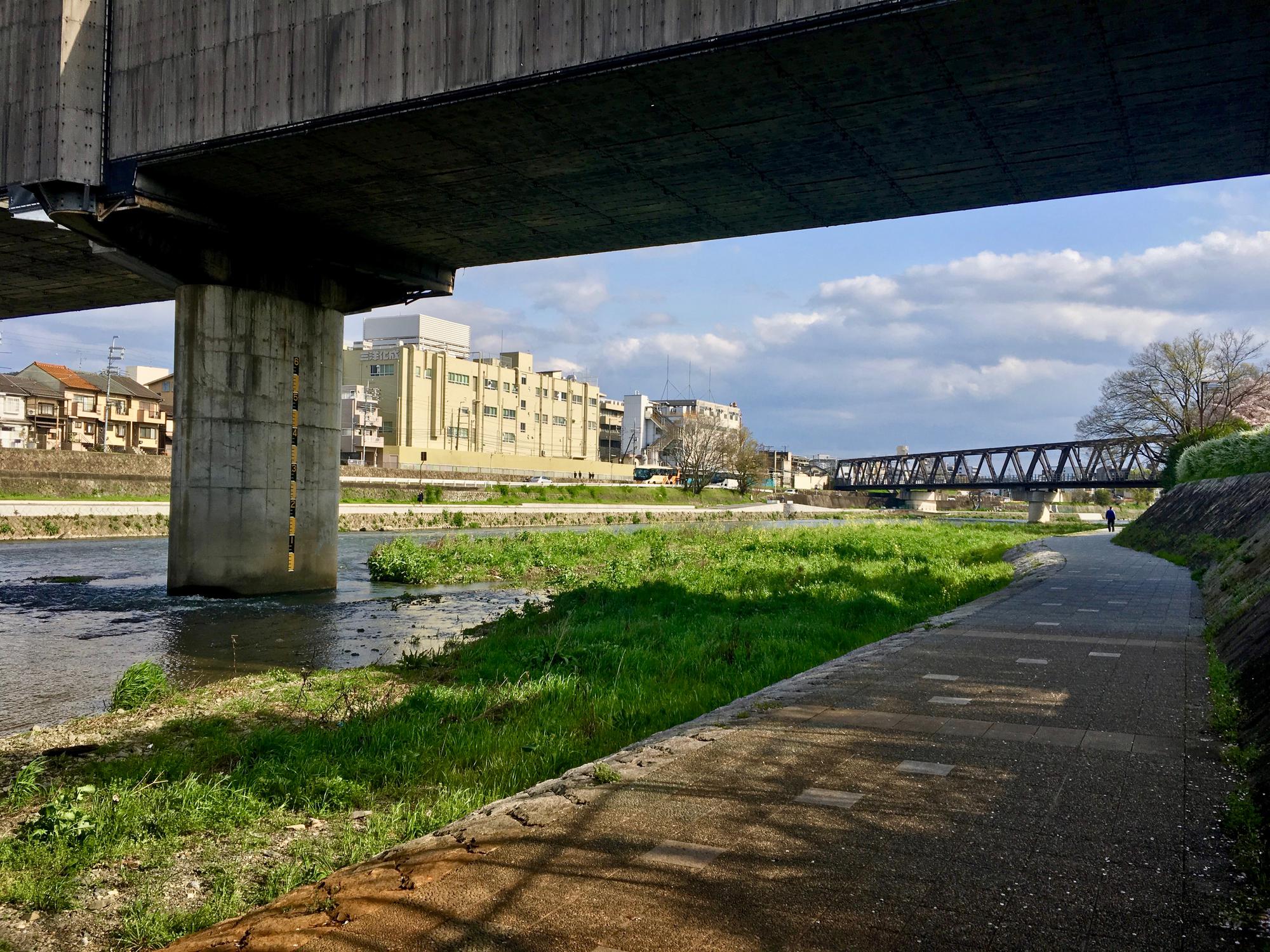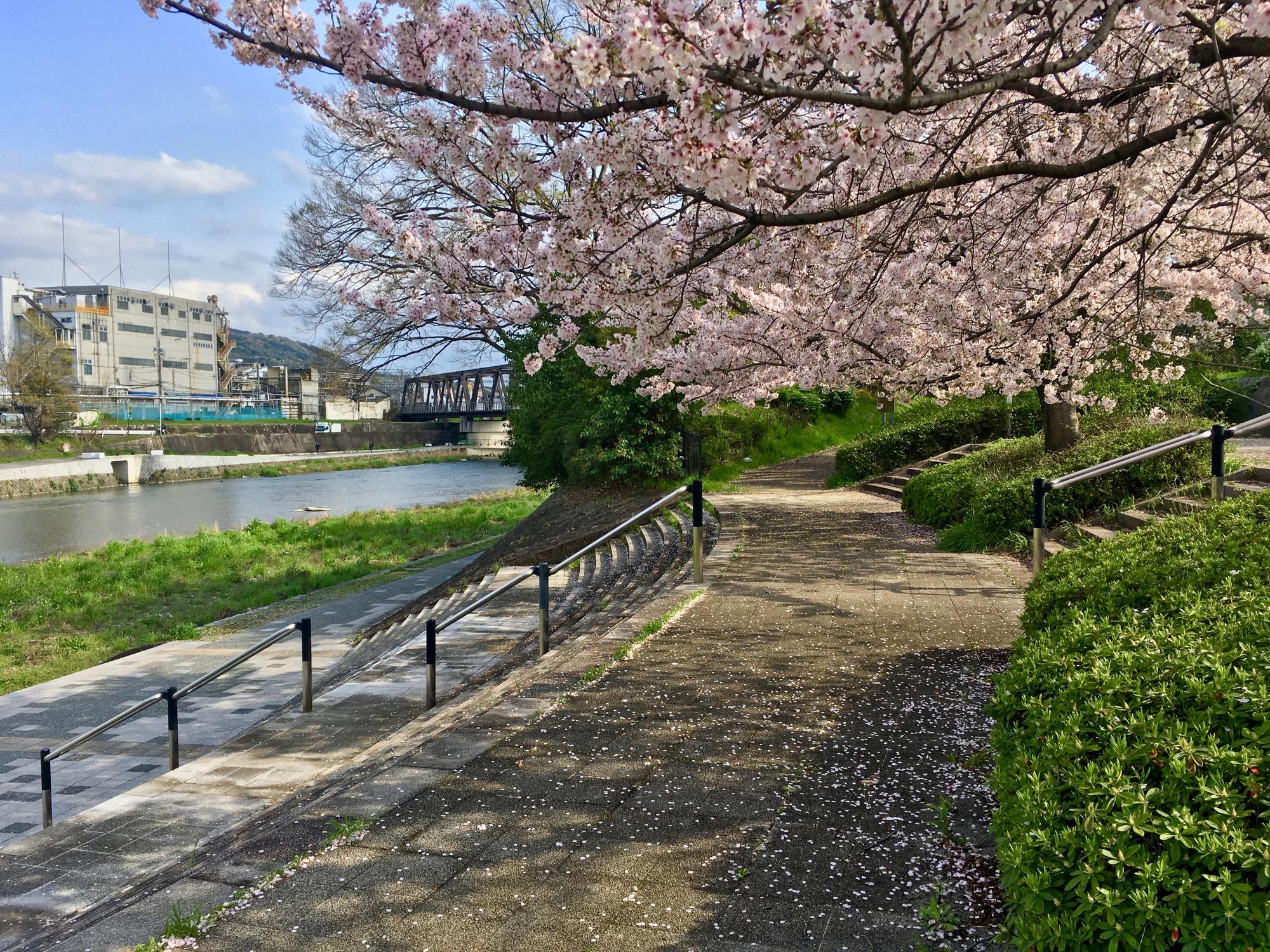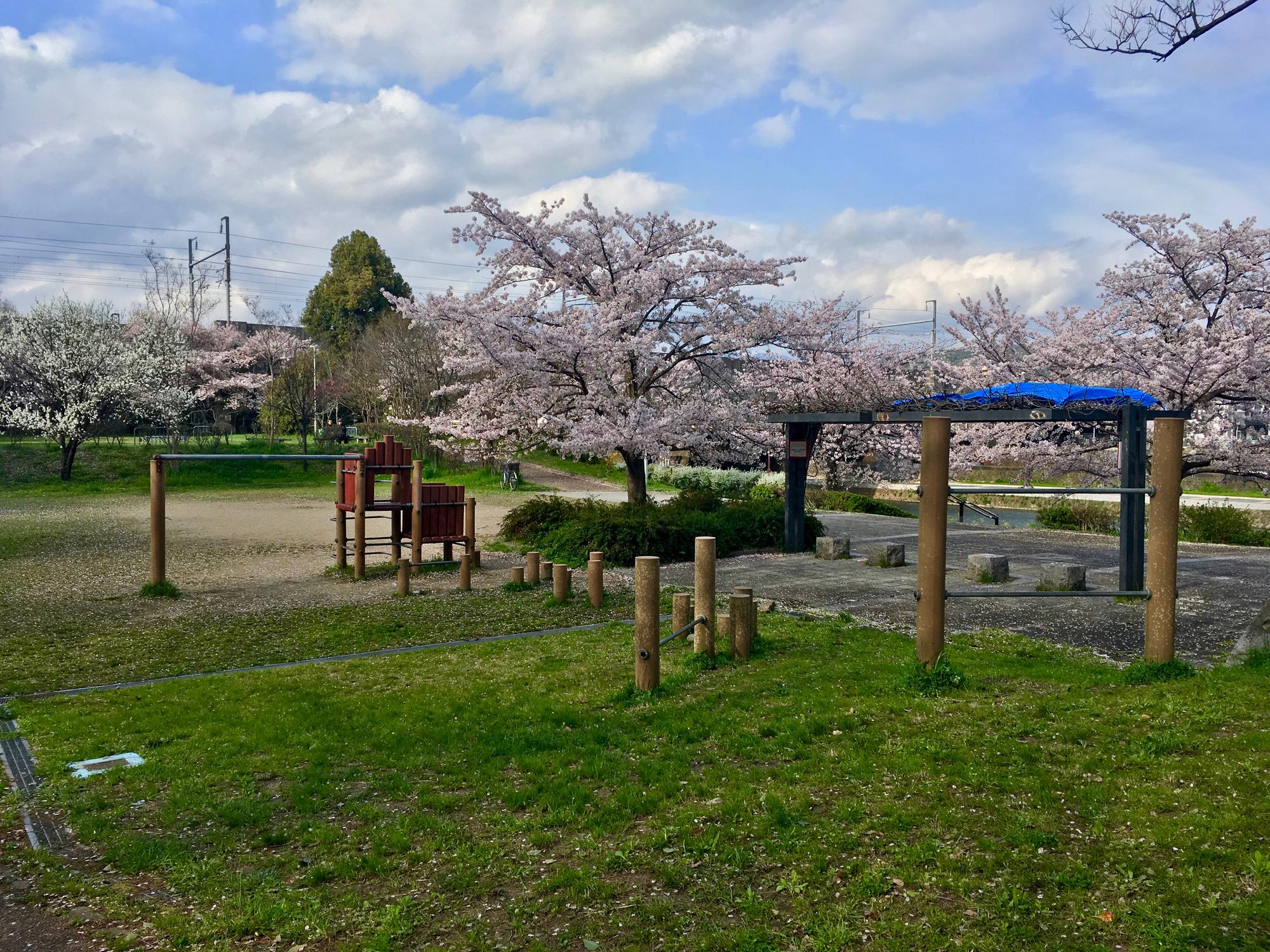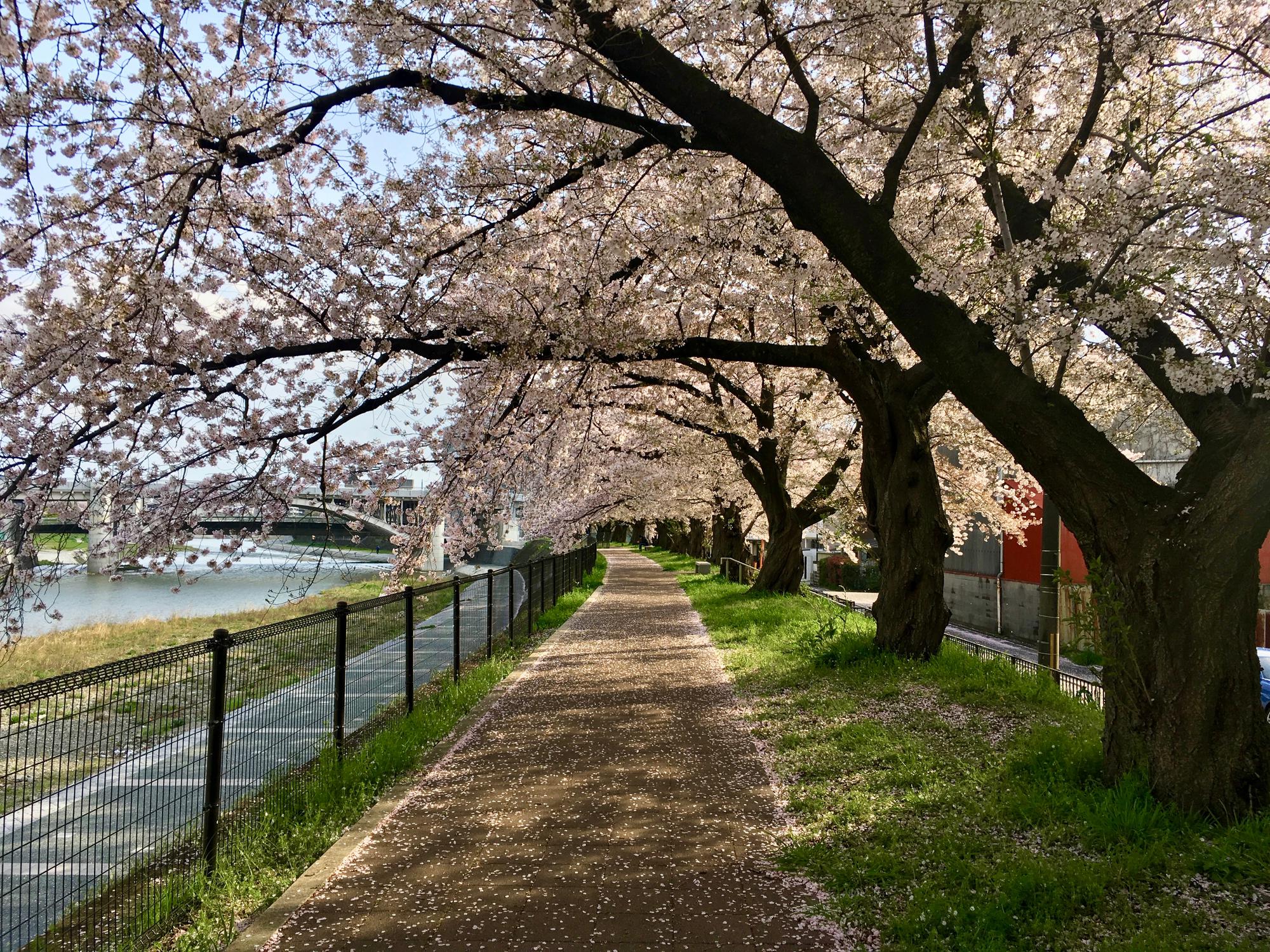 Kamo river.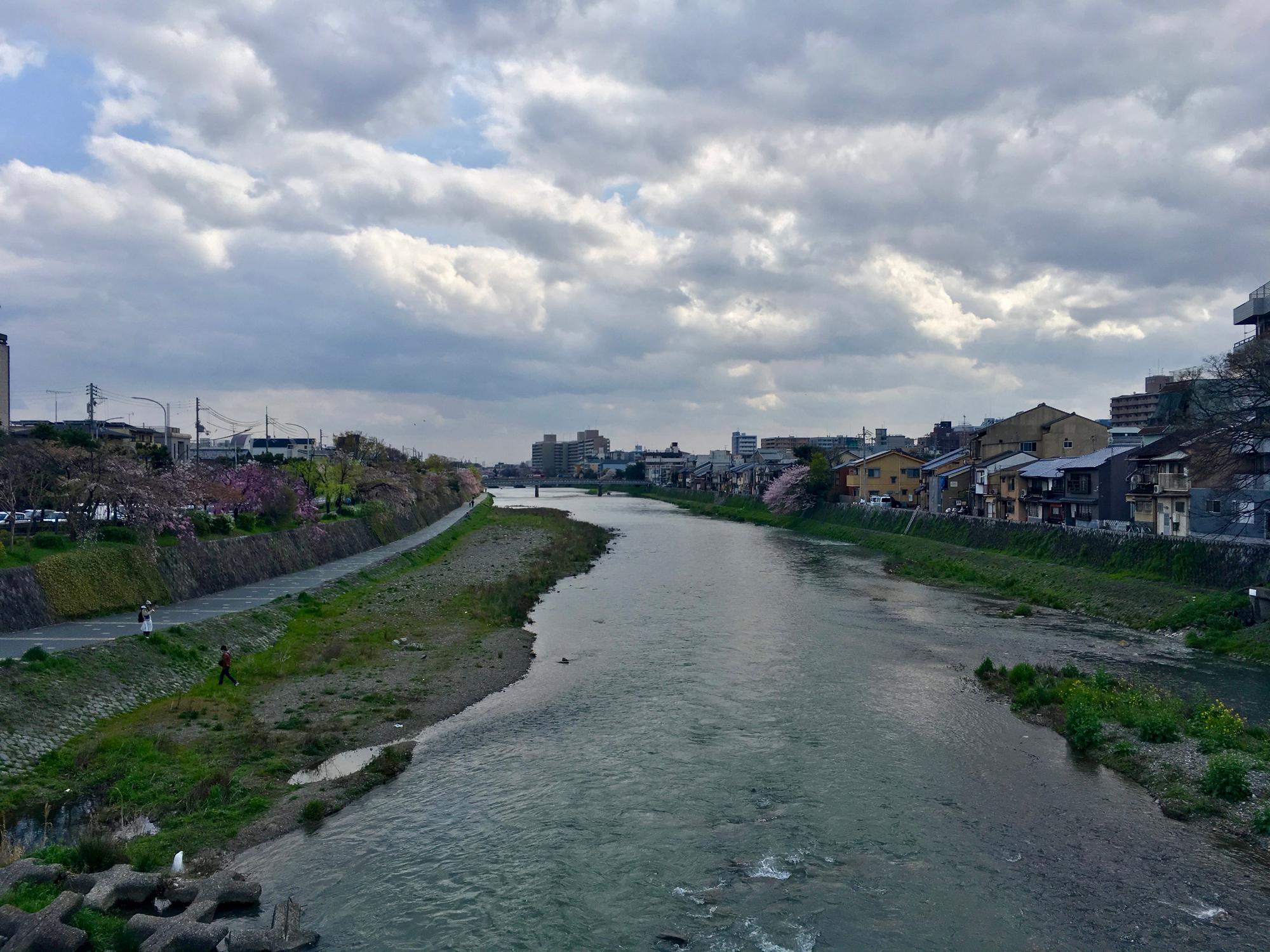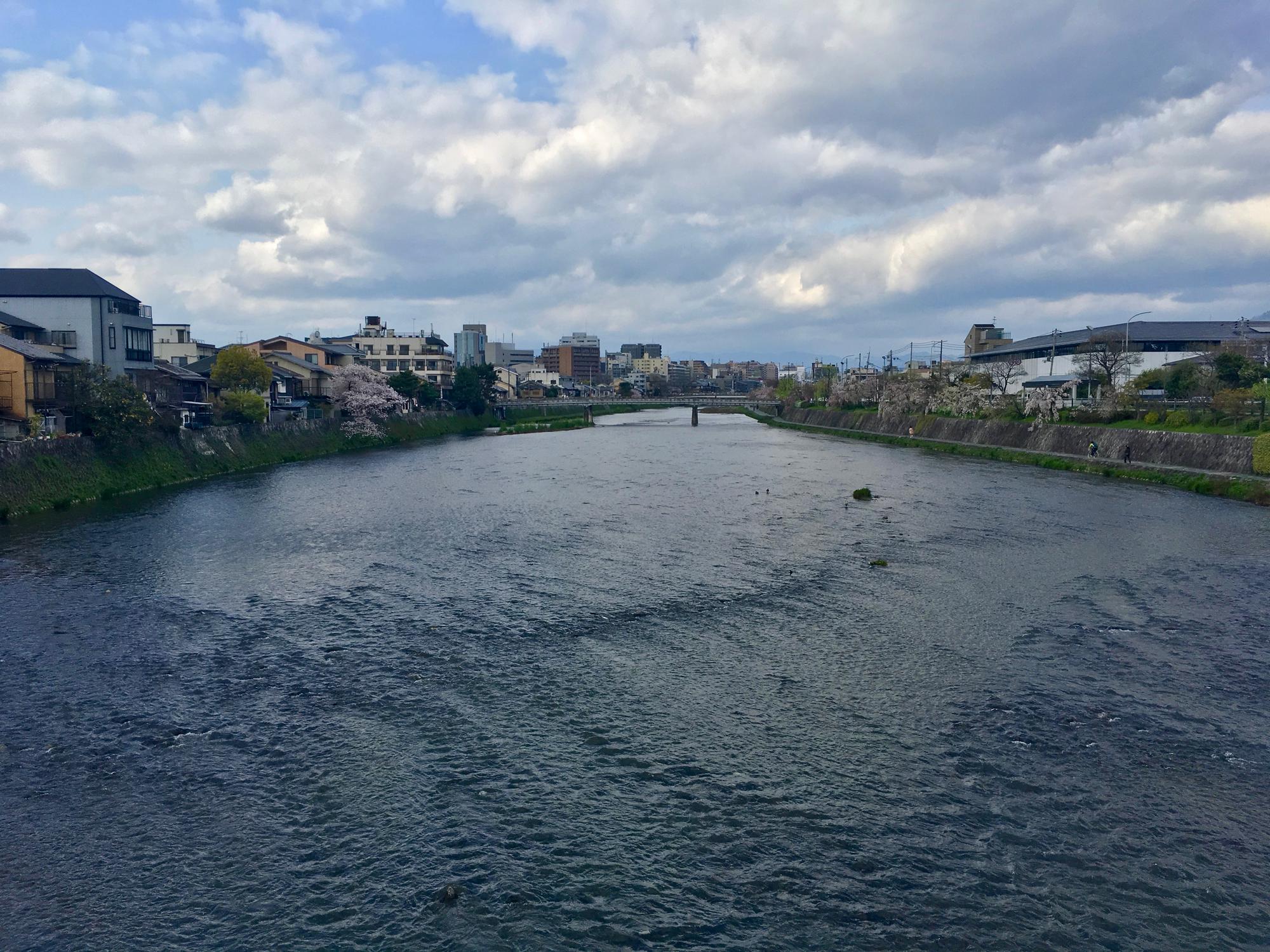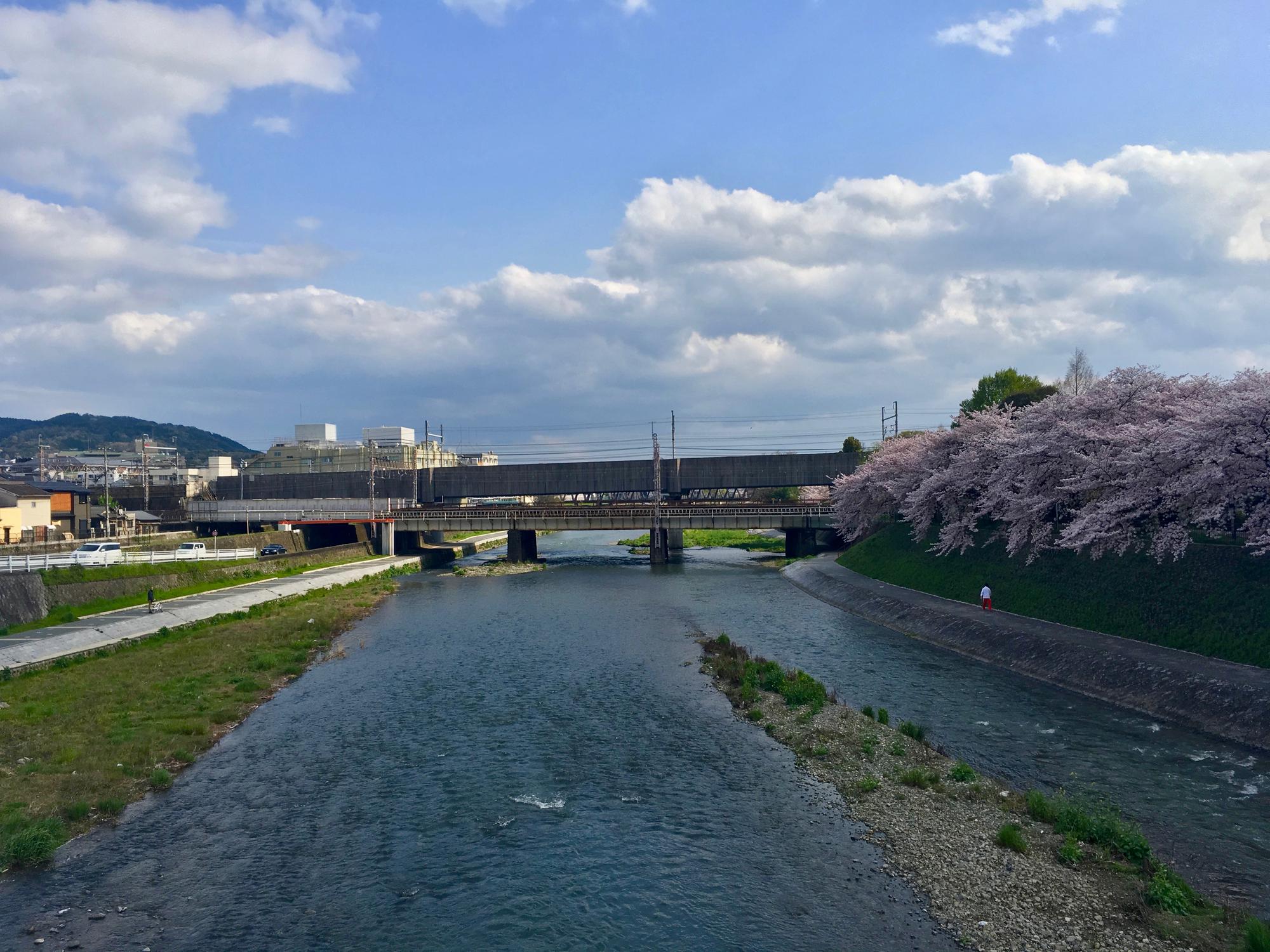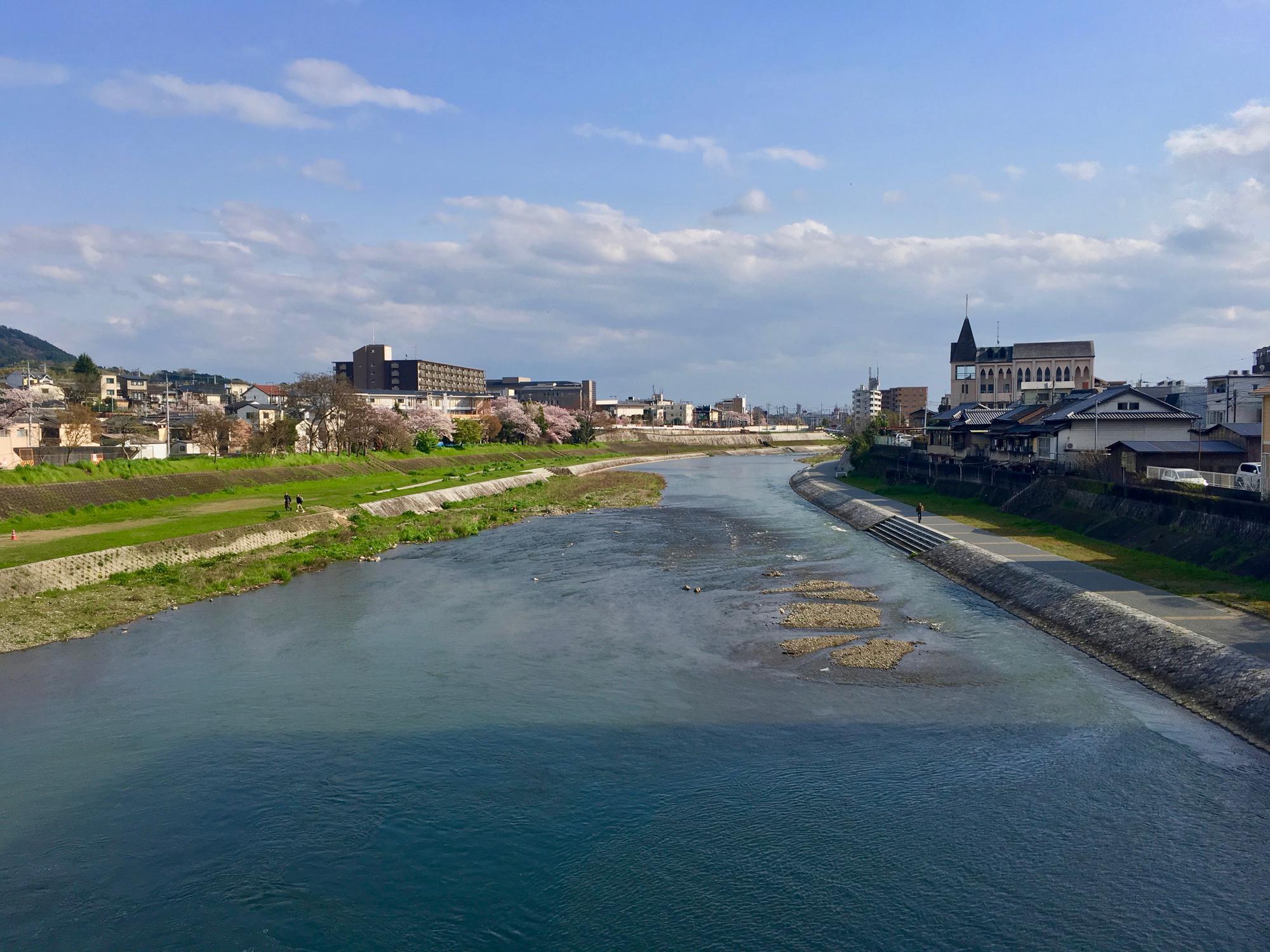 Bridge across it.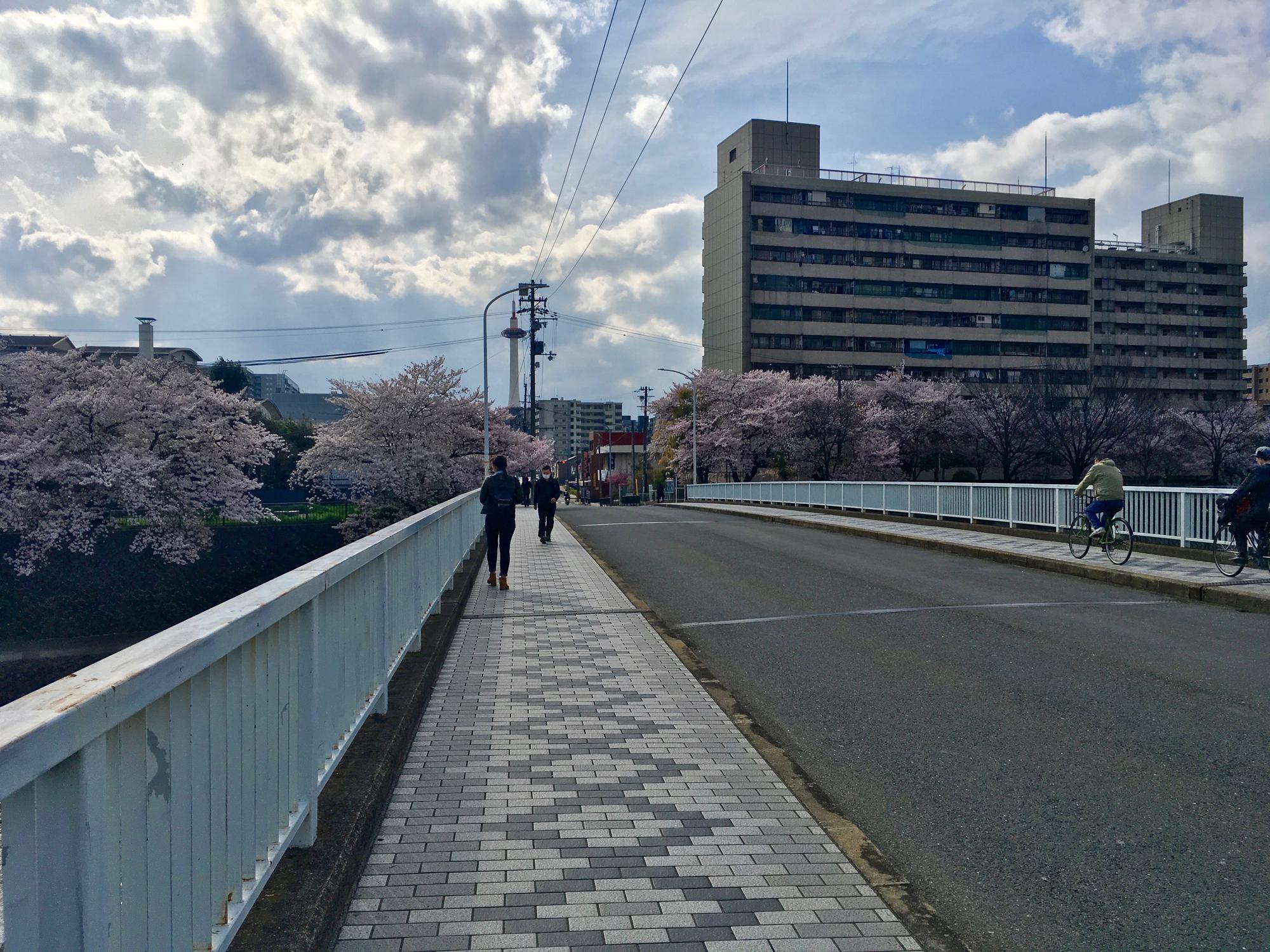 Pedestrians on the left, cyclists on the right. Gas station ahead, fuel price in yens can be seen at it.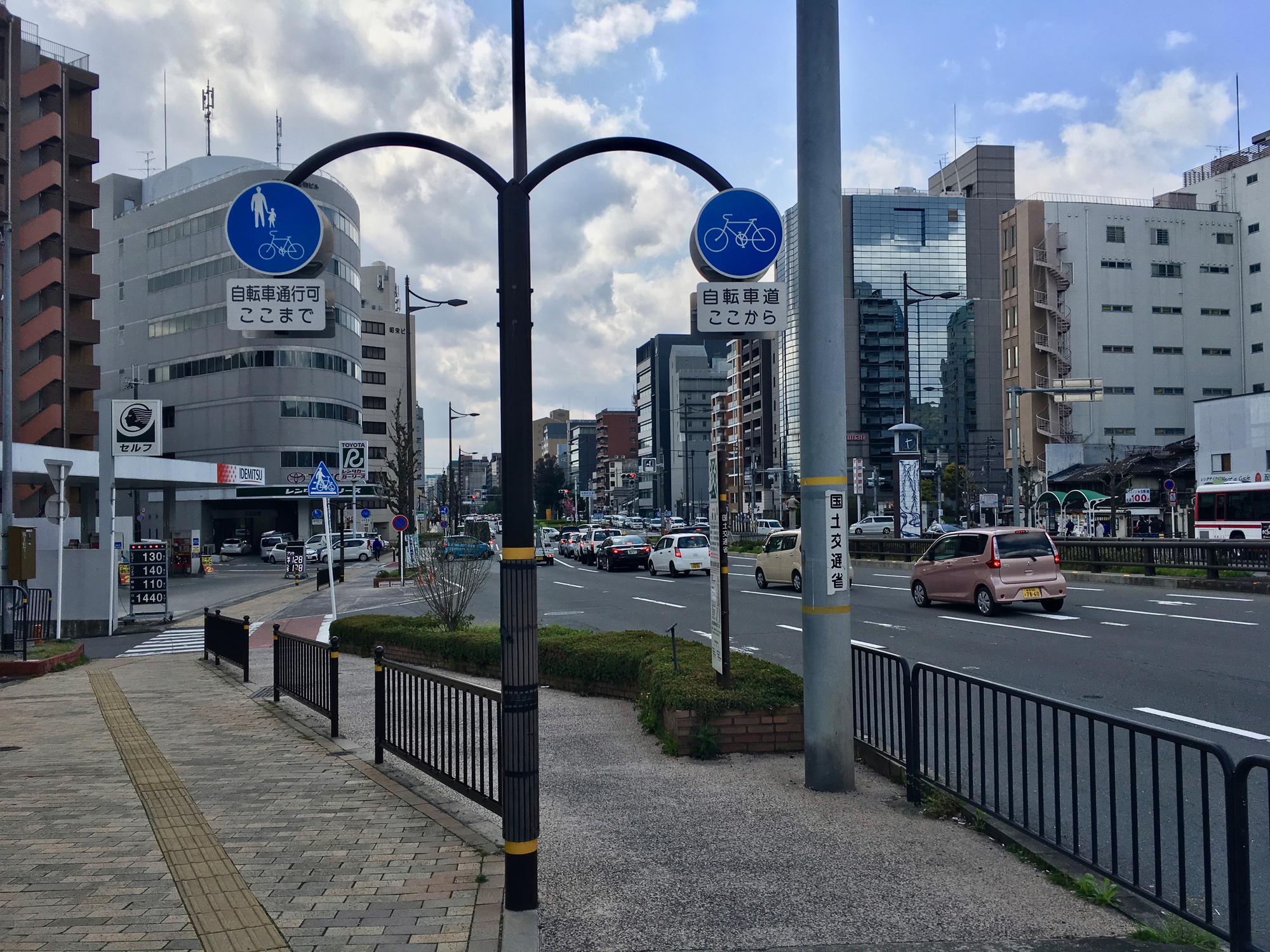 Pleasant street.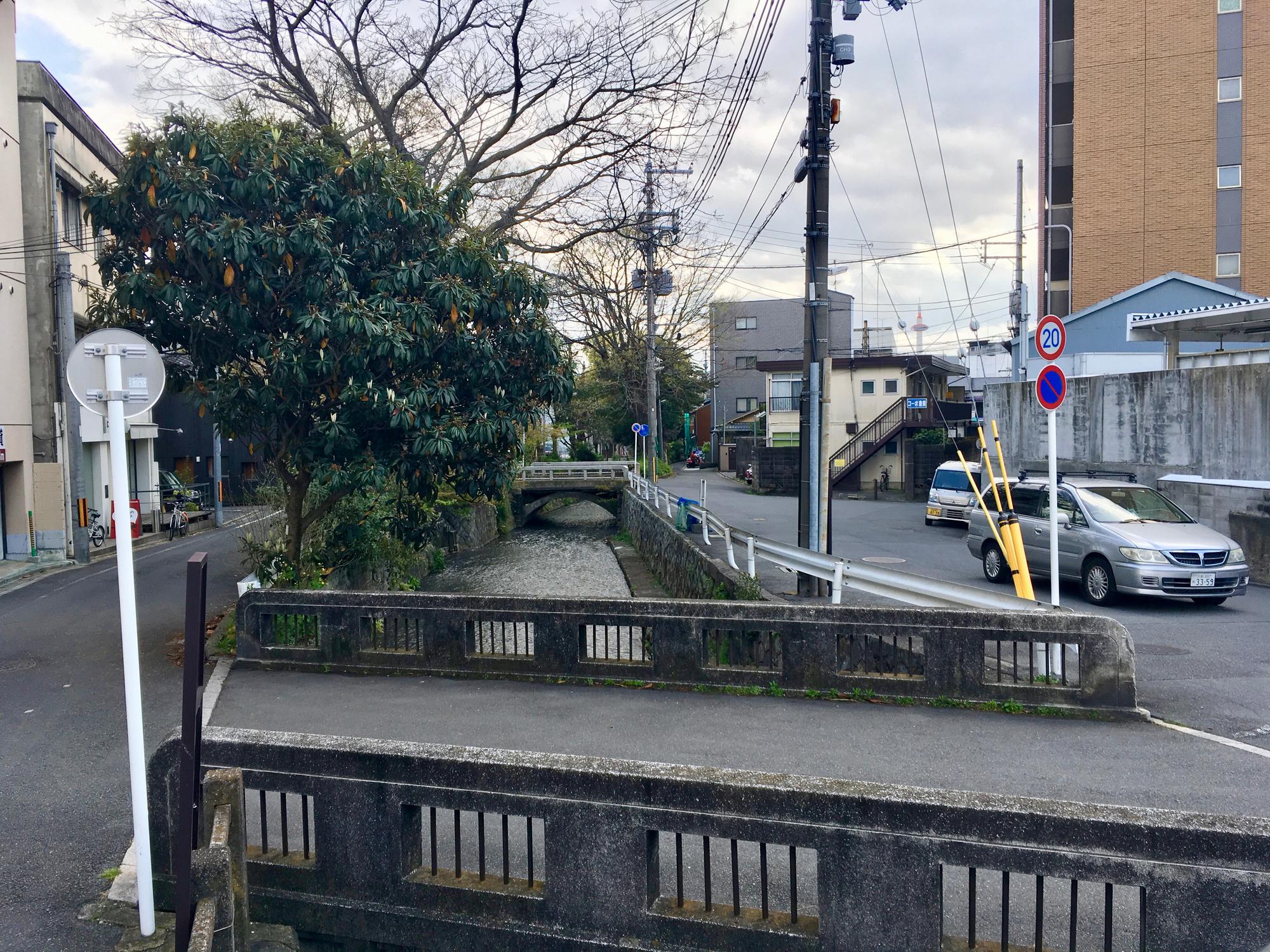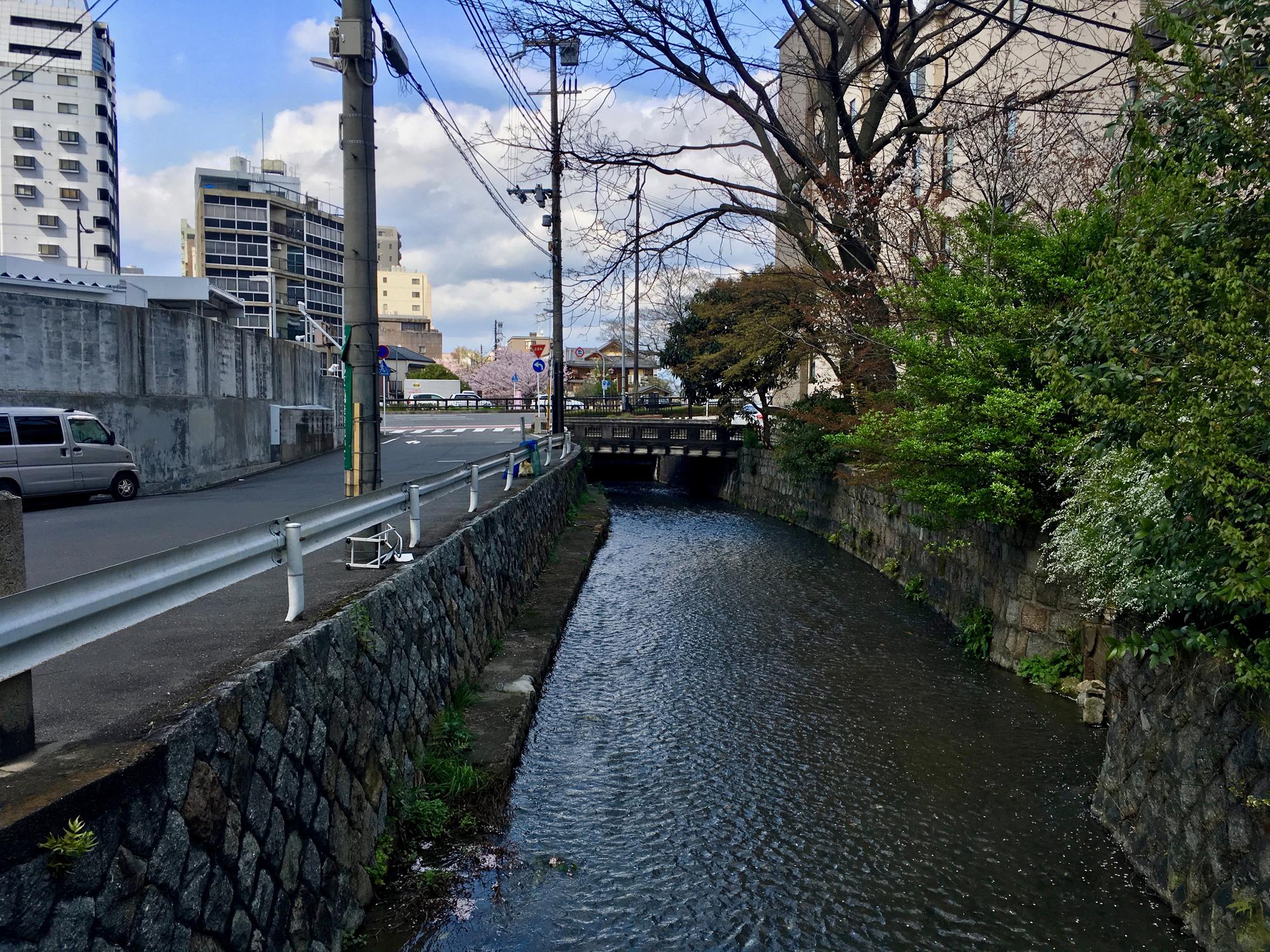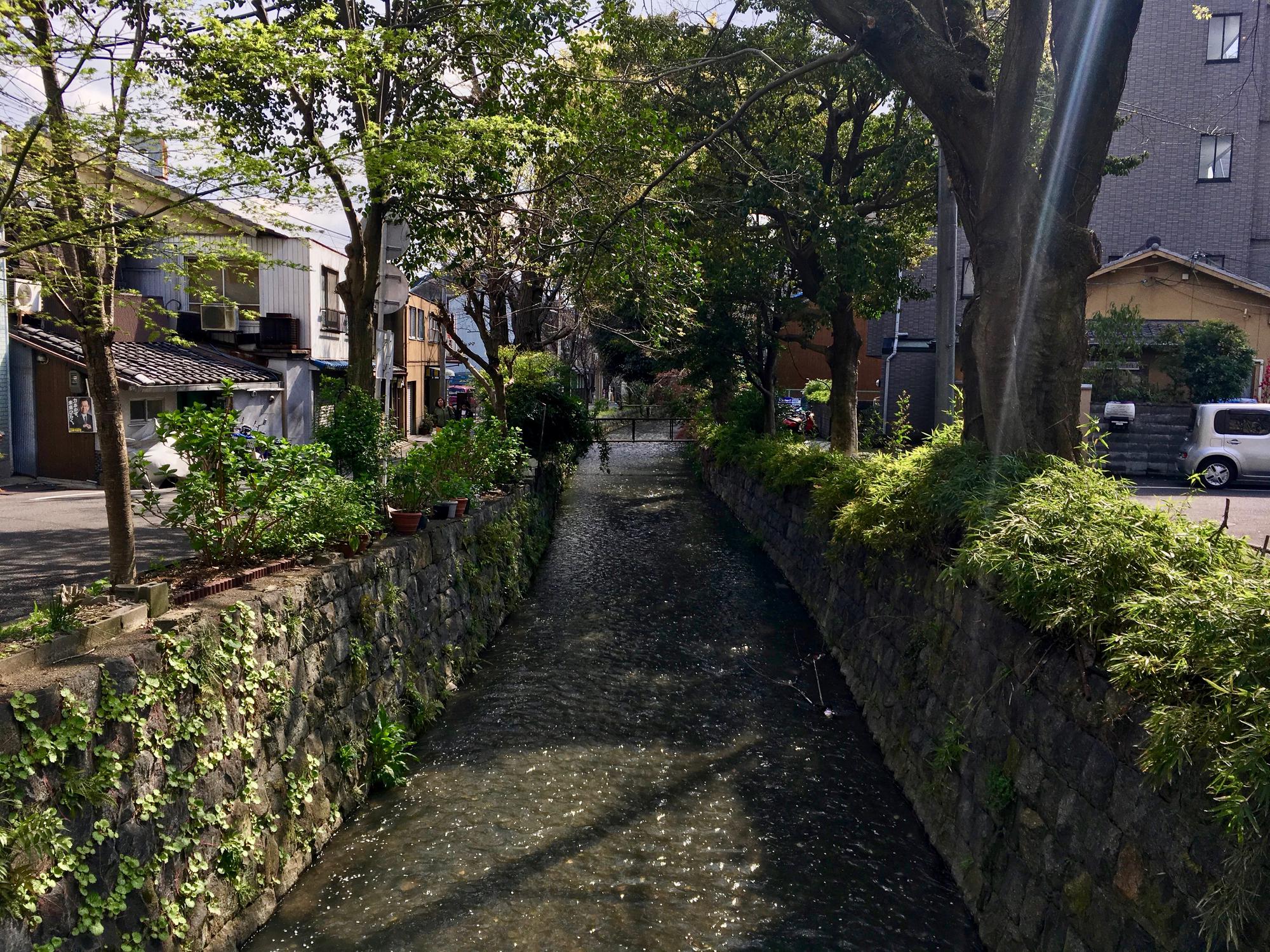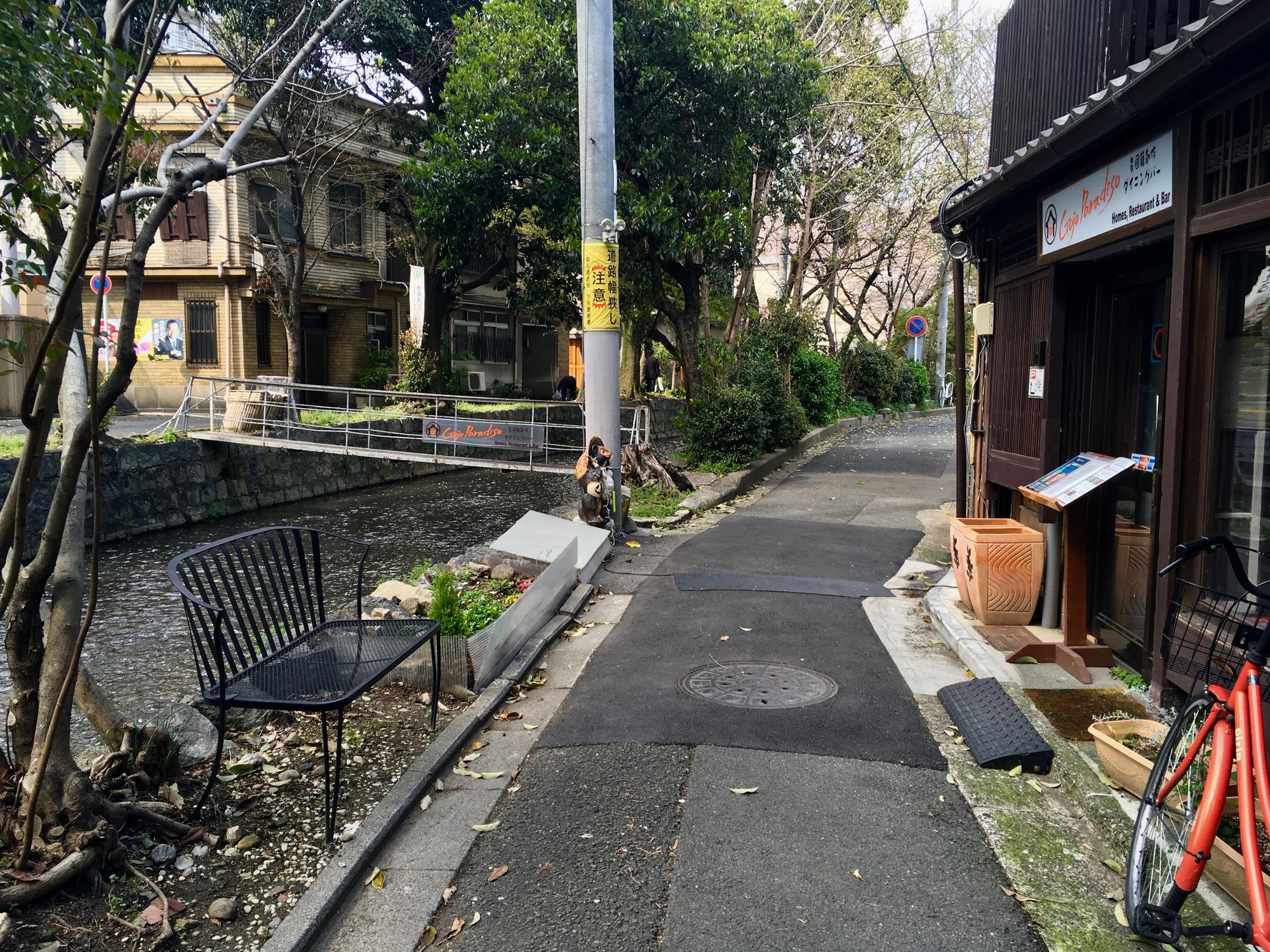 Sakura petals falling.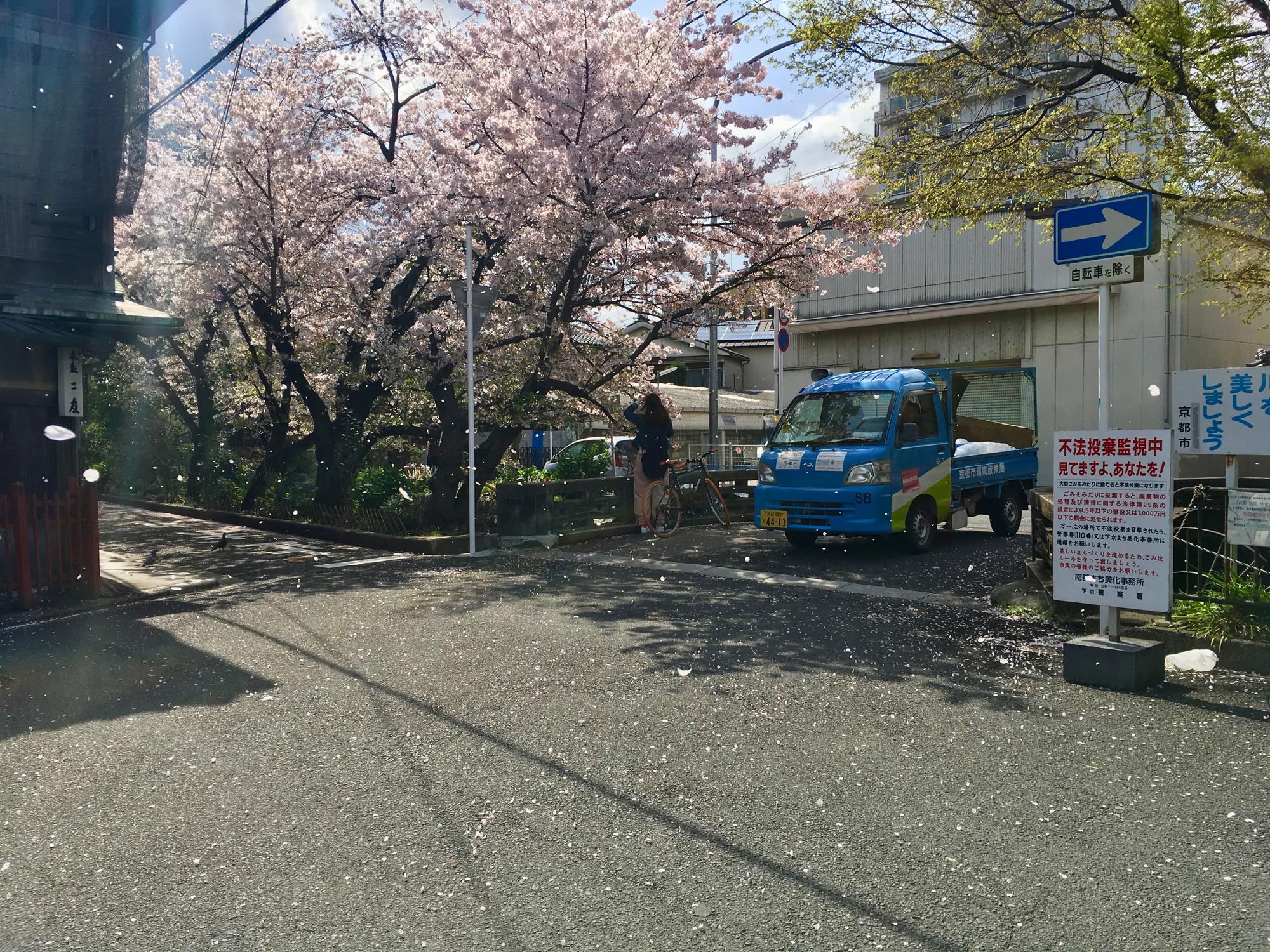 Started car with loudspeakers.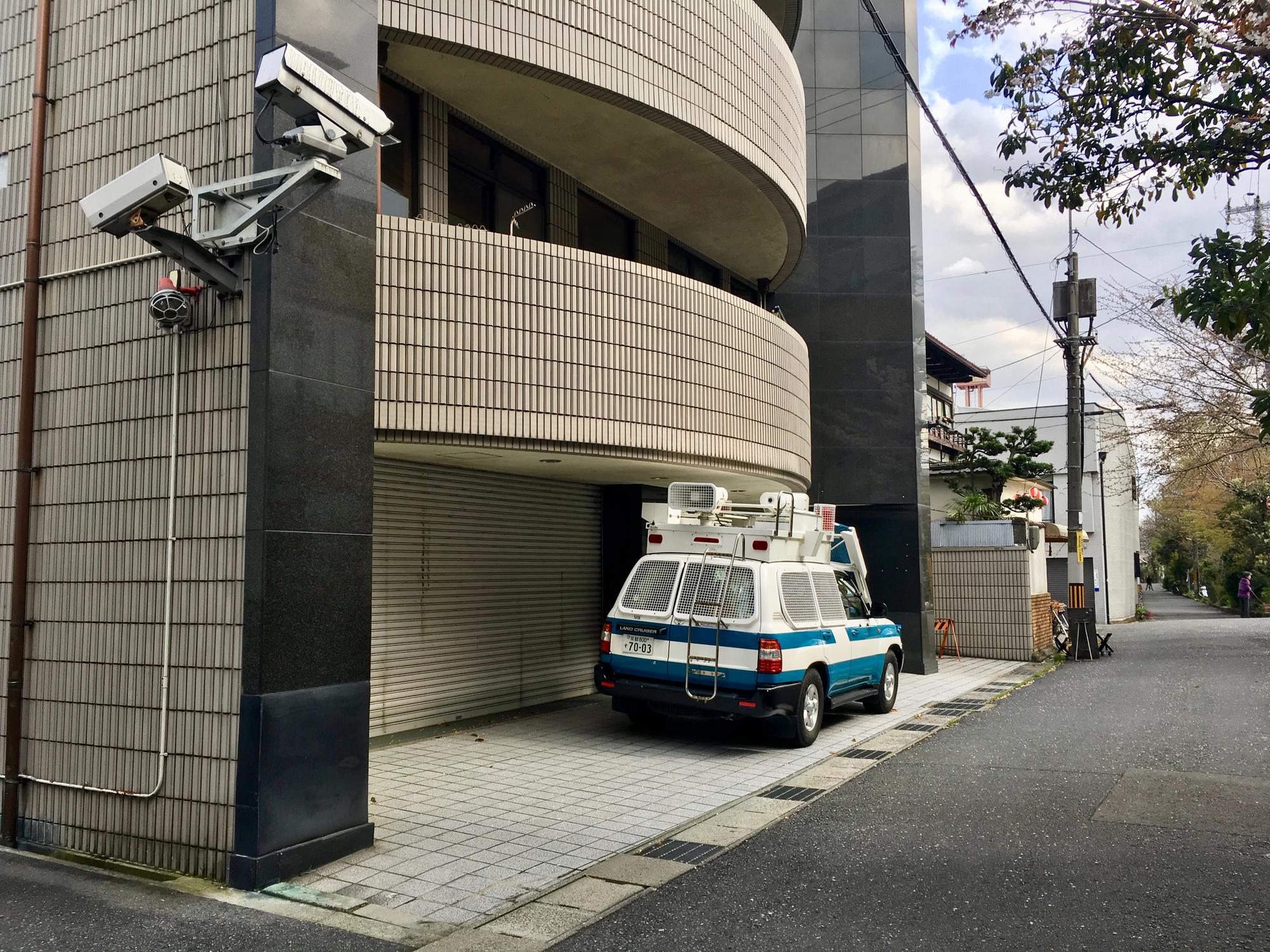 More streets.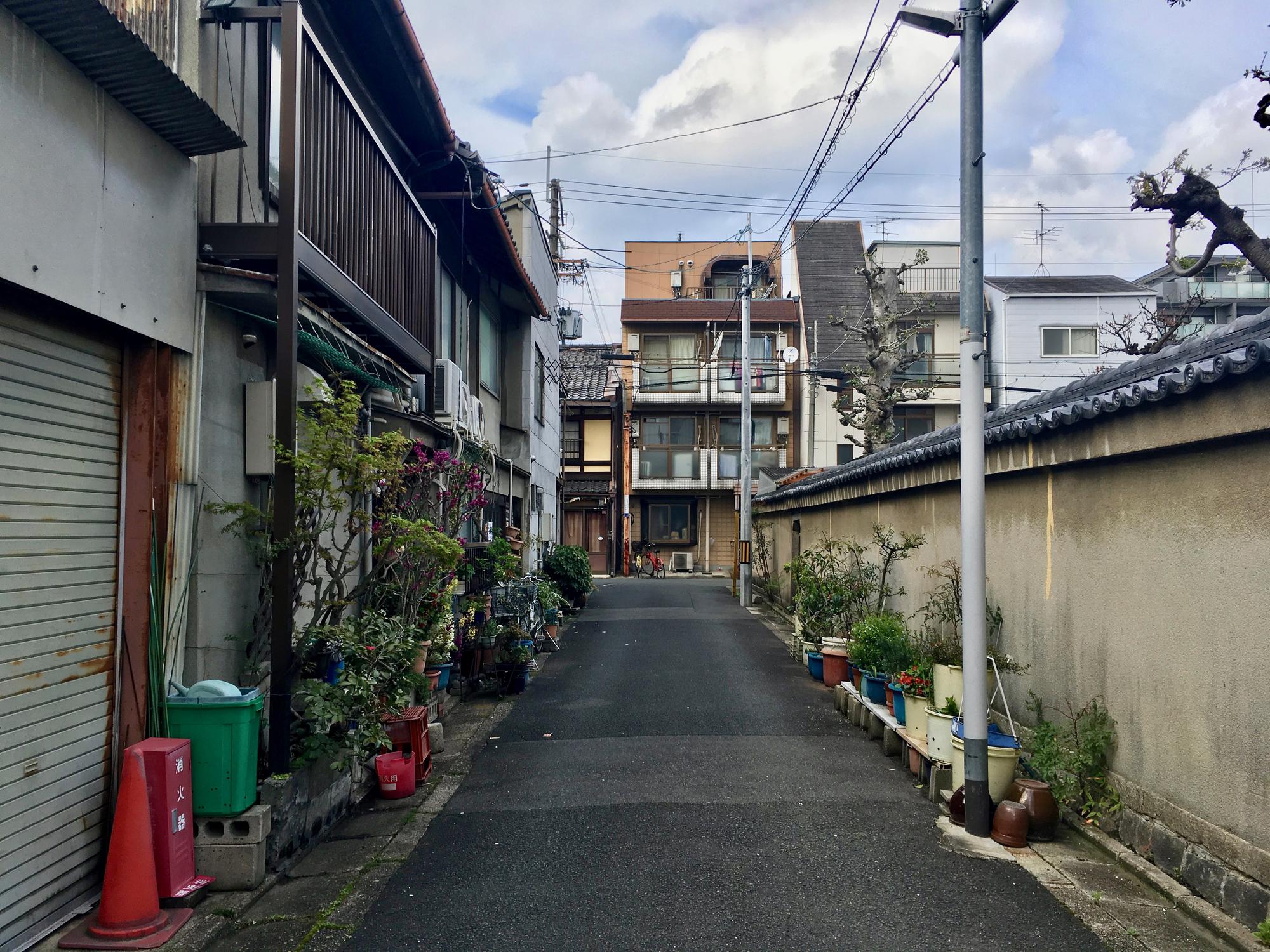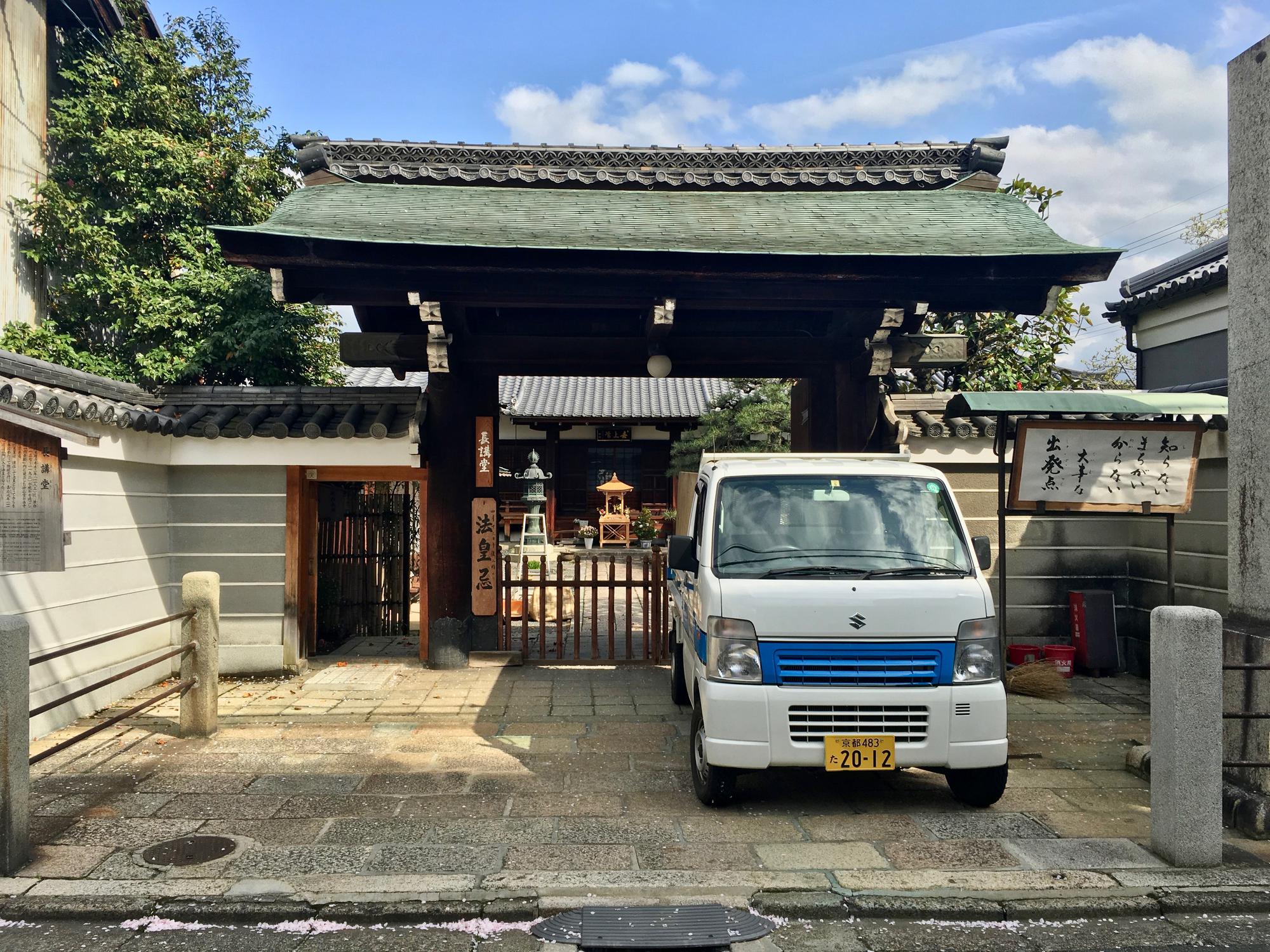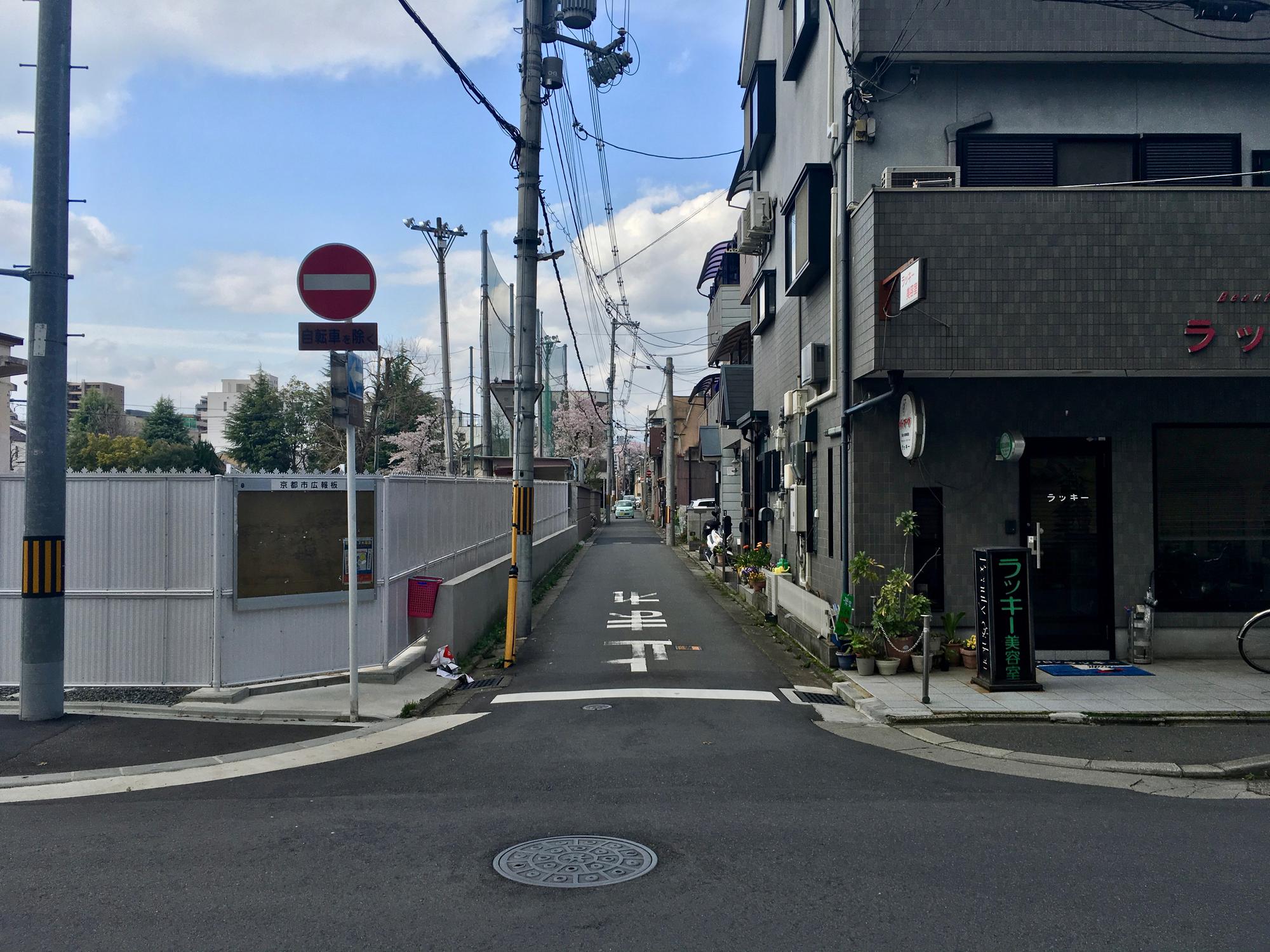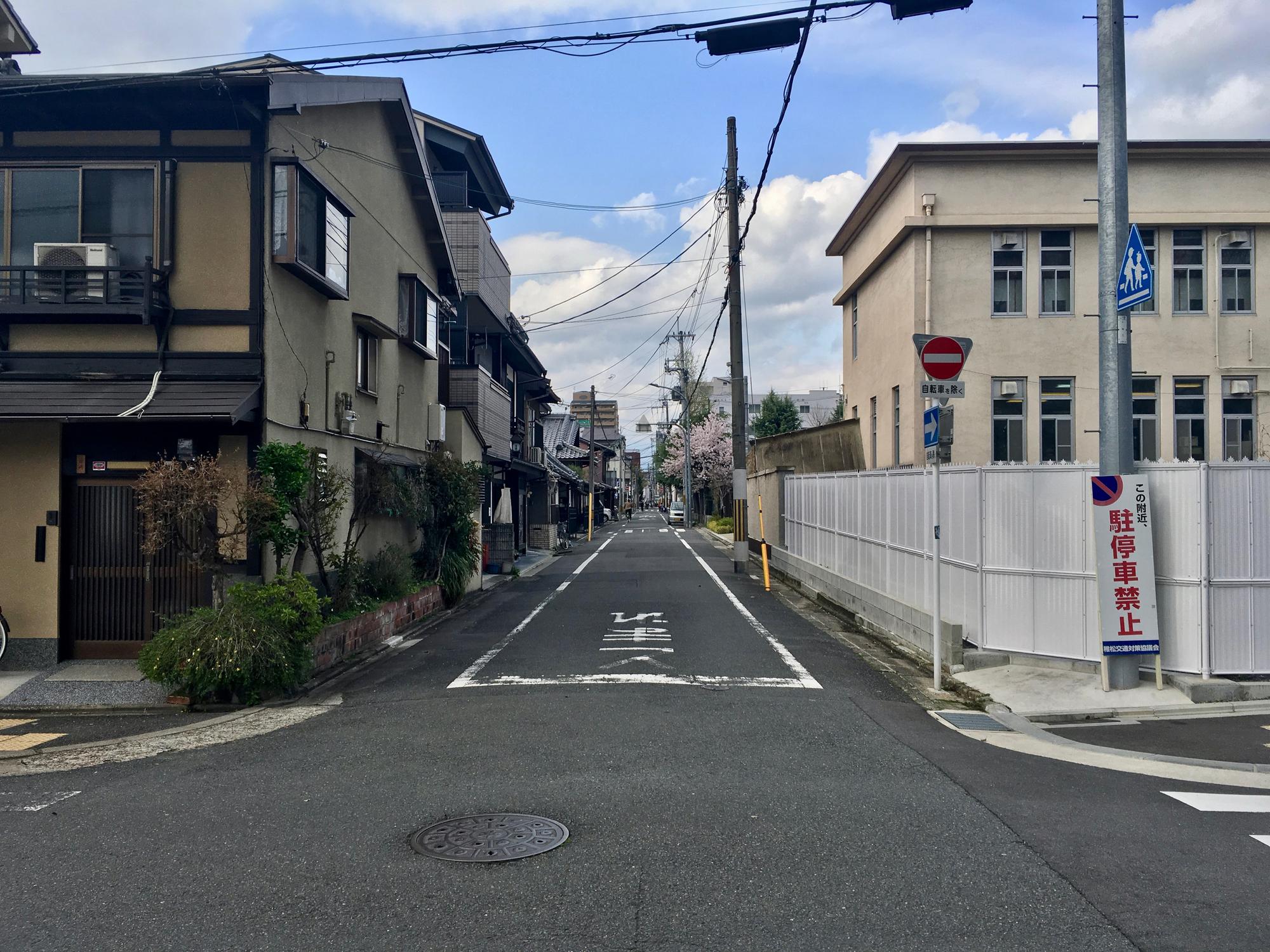 Not only meters are outside, but gas tankless water heaters as well.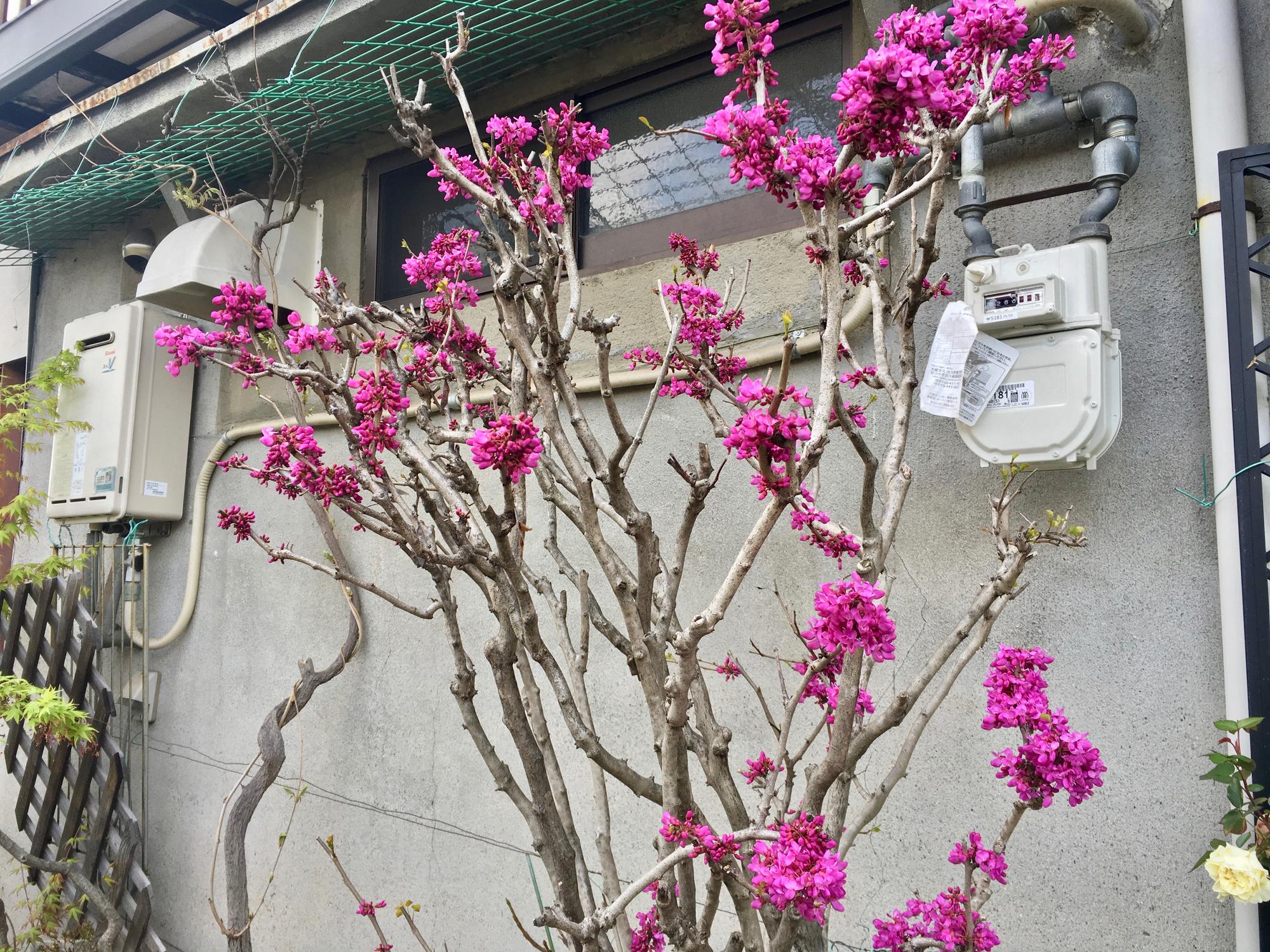 Shoes drying on the street.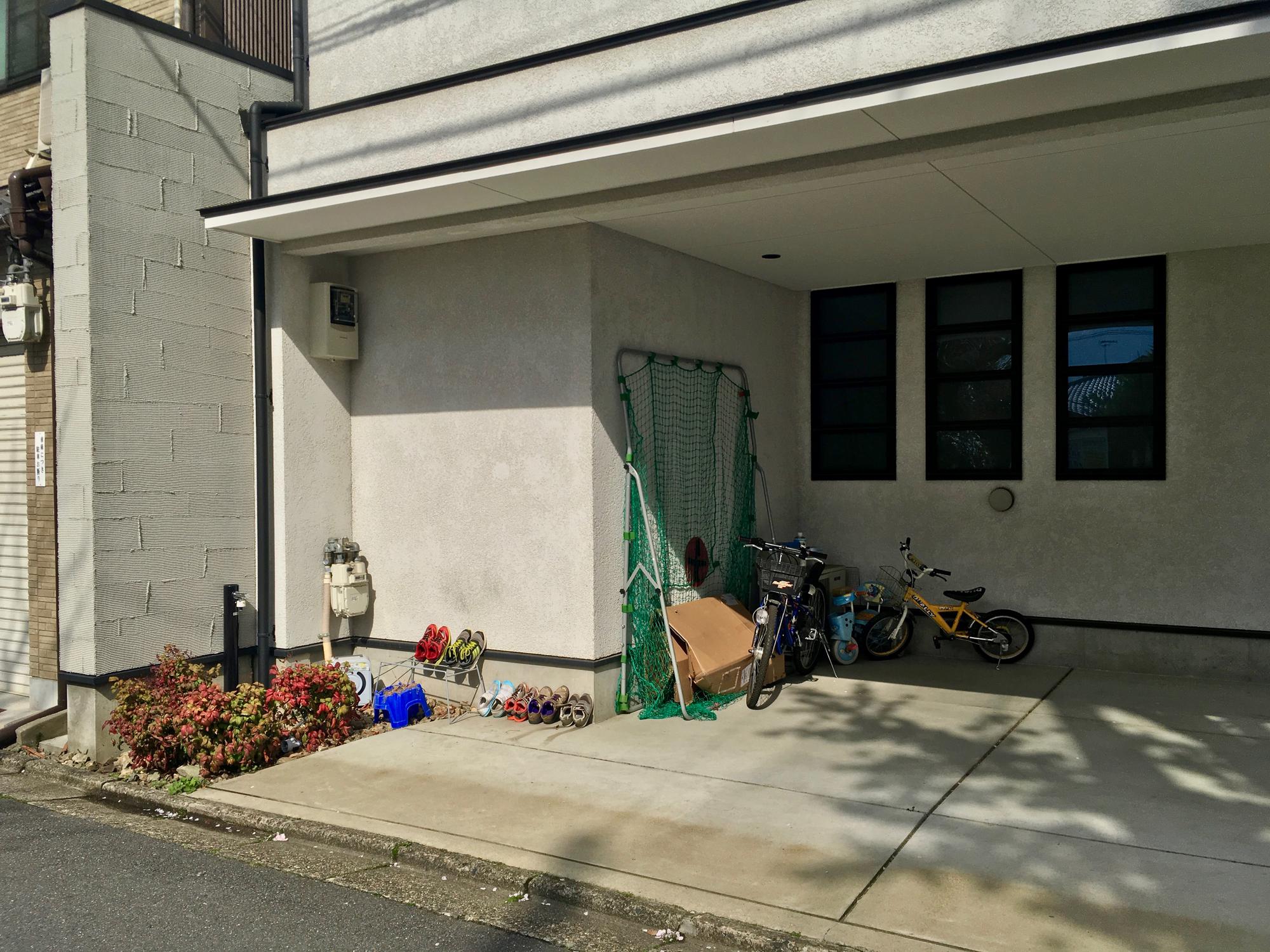 Bicycle parking and rental along the embankment.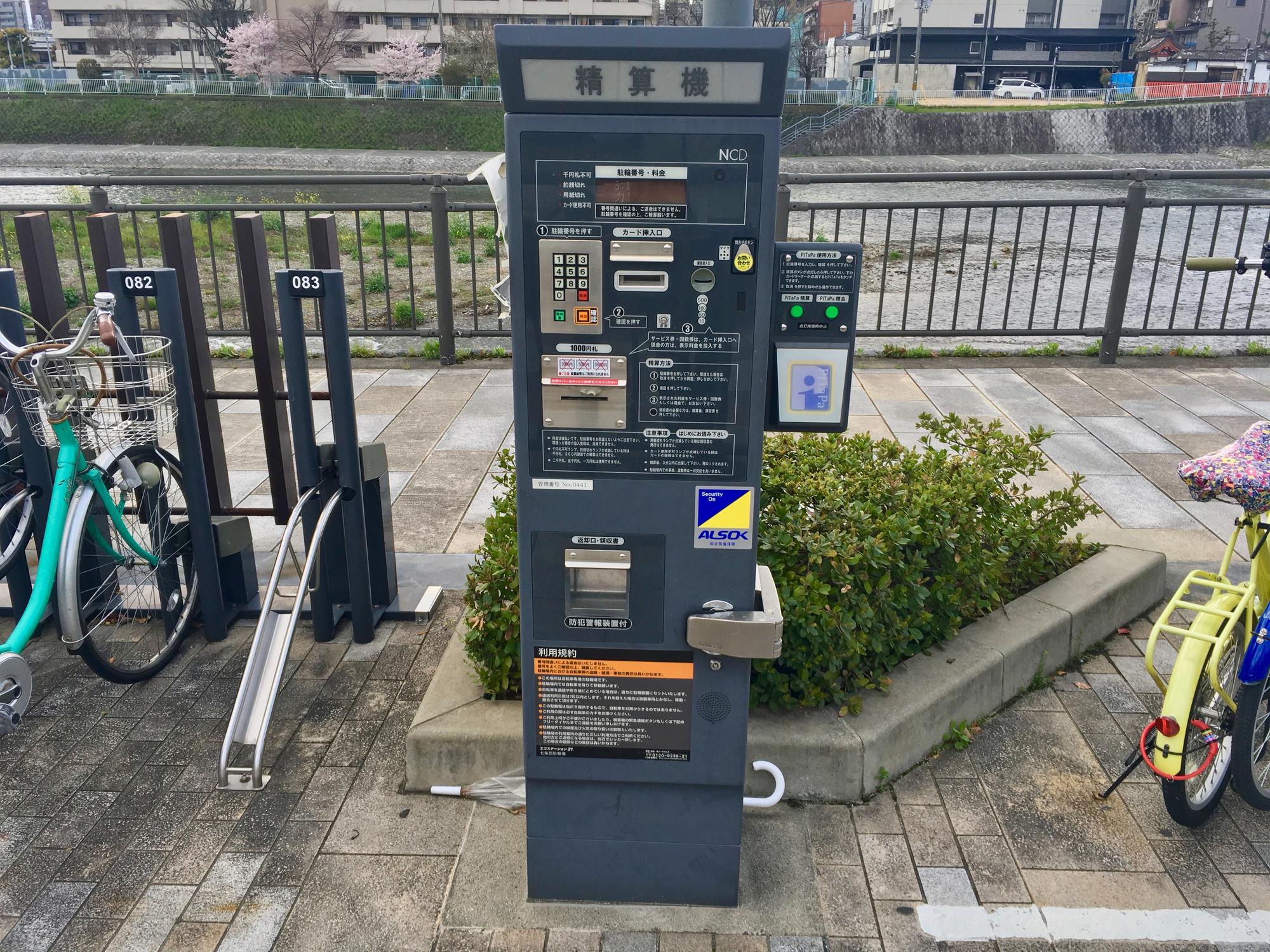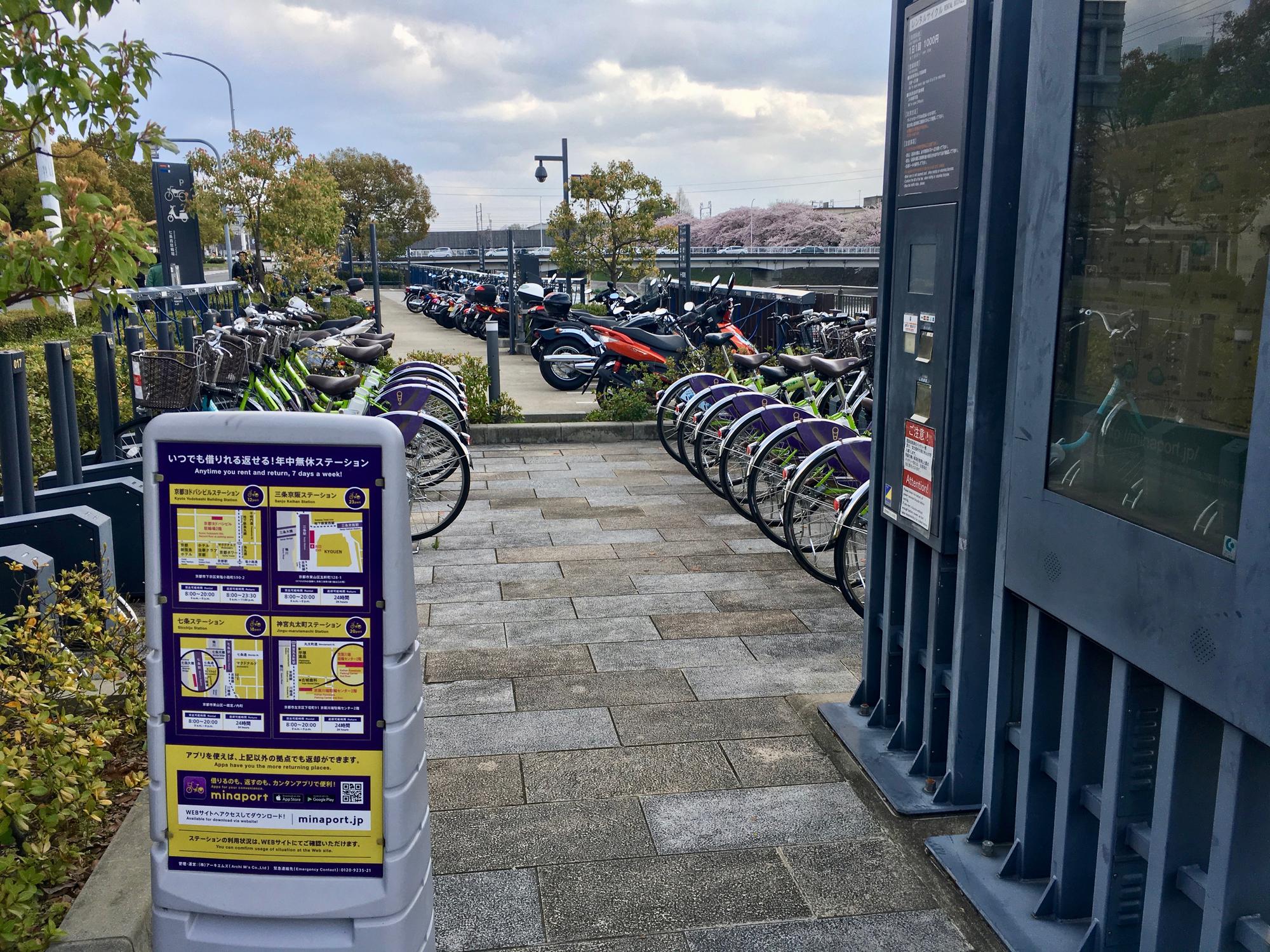 Scooter parking.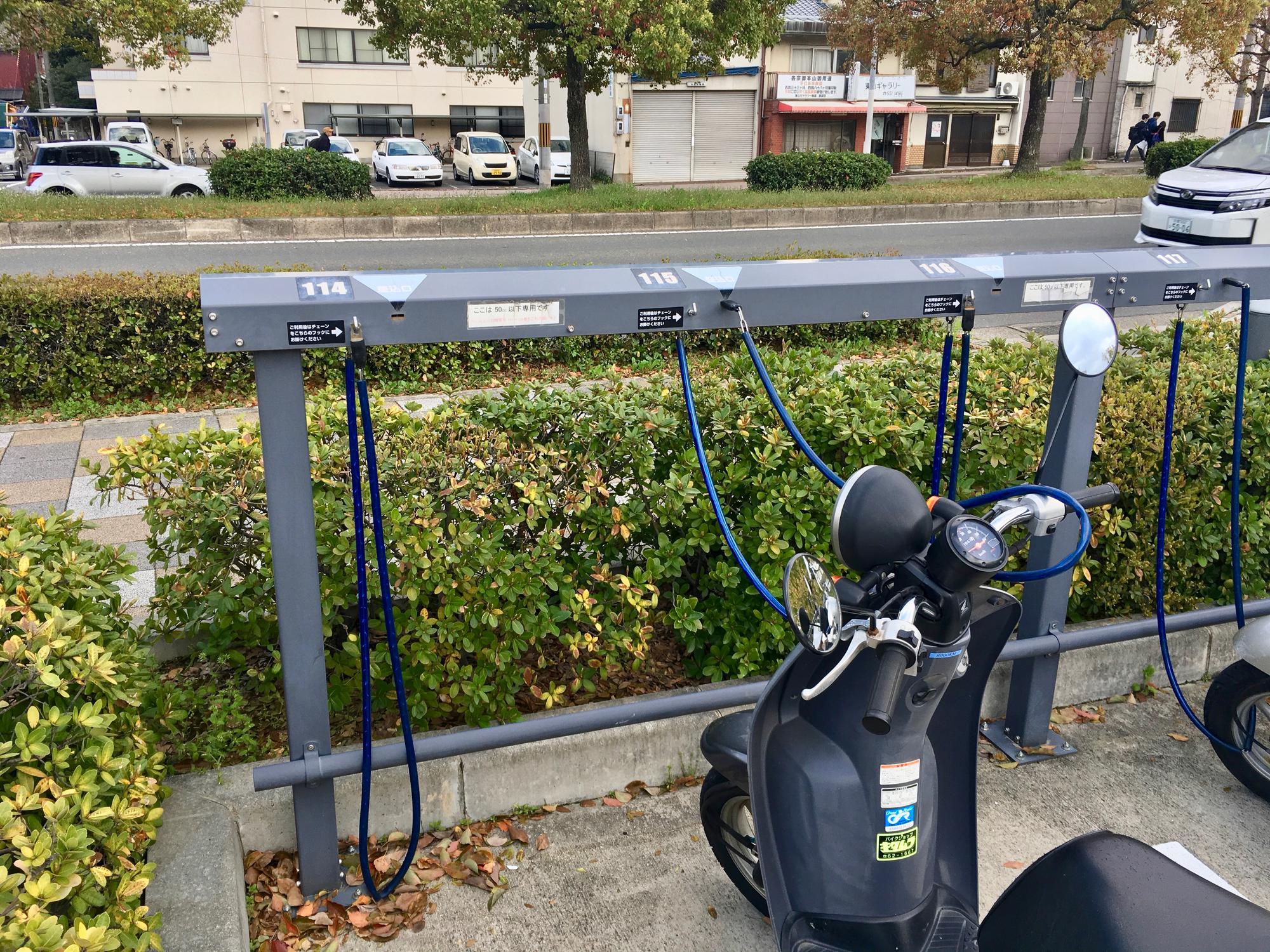 Little houses.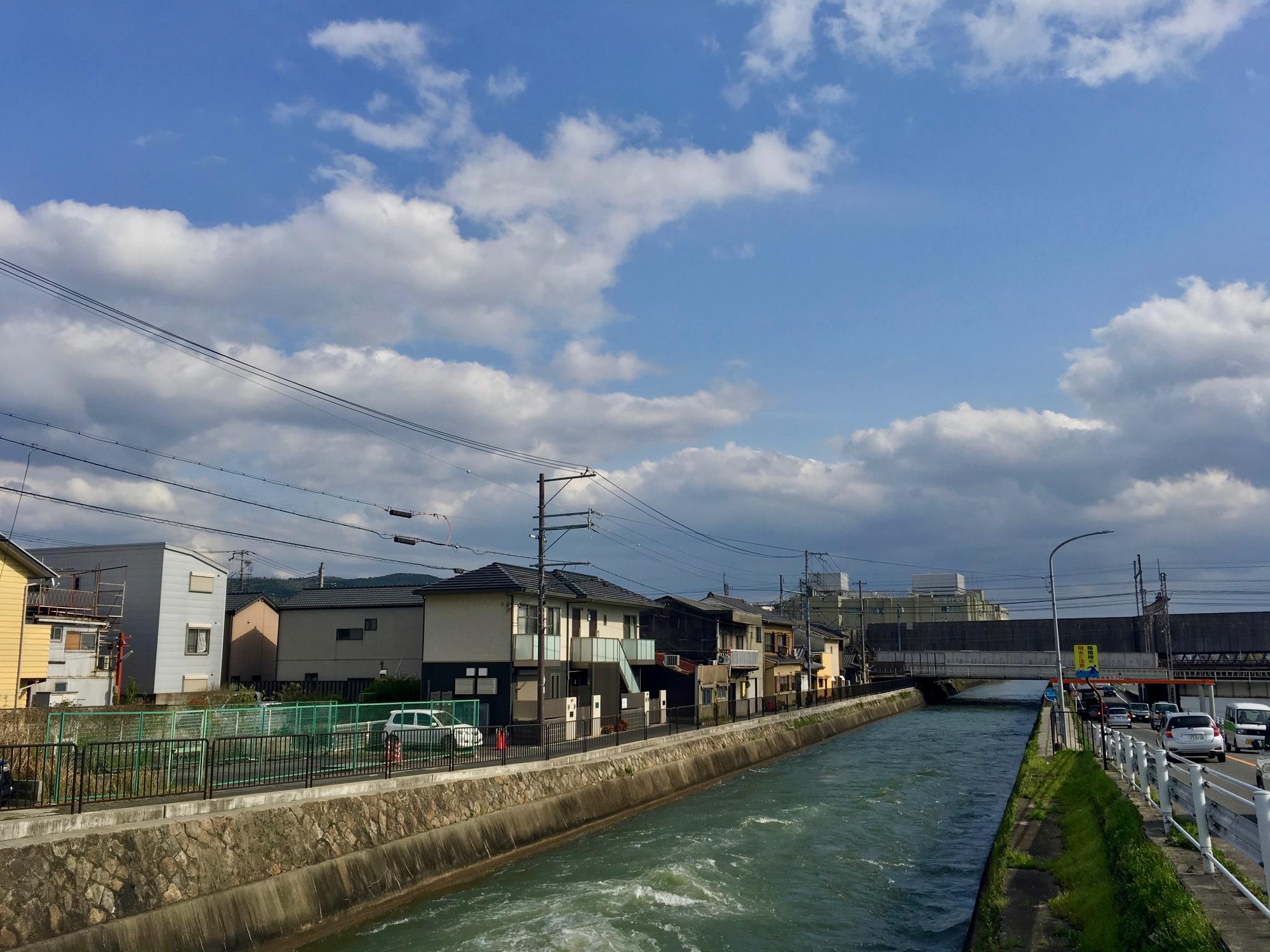 Houses in greenery.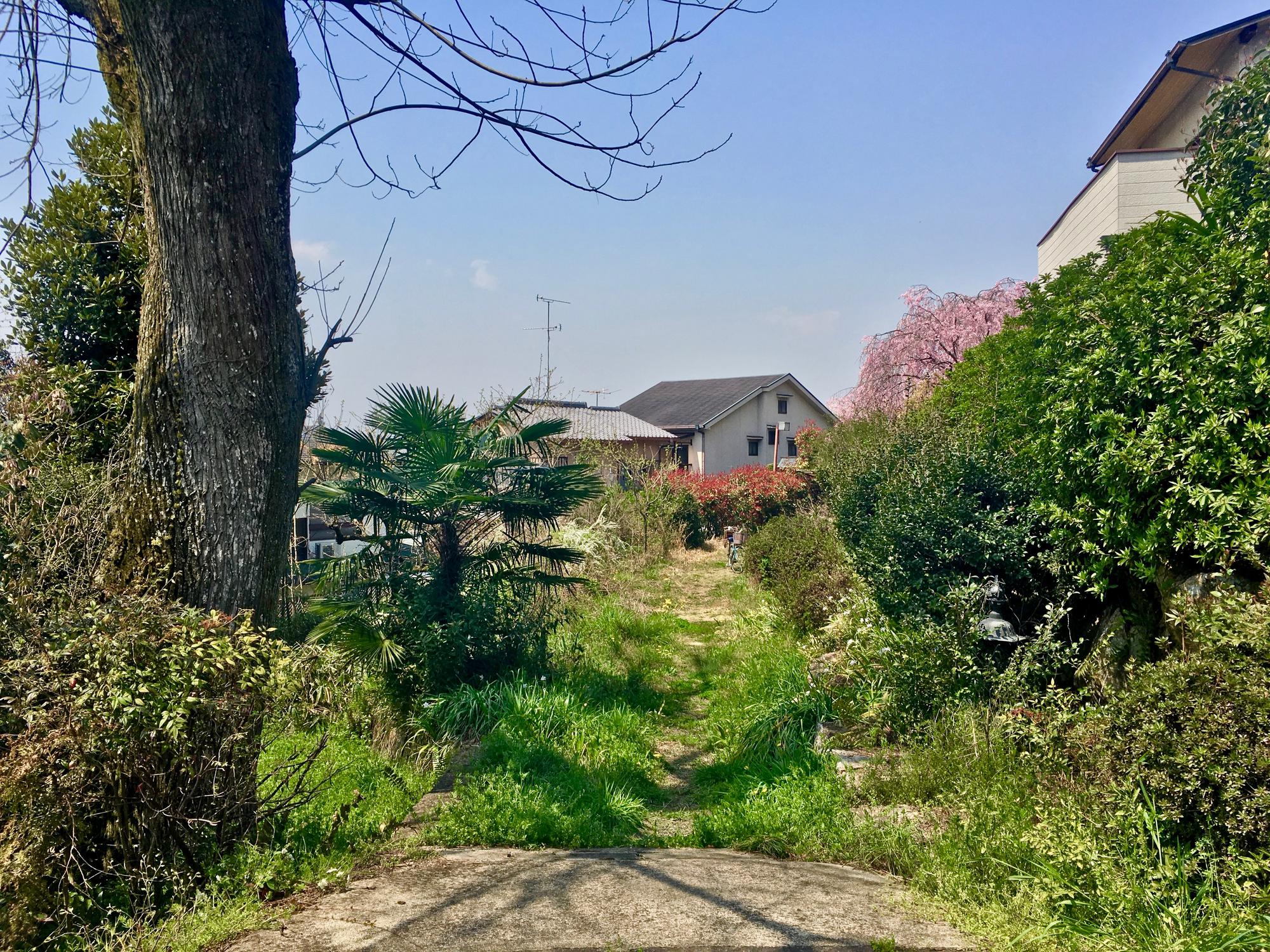 The bridge is being constructed.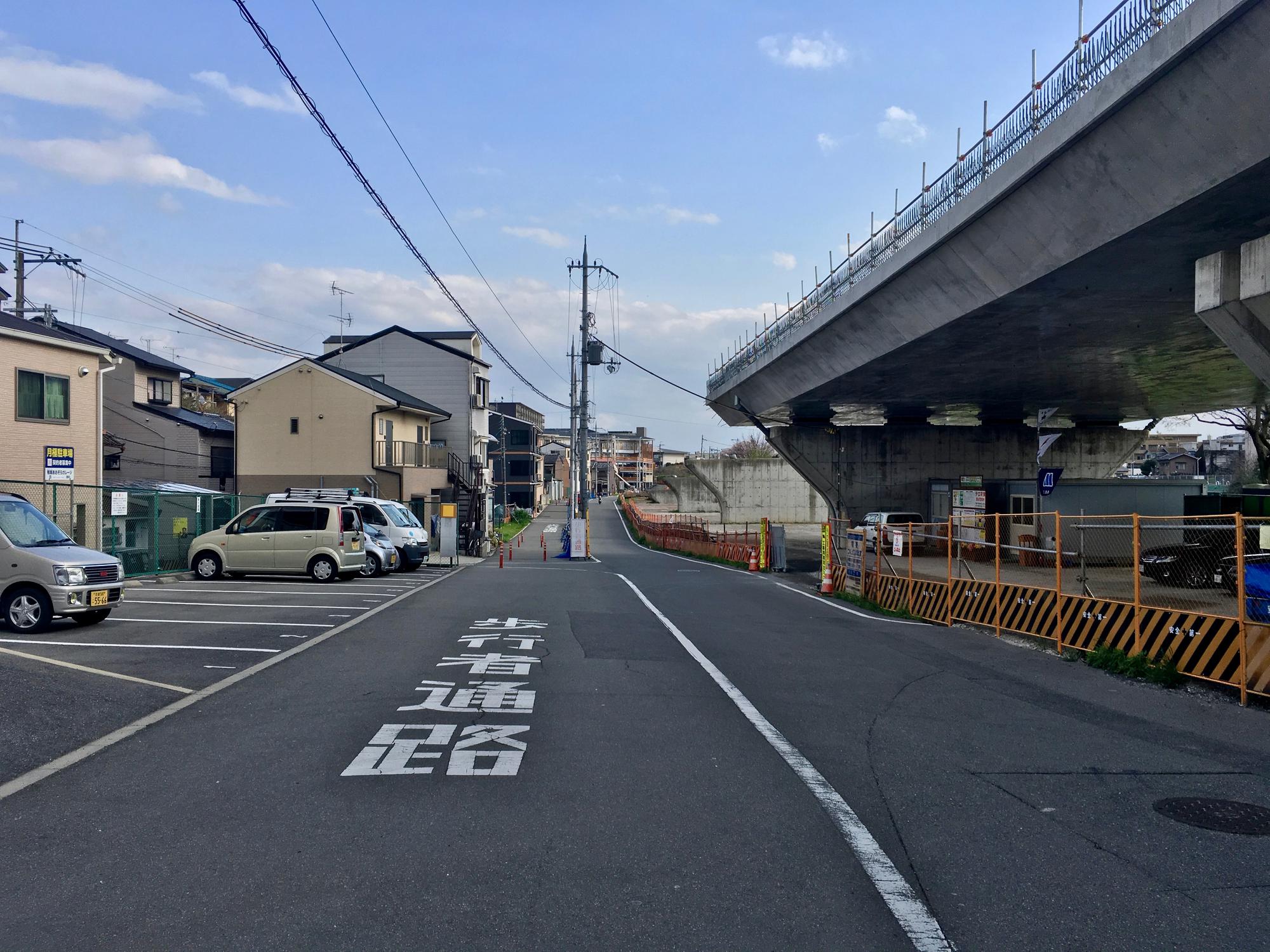 On the finished bridge.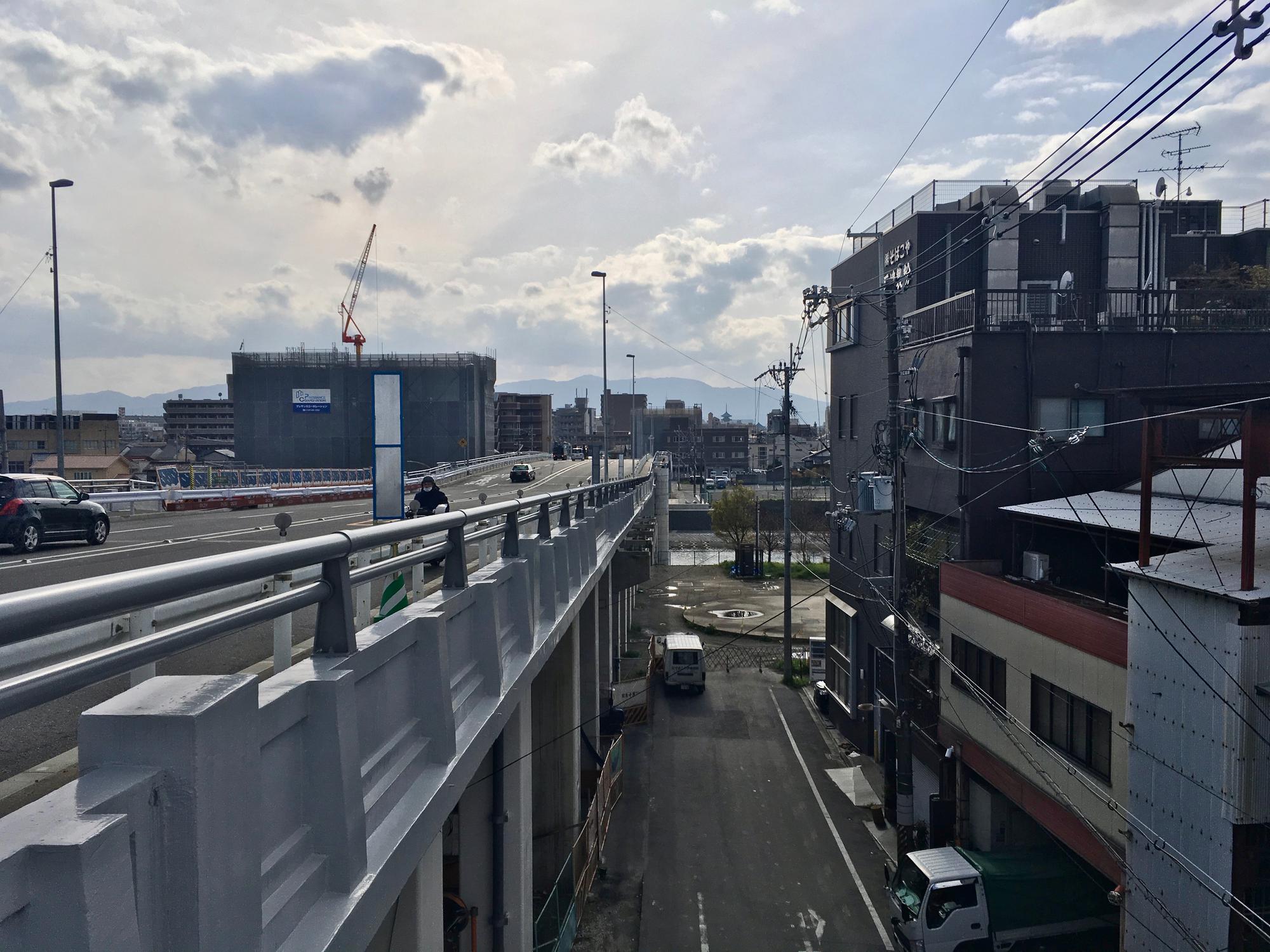 Pipes-pipes-pipes. Lots of pipes.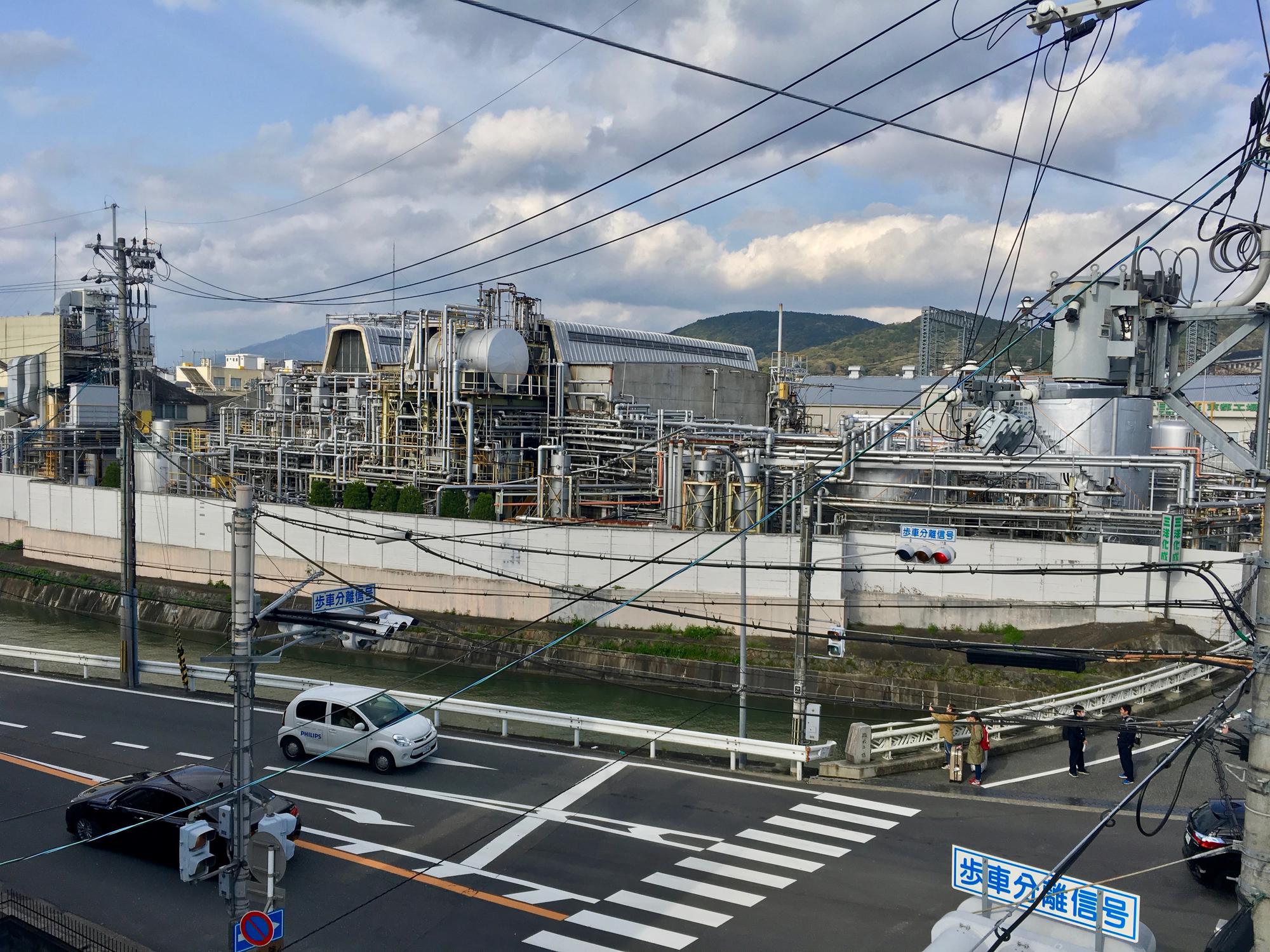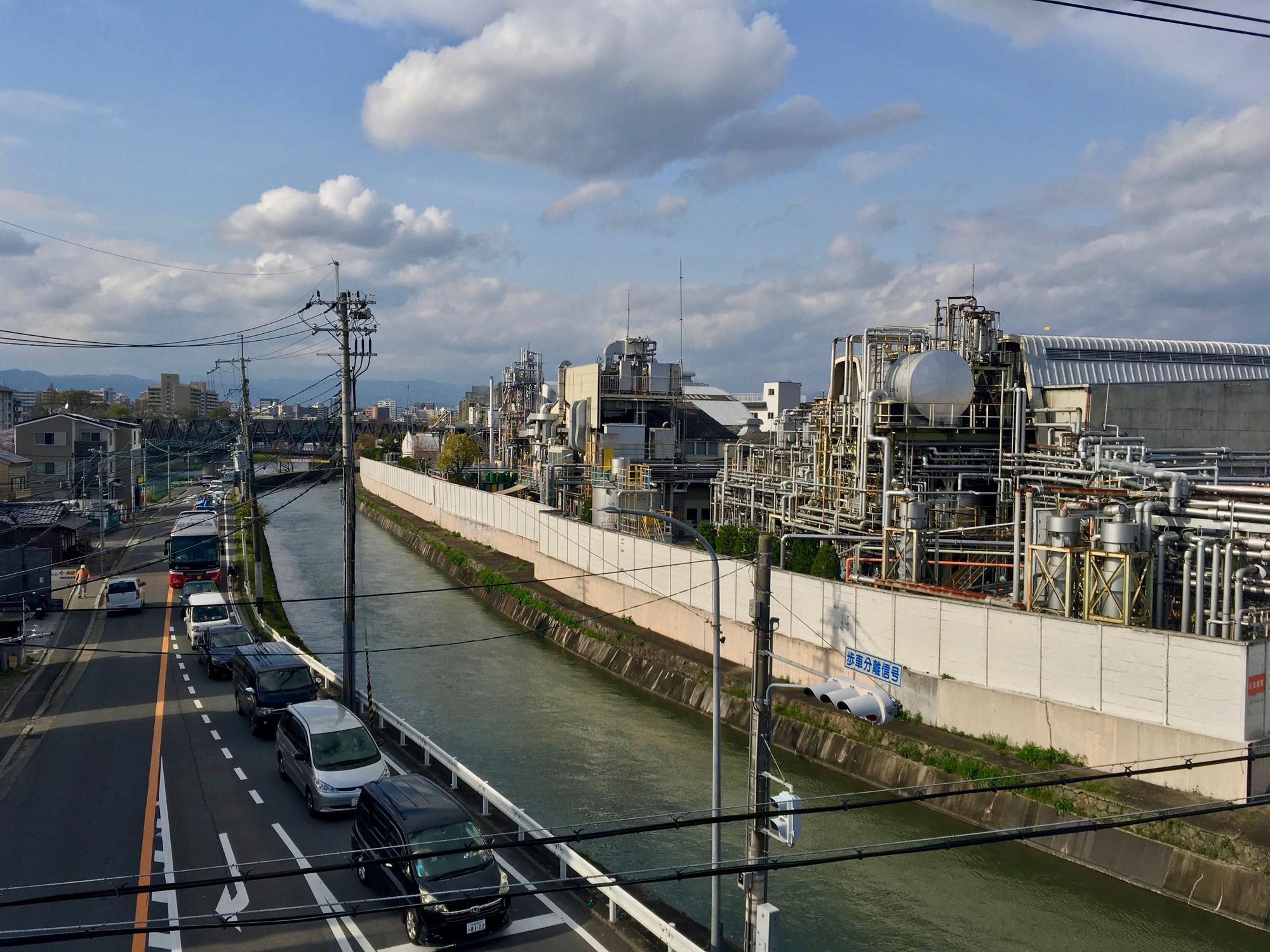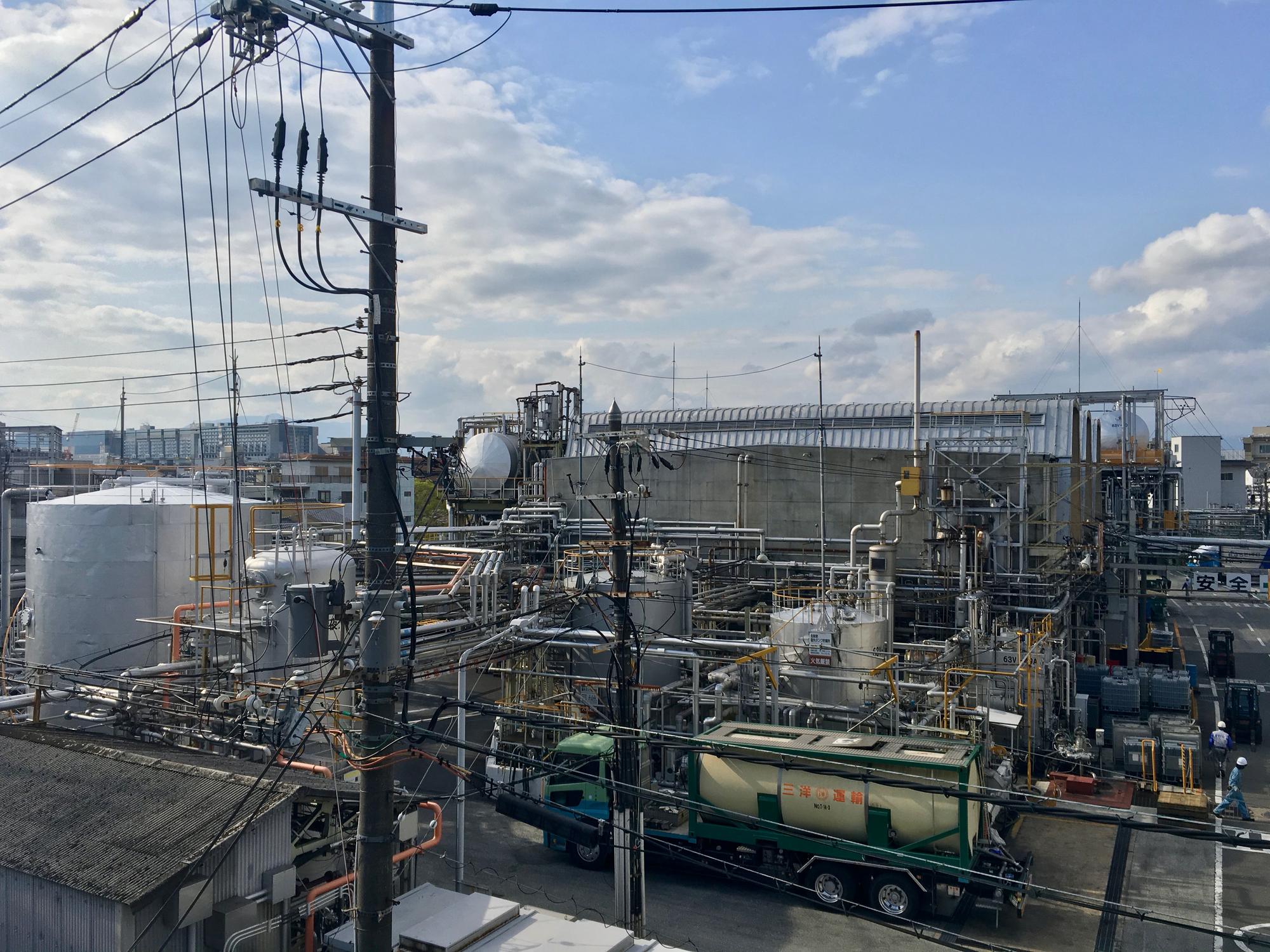 You are likely to see pedestrians at a level crossing, rather than cars.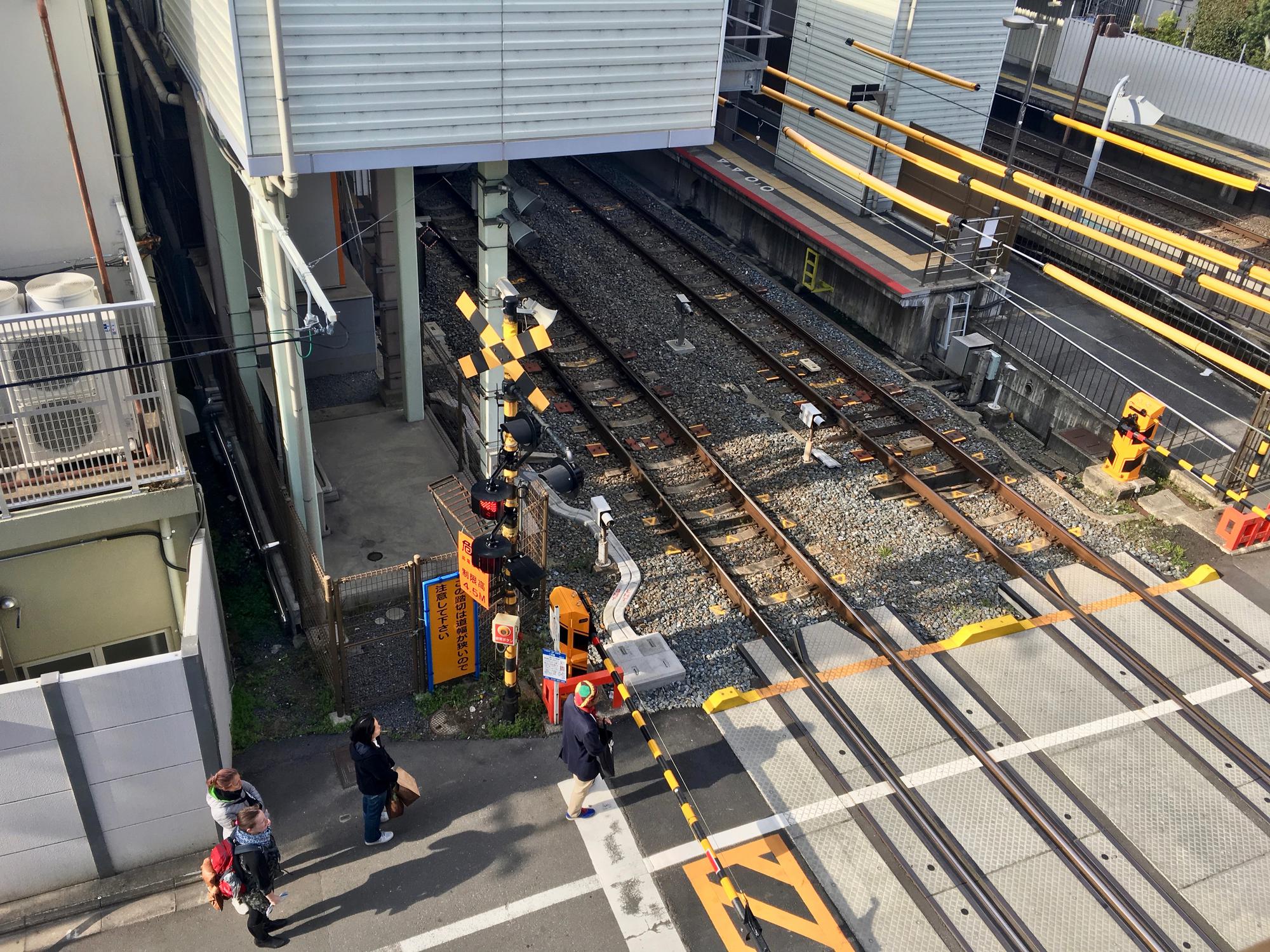 Railway station.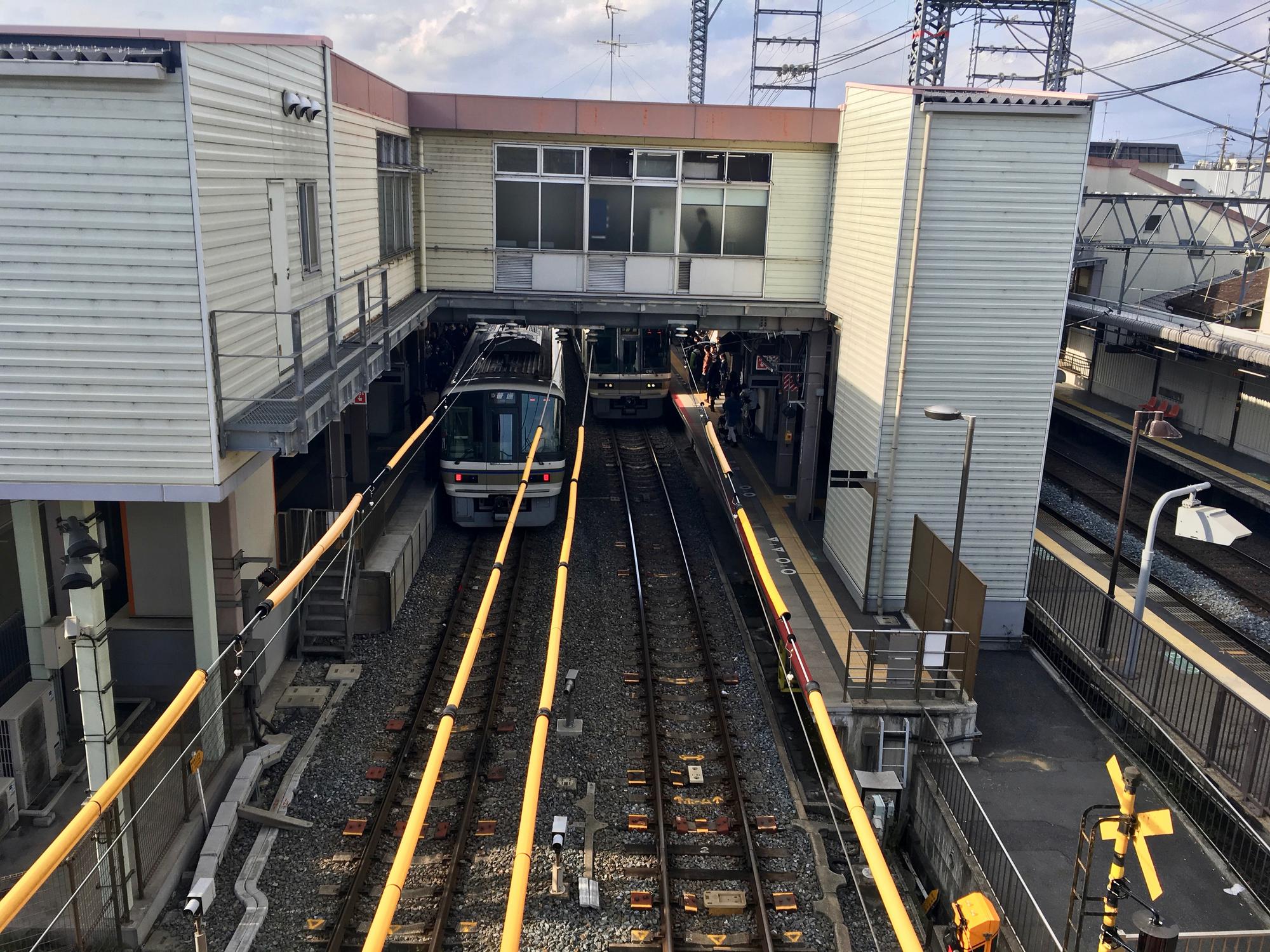 Bottom view.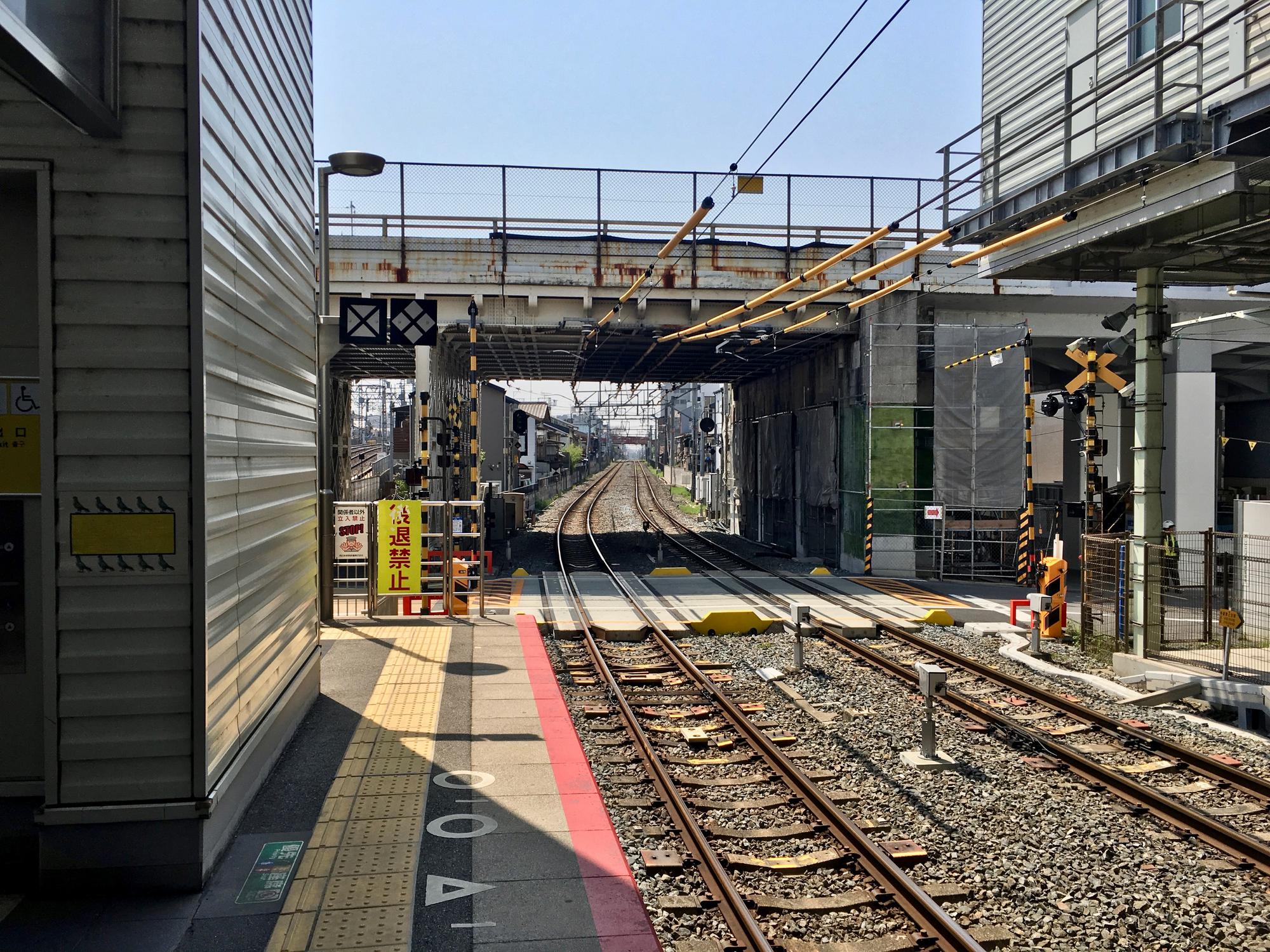 Top view on the street.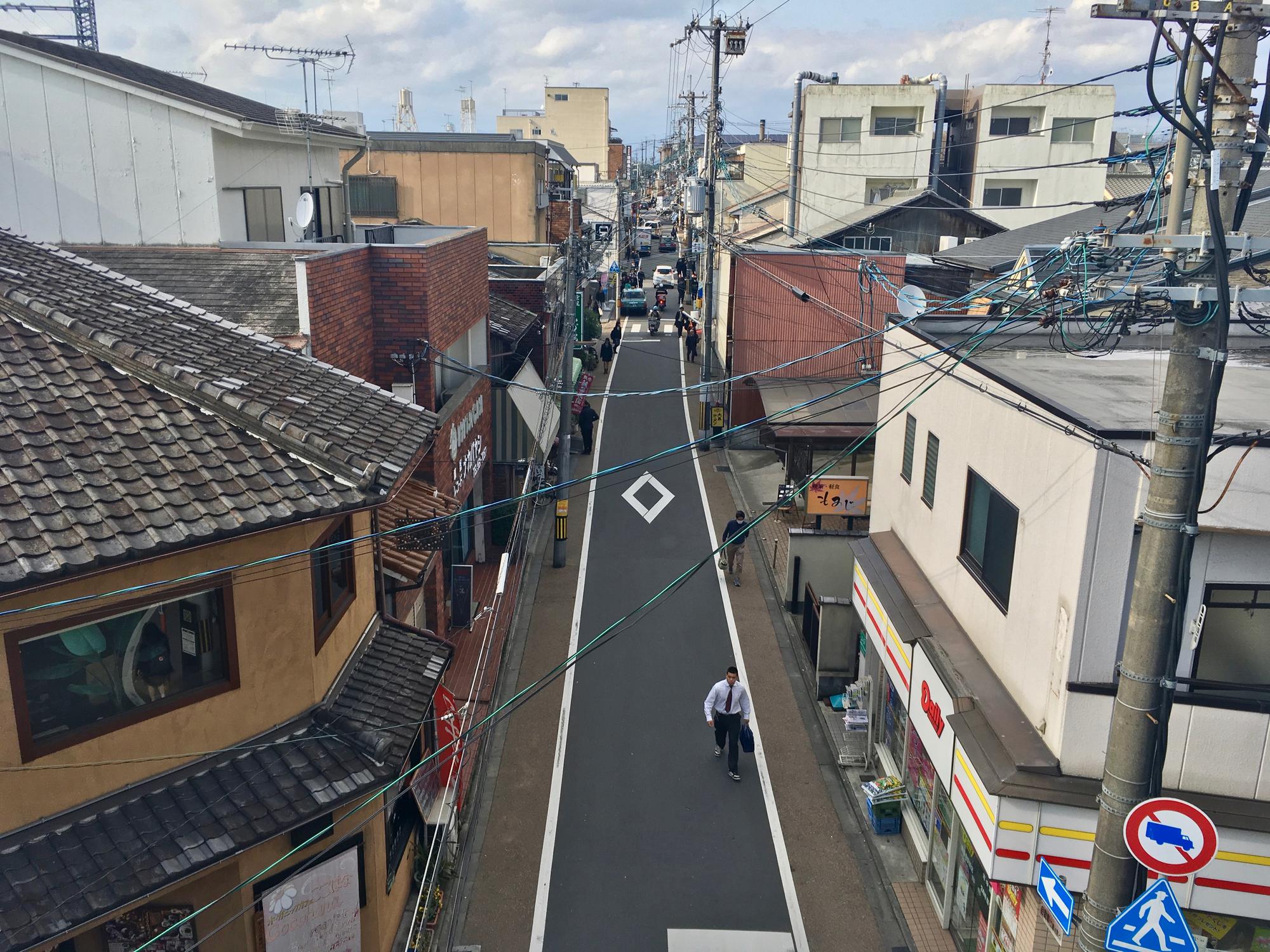 House roof.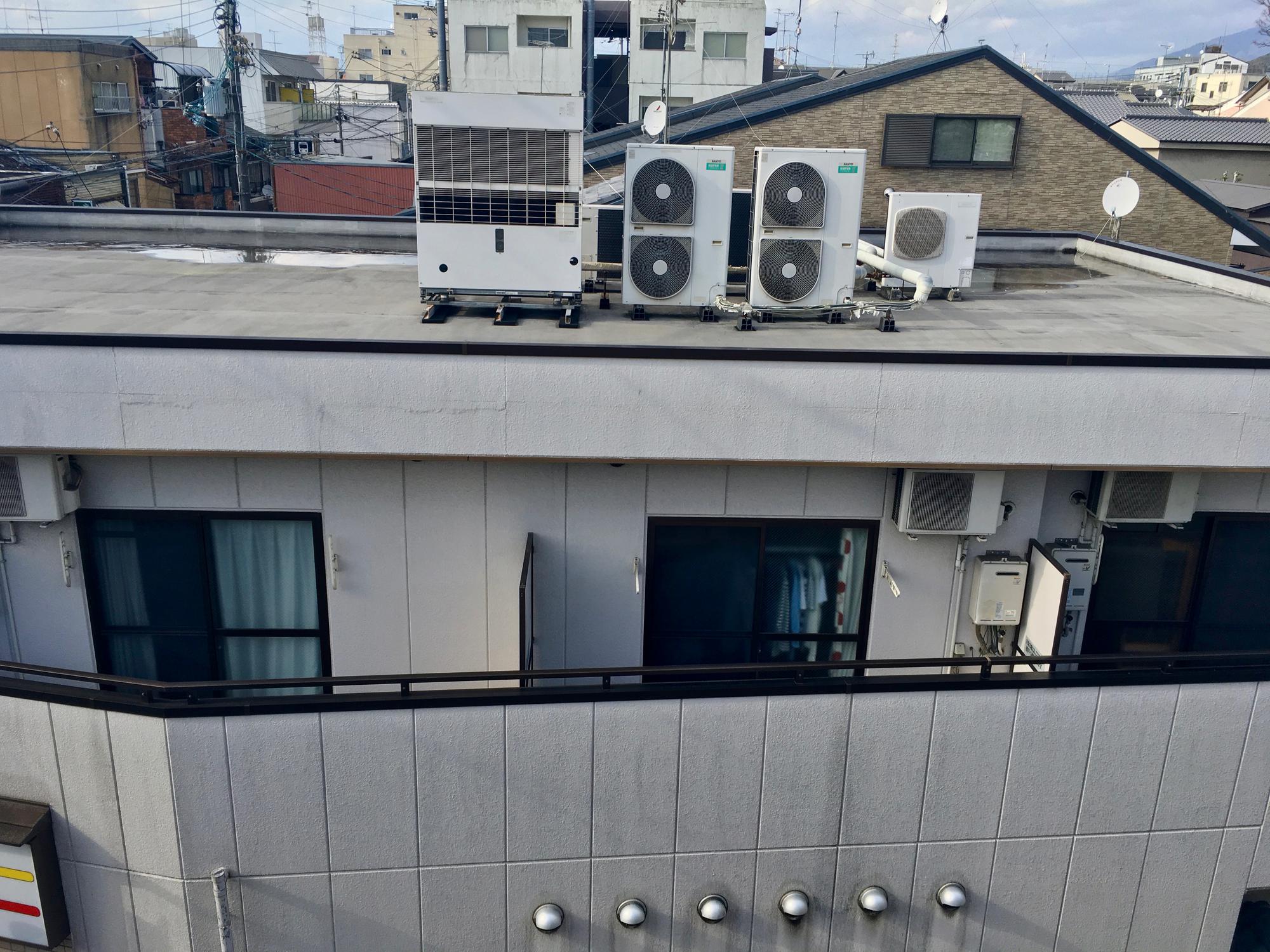 Greenery behind the fence.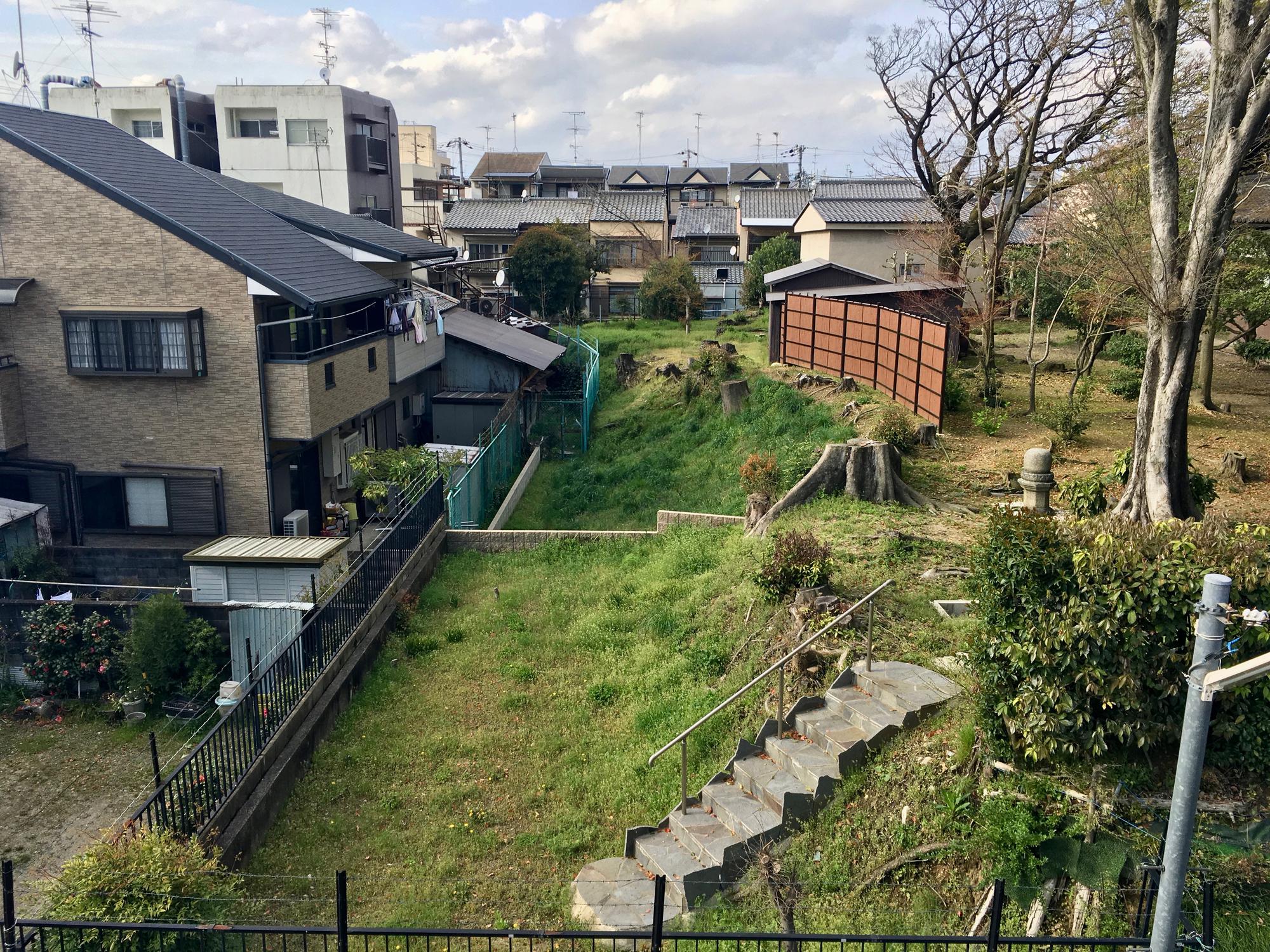 Seats with its back to the road at the bus stop.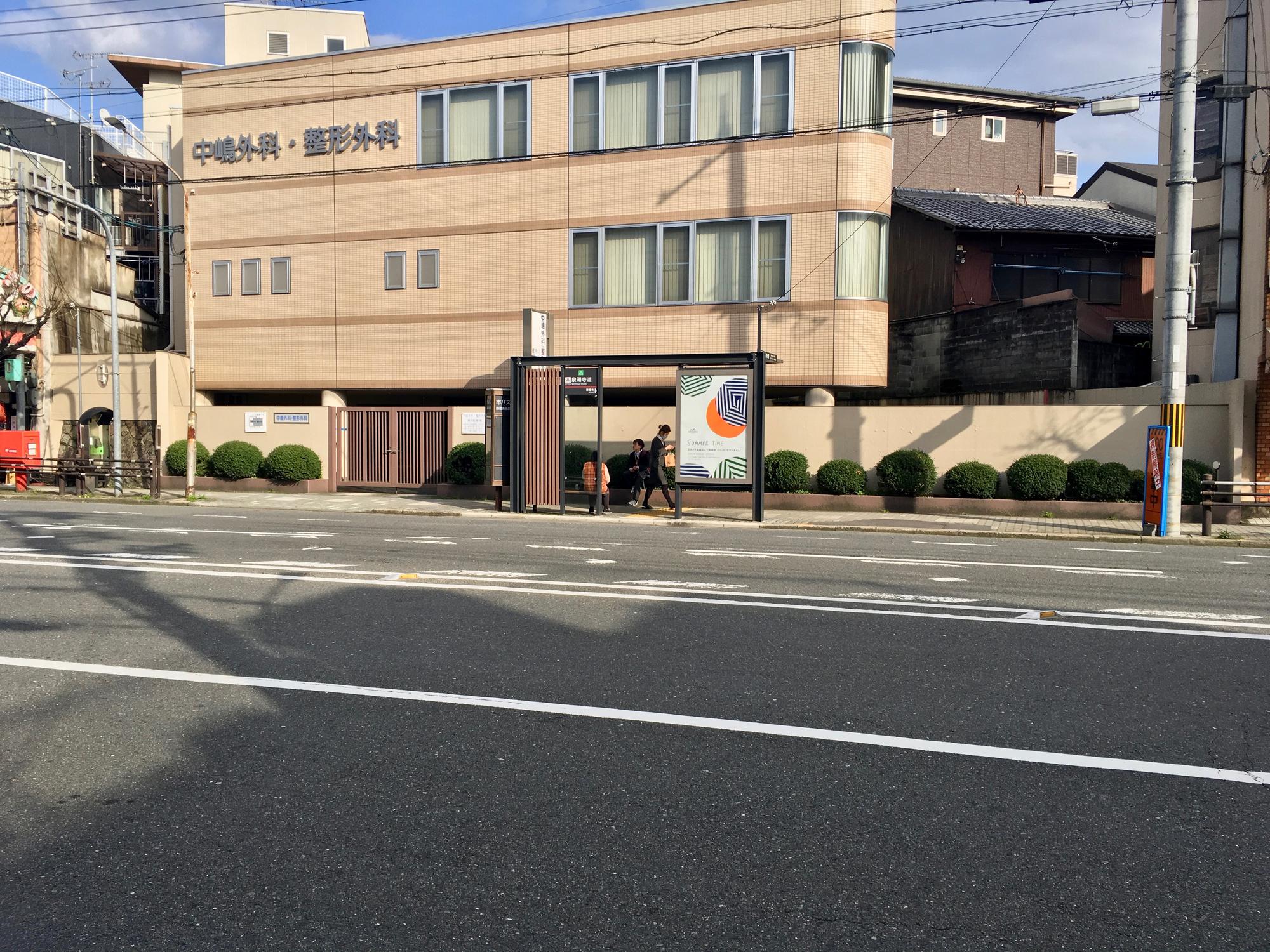 Most of the doors in Japan are automatic or semi-automatic. You just need to push the button to open this one. You quickly get used to good things. And then you indignant at home, because you need to open jammed doors with your own hands.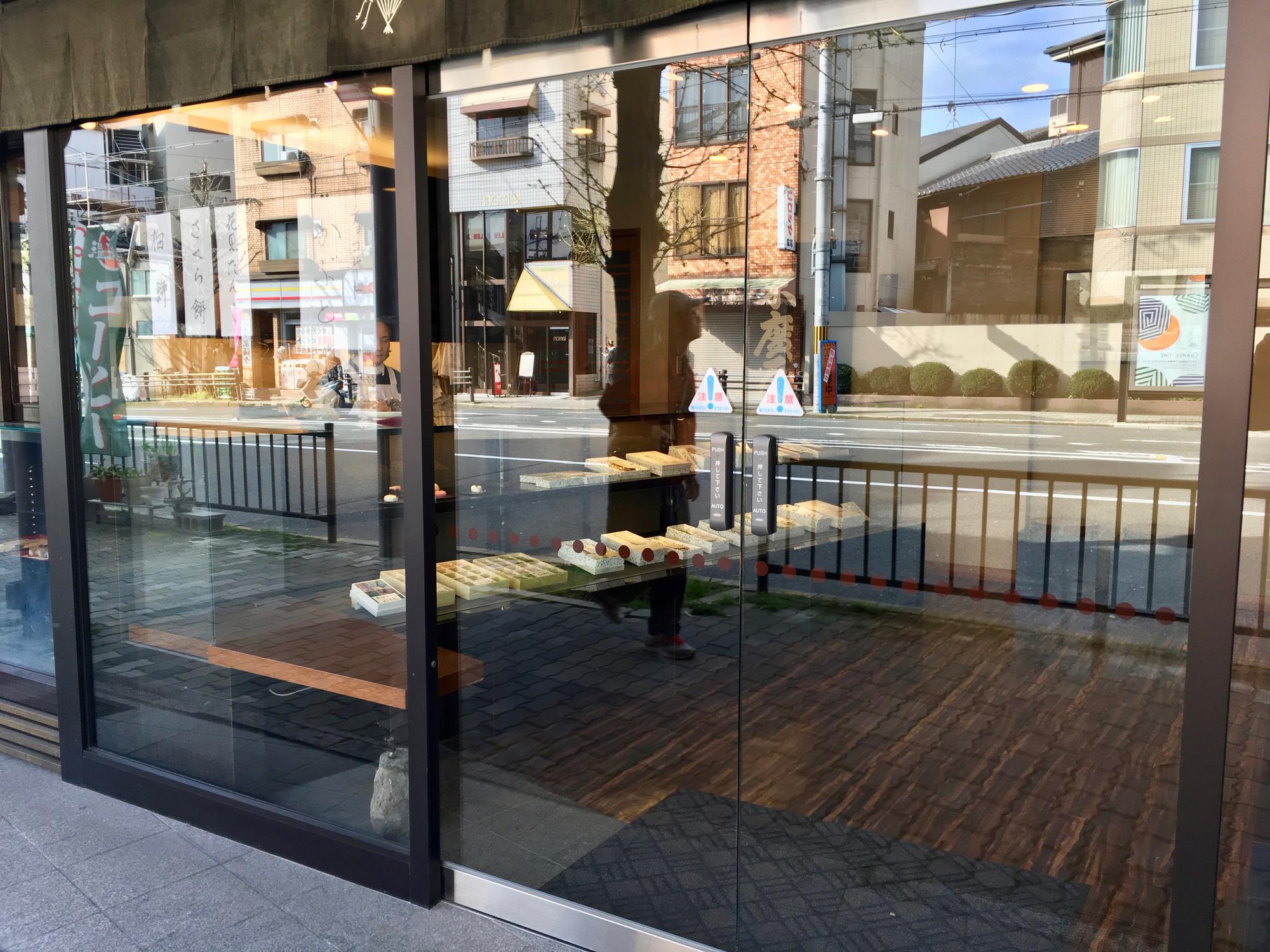 More streets.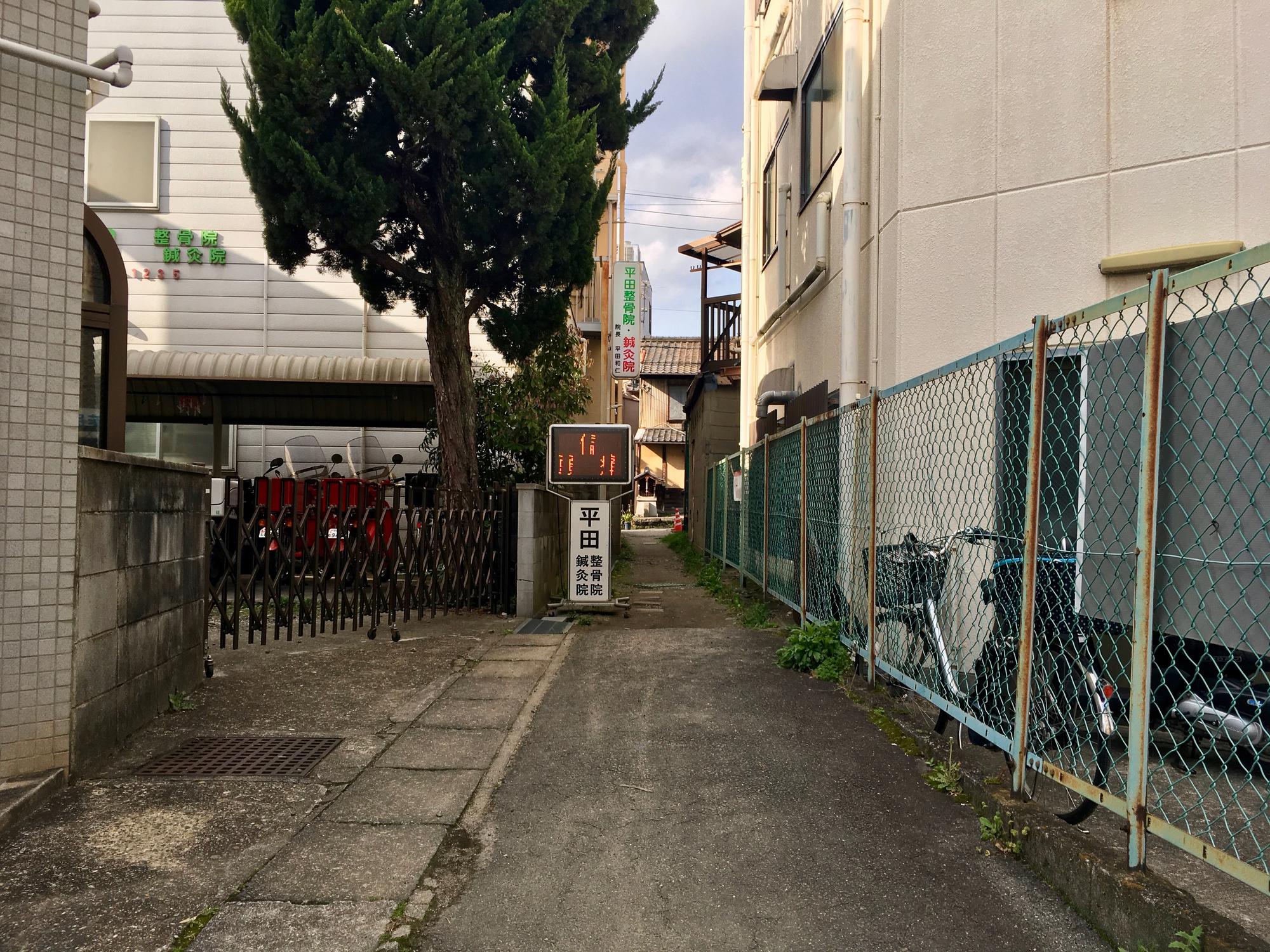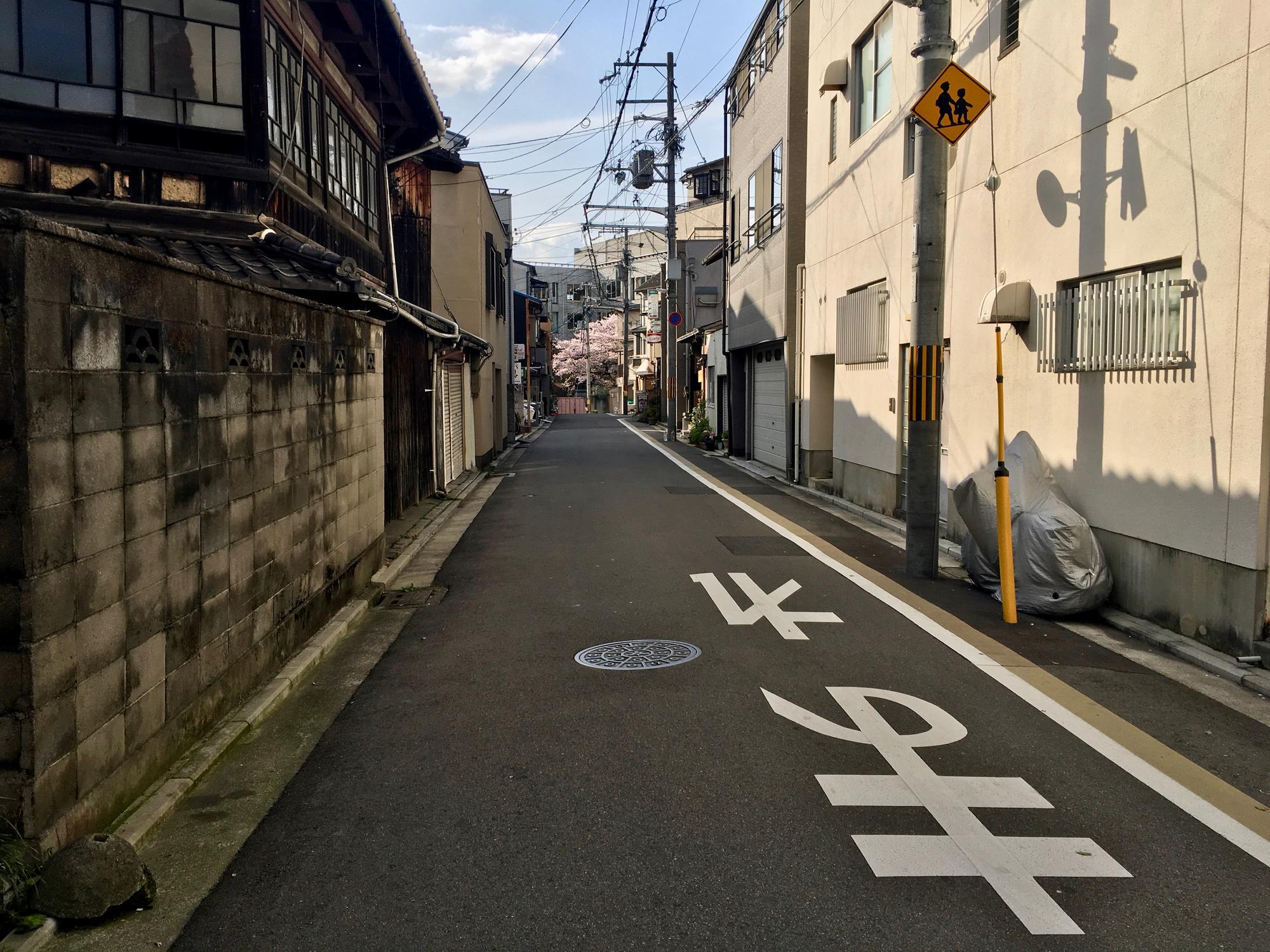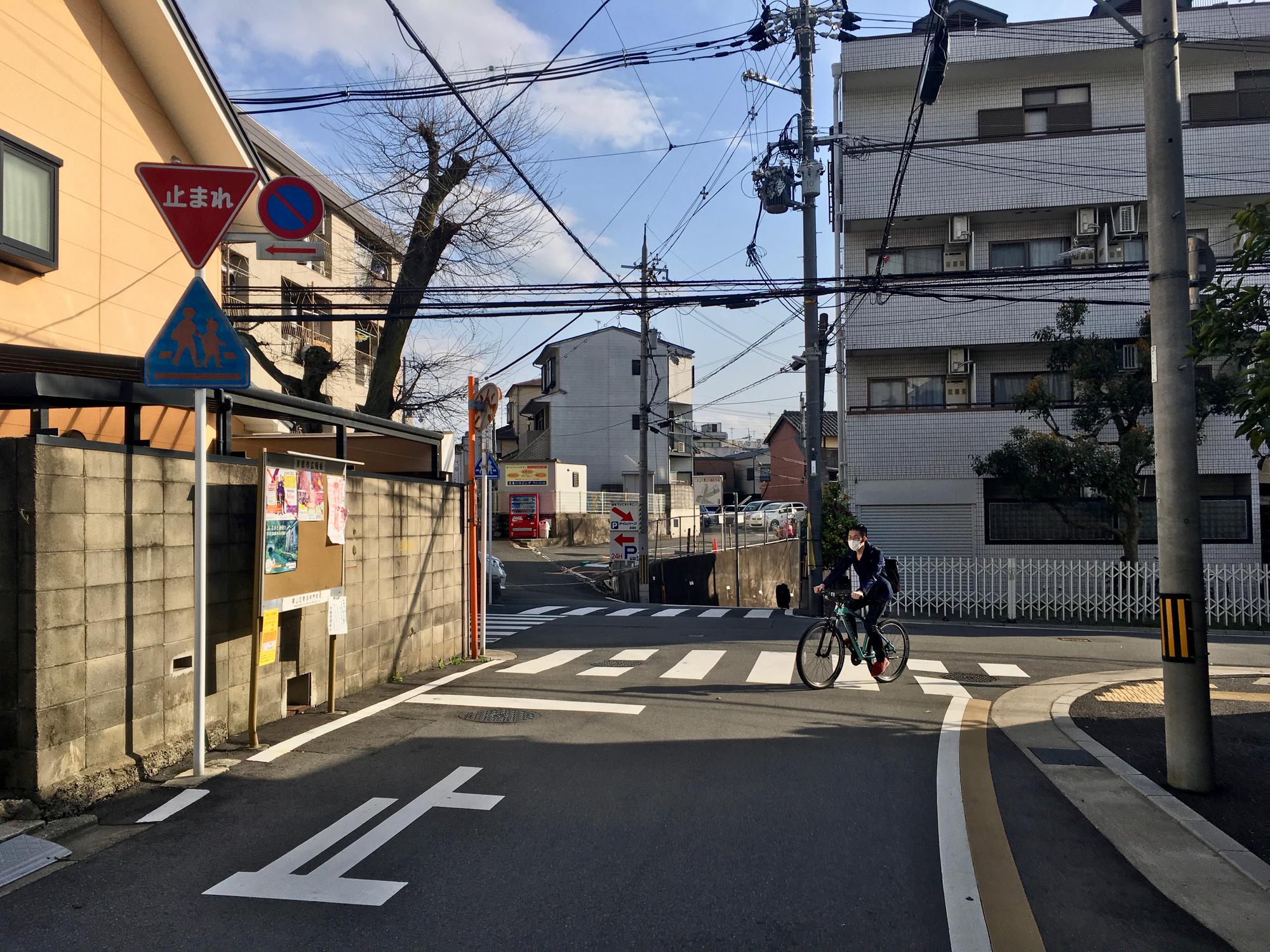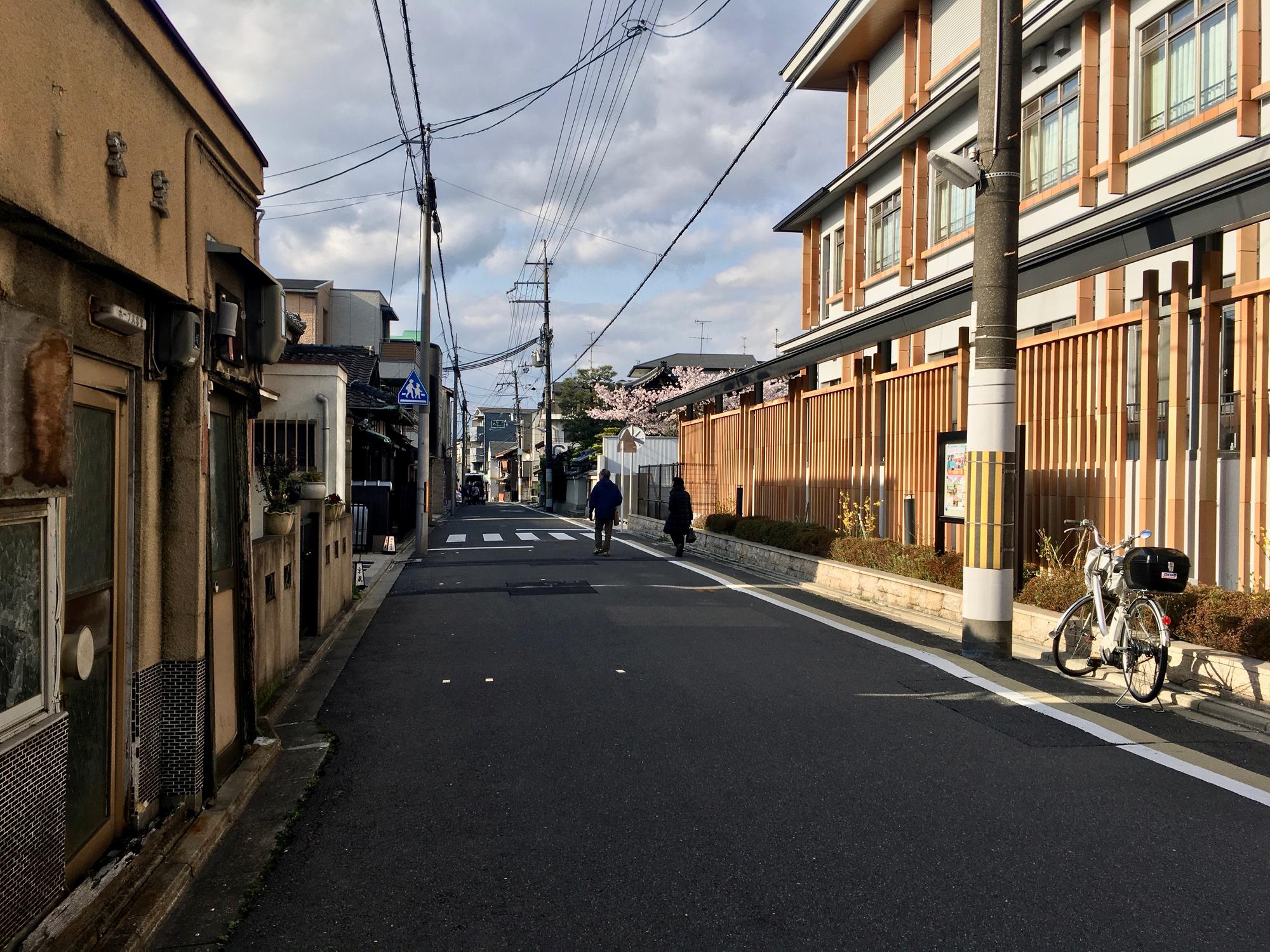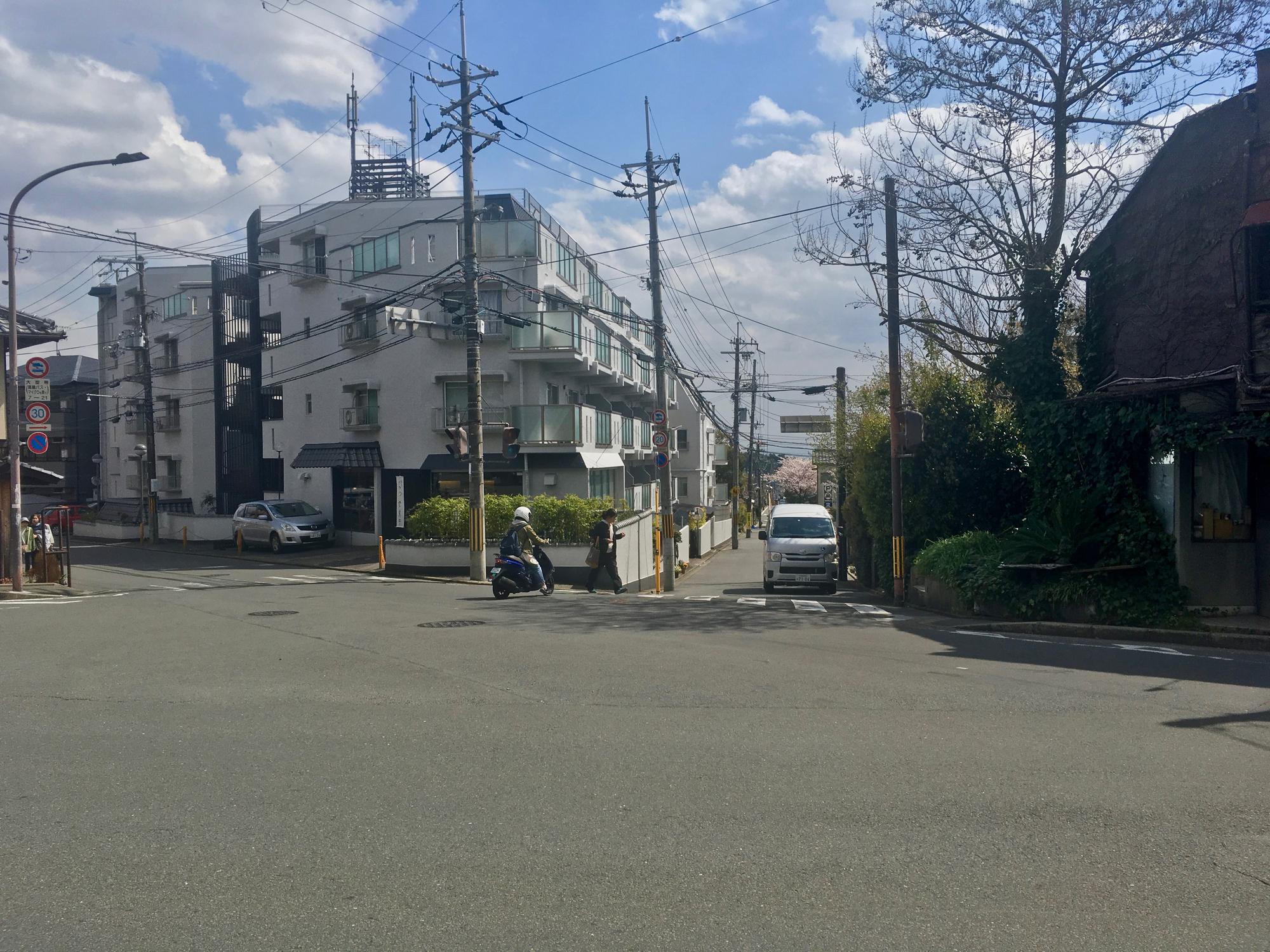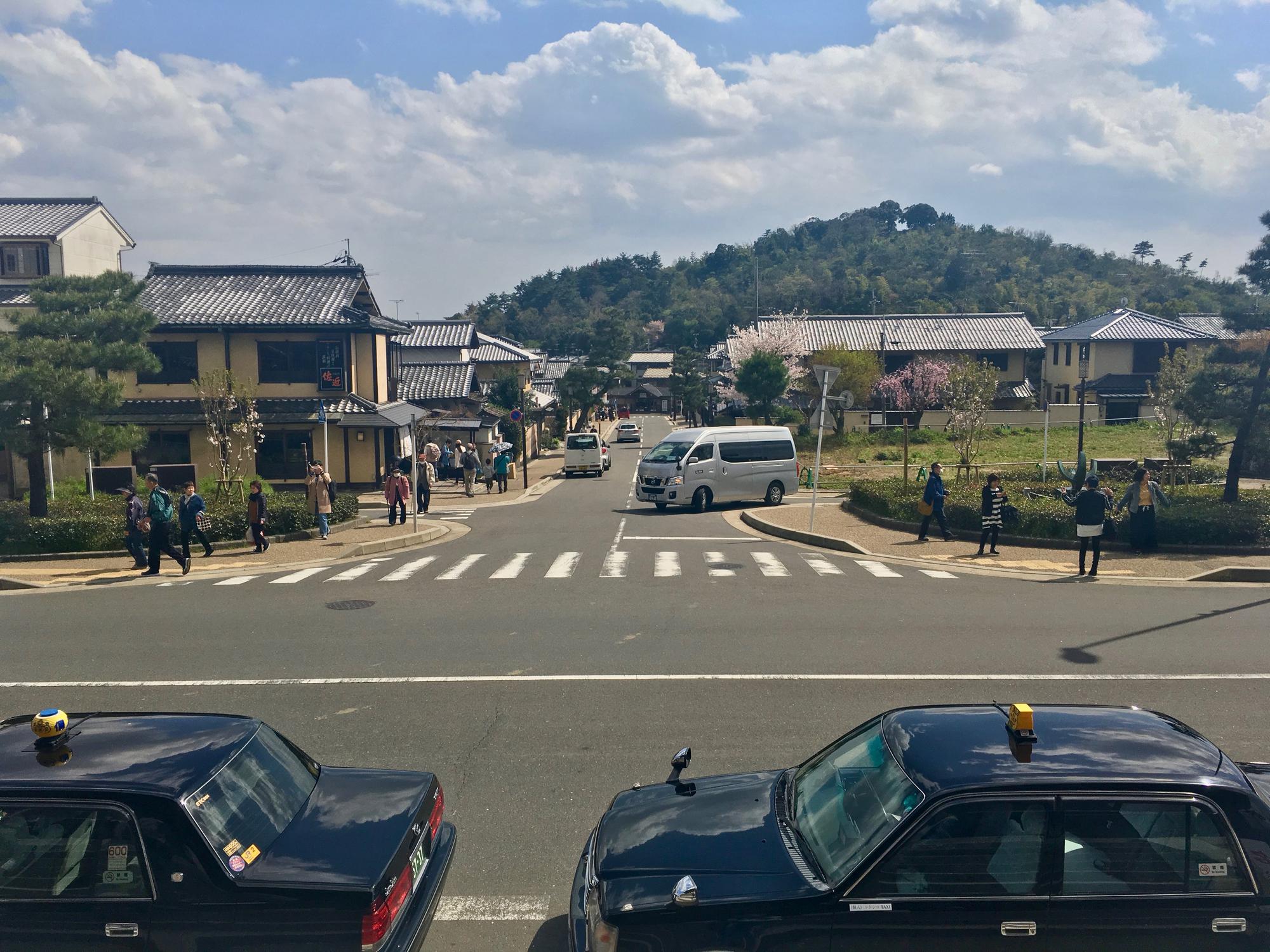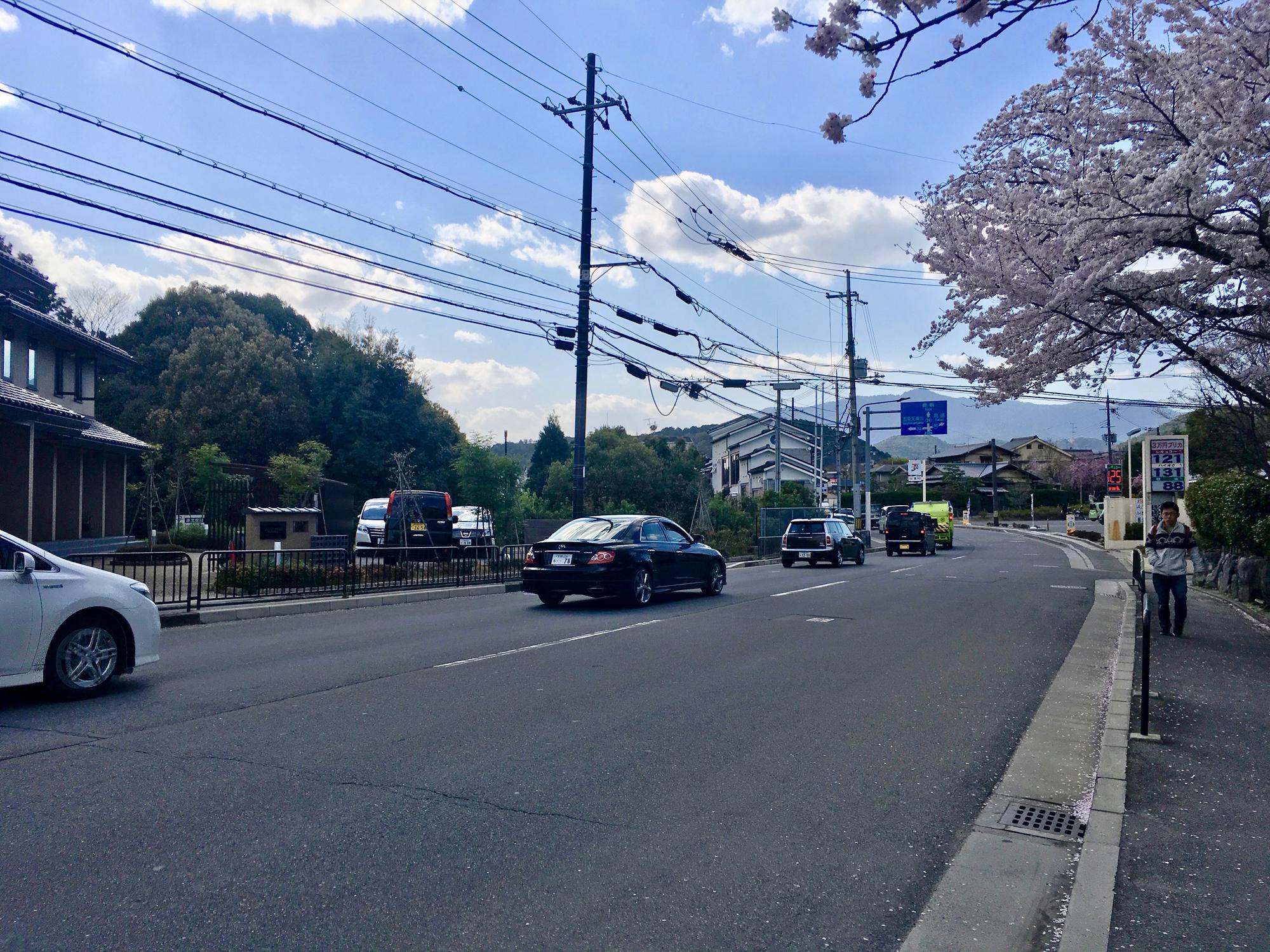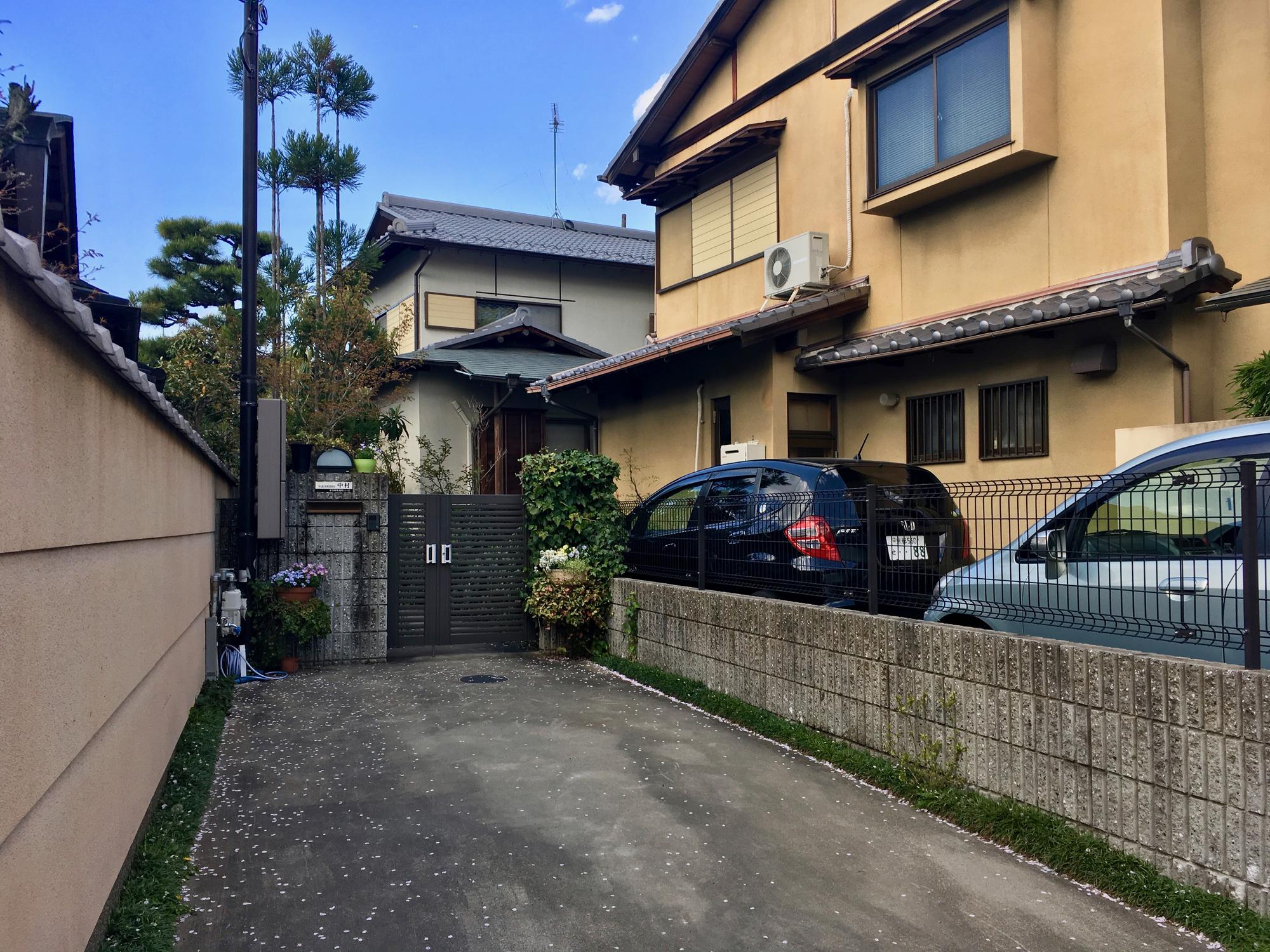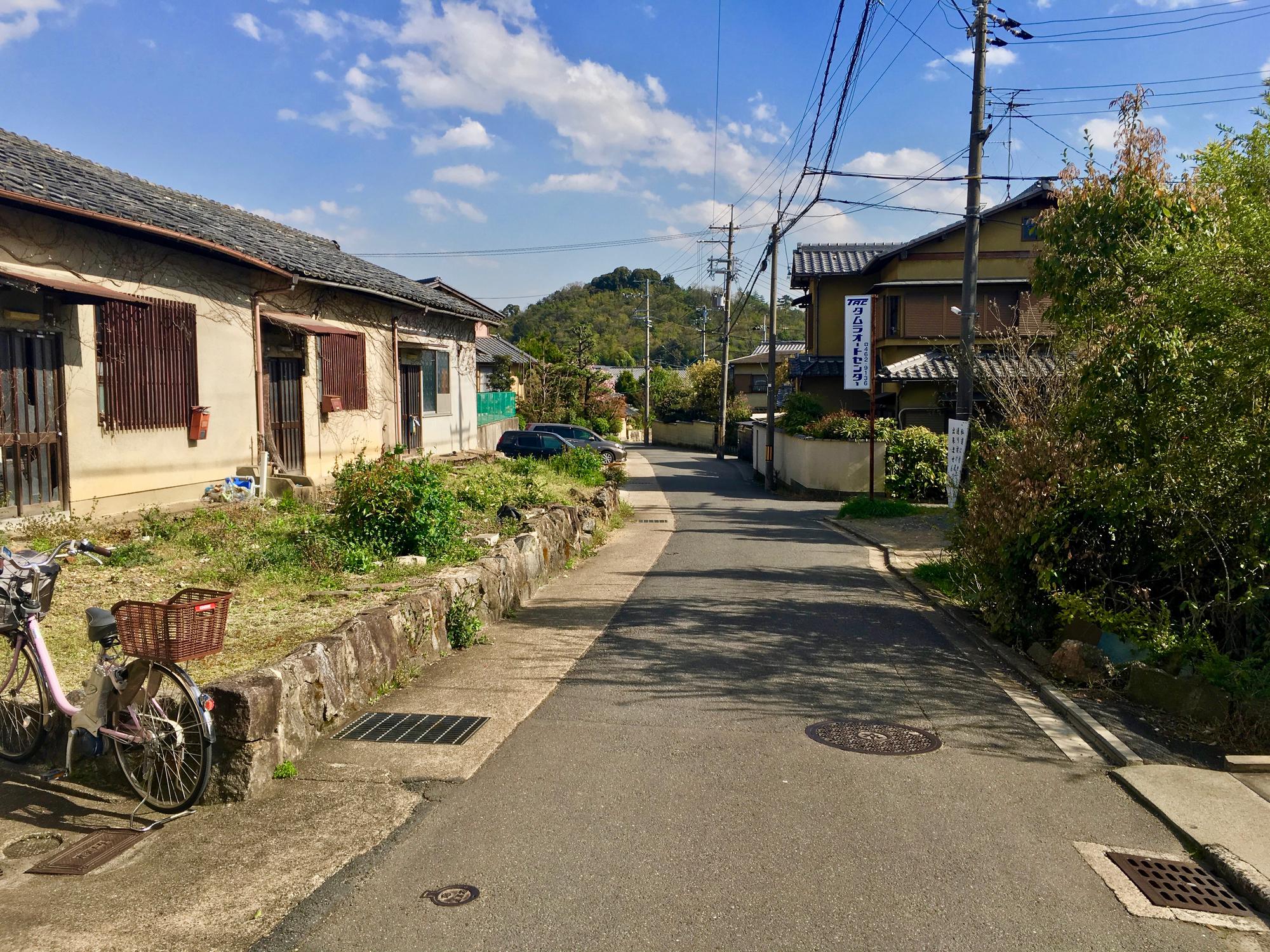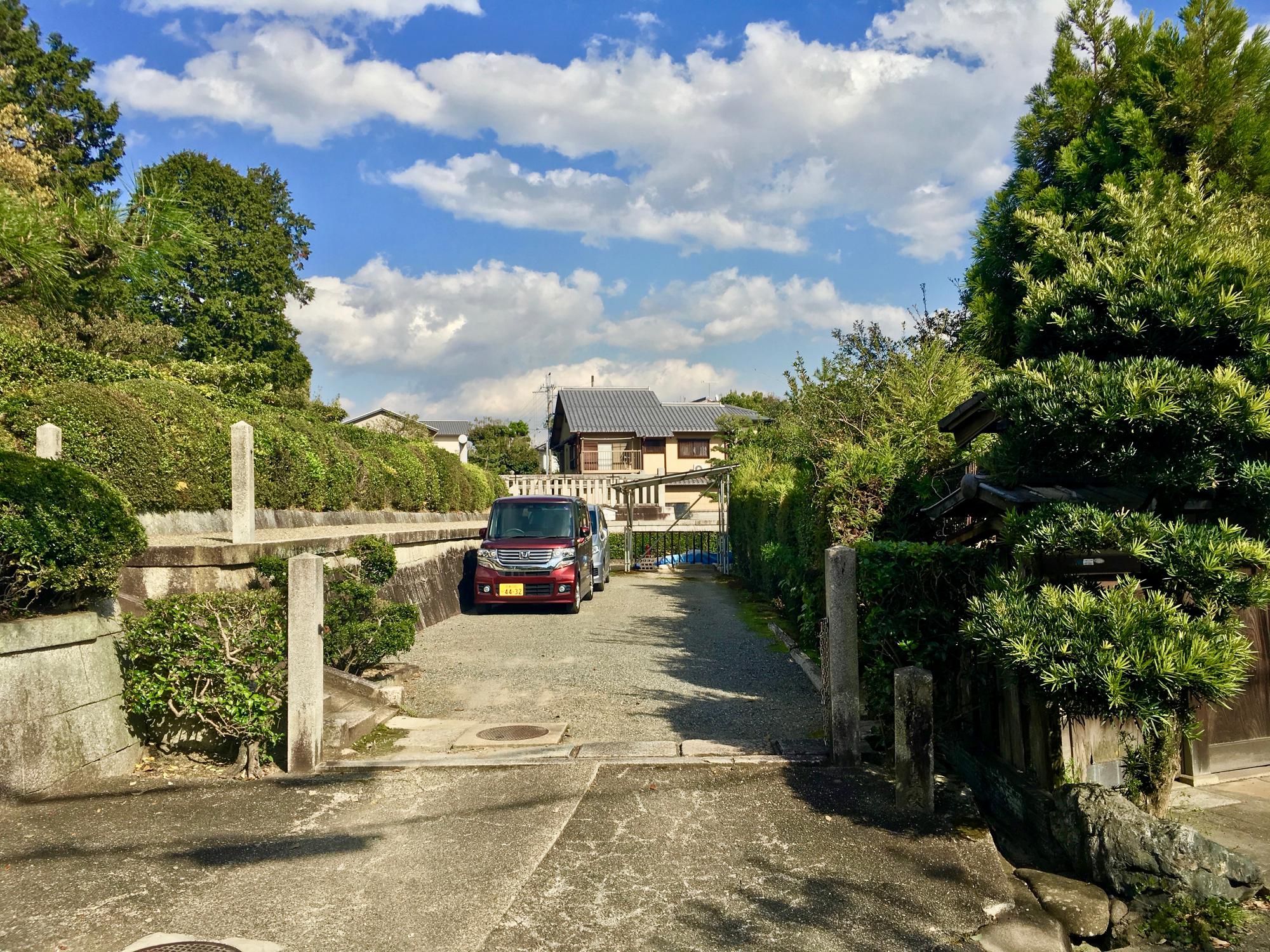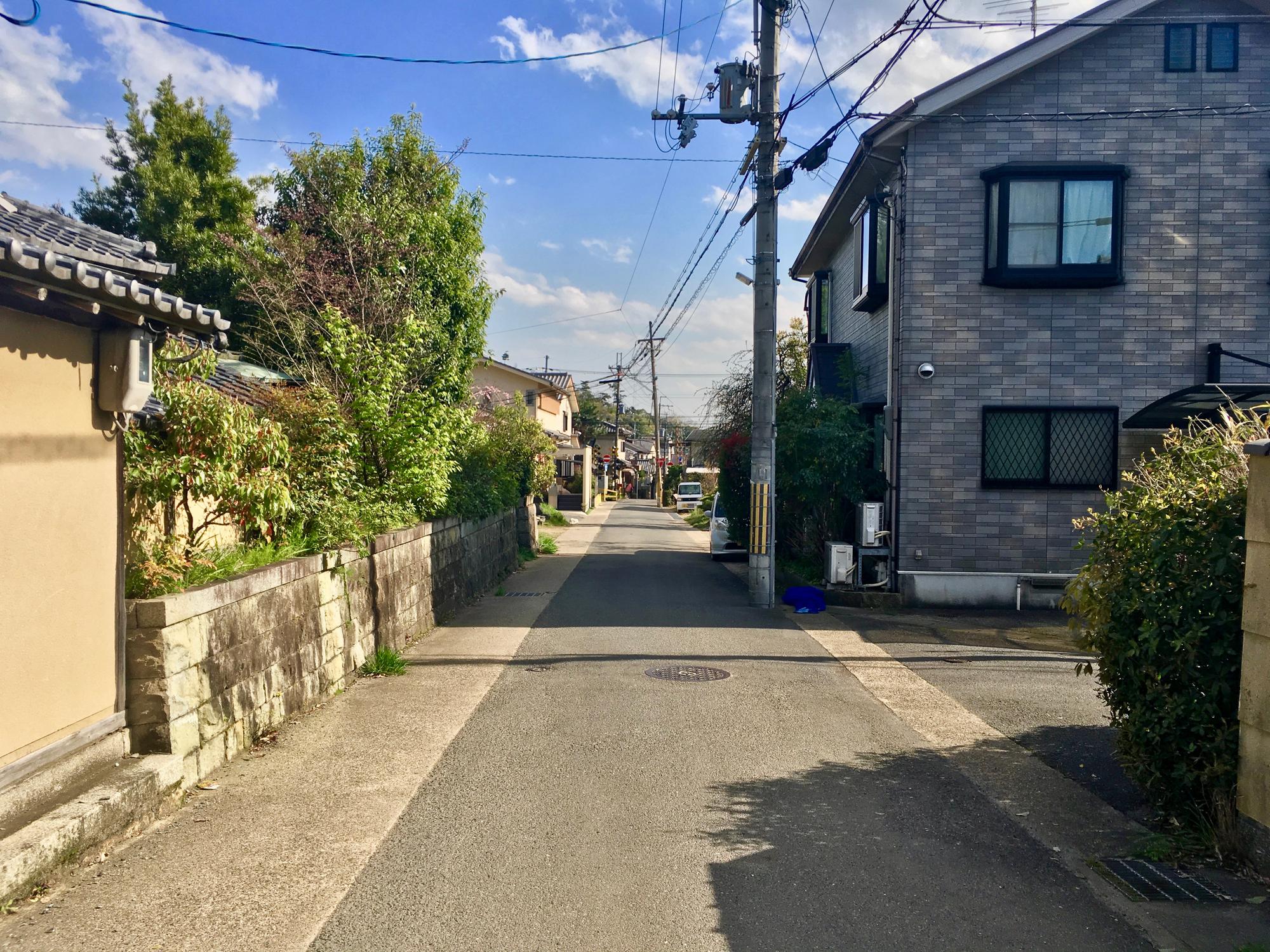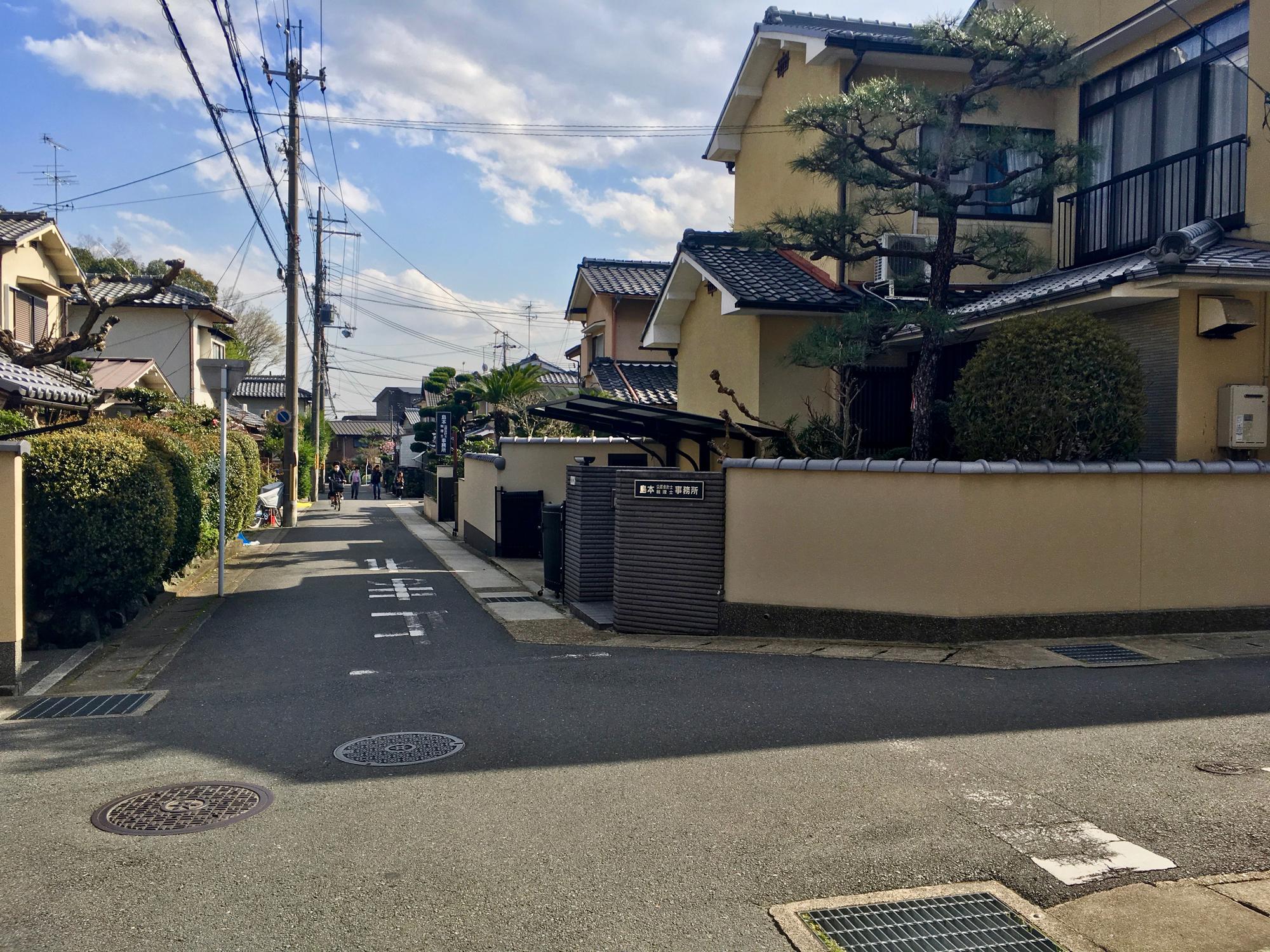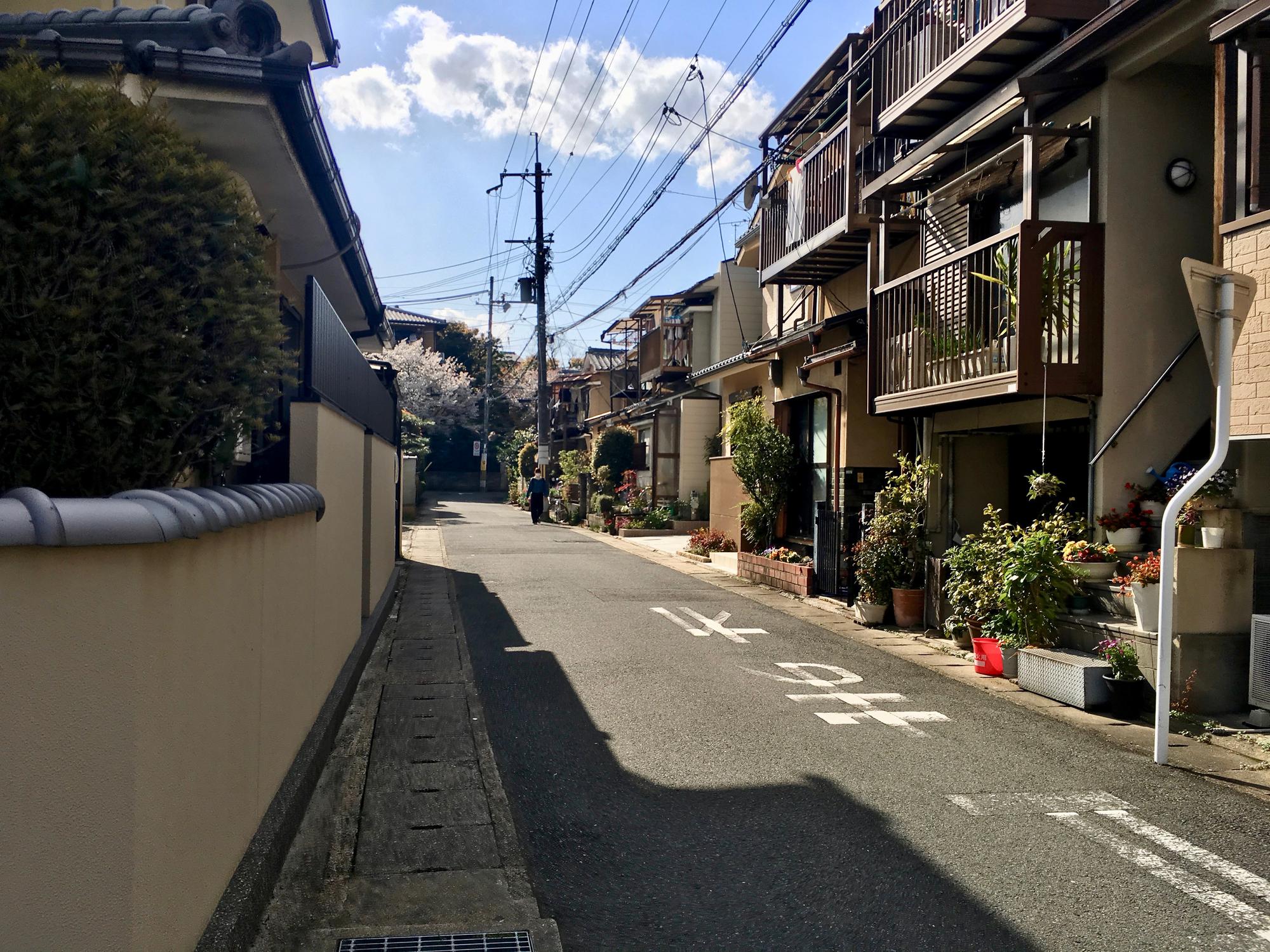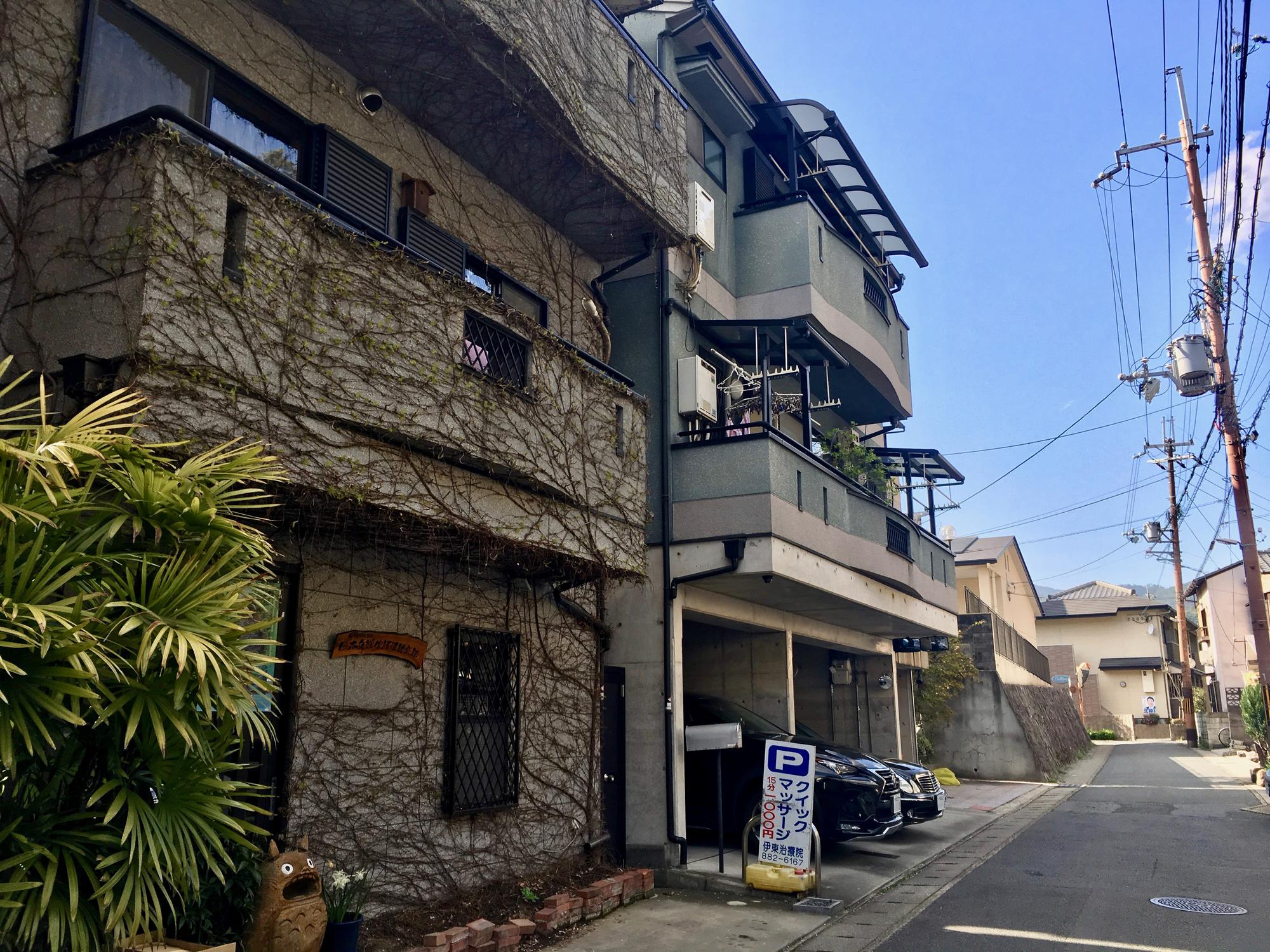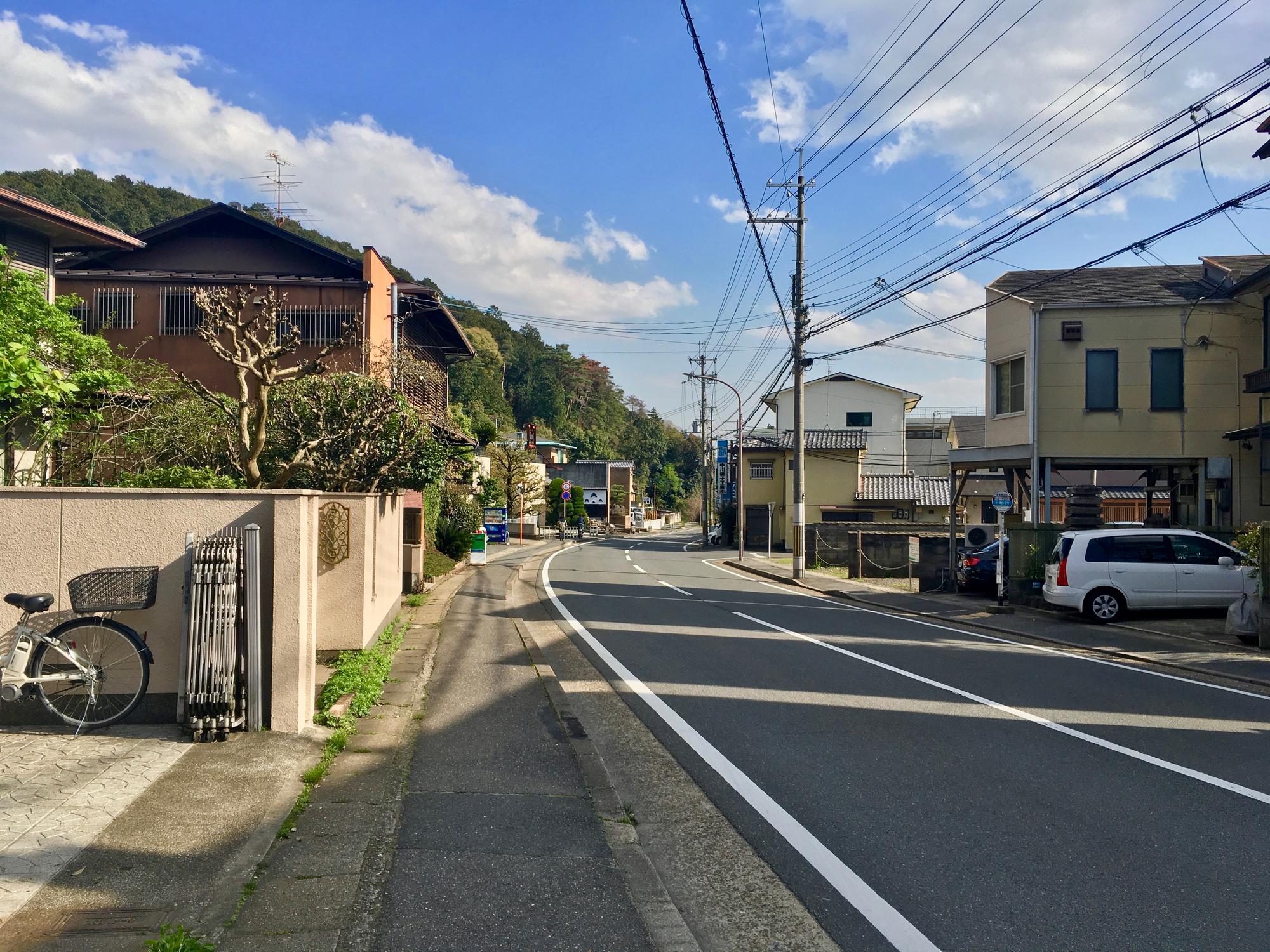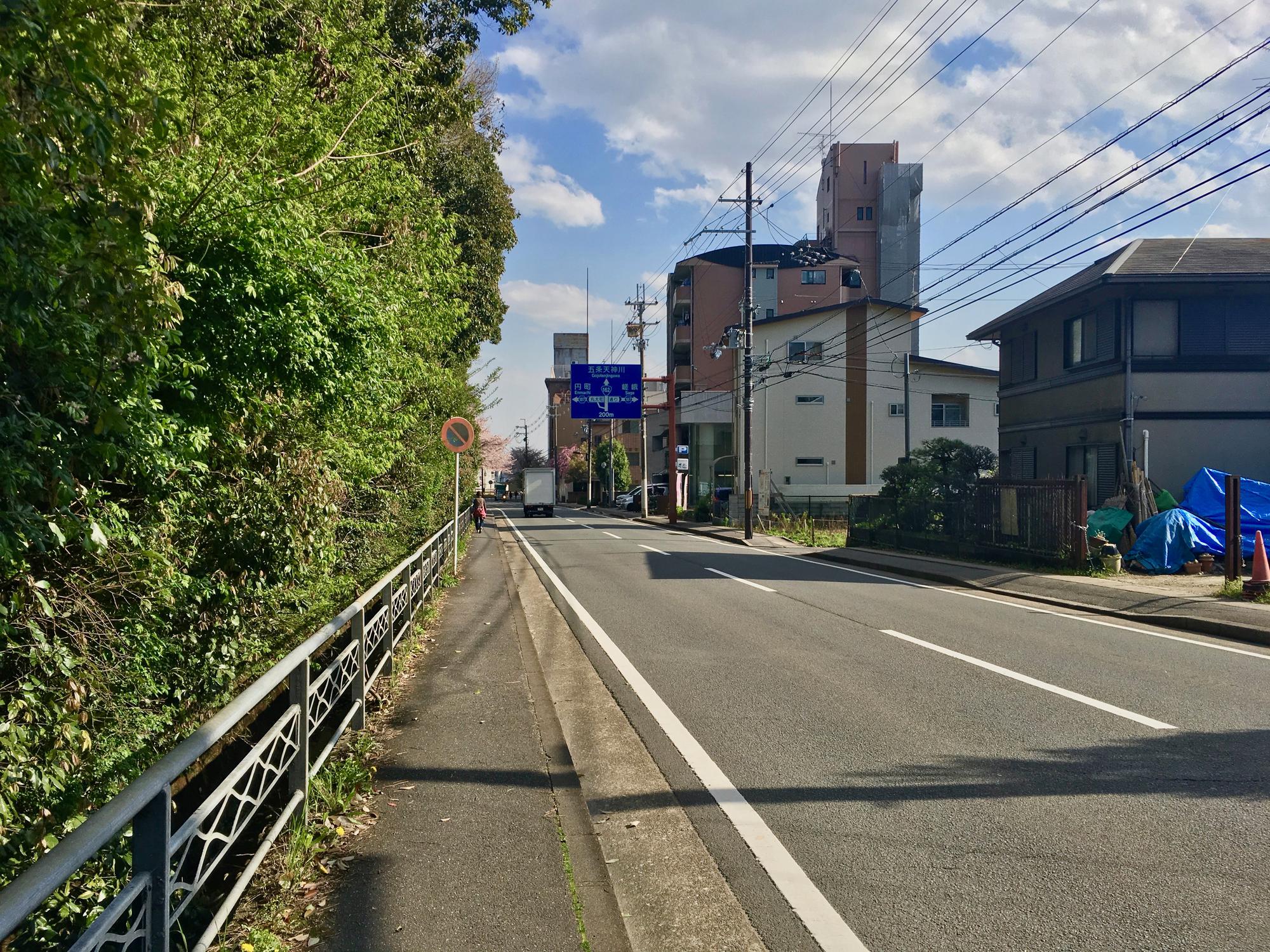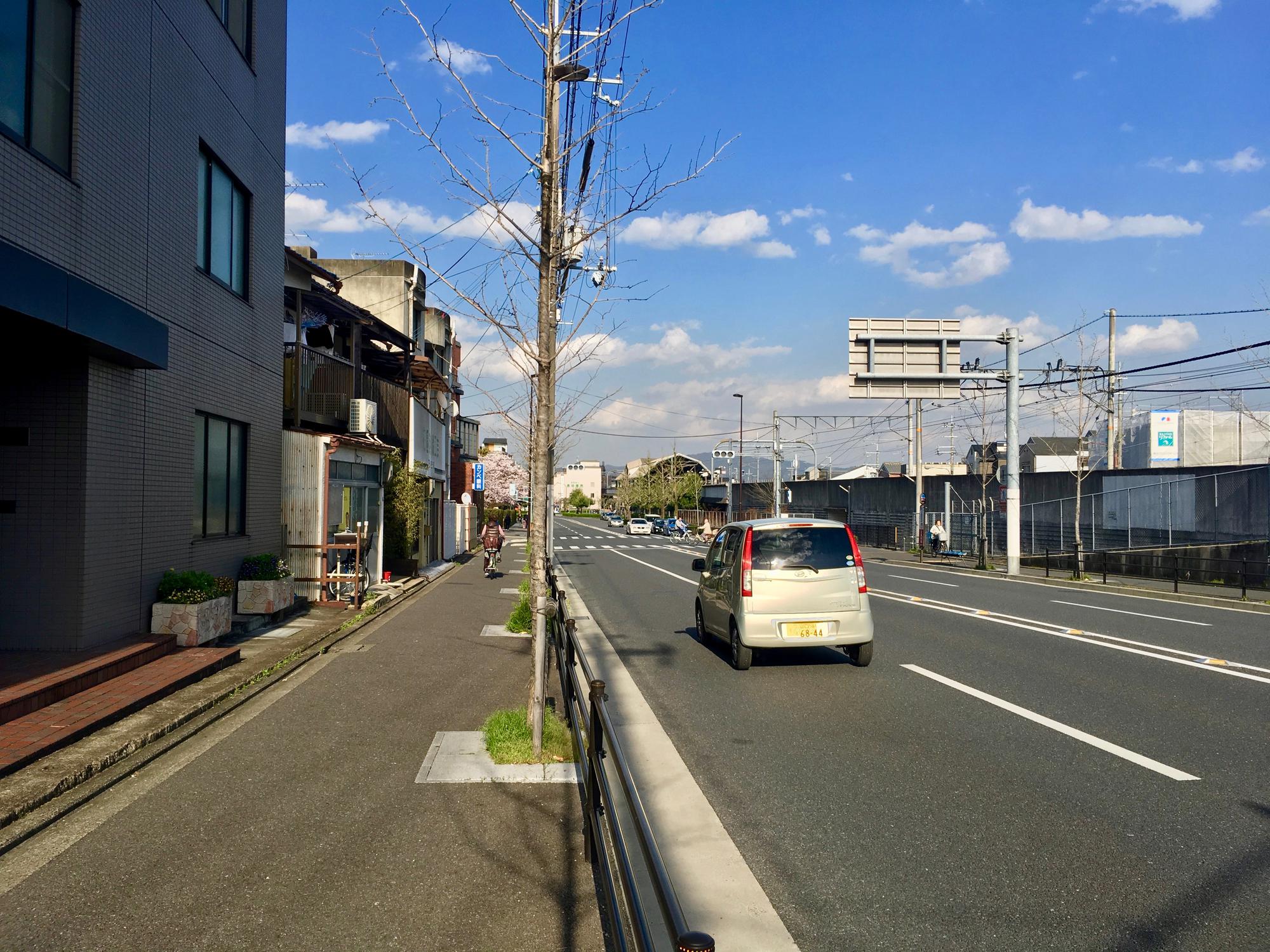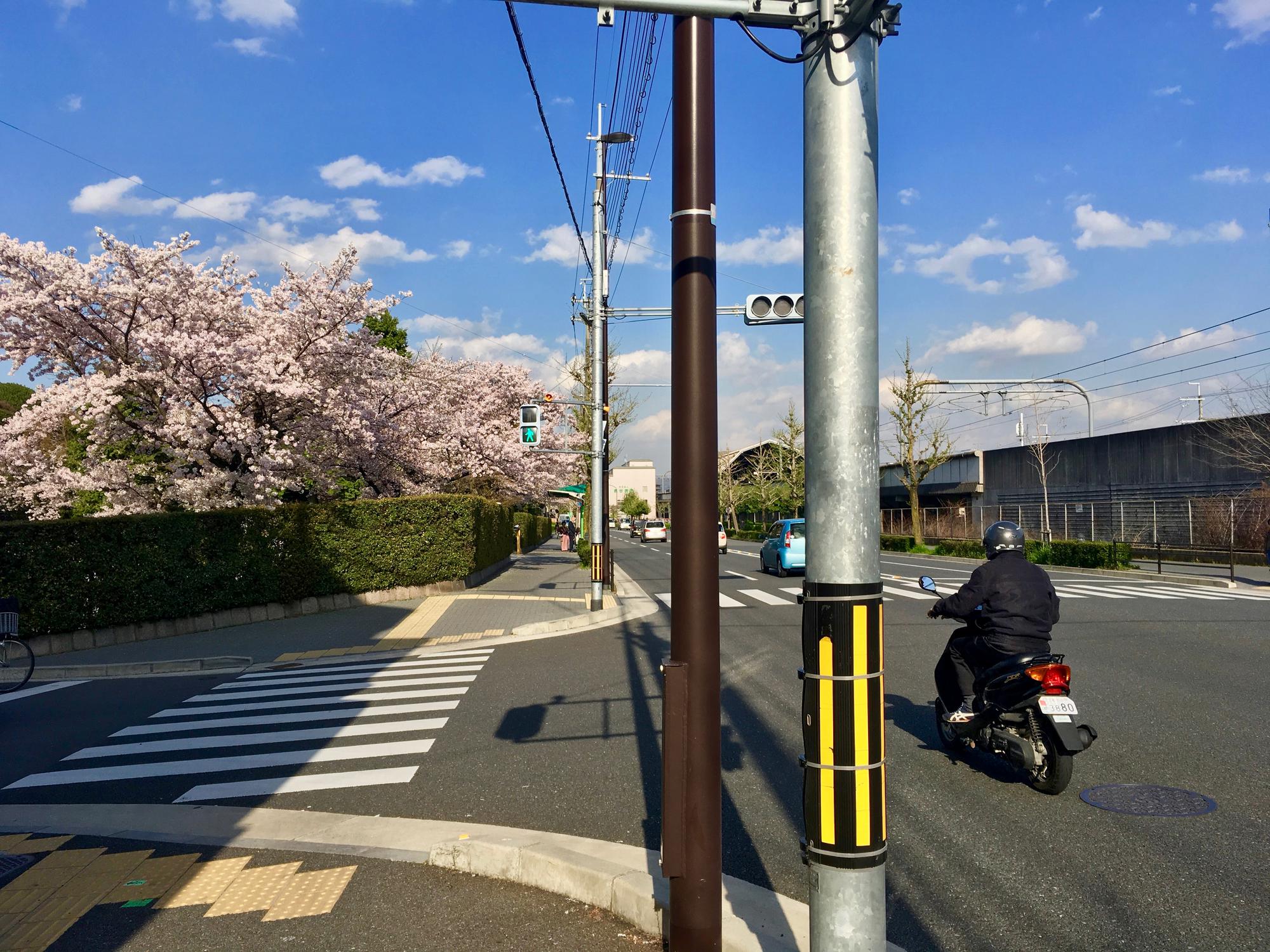 Schoolyard.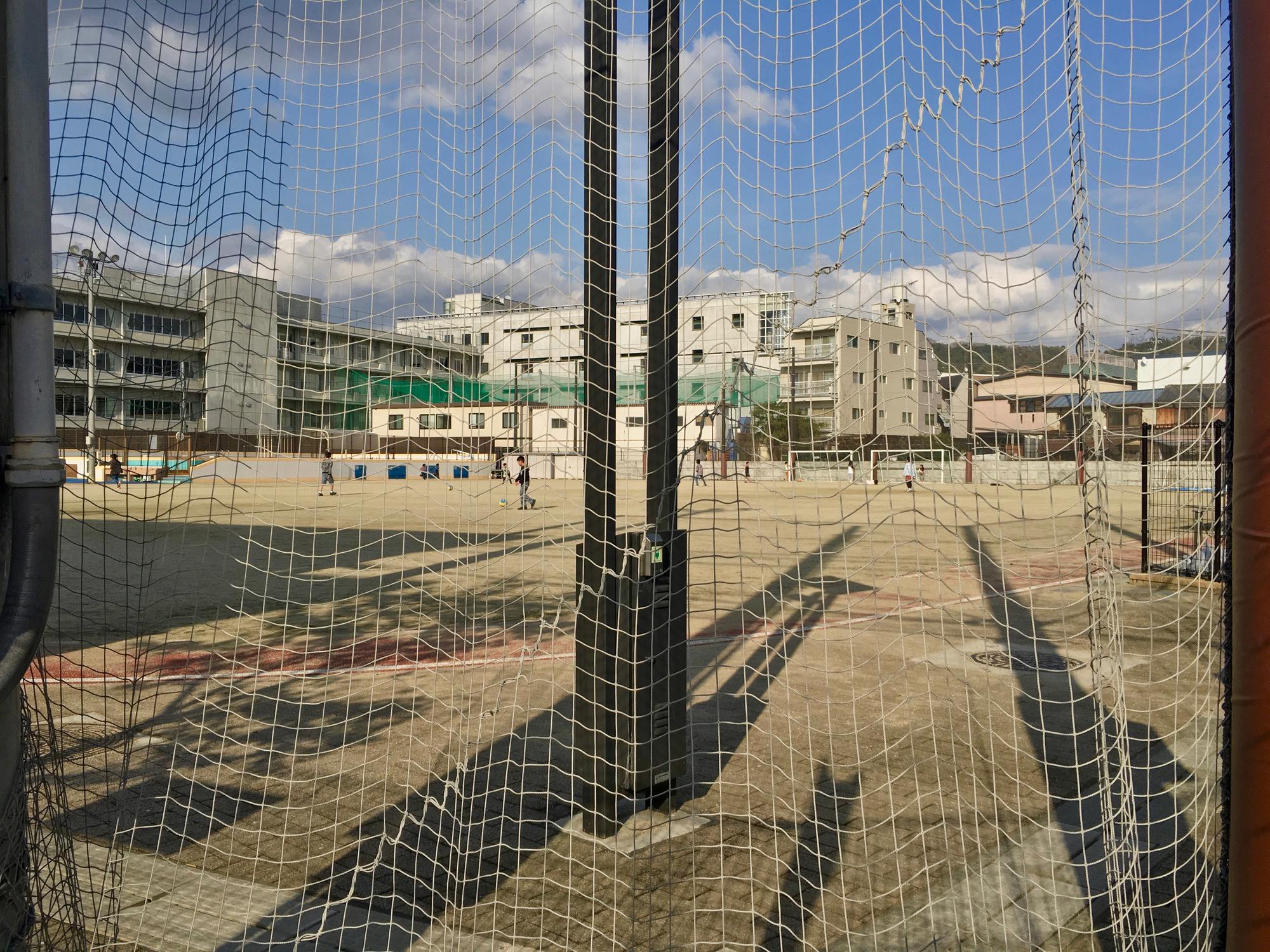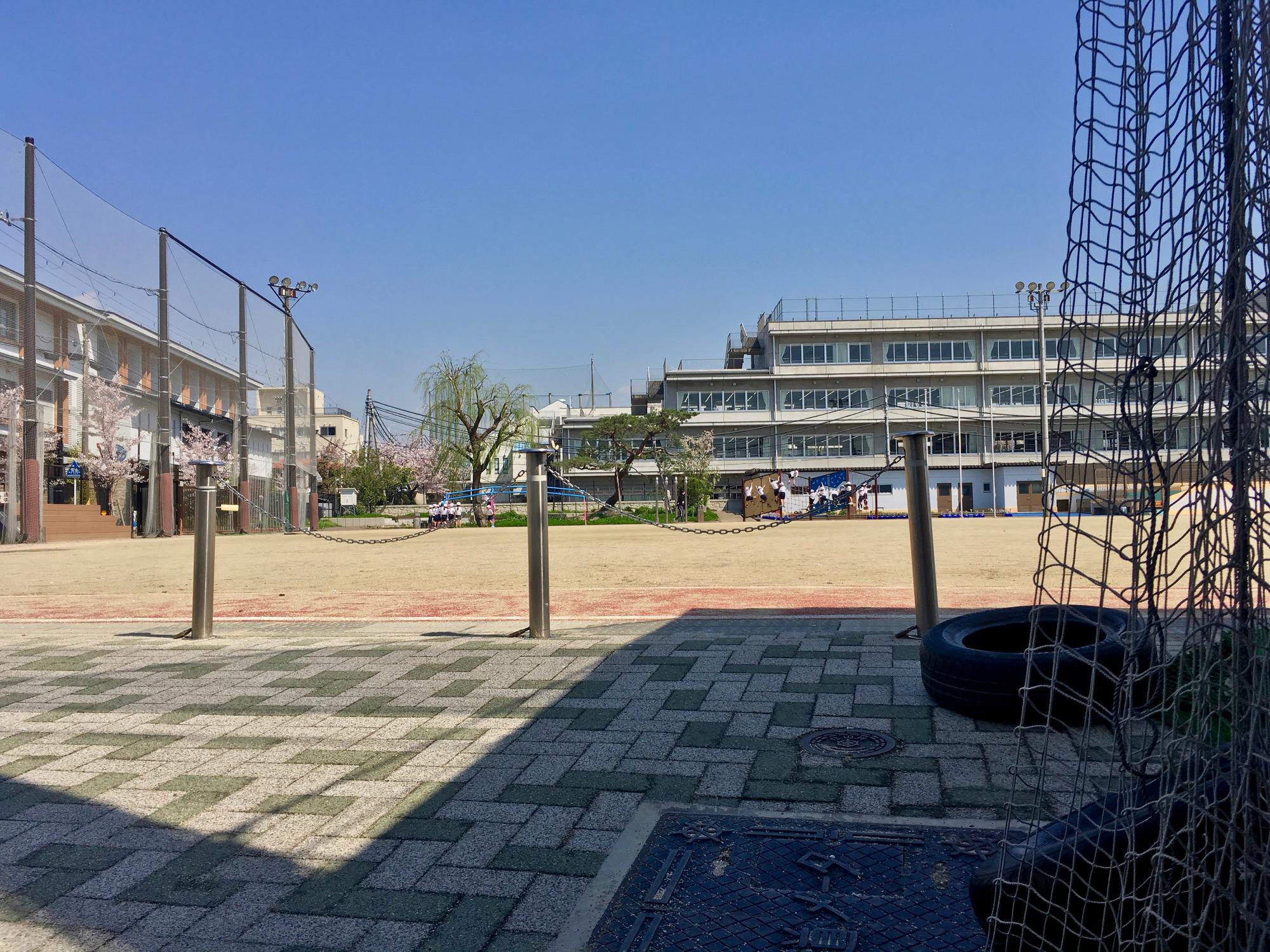 Street near the school.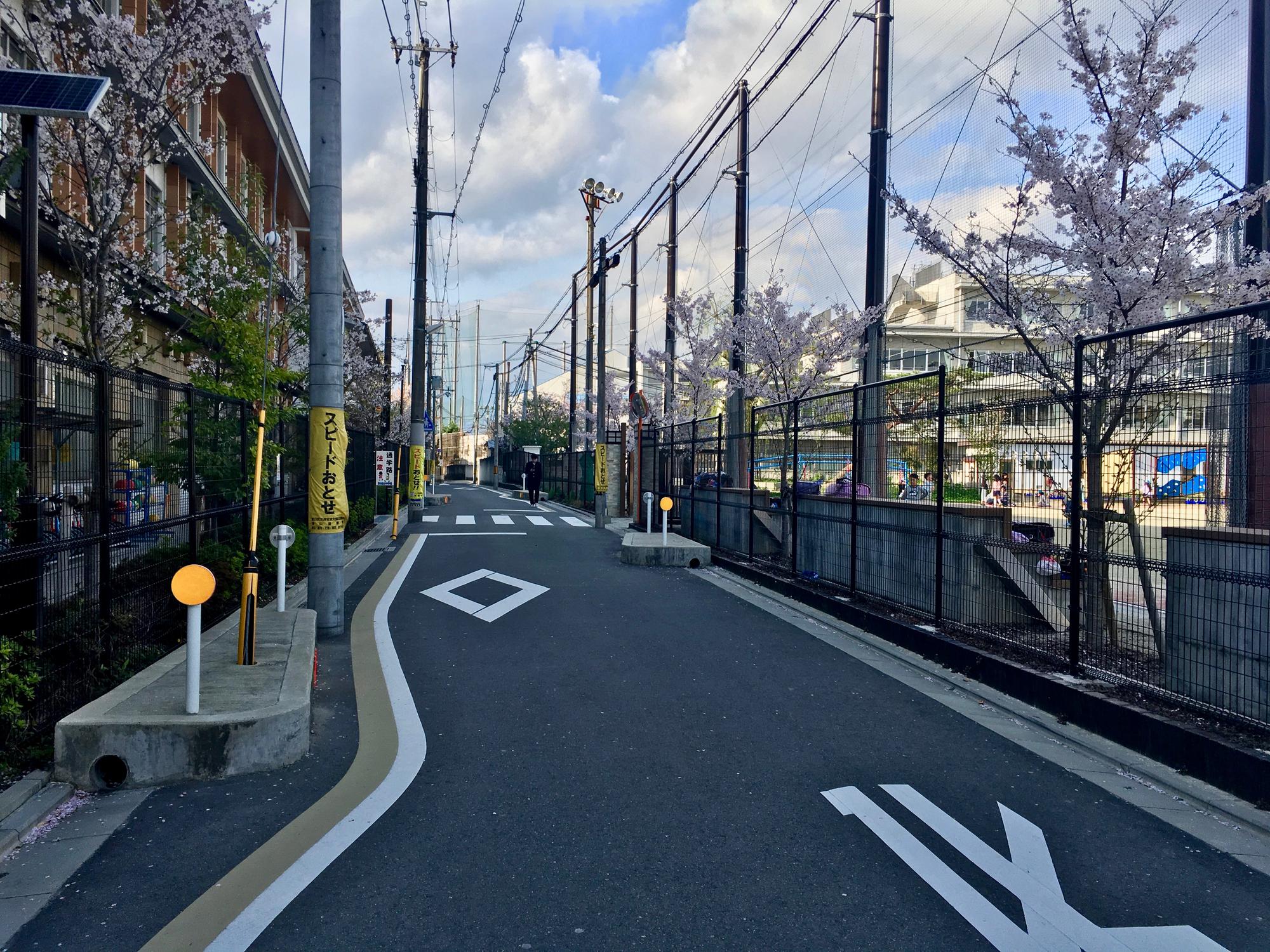 Elevator.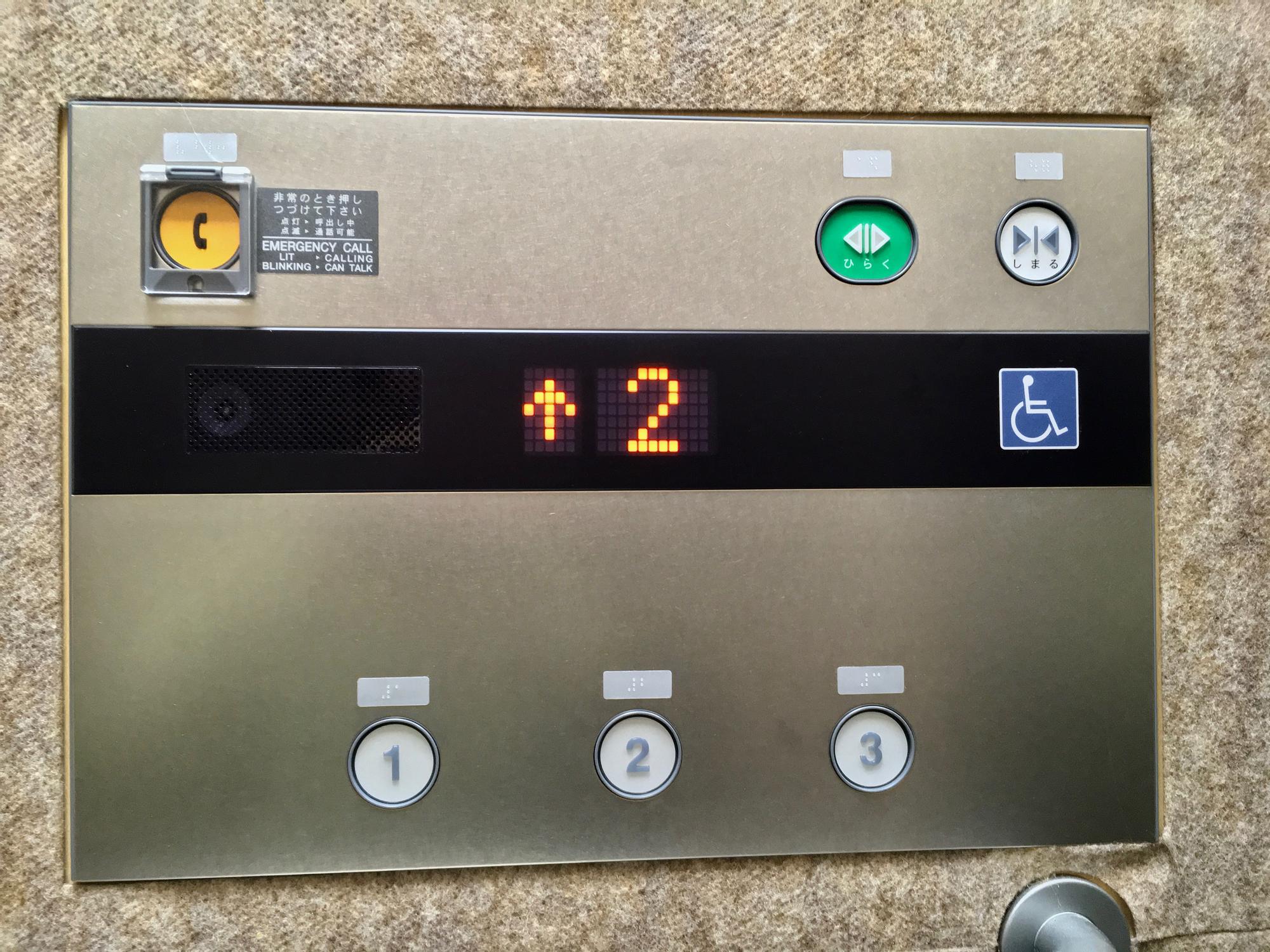 The hotel room has an electronic lock with PIN entry. Digits layout is always randomized. Right now it starts from 0. Thus you couldn't memorize someone's sequence.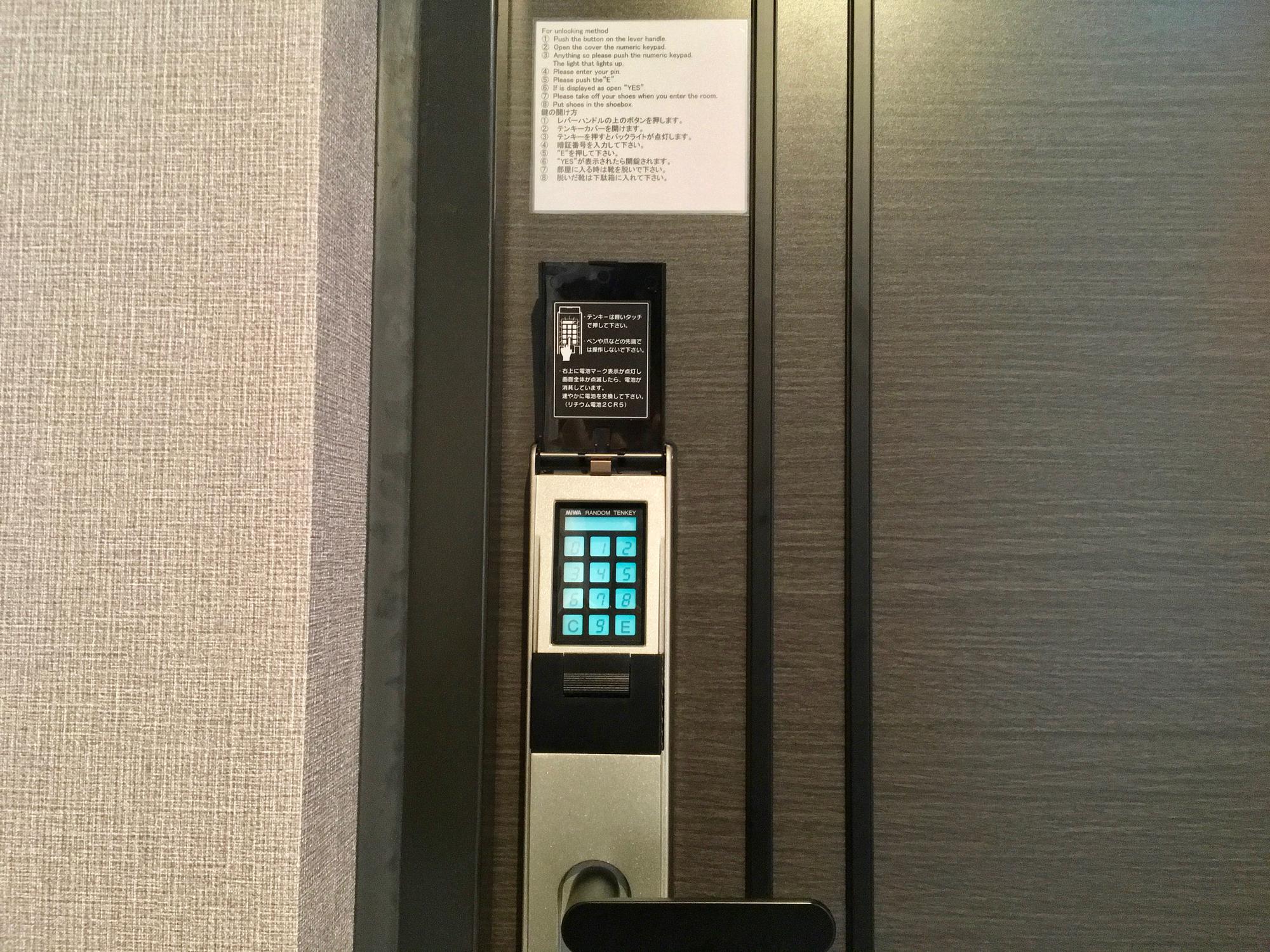 Washing machine.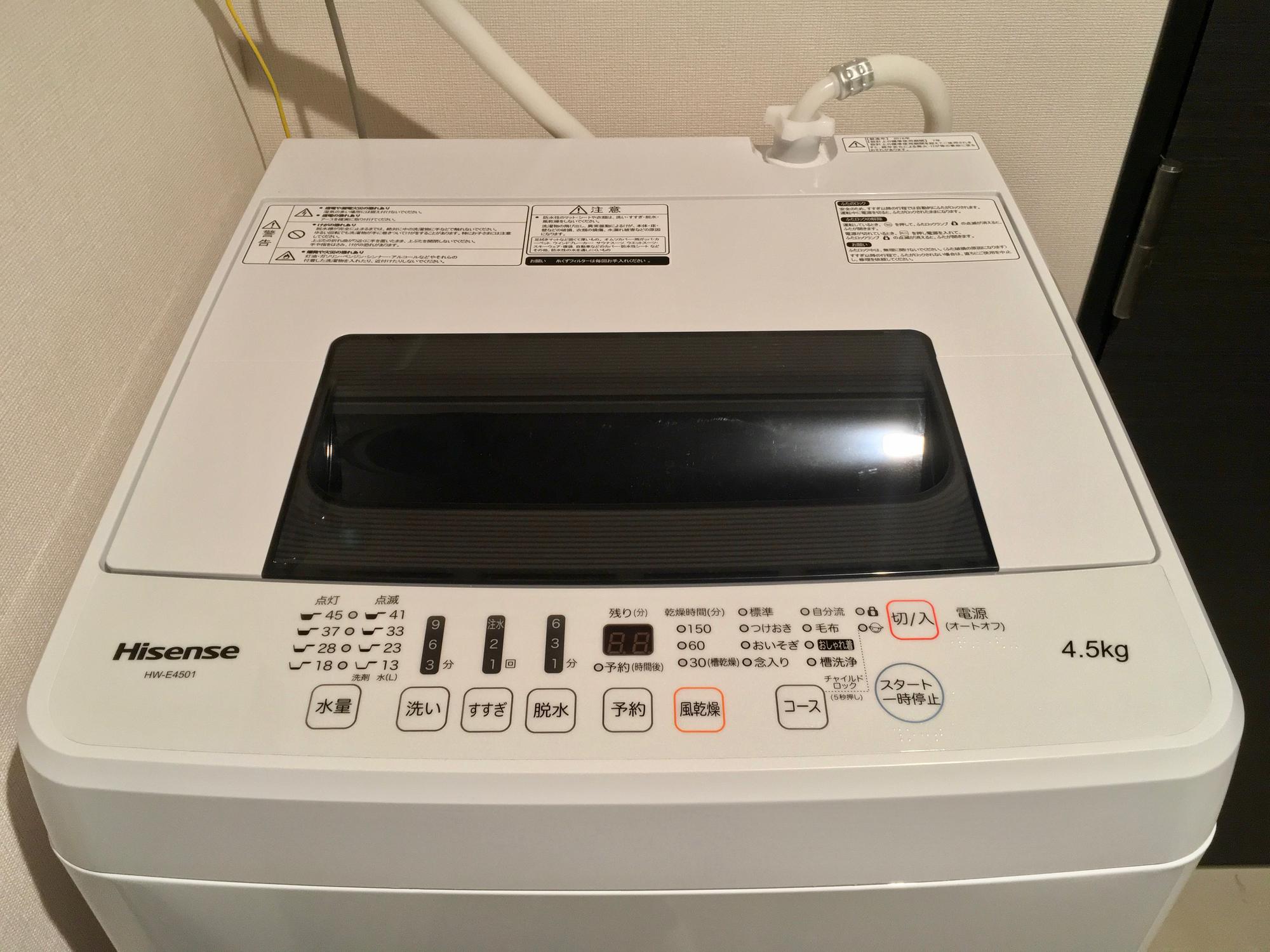 Kids bus.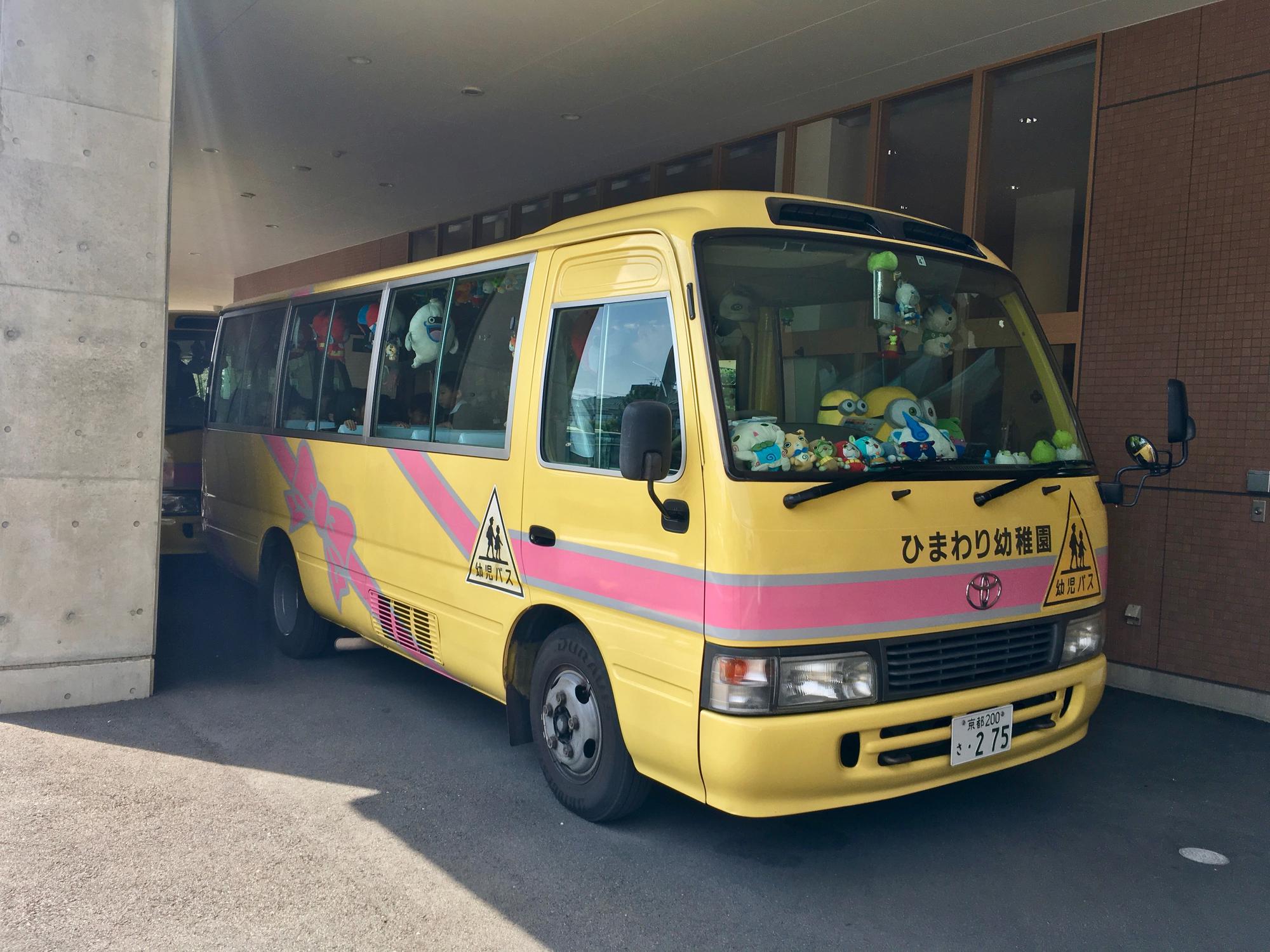 All of a sudden.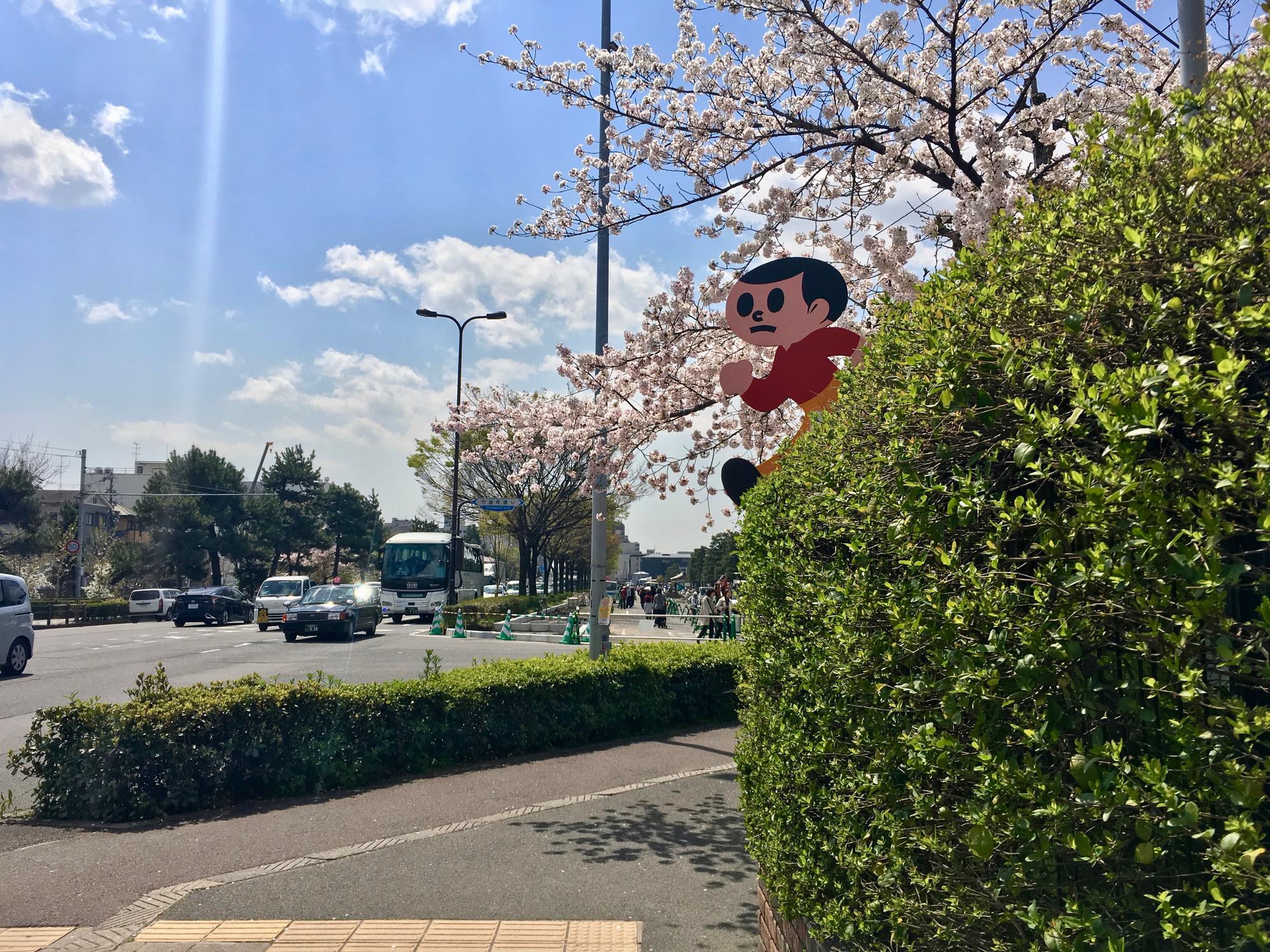 Street repair work information board is across the street.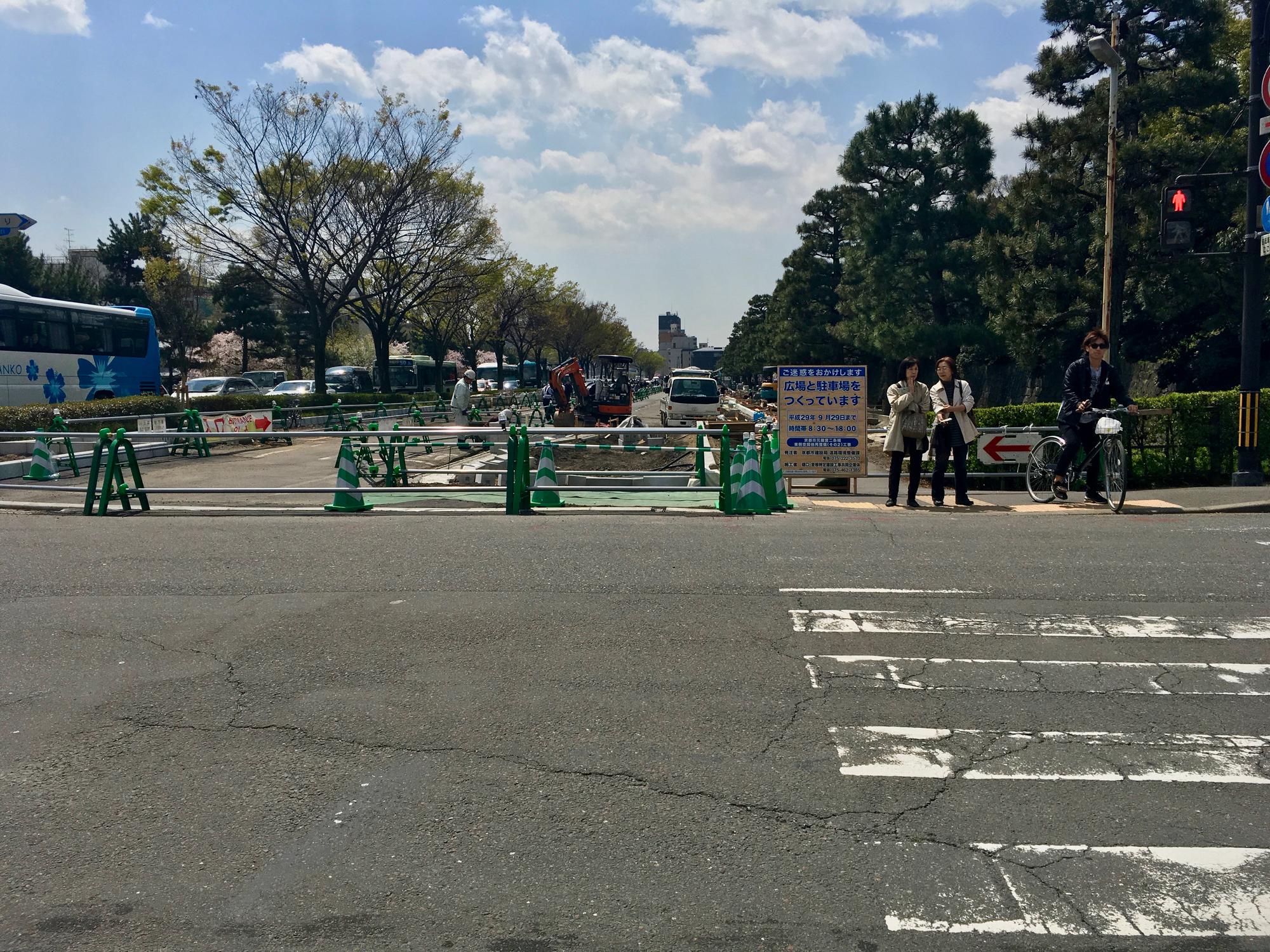 Cute guardrail.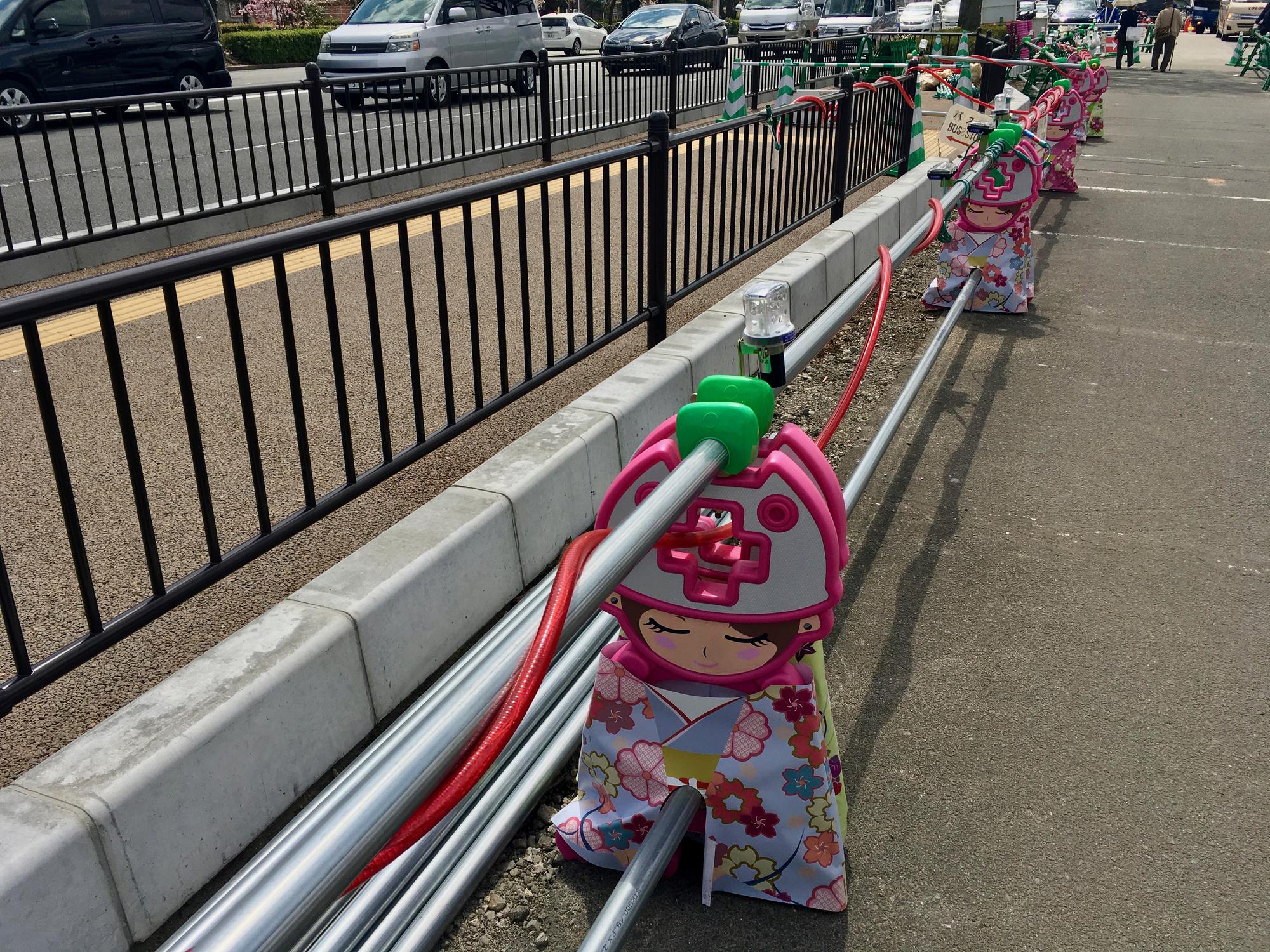 Simple guardrail.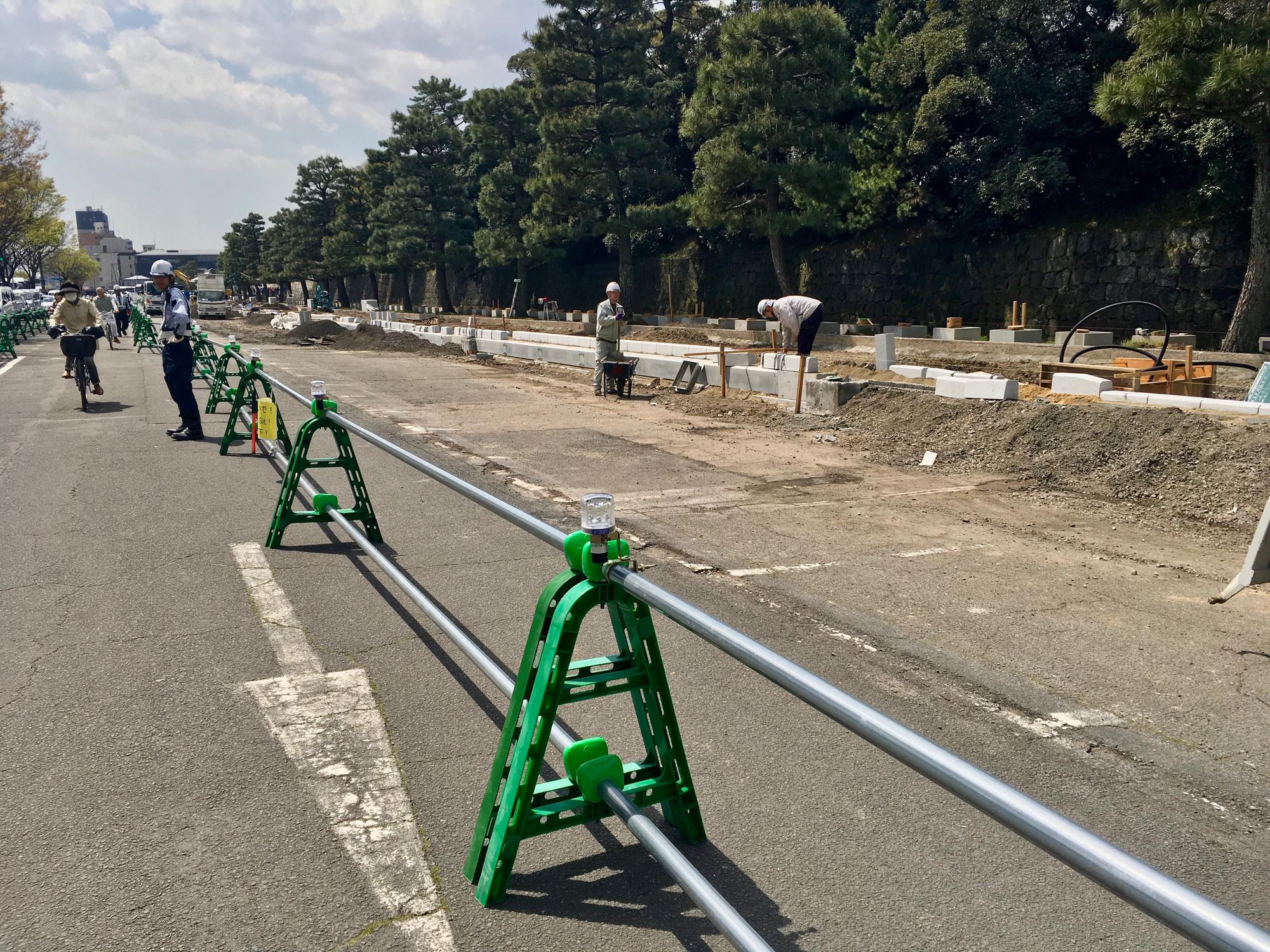 Umbrella stands.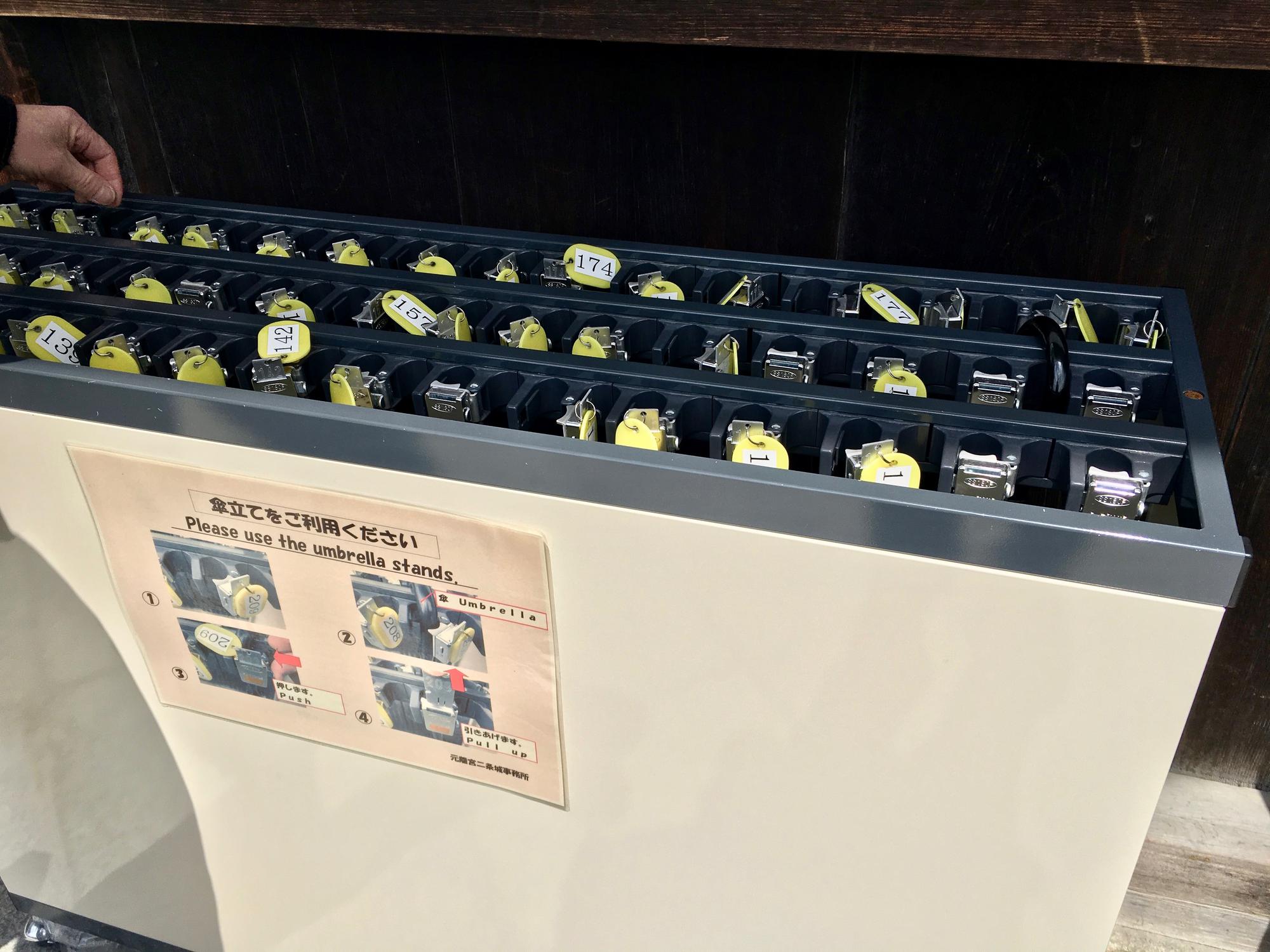 Umbrellas are usually left outside of buildings. Another option is to use a cover if you need to take your umbrella inside with you.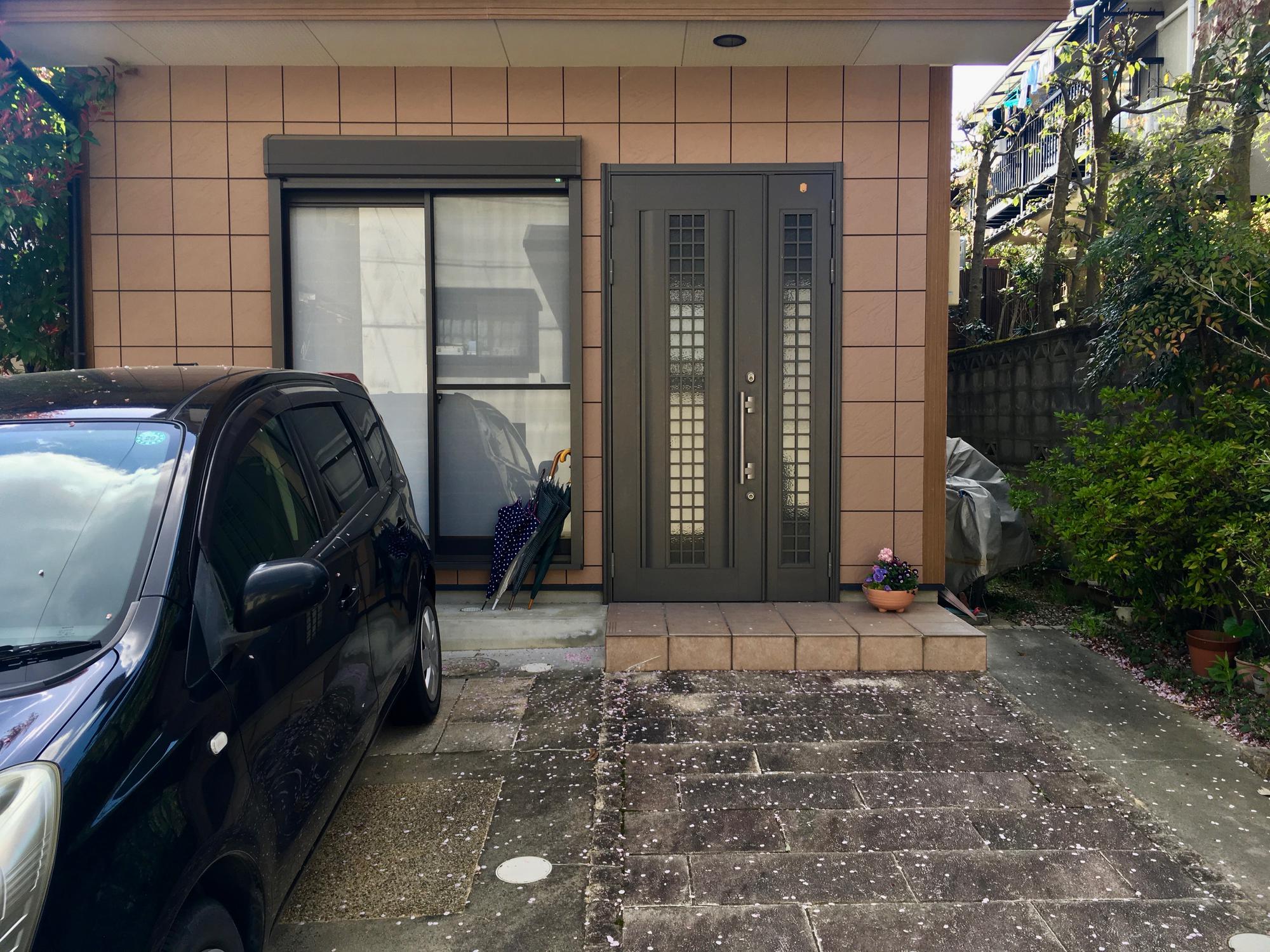 Interesting form of roof water drain.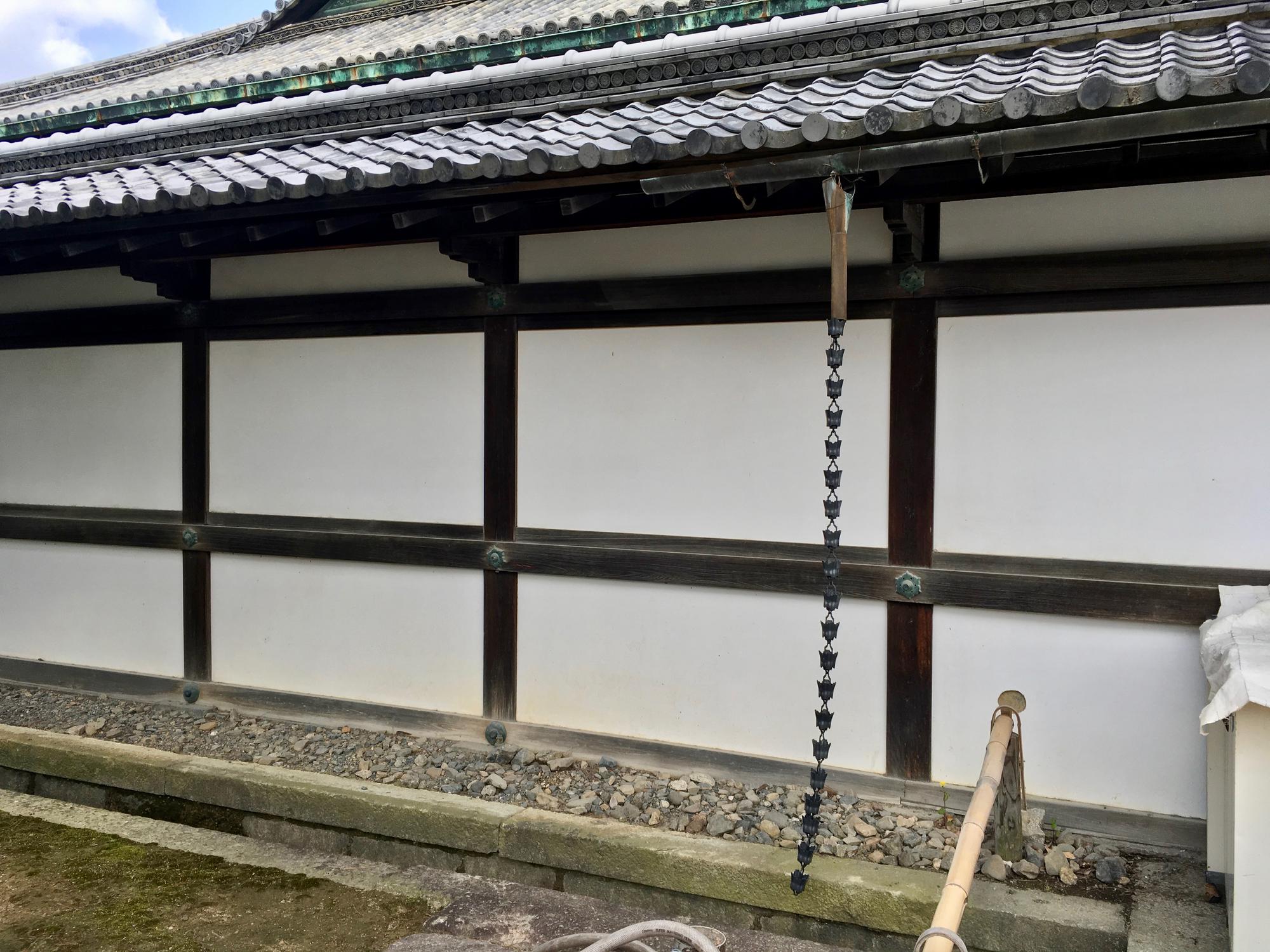 Schoolkids are interested in beauties.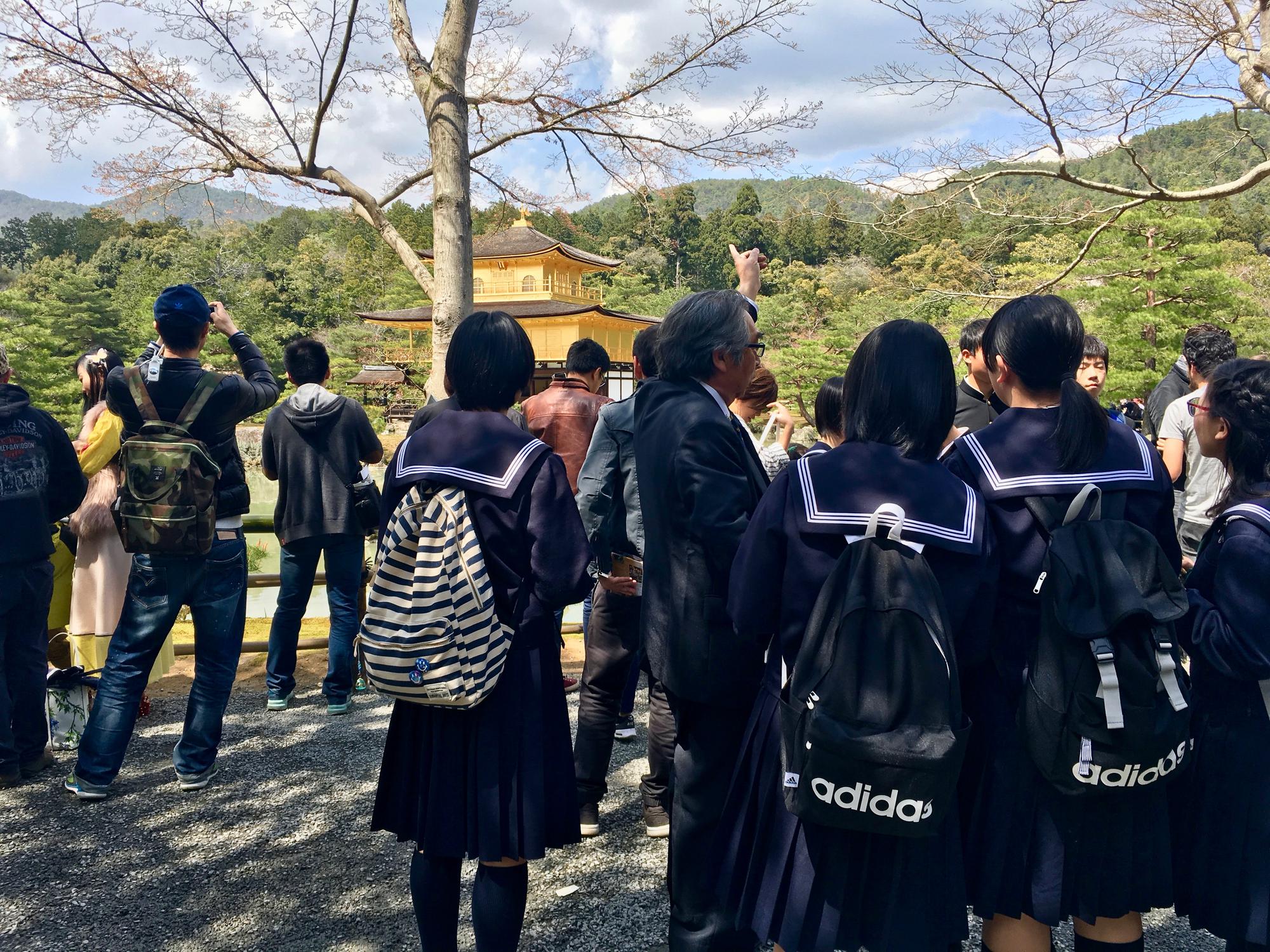 Smiley on a bottle cap.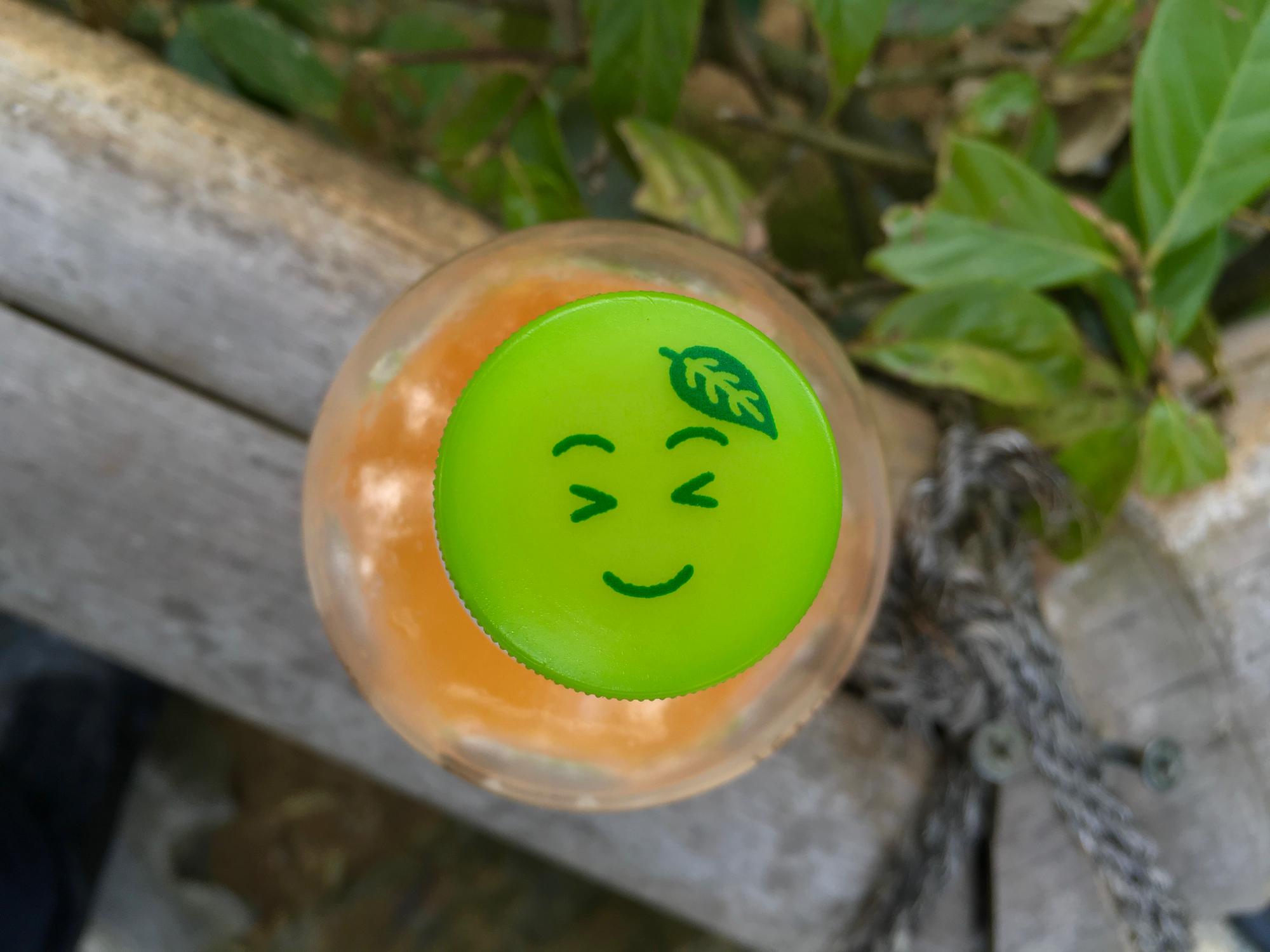 Payphone.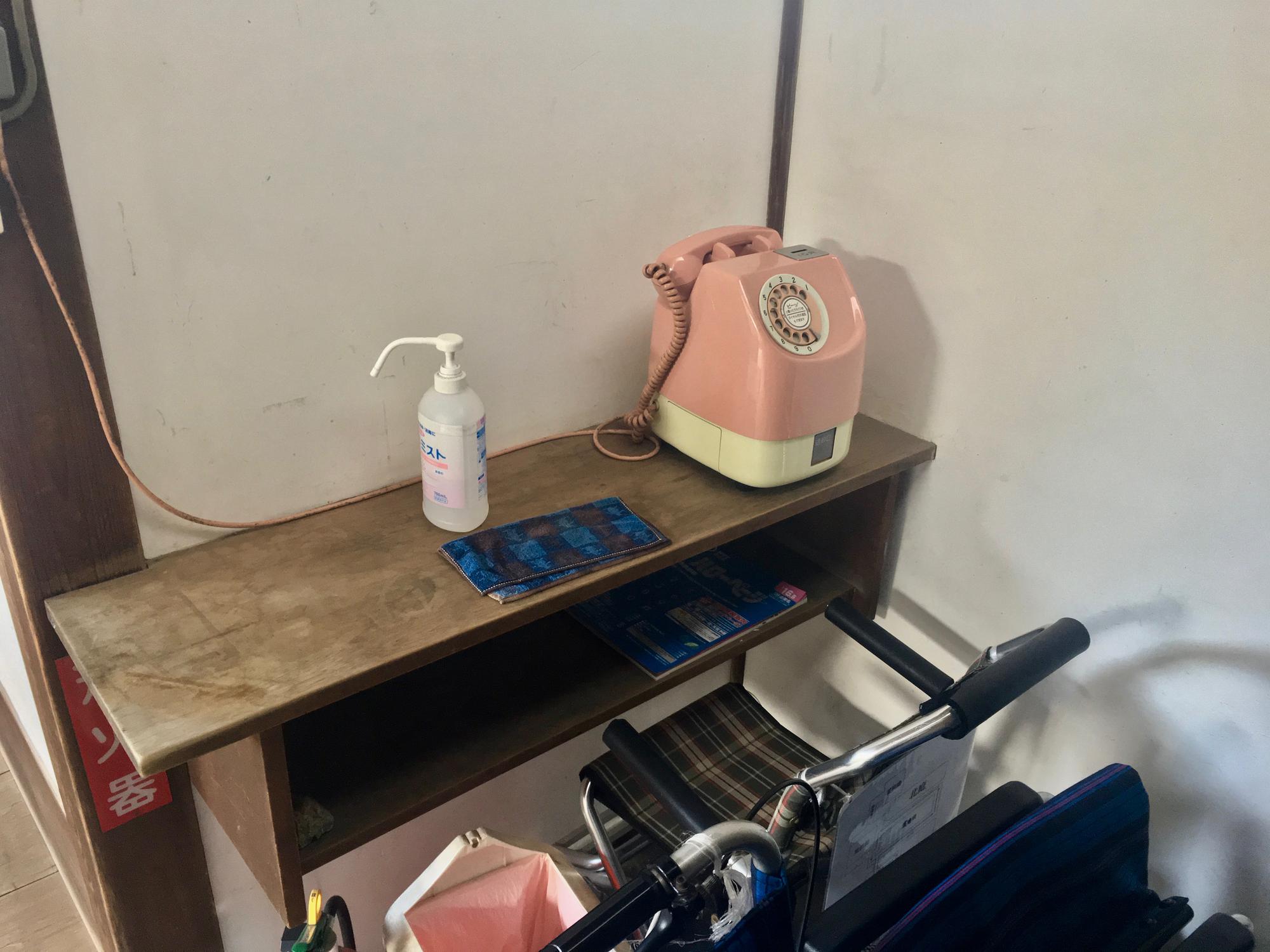 Five-storied pagoda.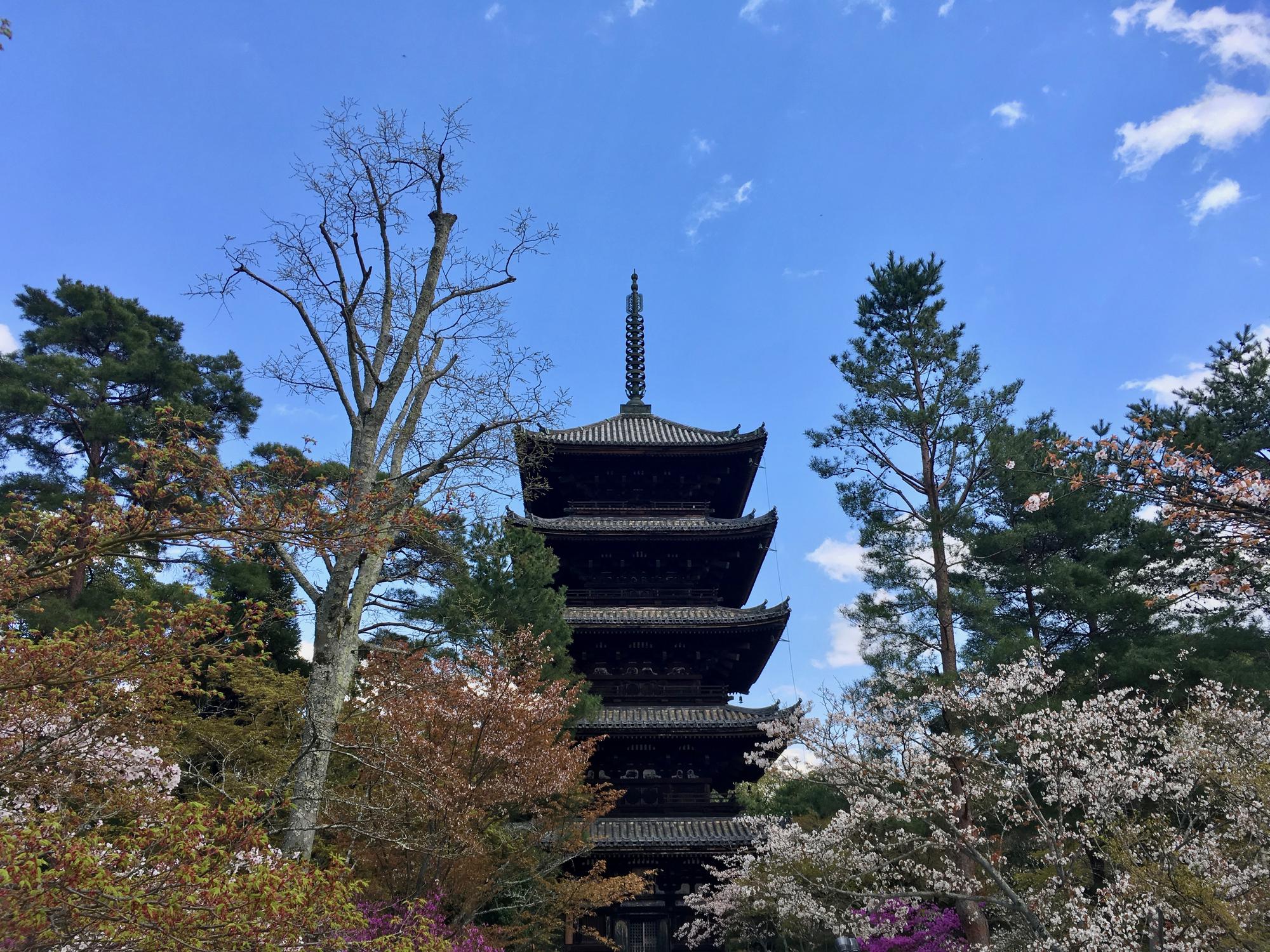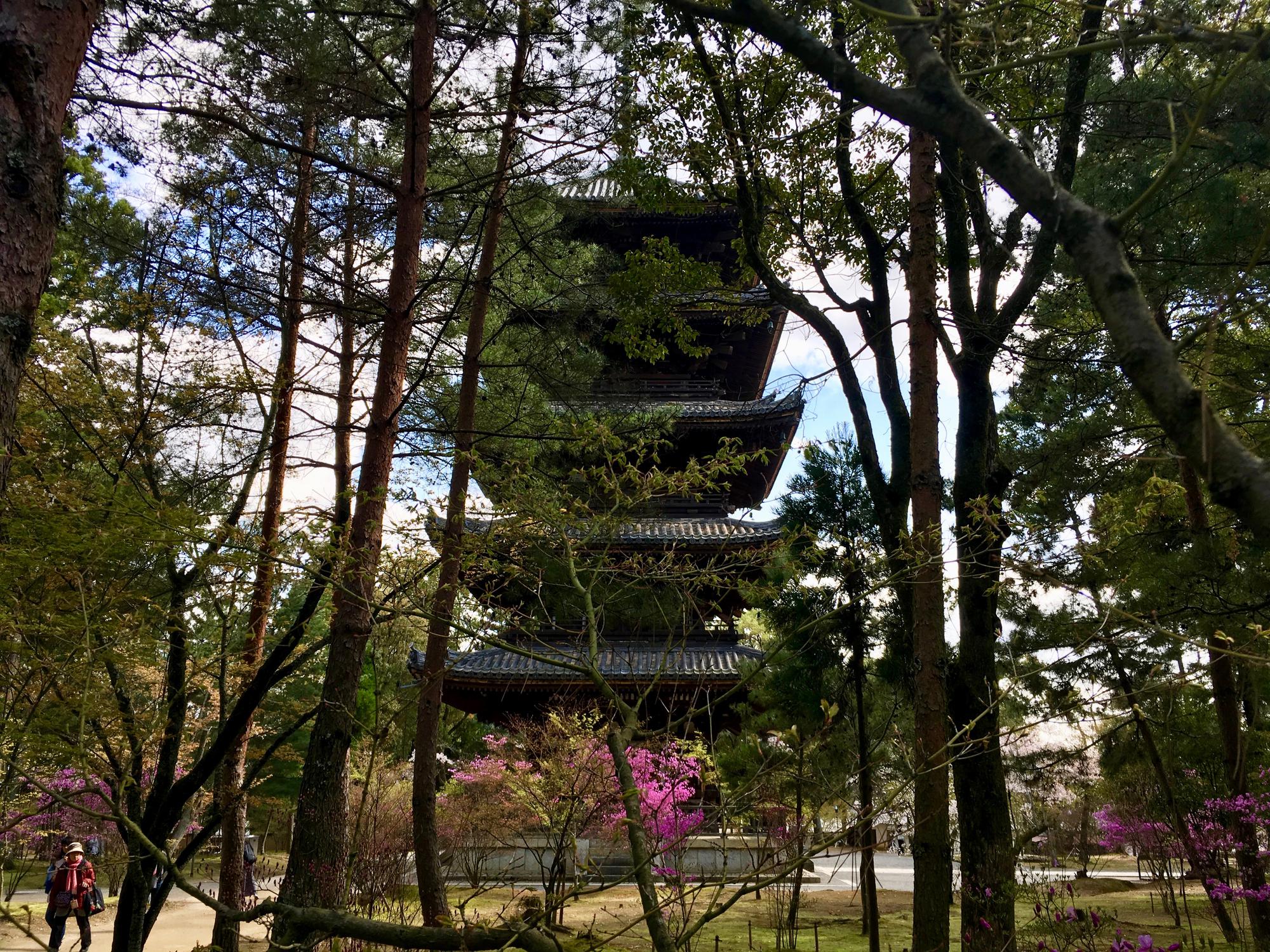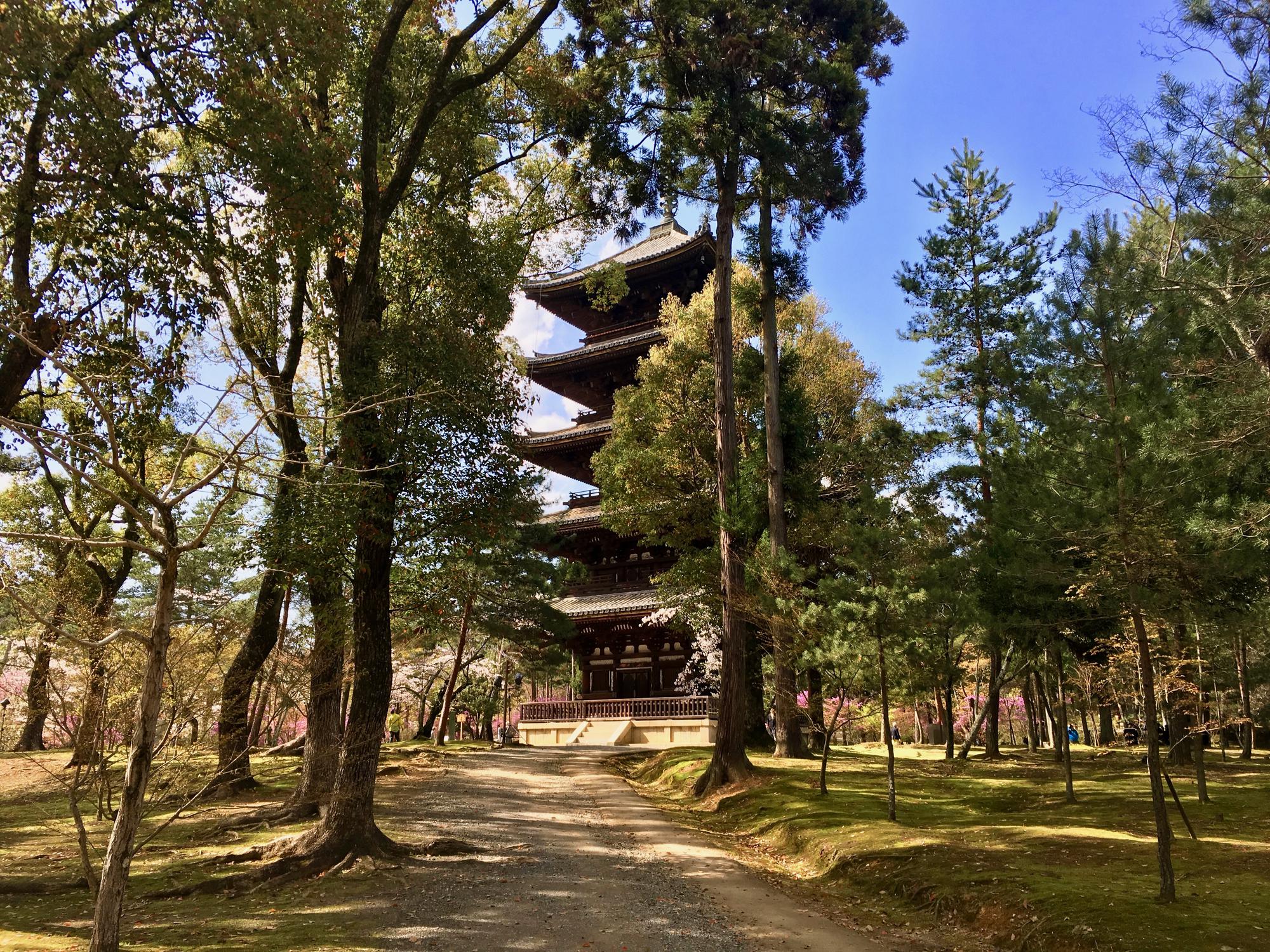 Level crossing. Trains move really close to the houses.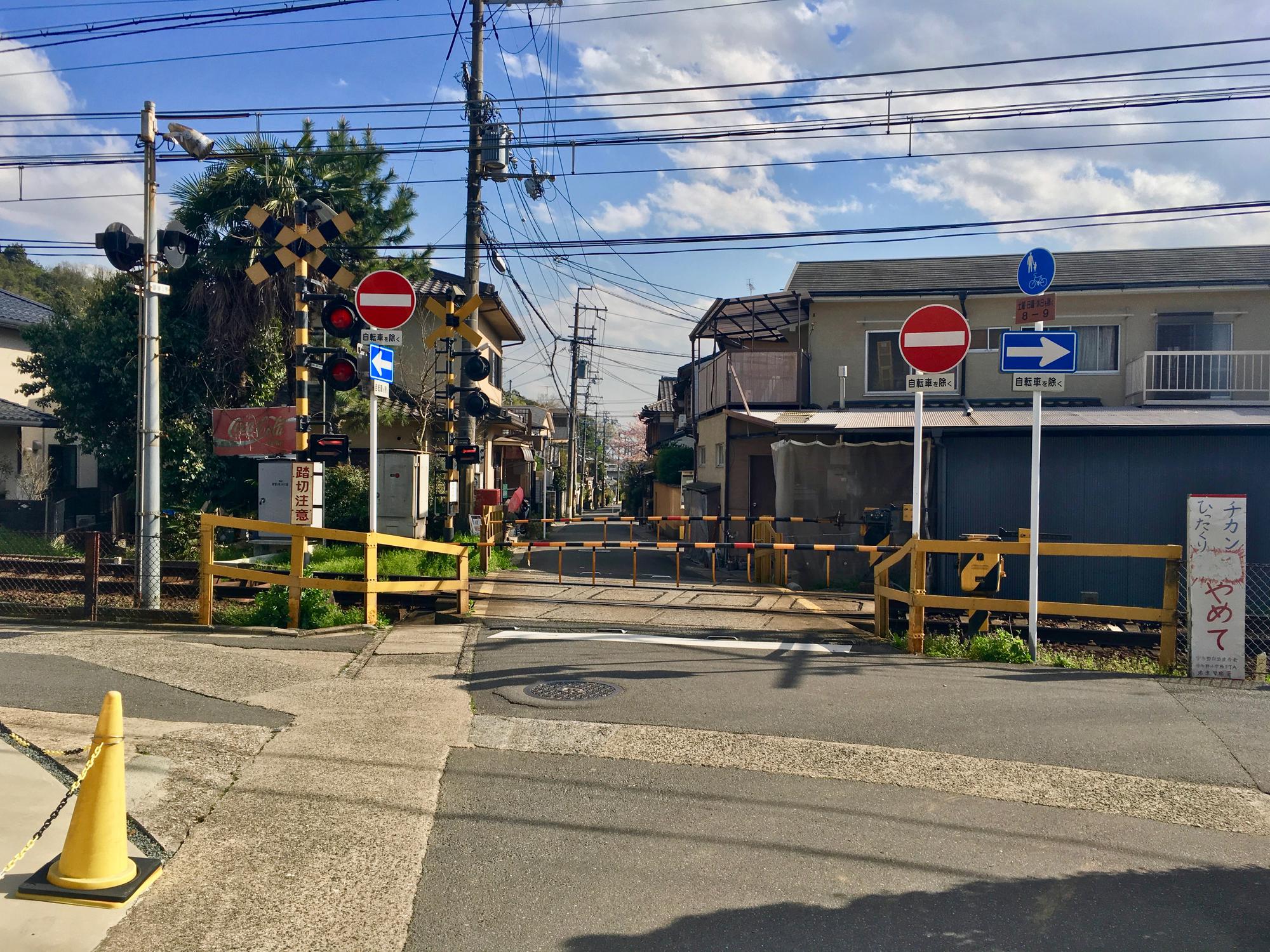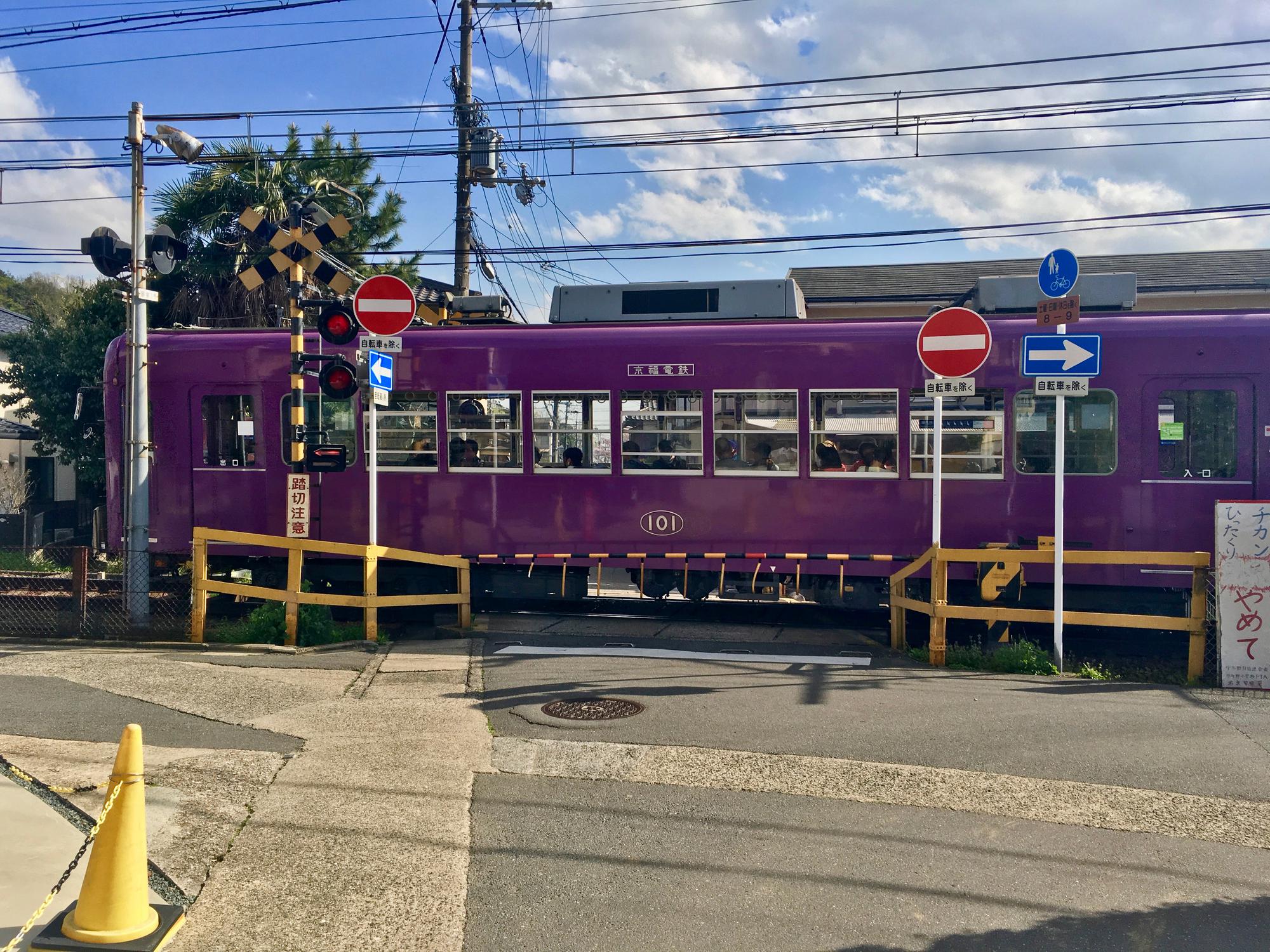 Railroad.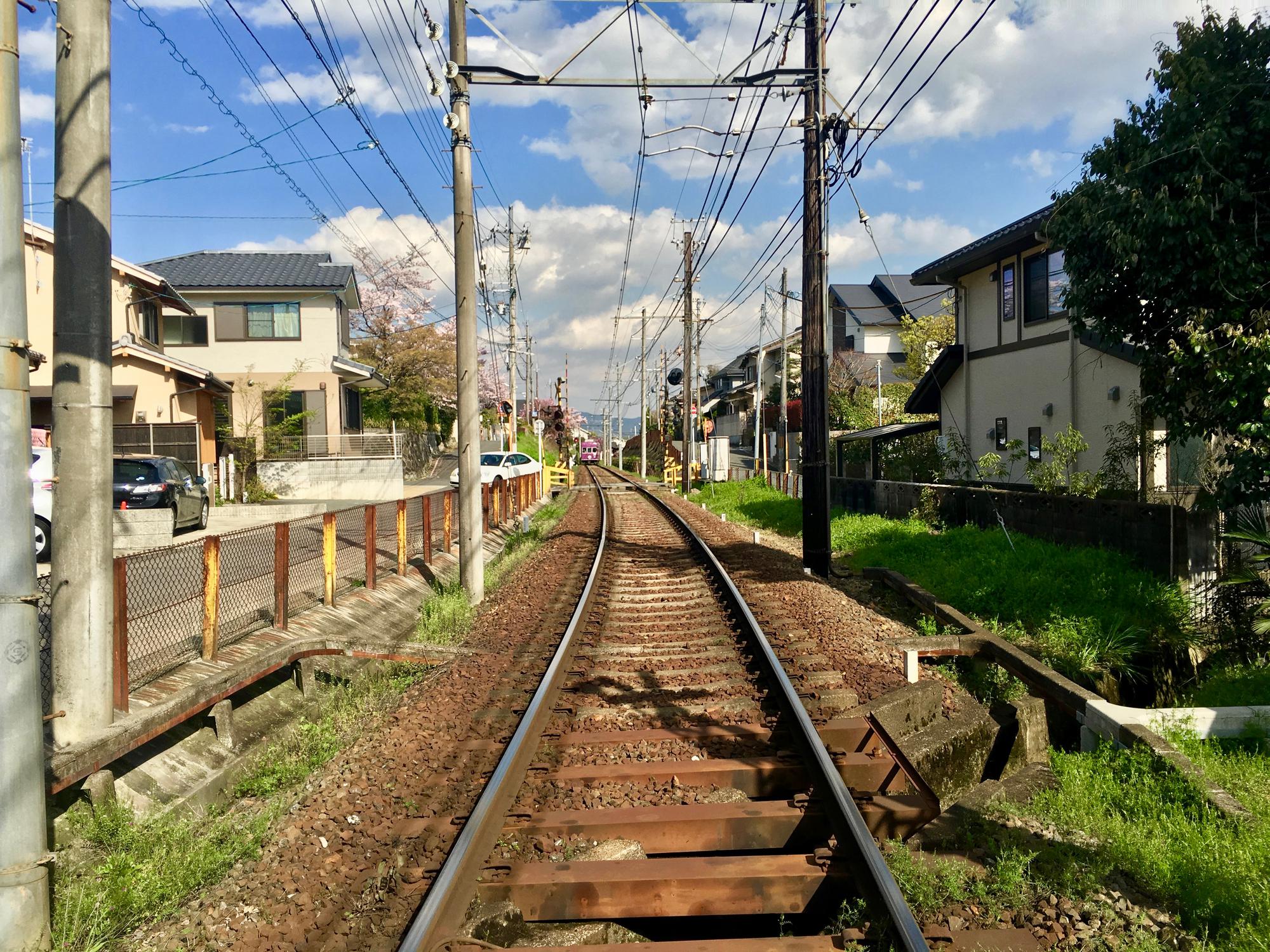 Bamboo grove.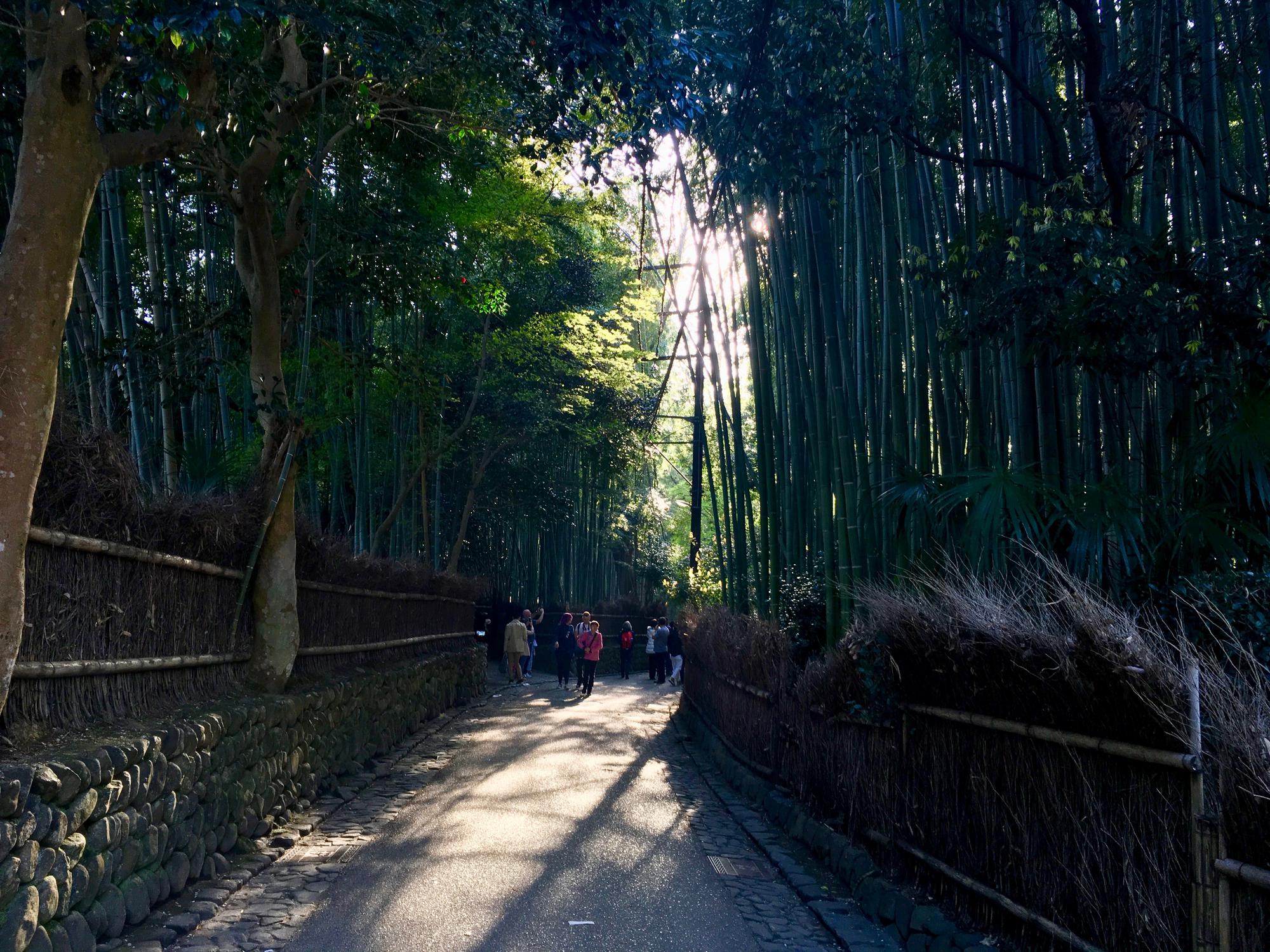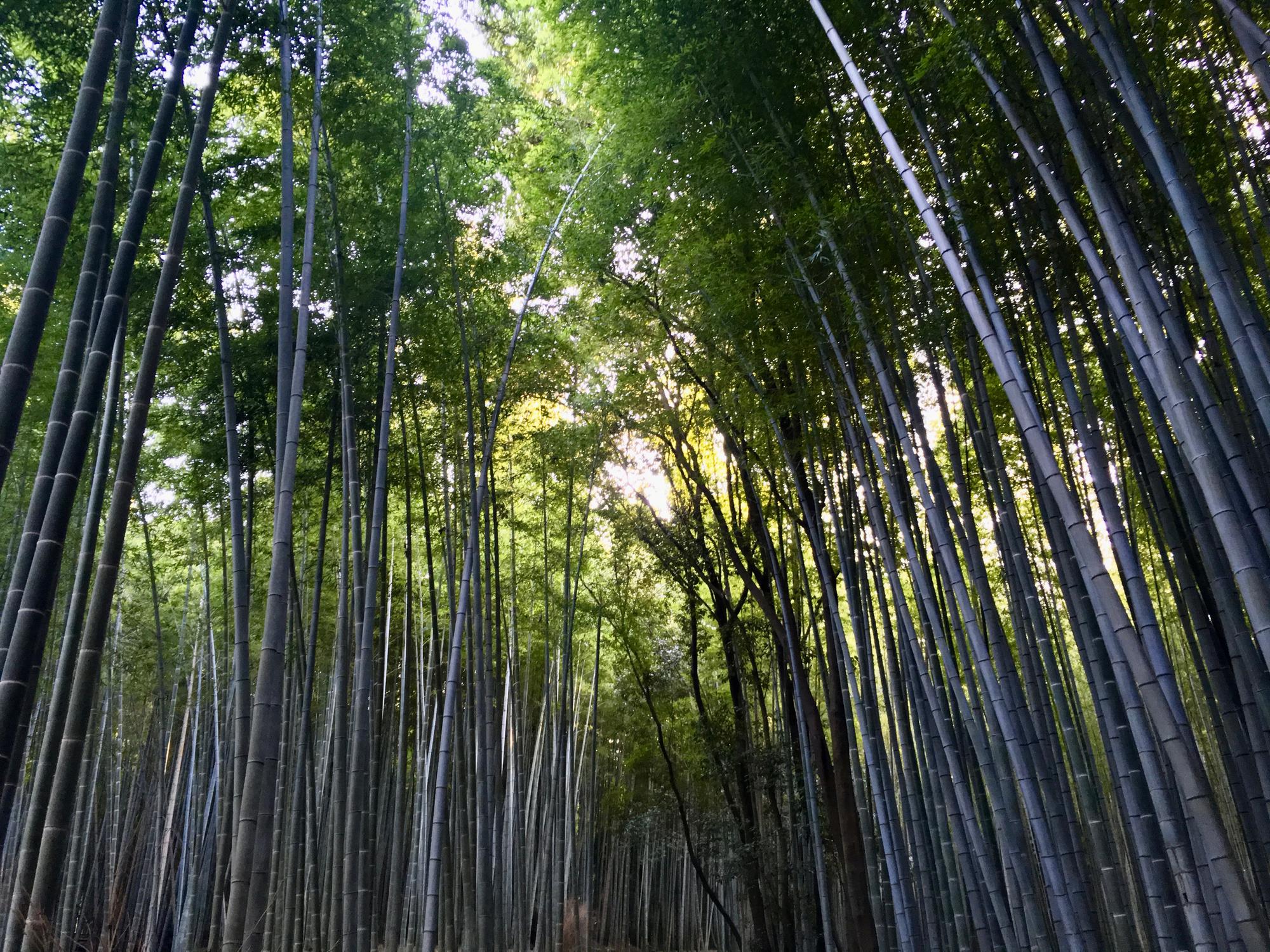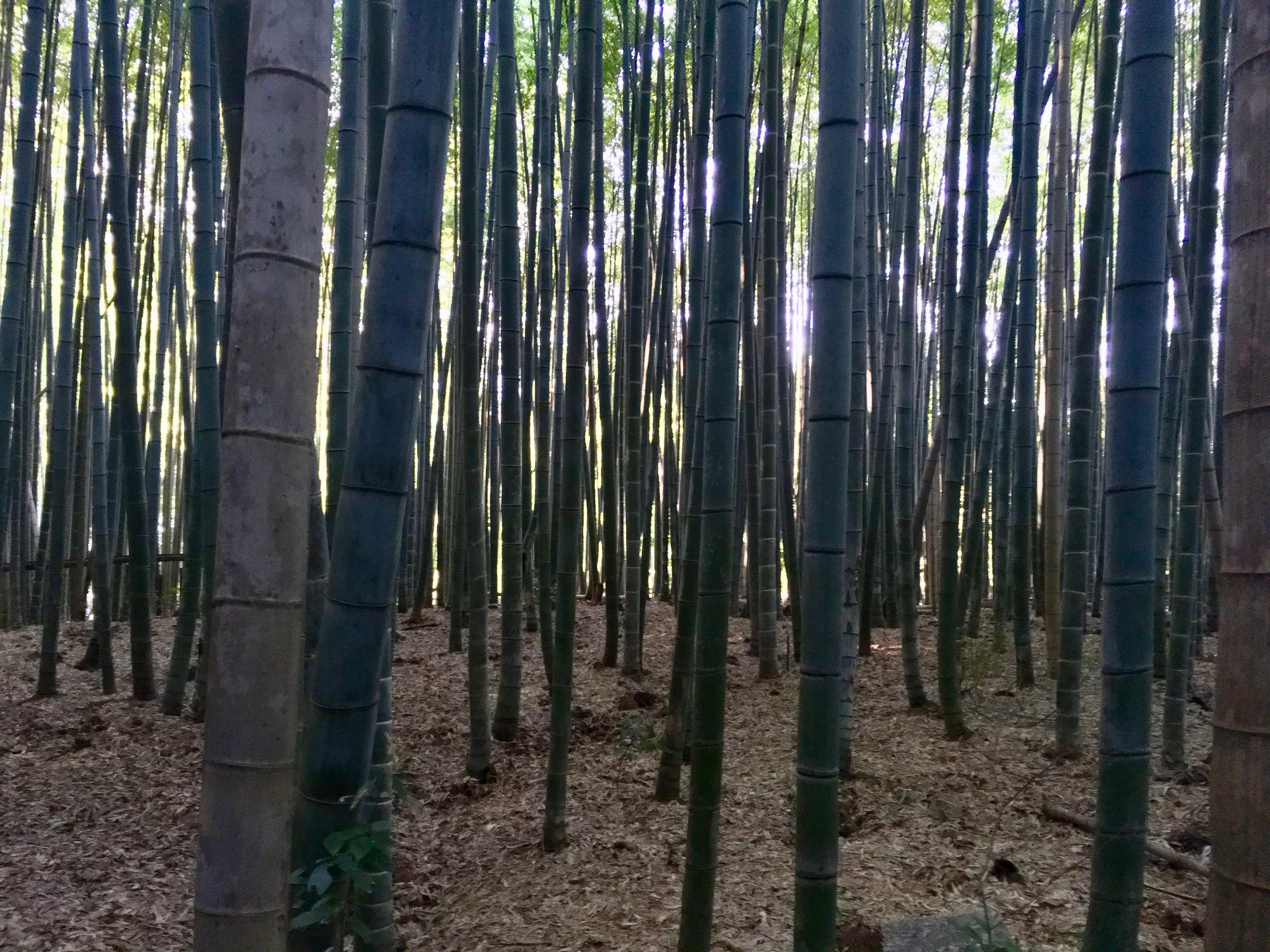 Cemetery is nearby.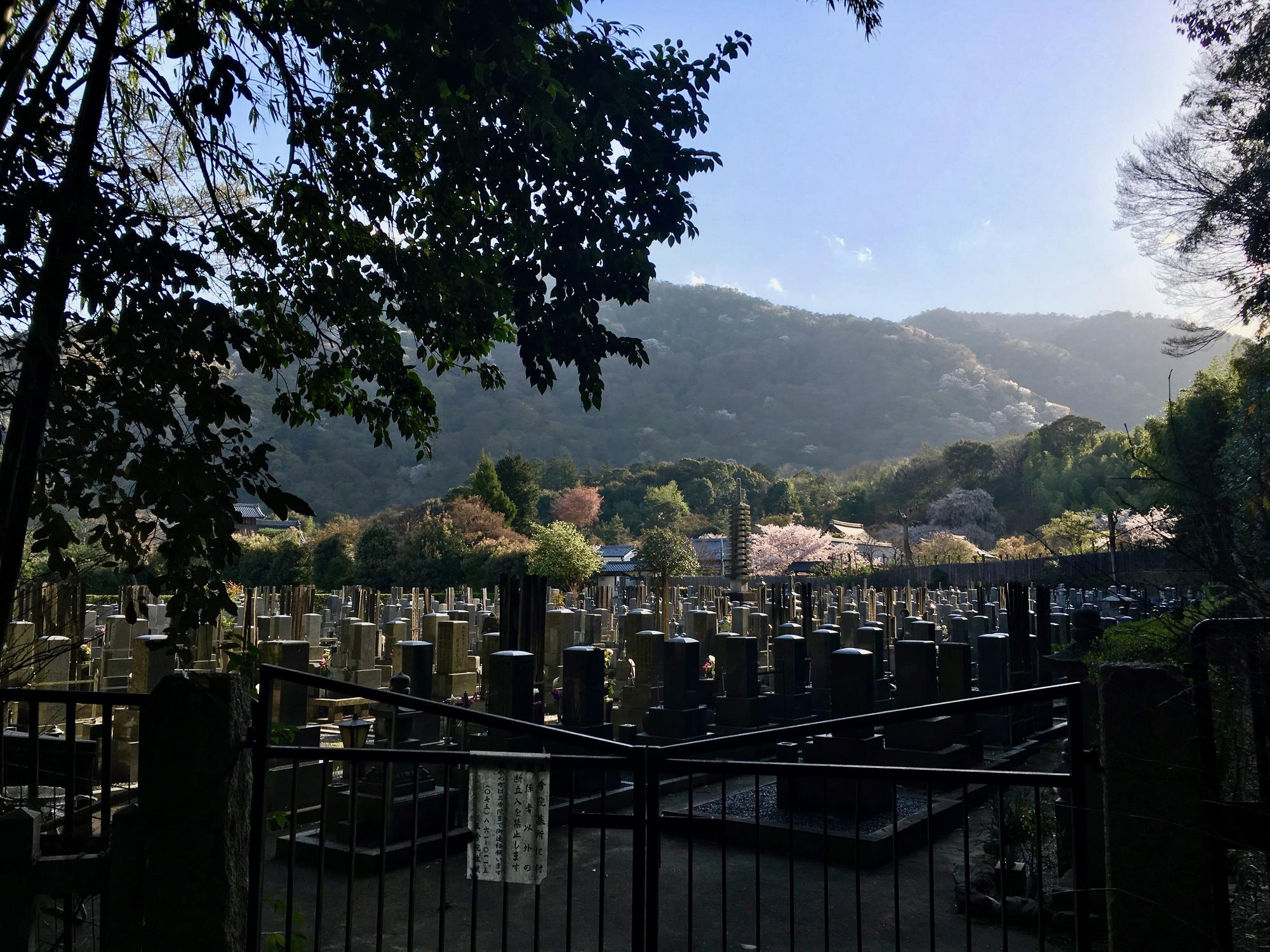 All Japanese coins.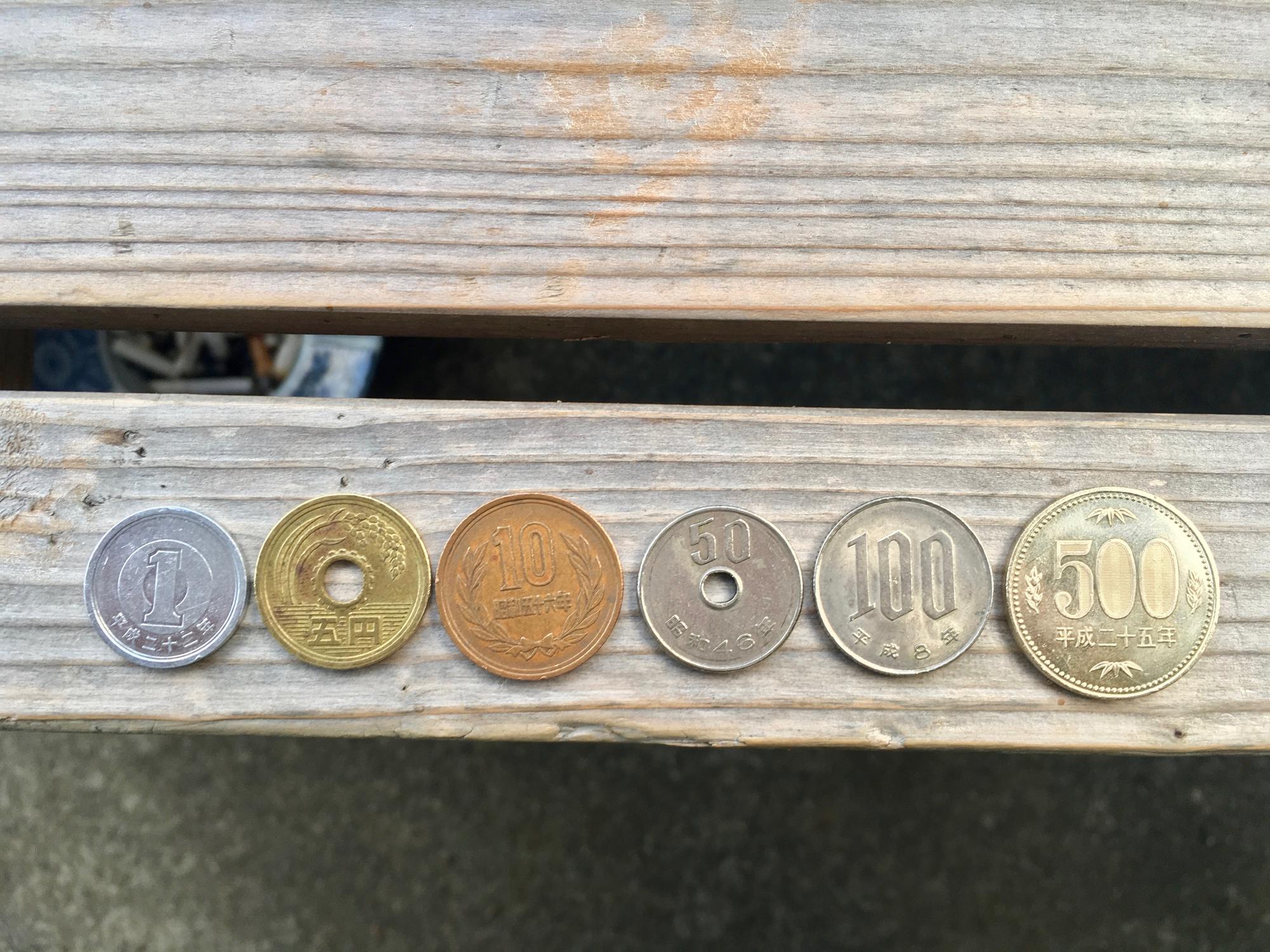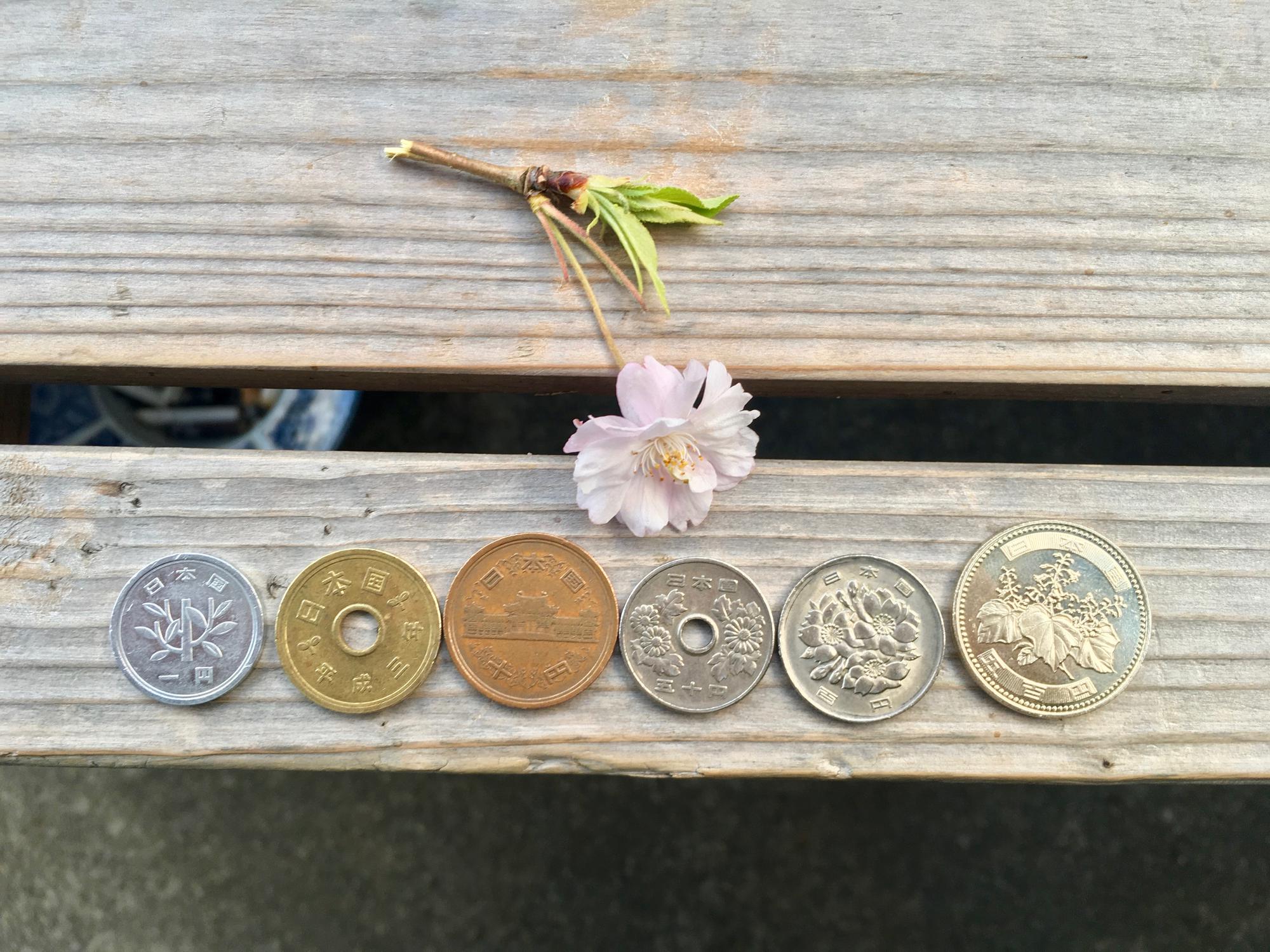 Plates for stubs under the bench.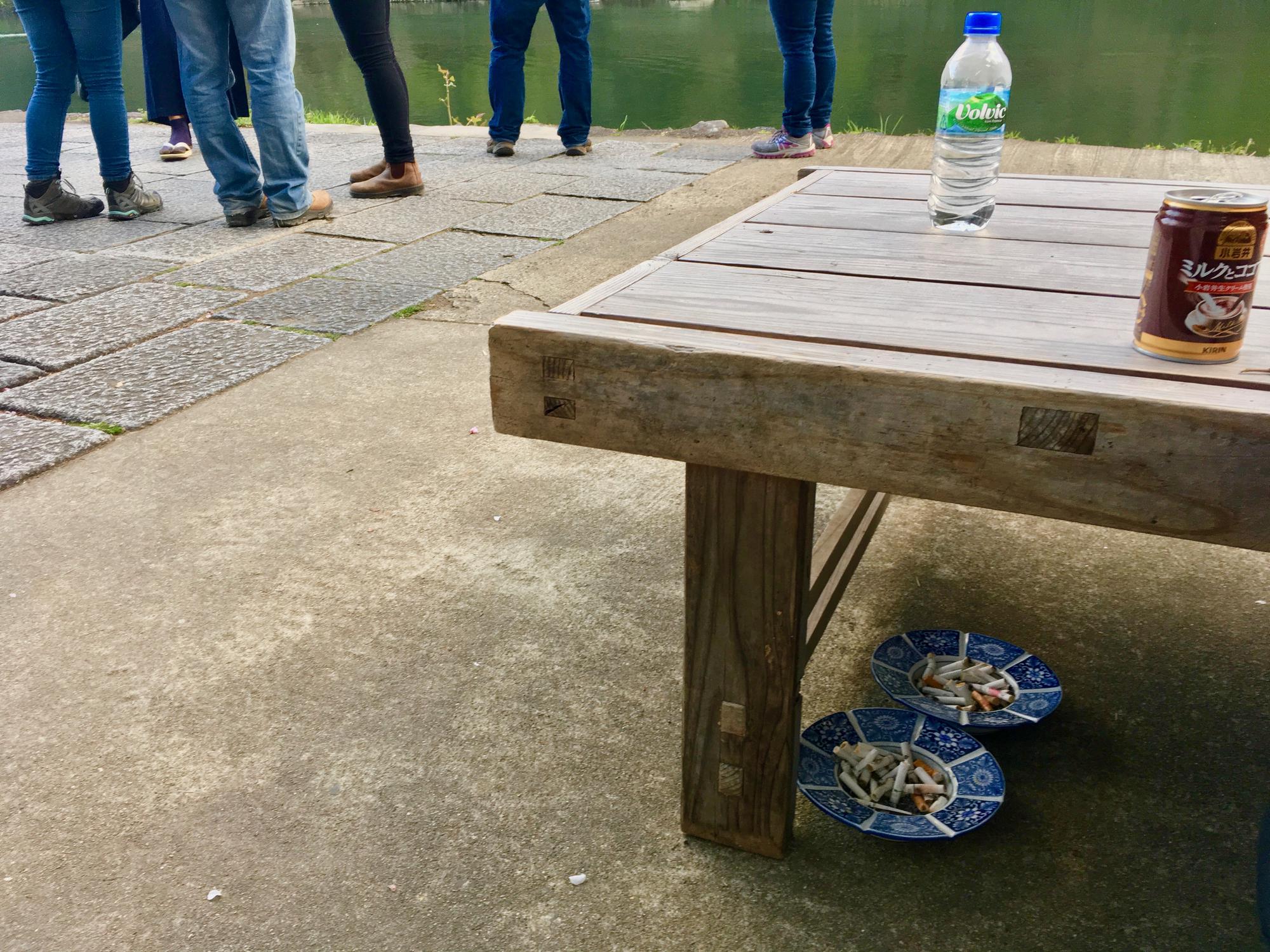 Sometimes there is furigana on top of kanji for kids.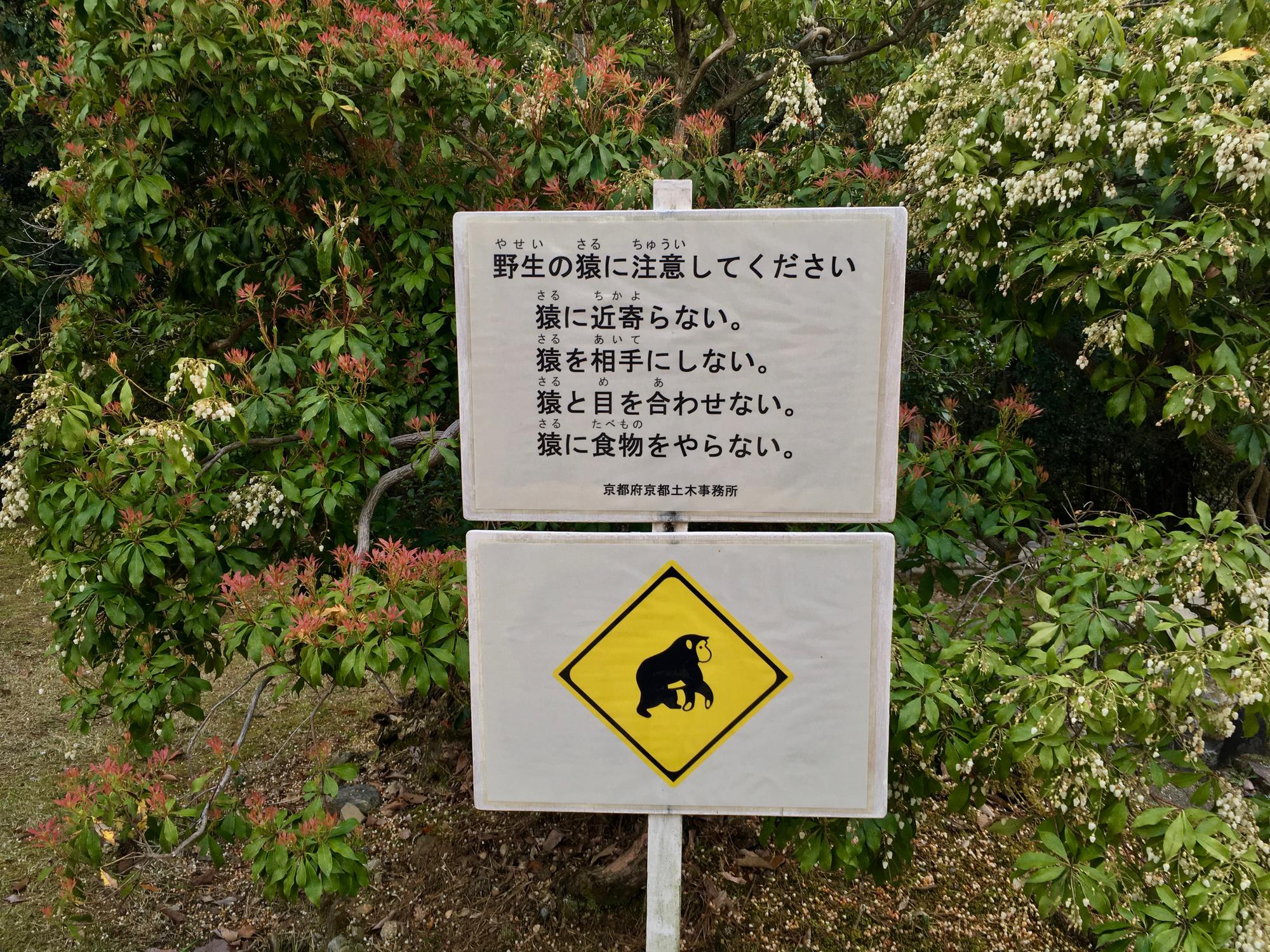 Places for a walk.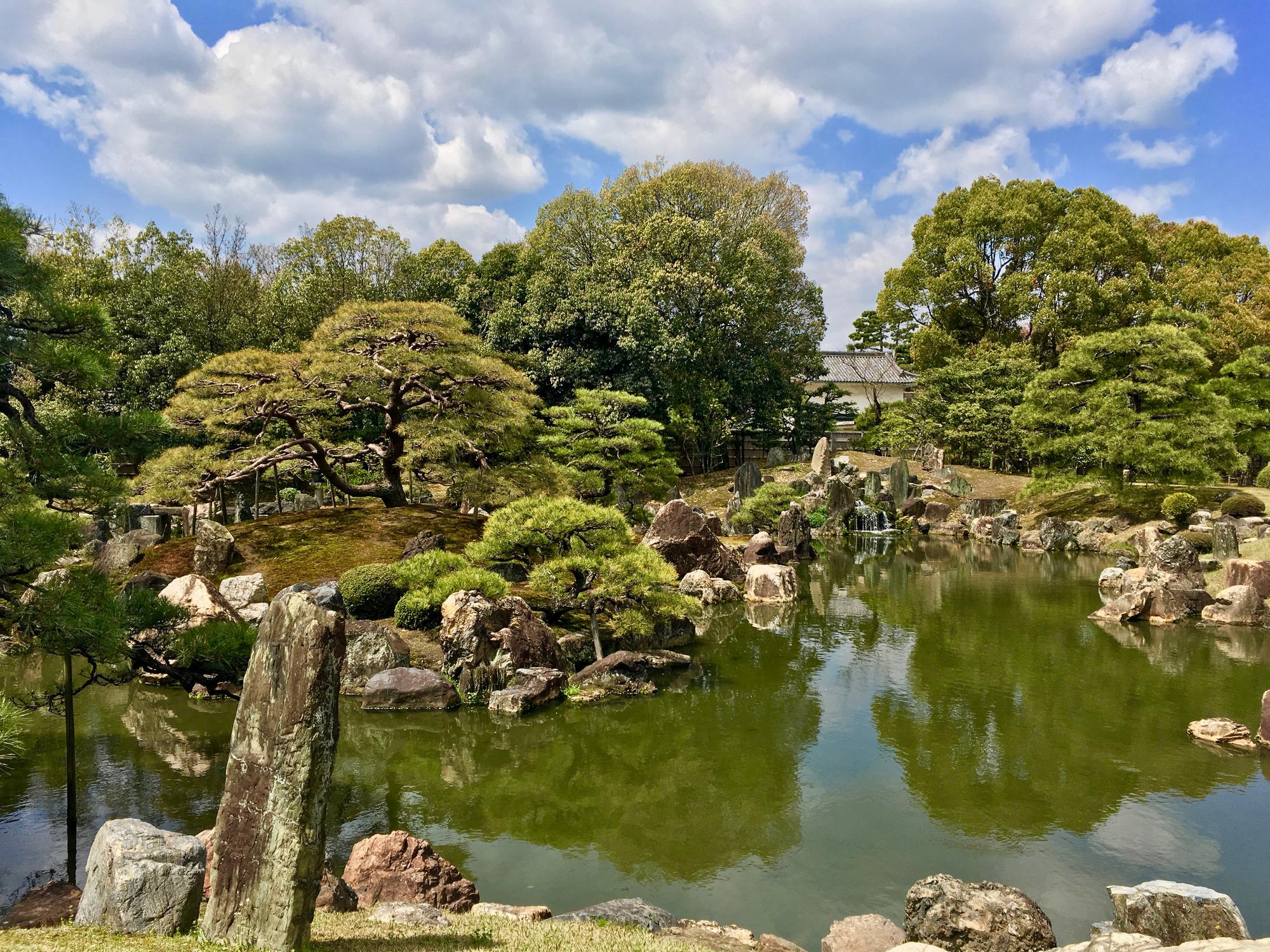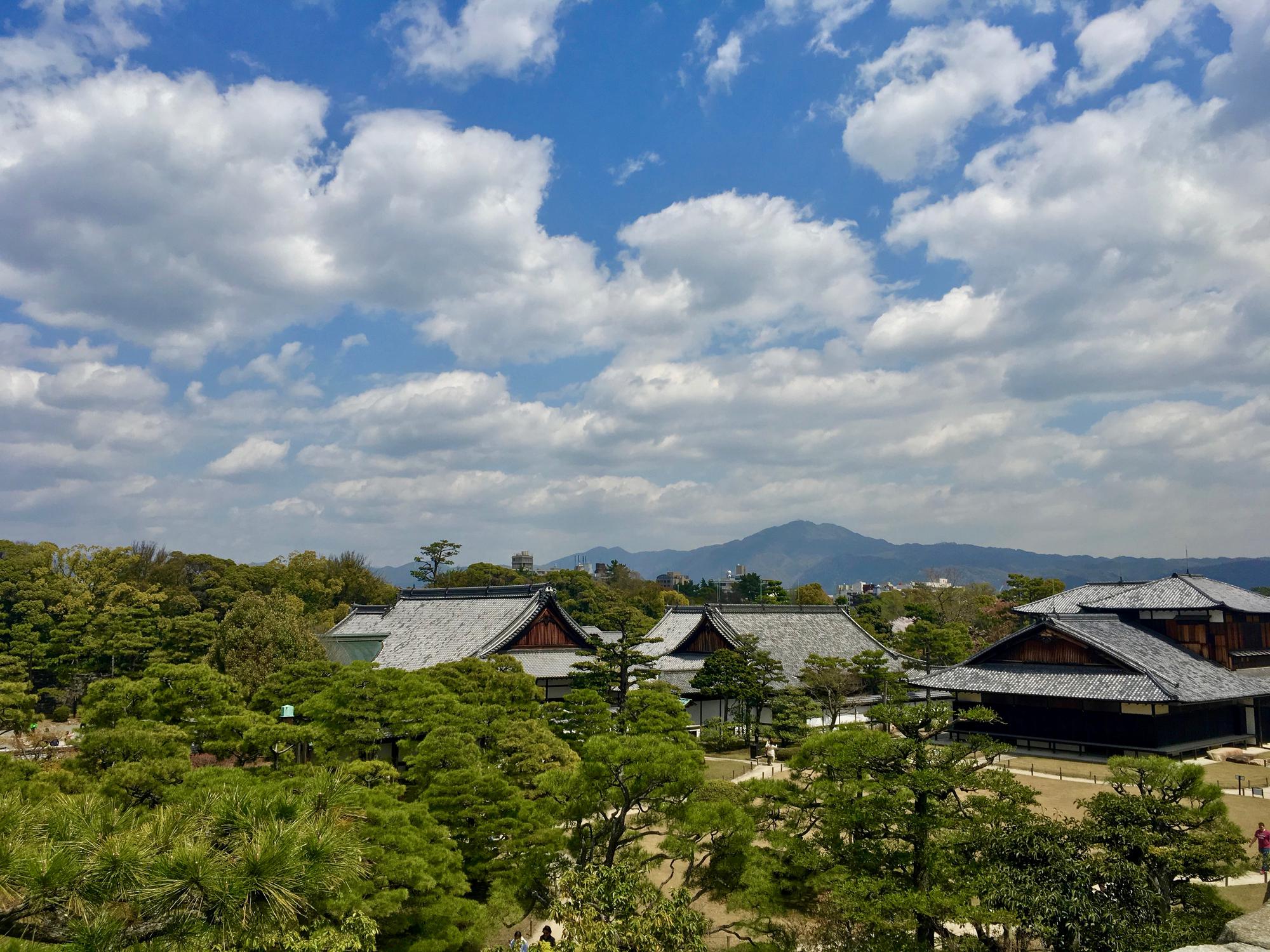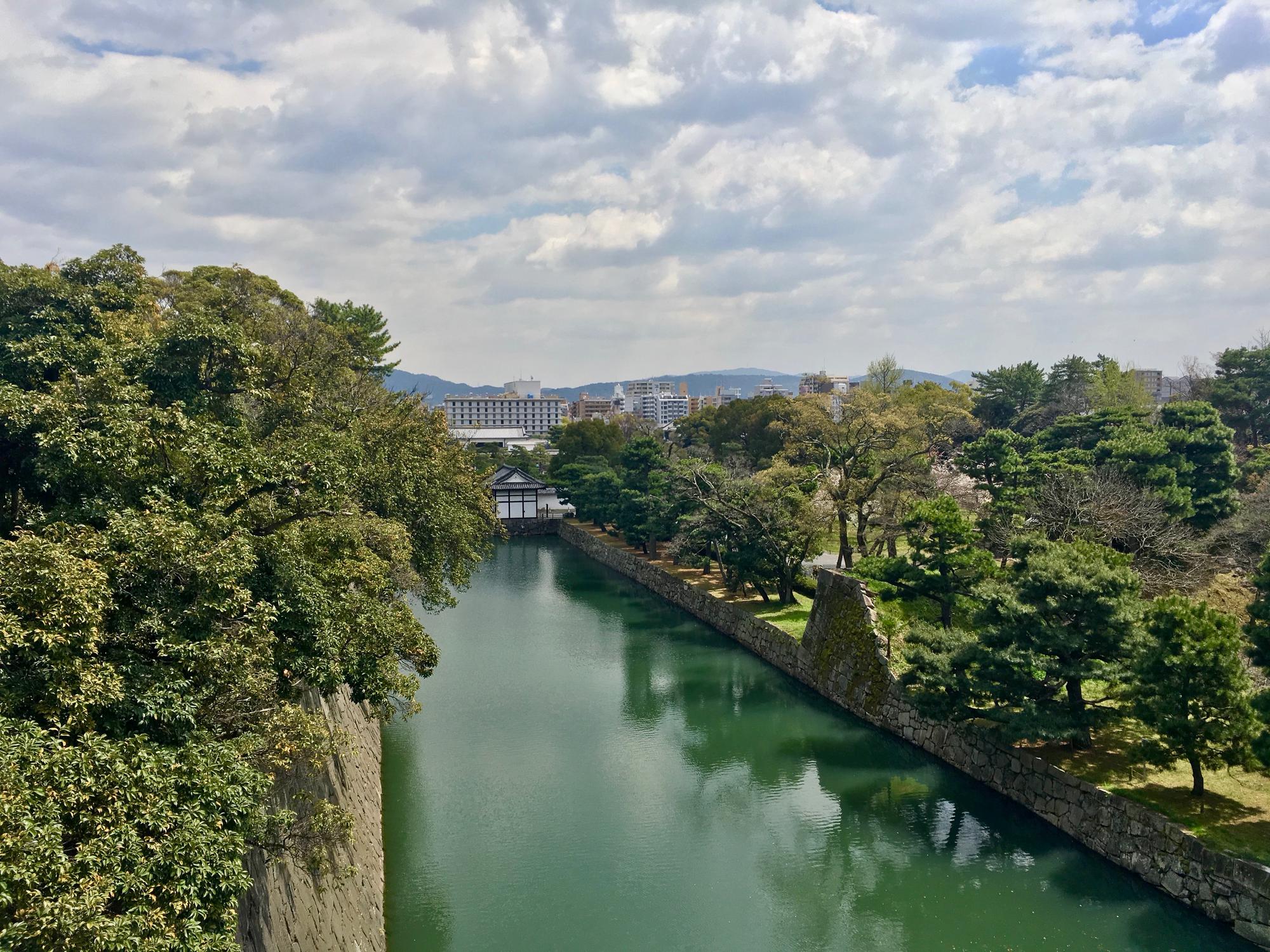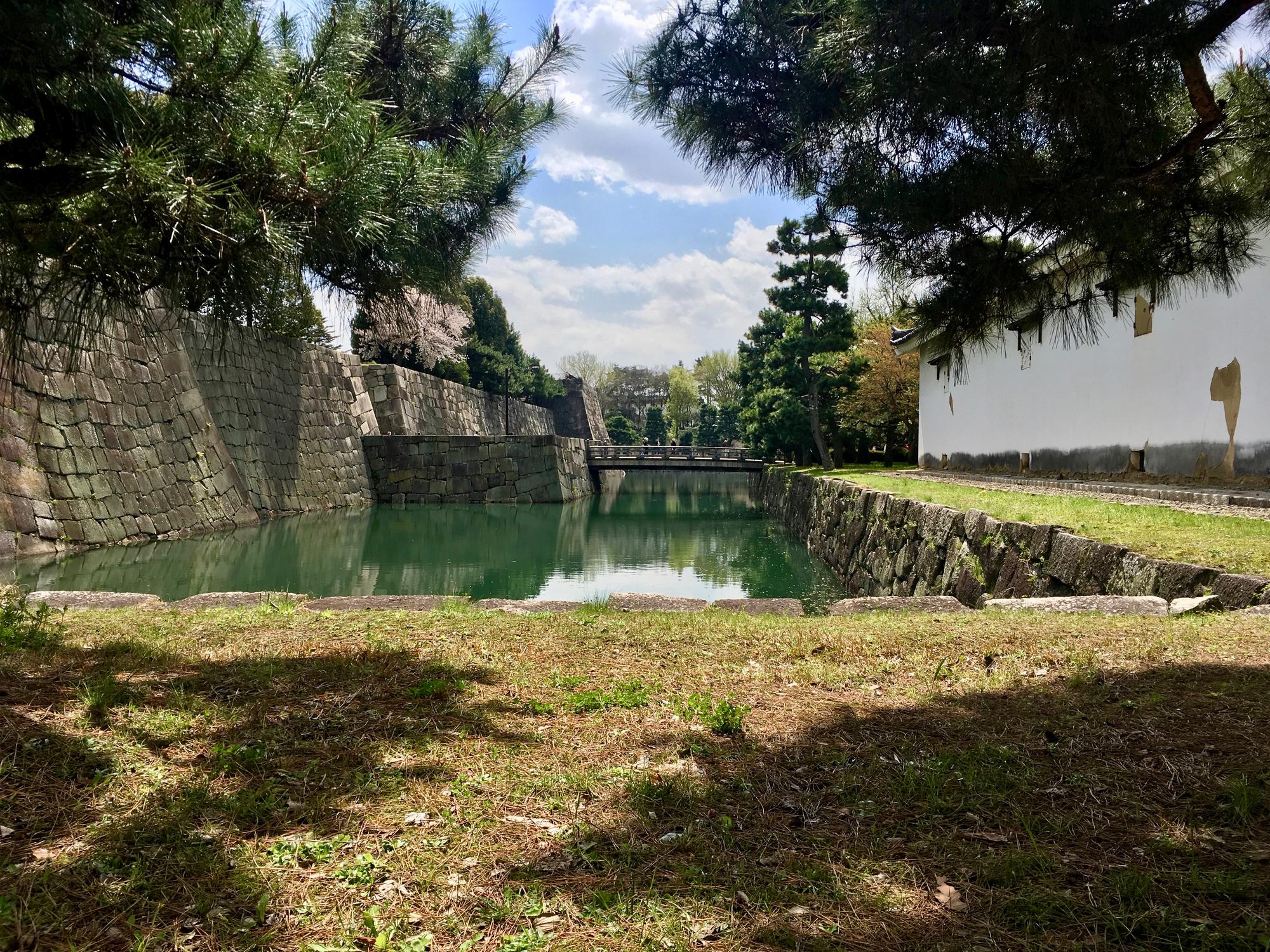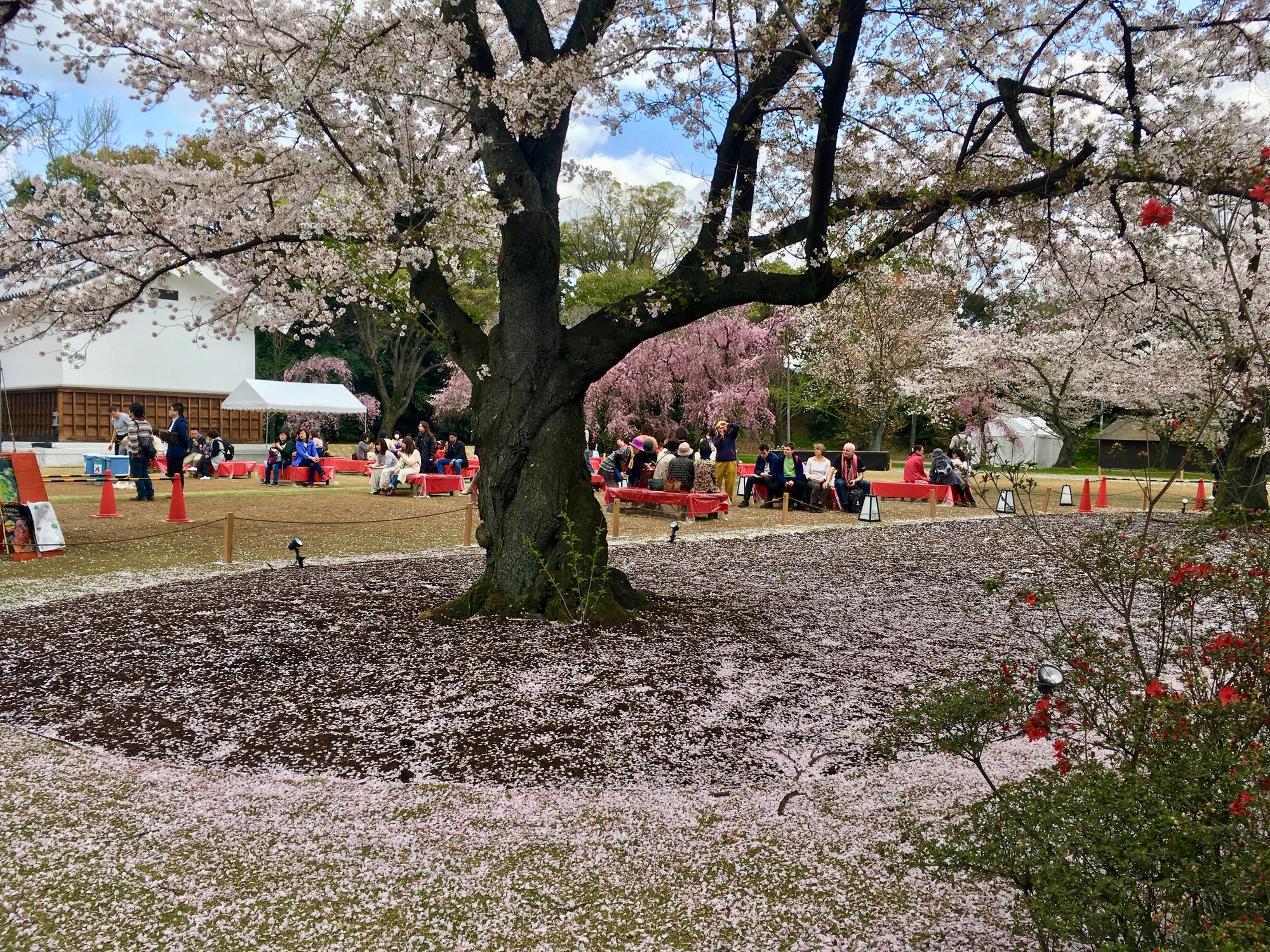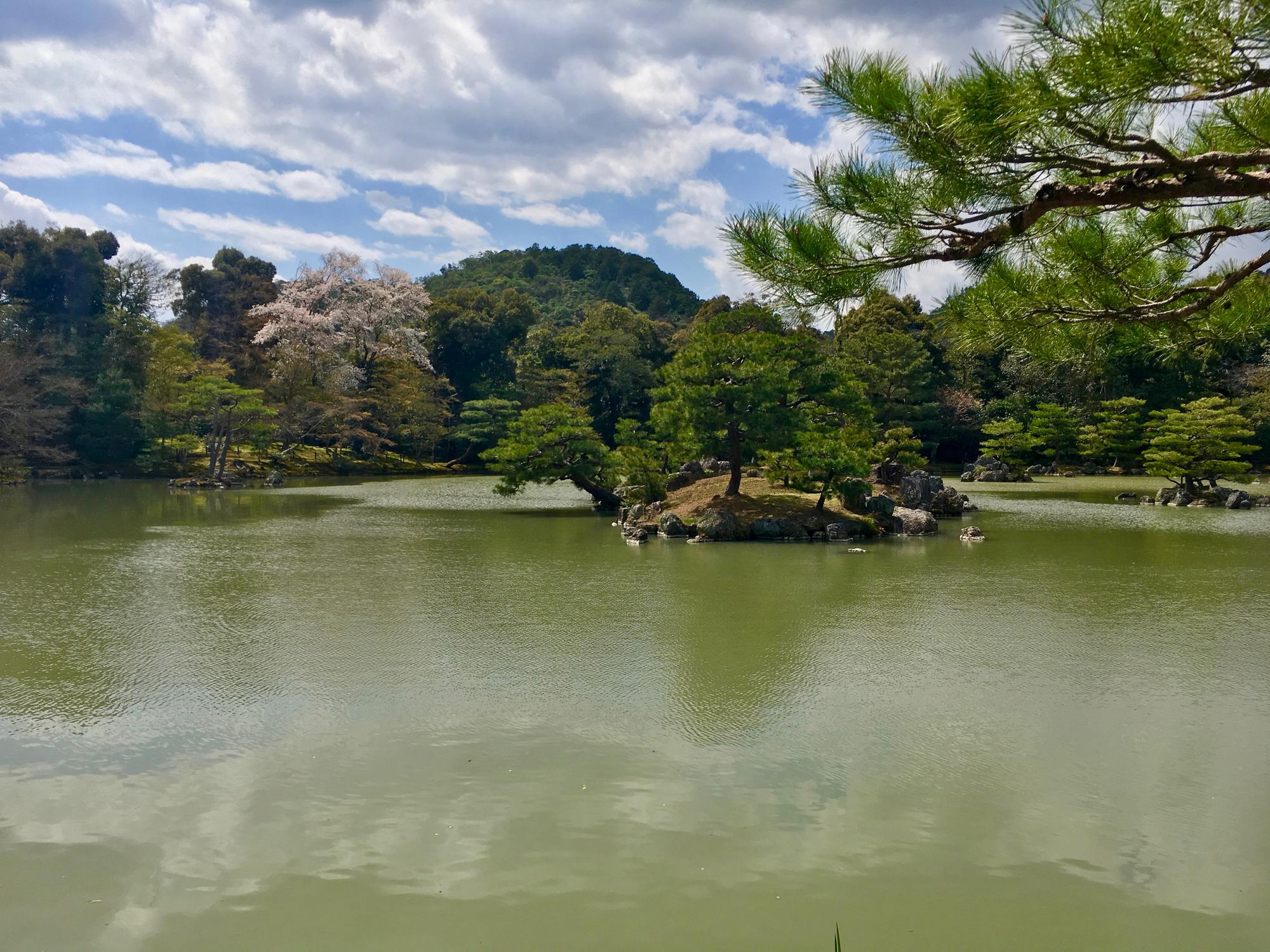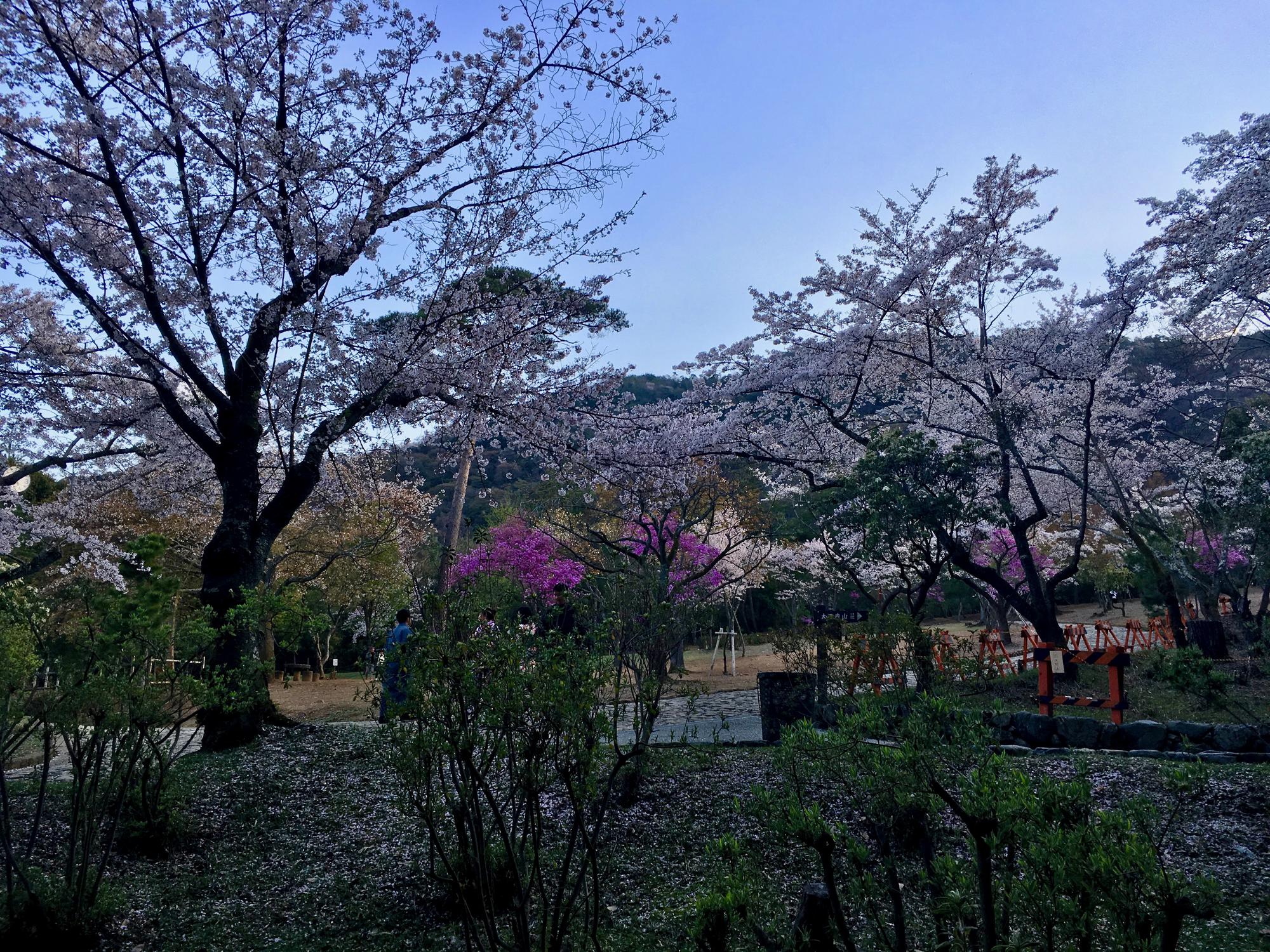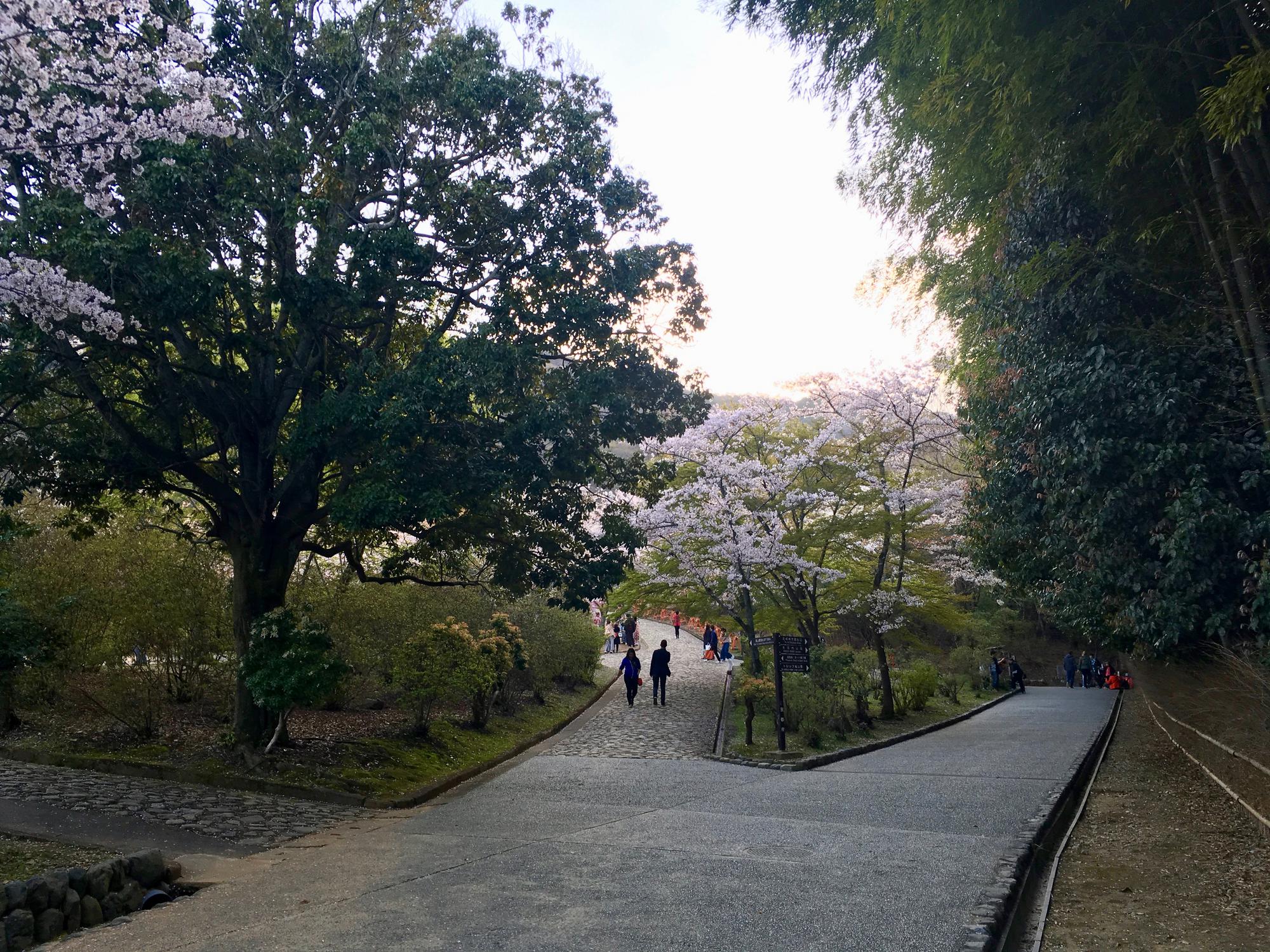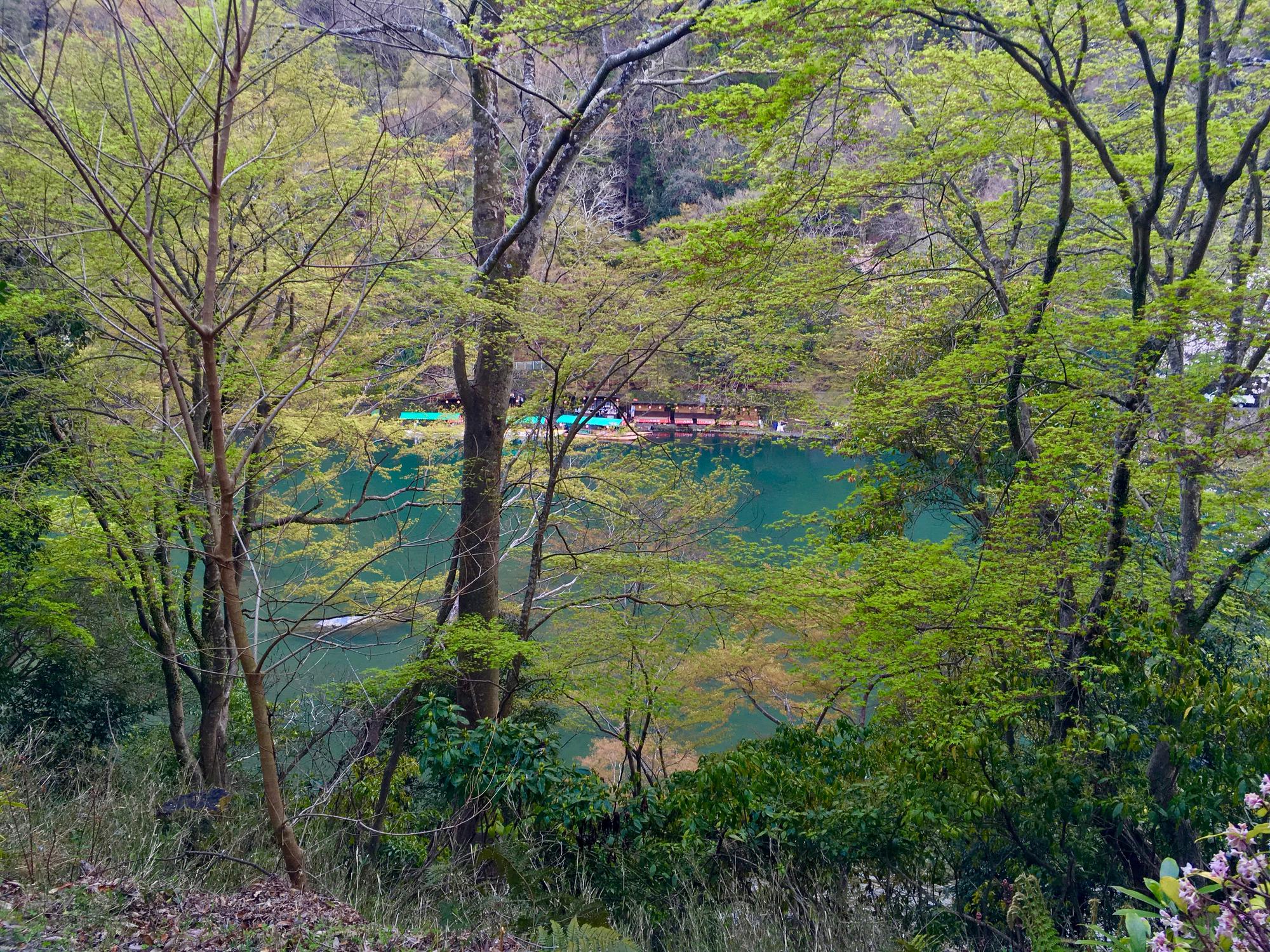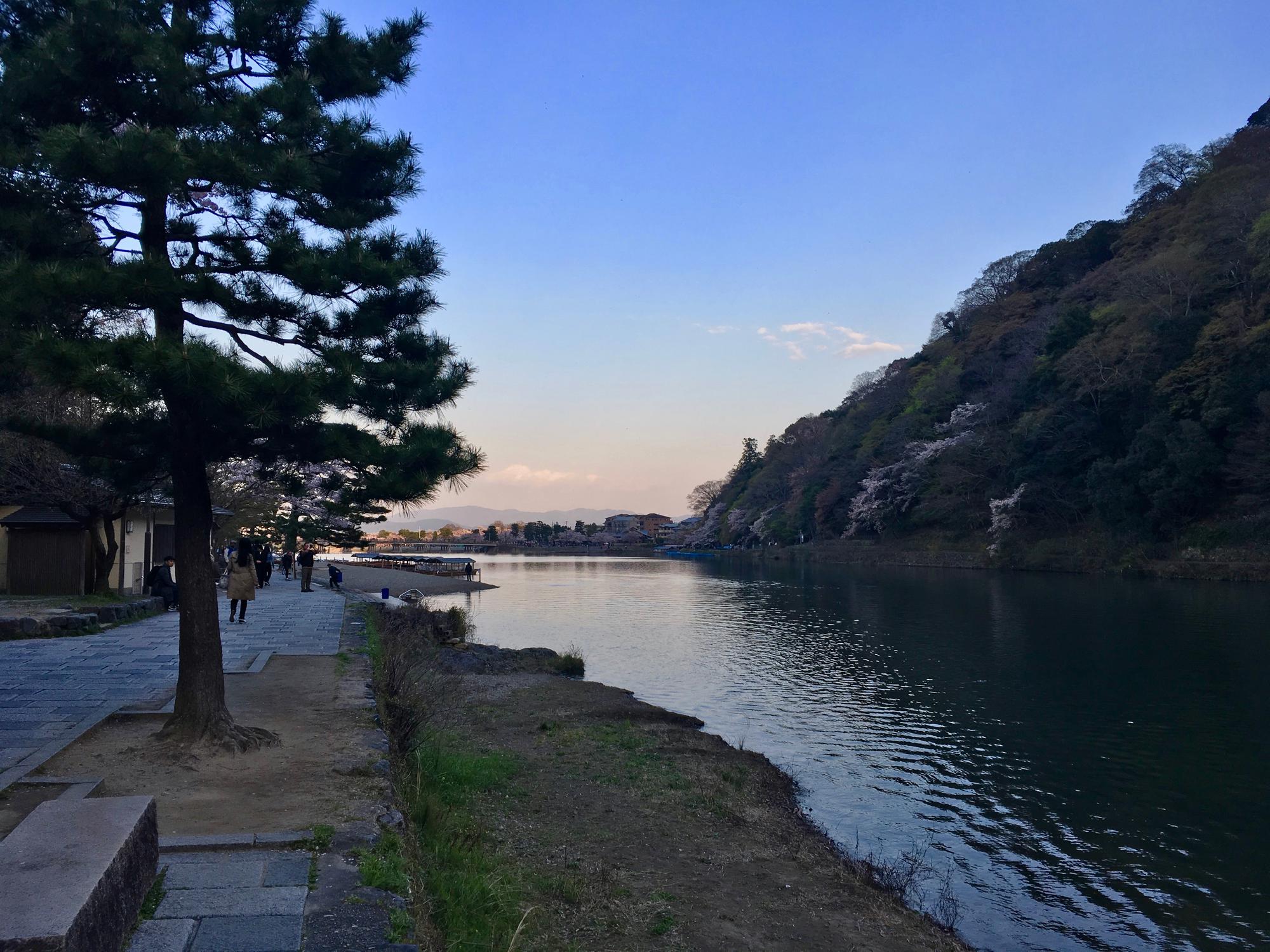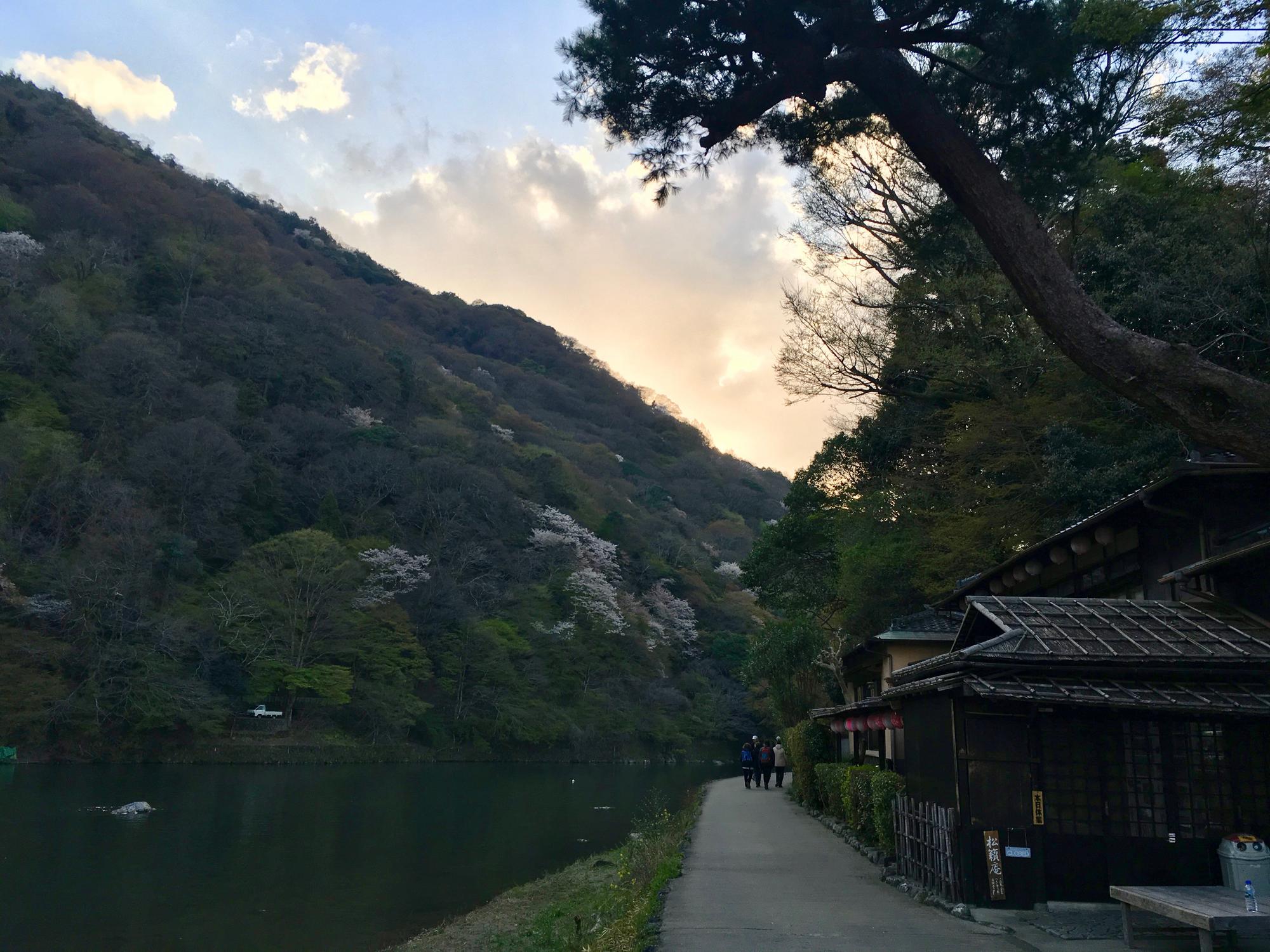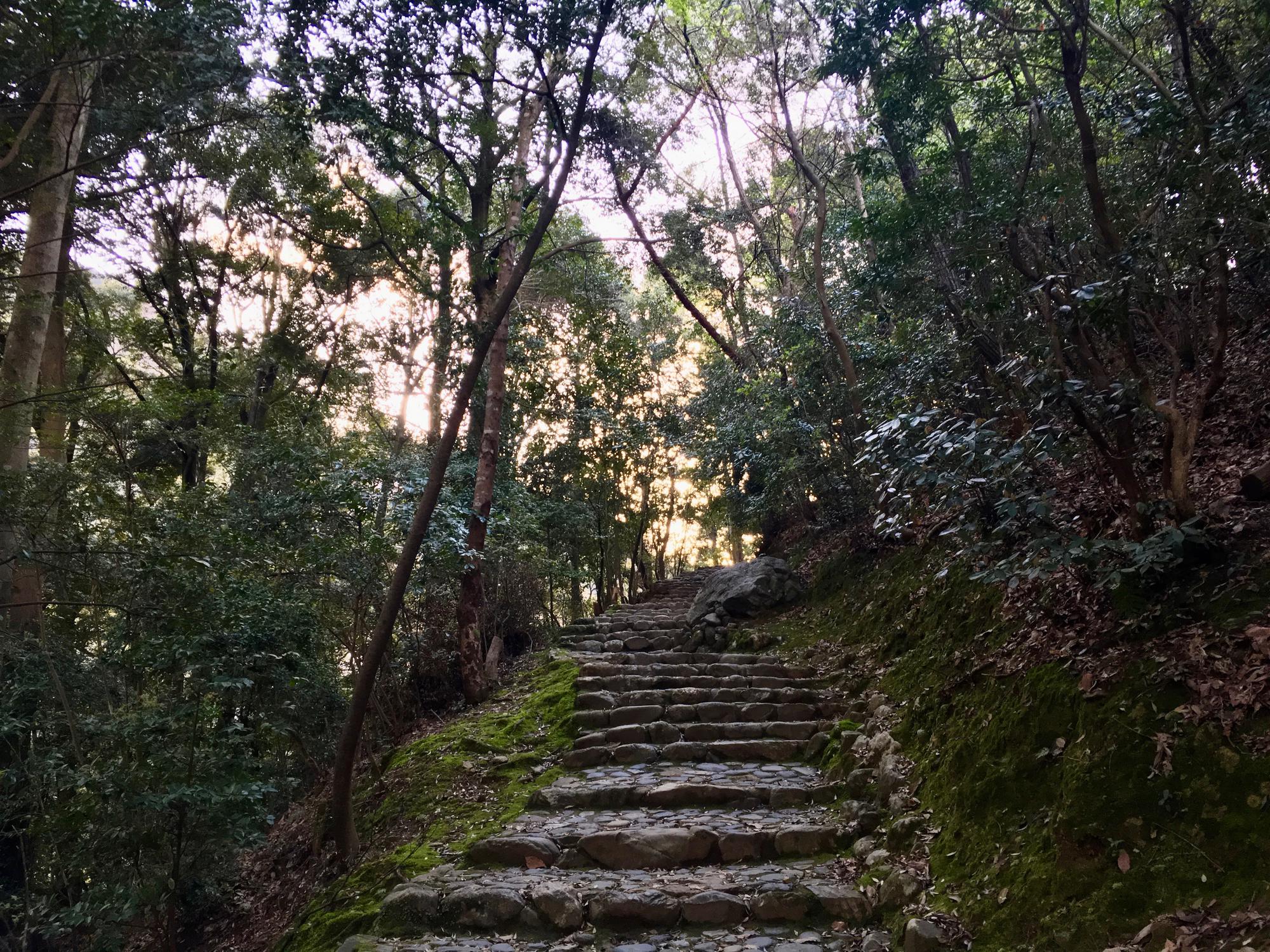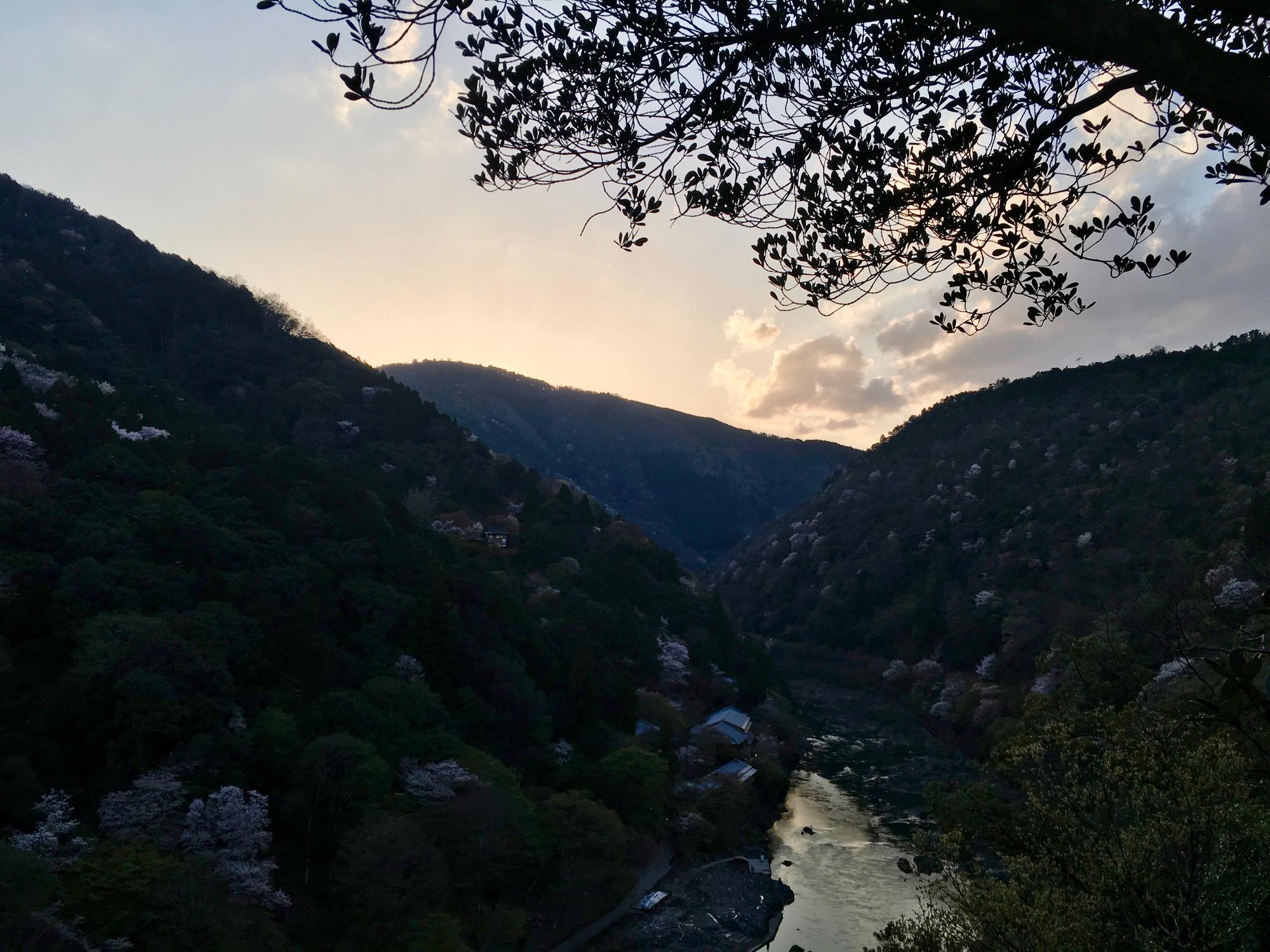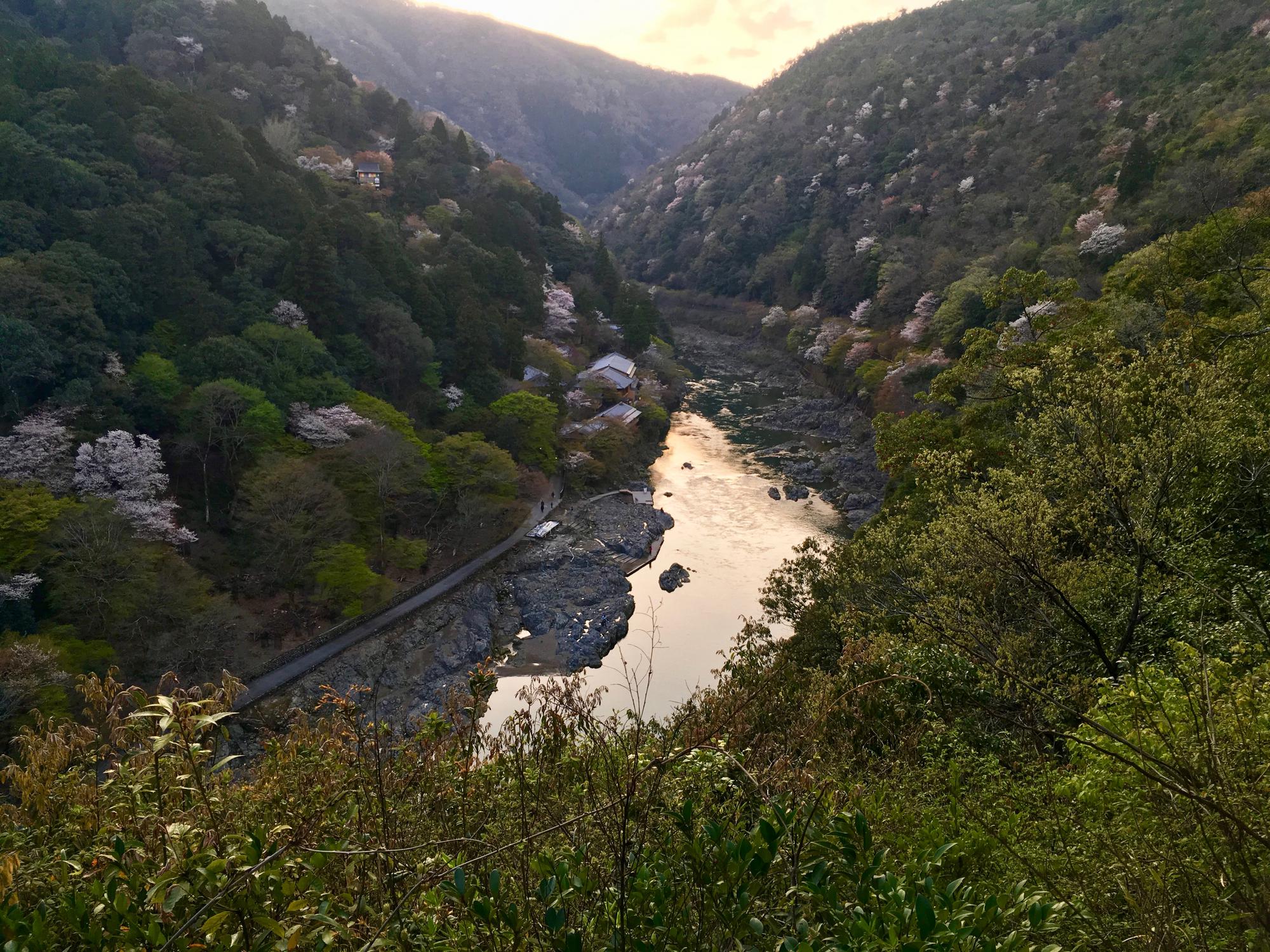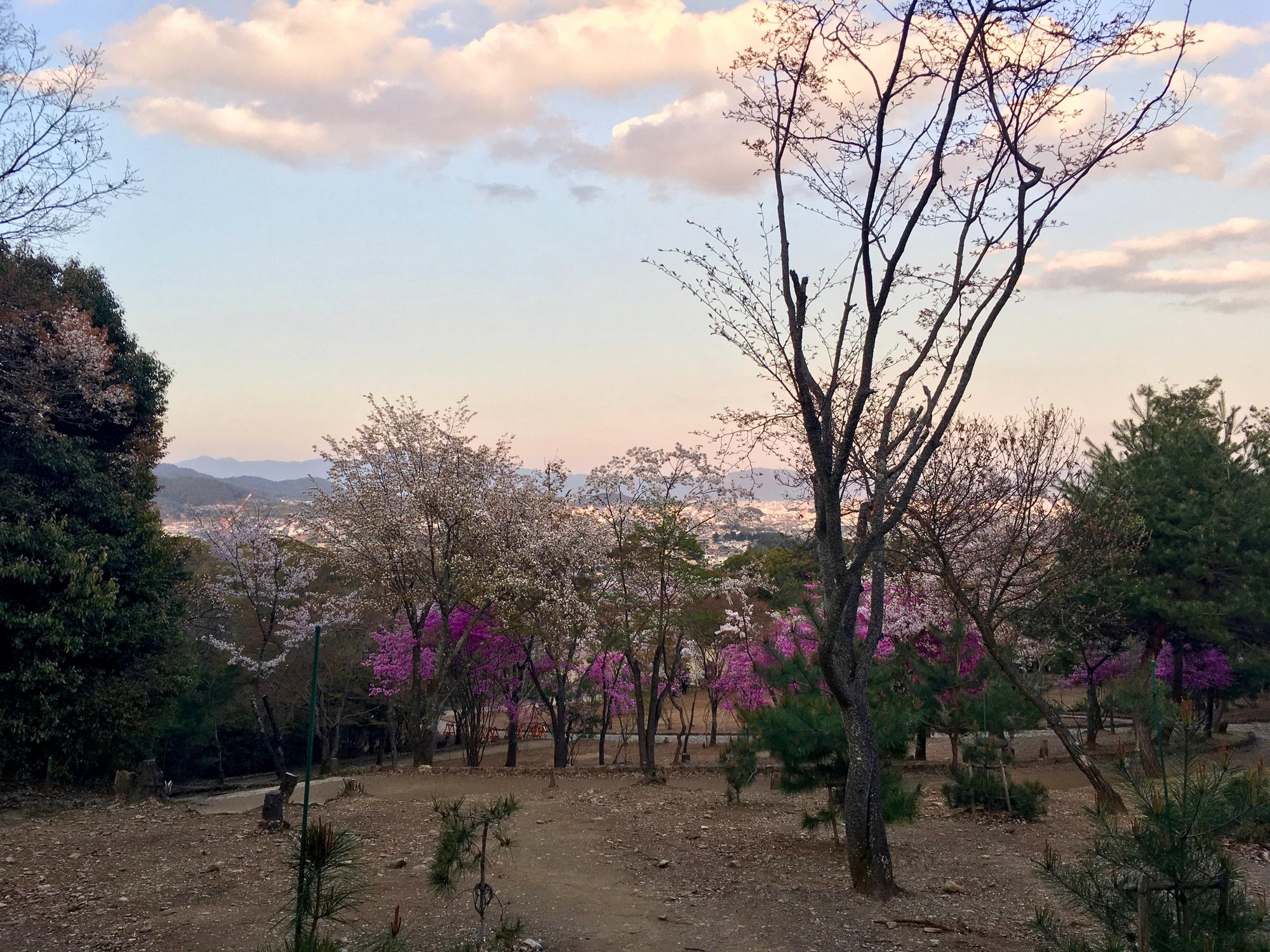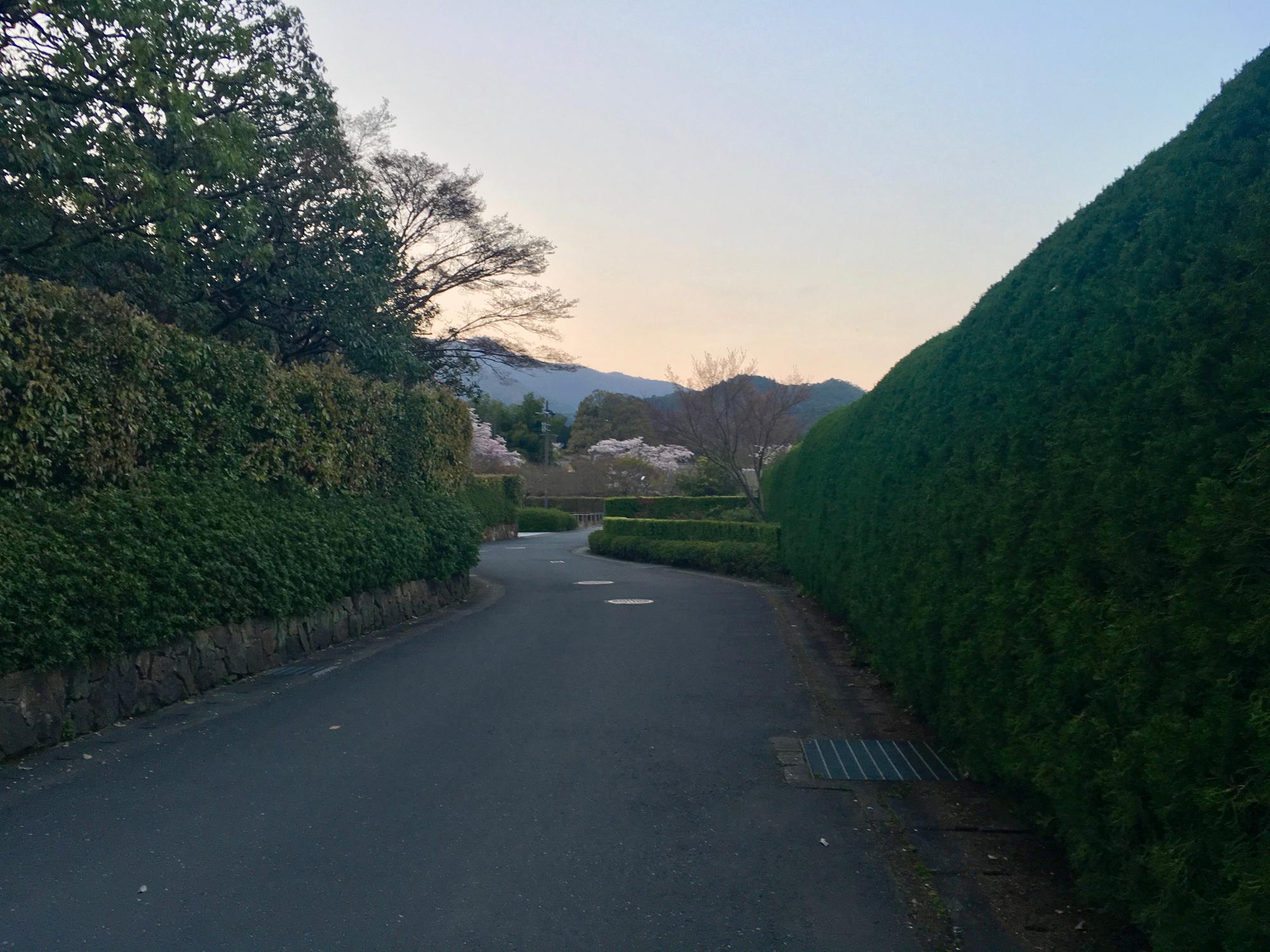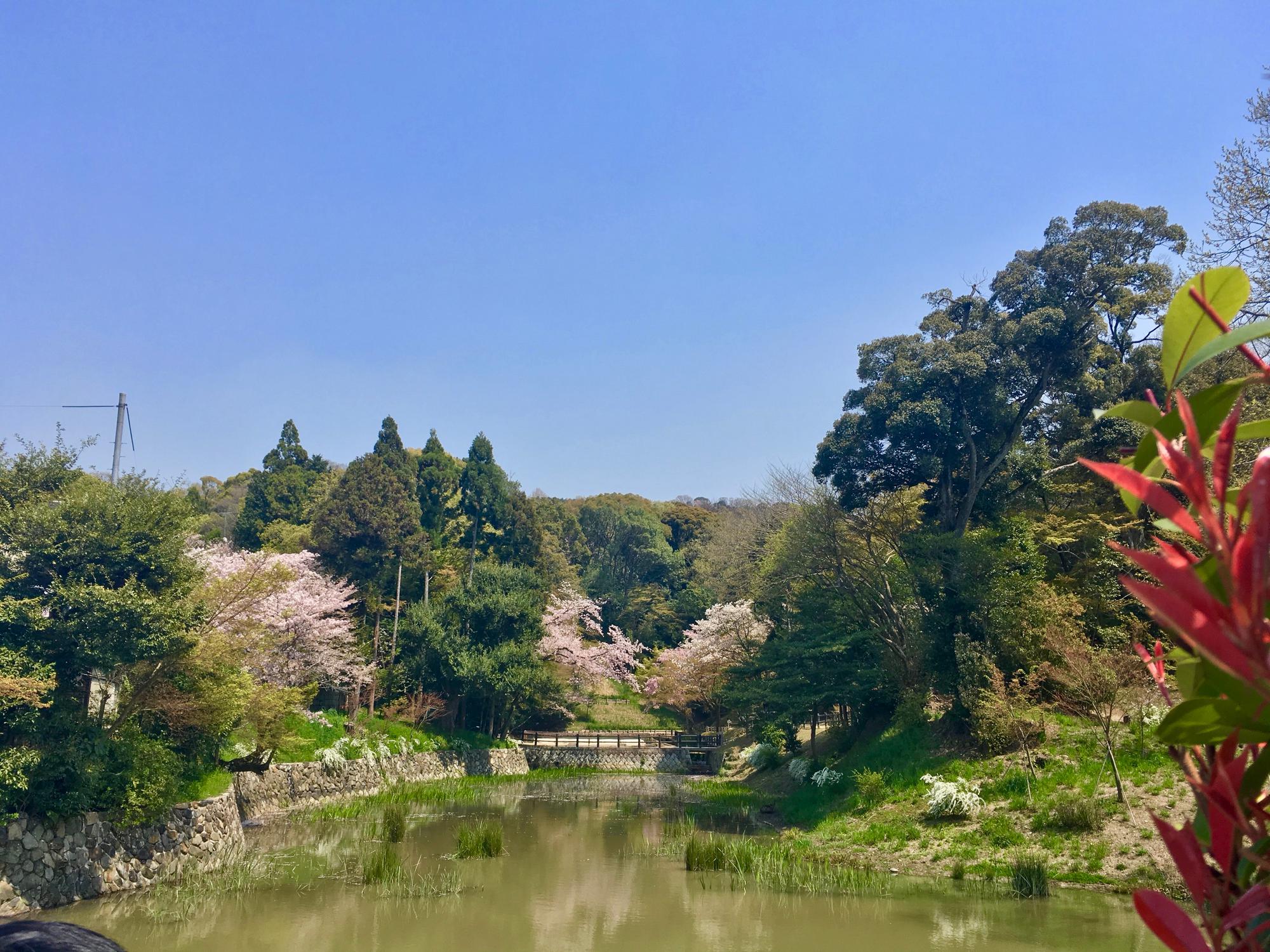 Places not for a walk. Enjoy at distance.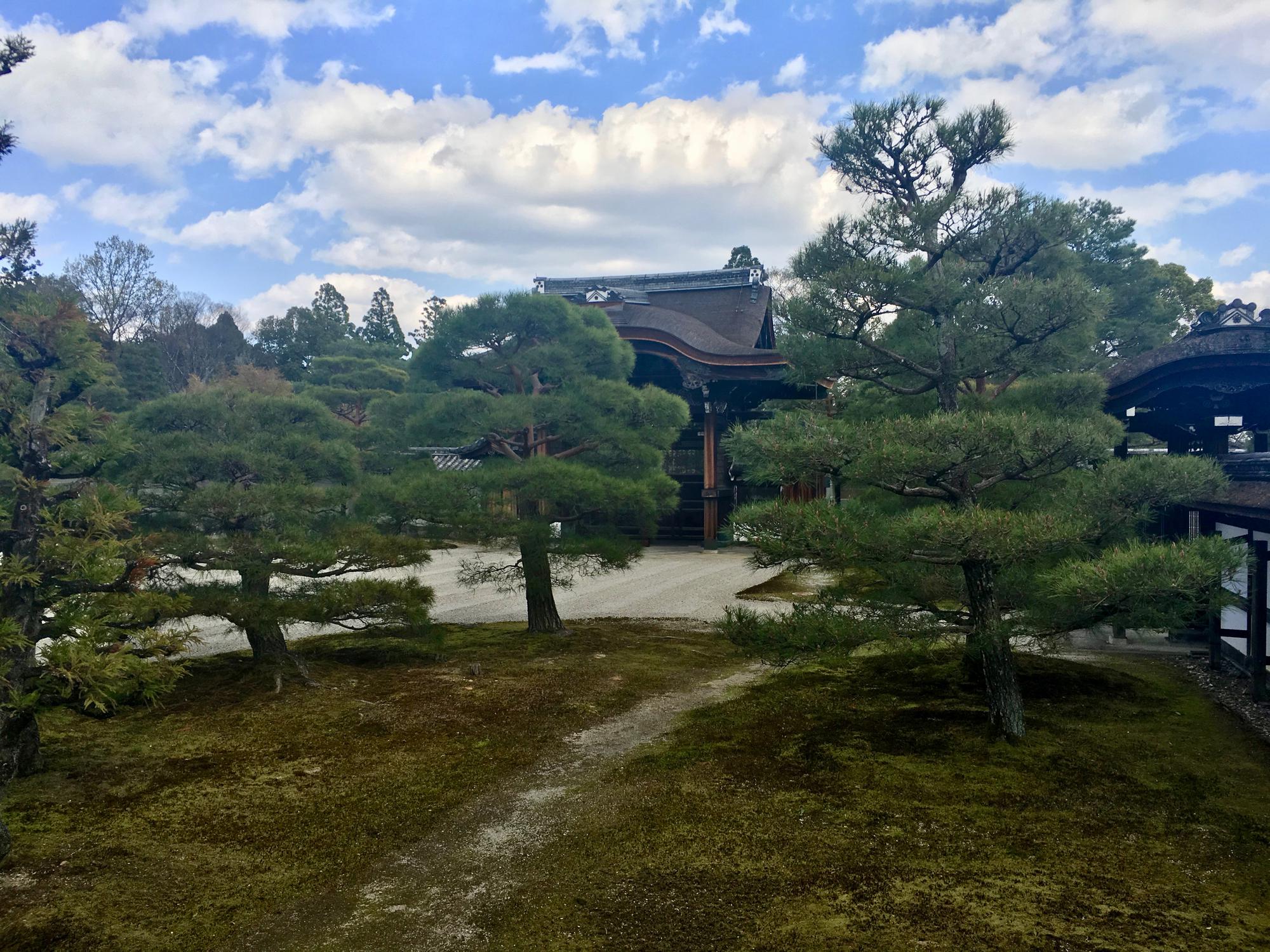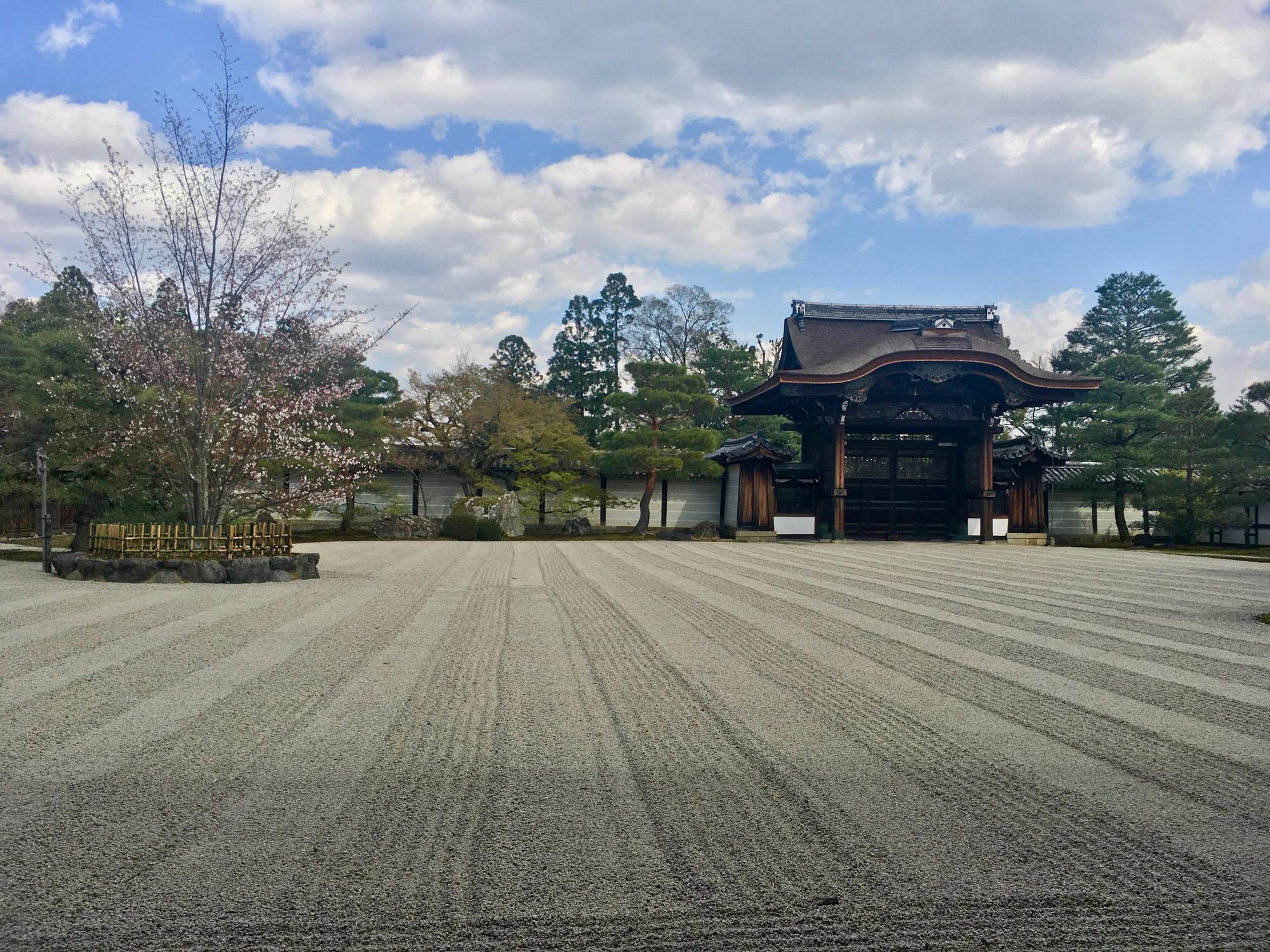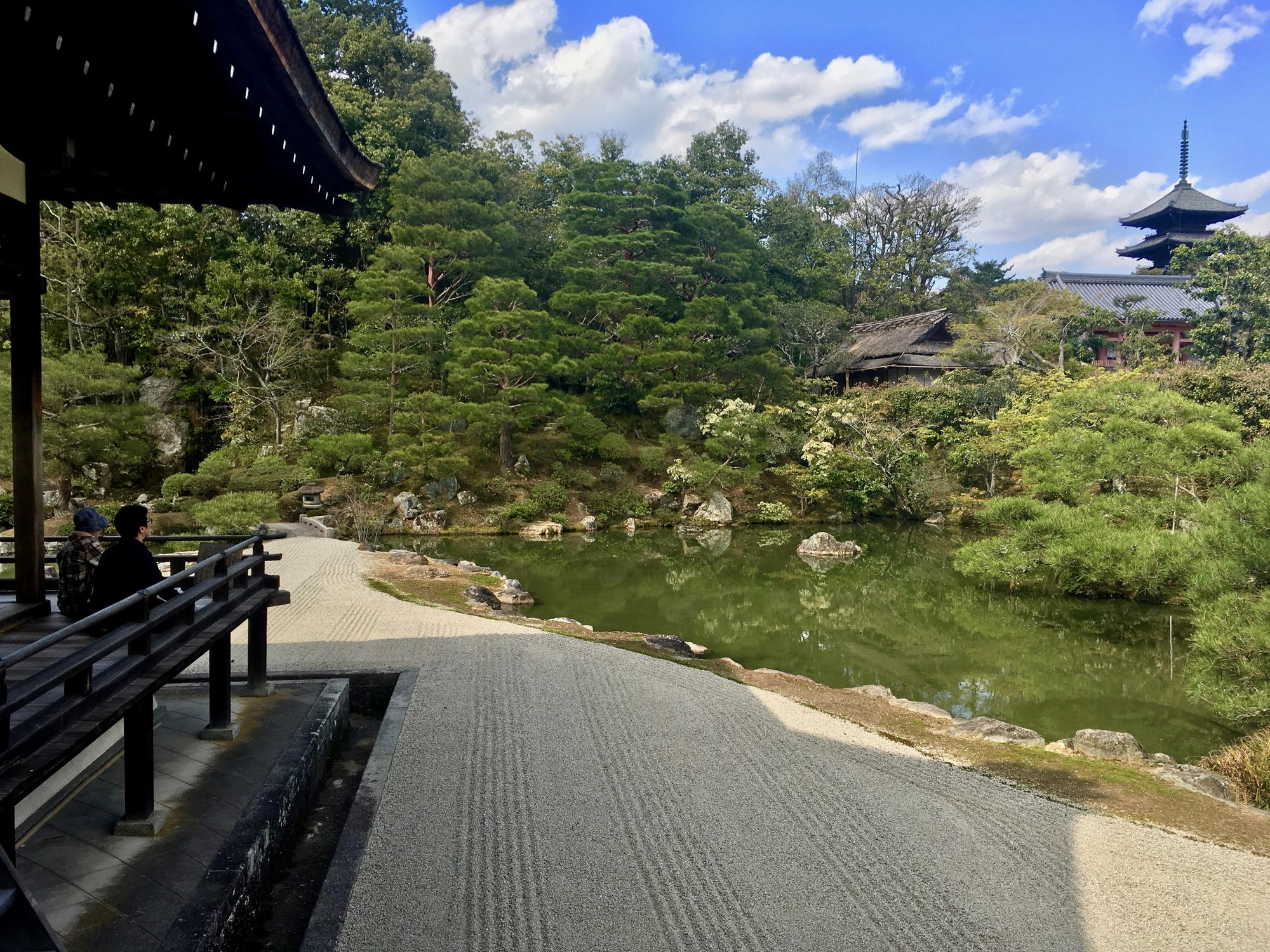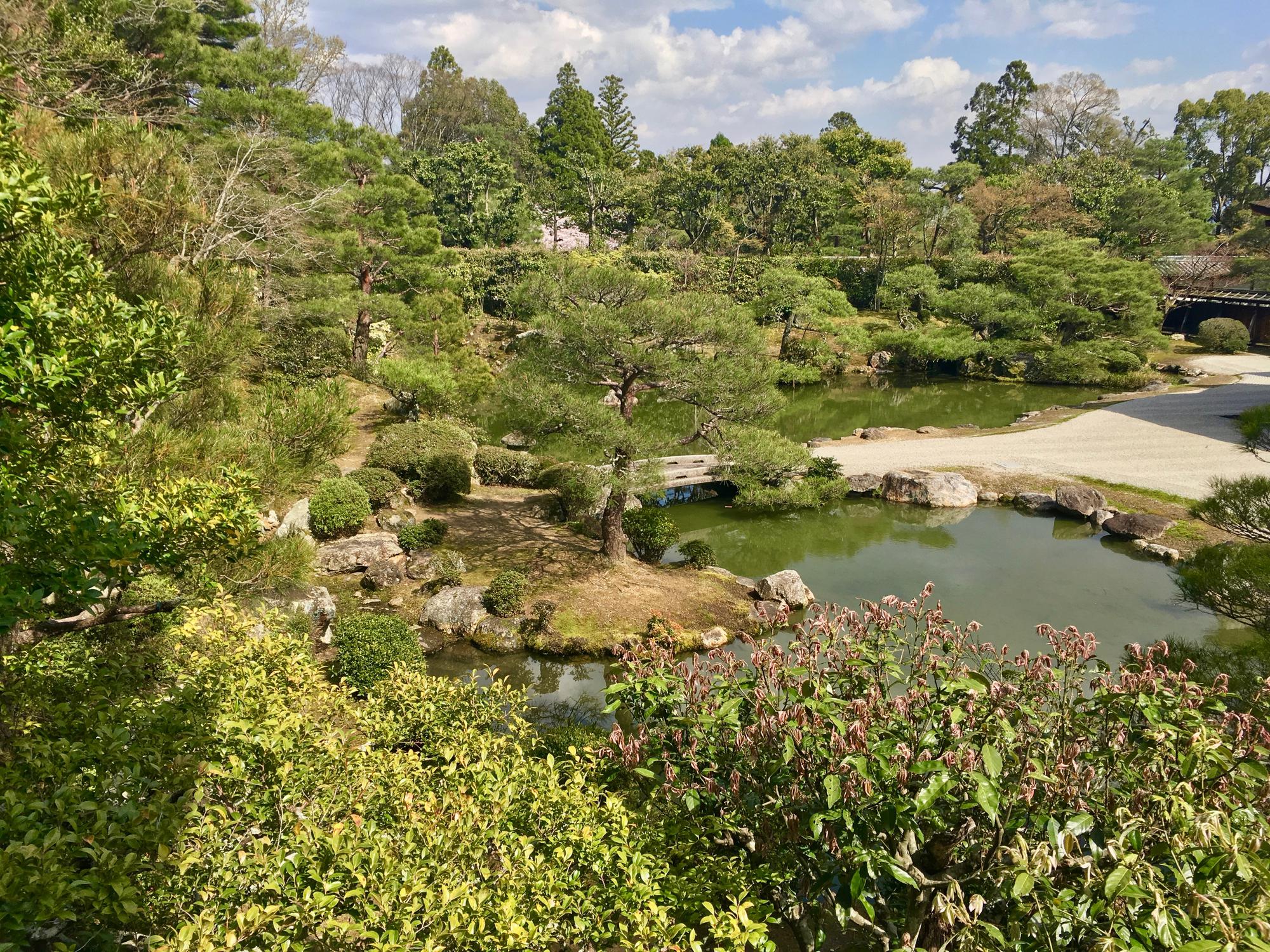 Bench.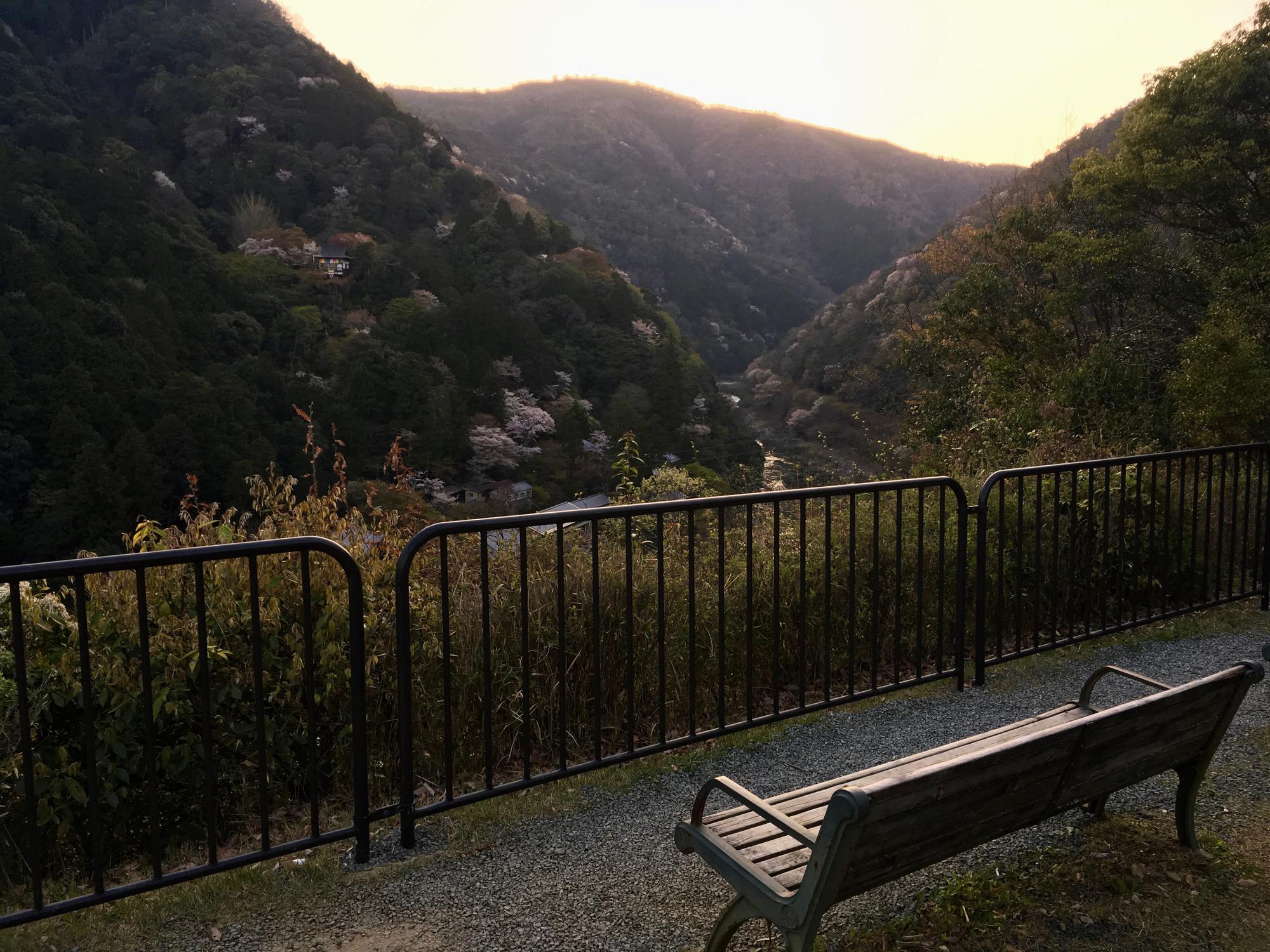 Another bench.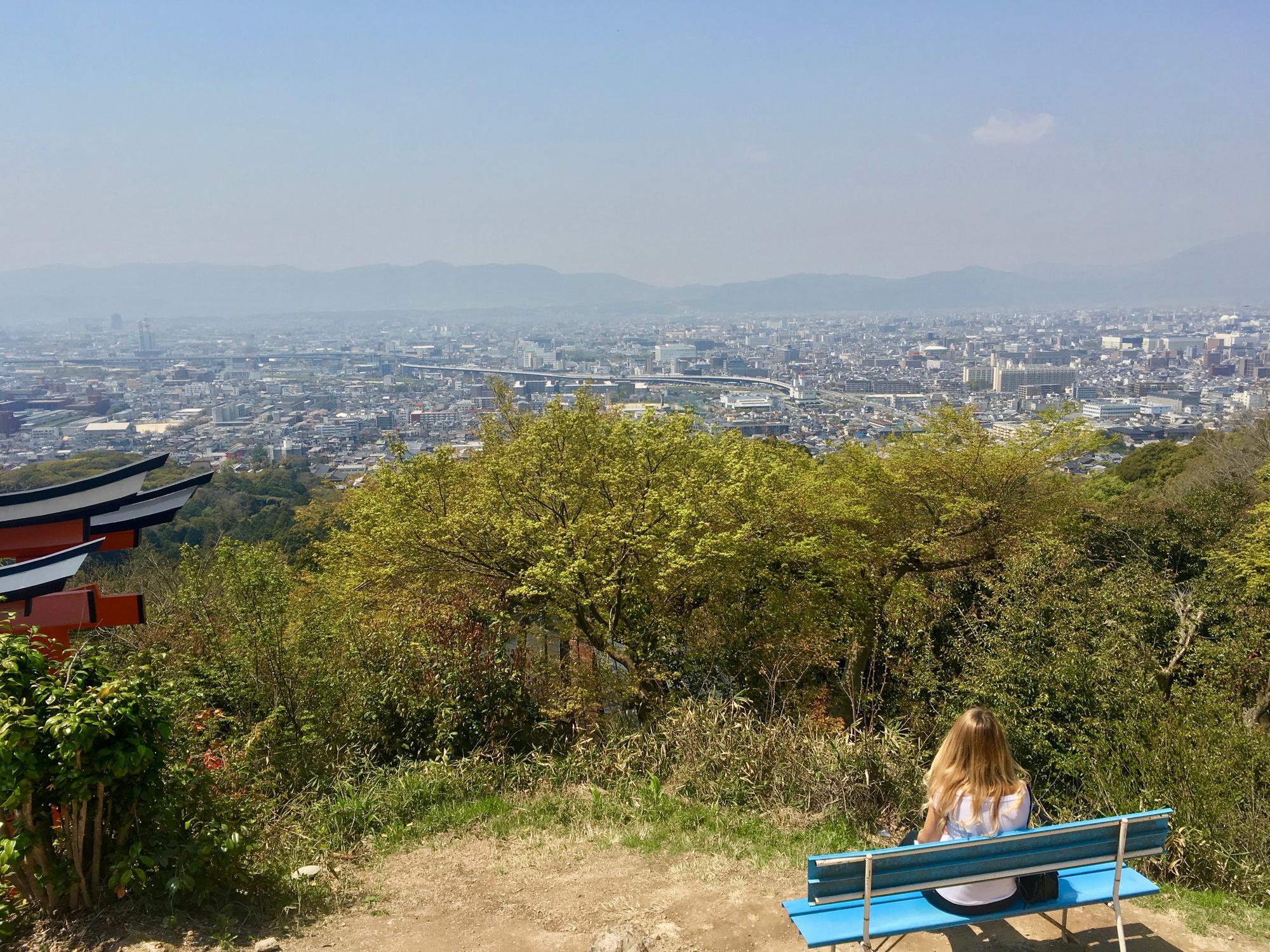 Oranges grow.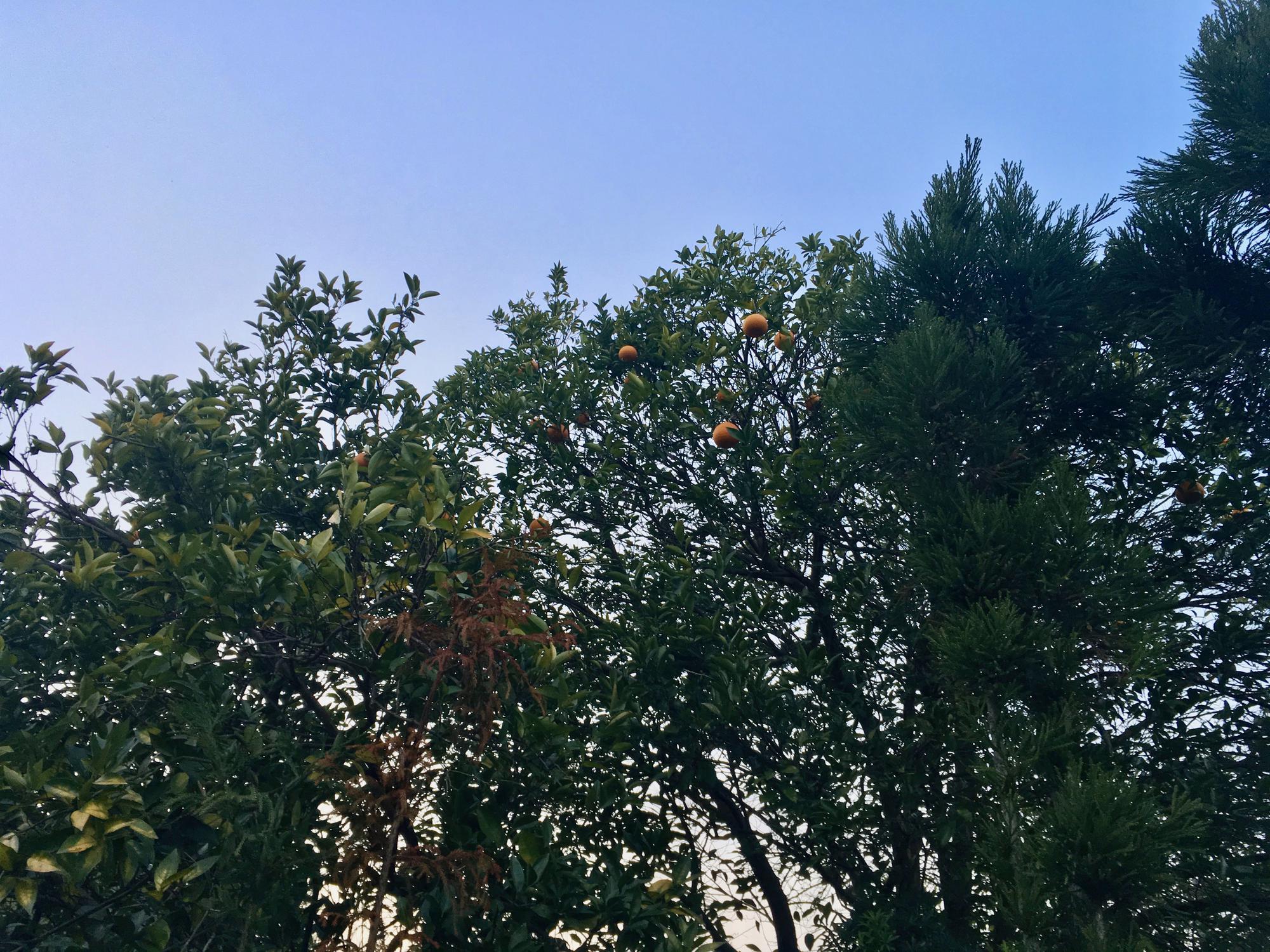 Please take a seat.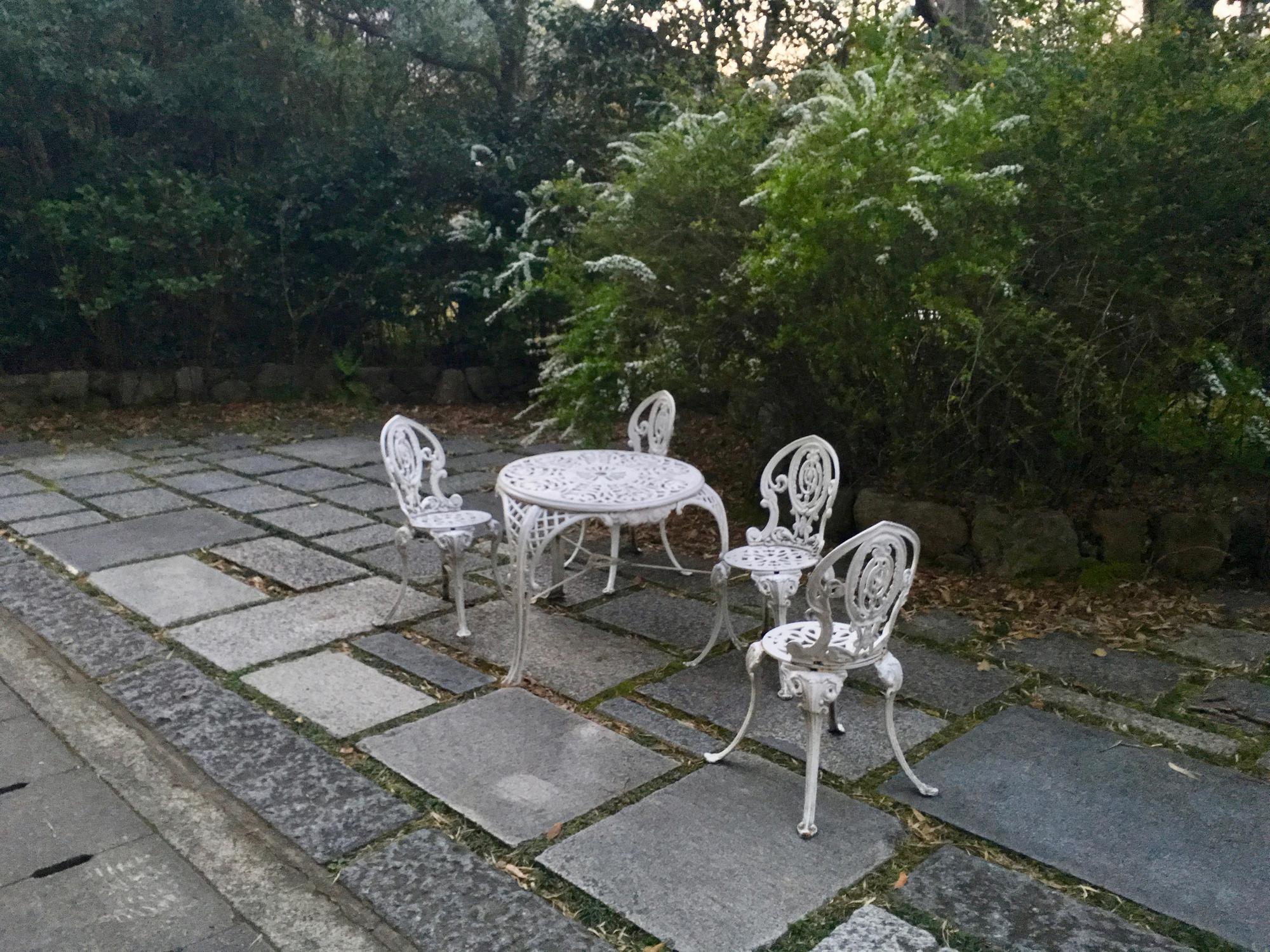 Cemeteries are really compact.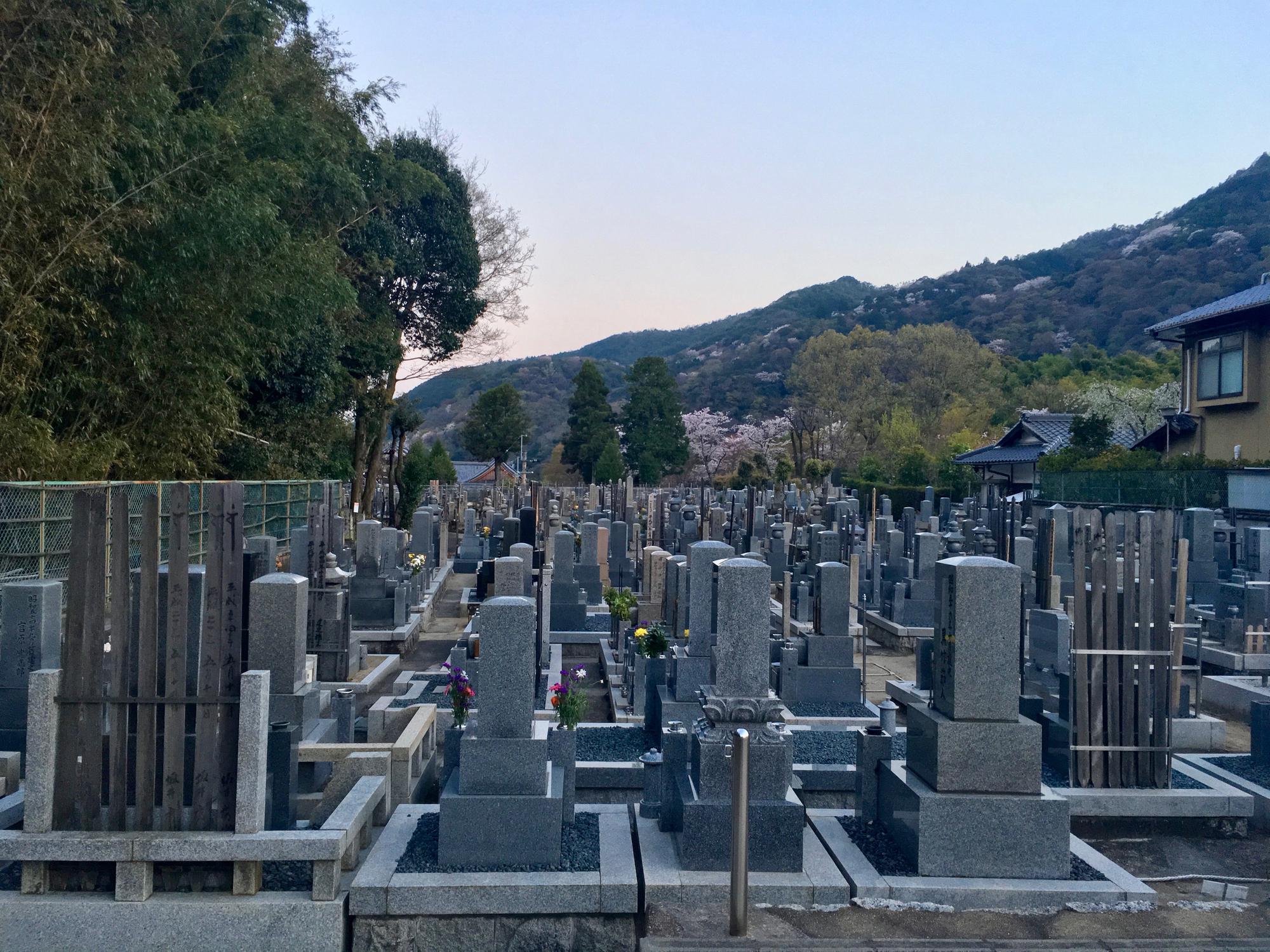 House near the cemetery.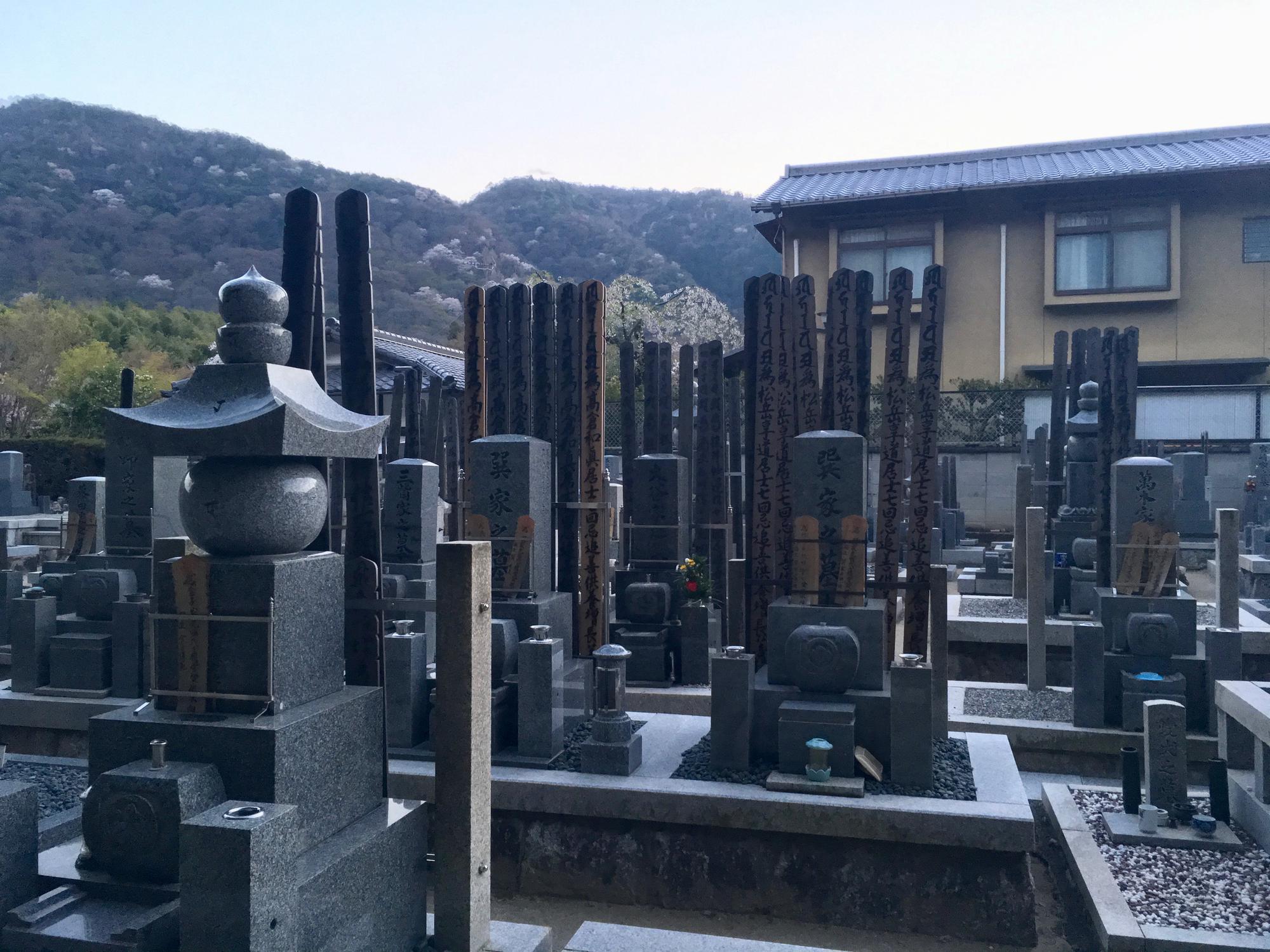 Plants grow from pillows.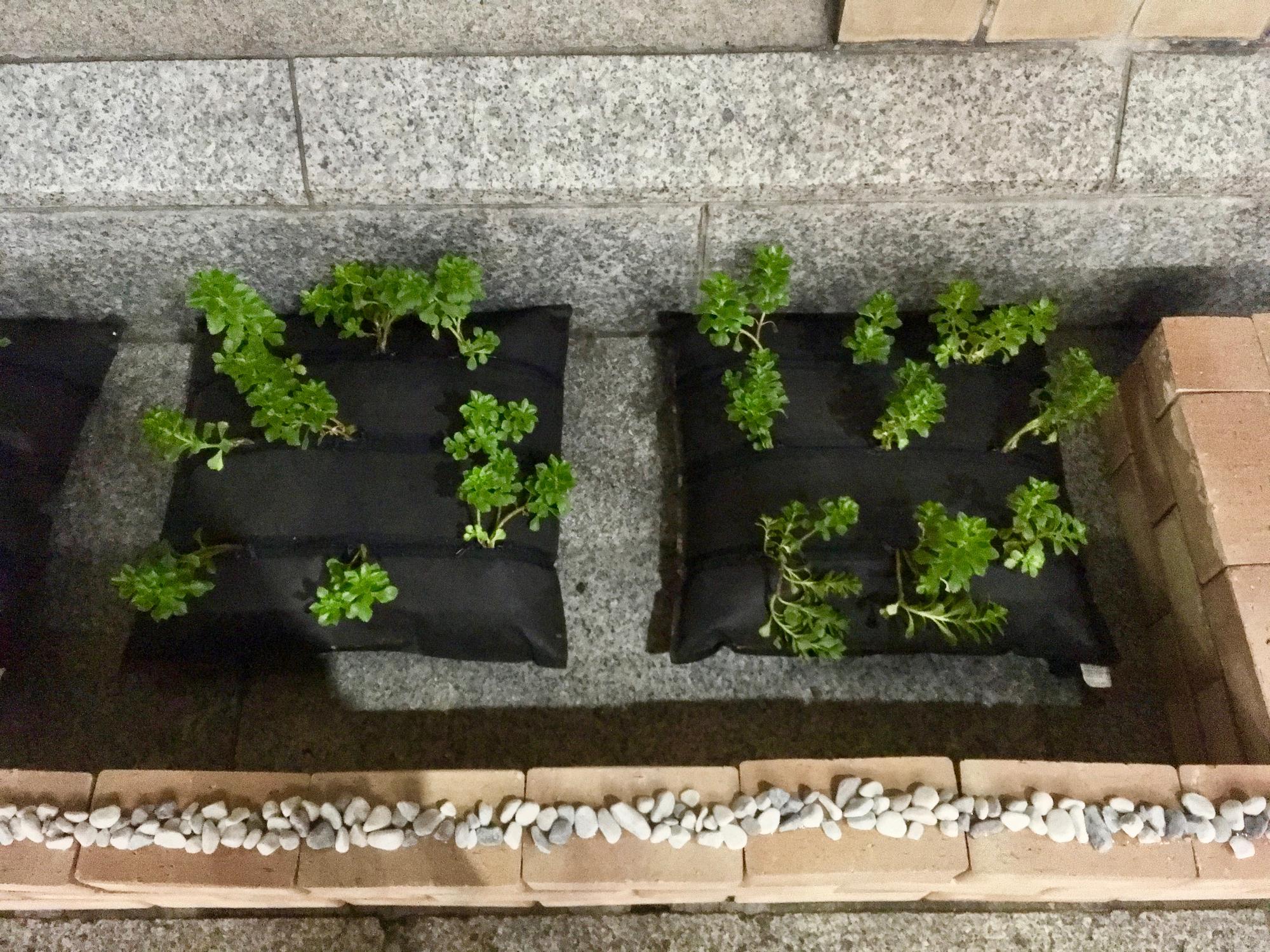 Get ready to put on and off your shoes many times a day. So the best option is to have slip-on shoes.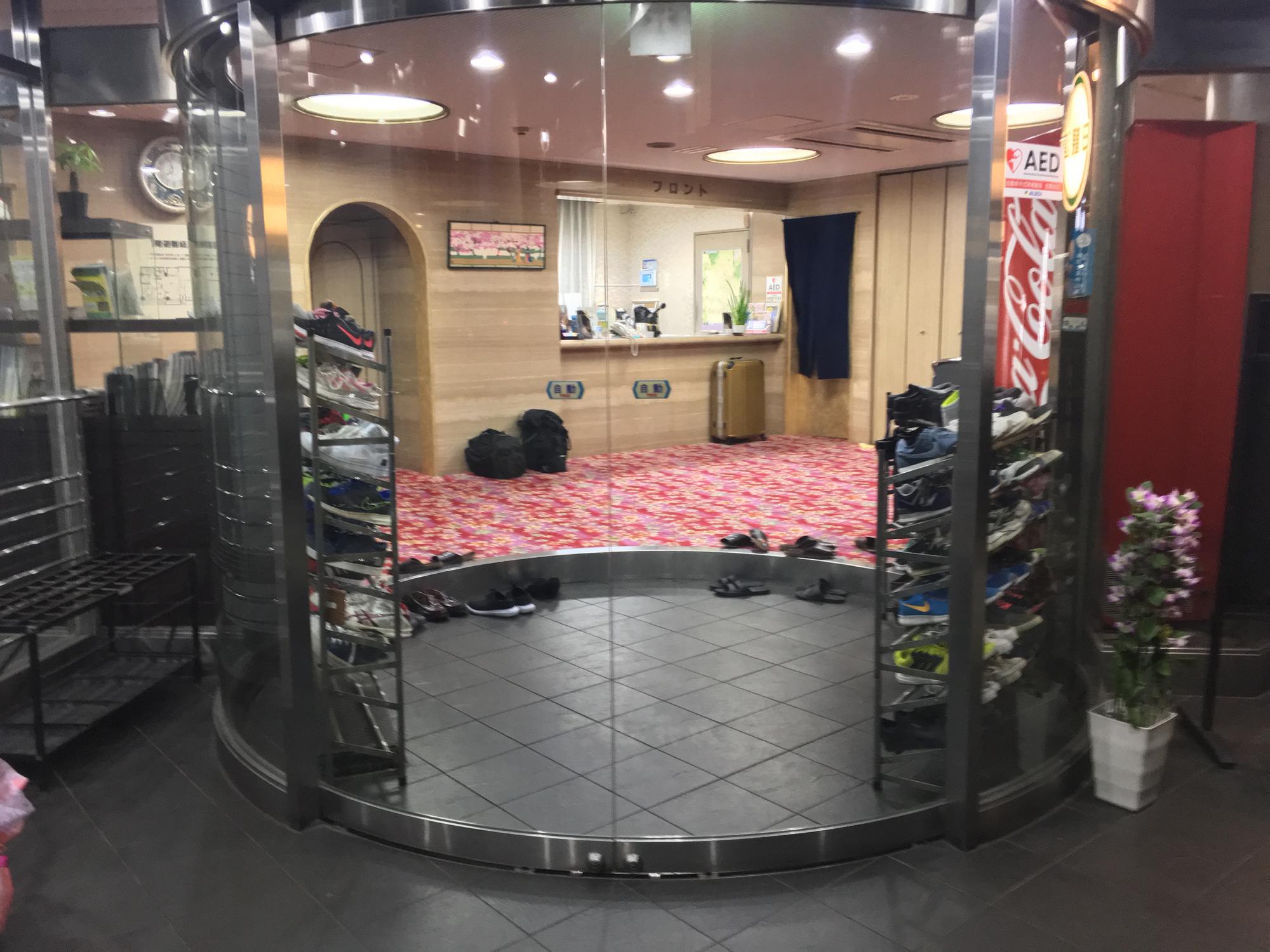 In the supermarket. A little bit of cashier's UI can be seen. Cashbox gives the change to cashier automatically when you pay in cash. He just needs to give it back to you with two hands and a slight bow. You need to confirm you are 20+ with a touch of a screen if you buy alcohol.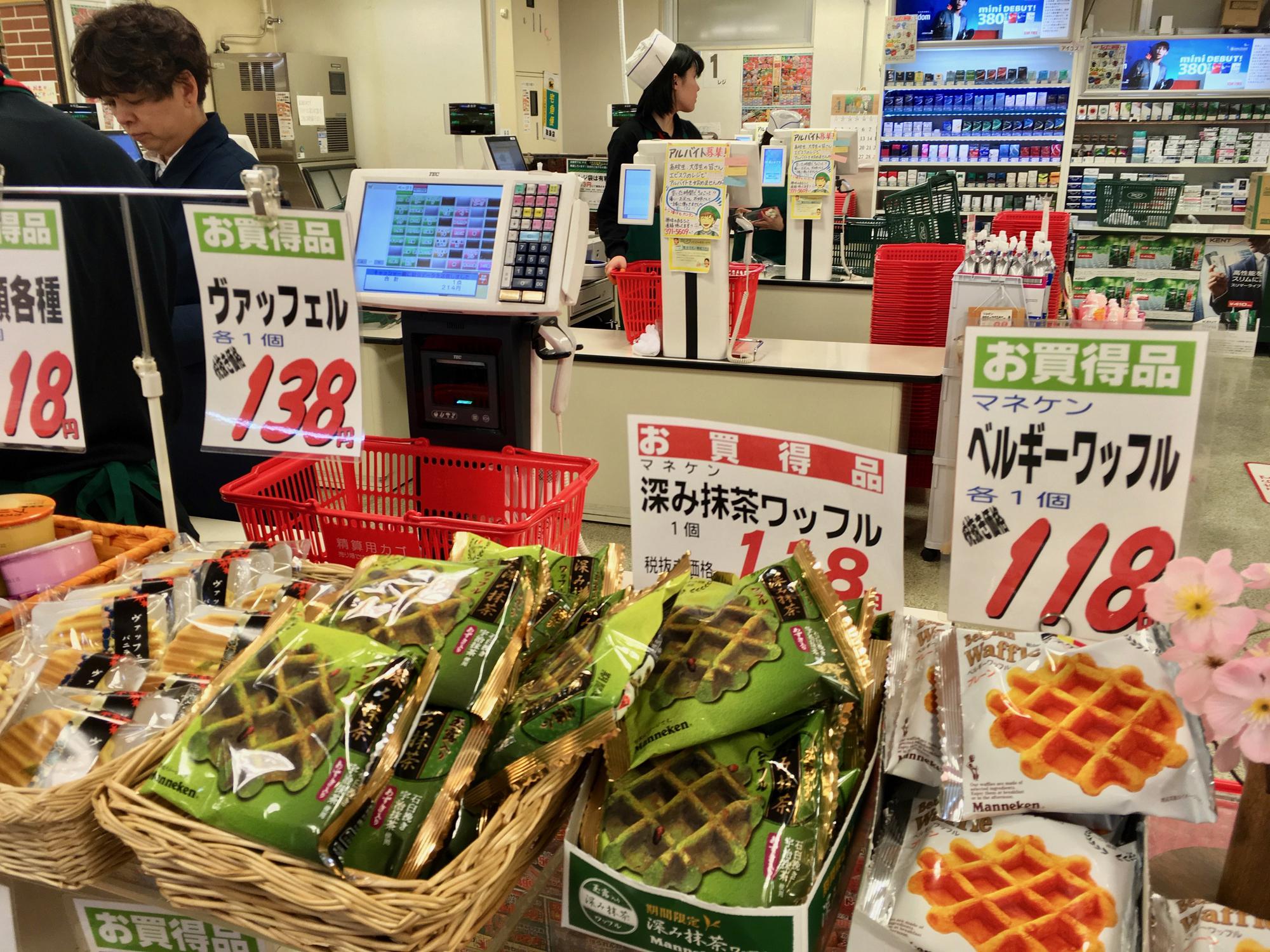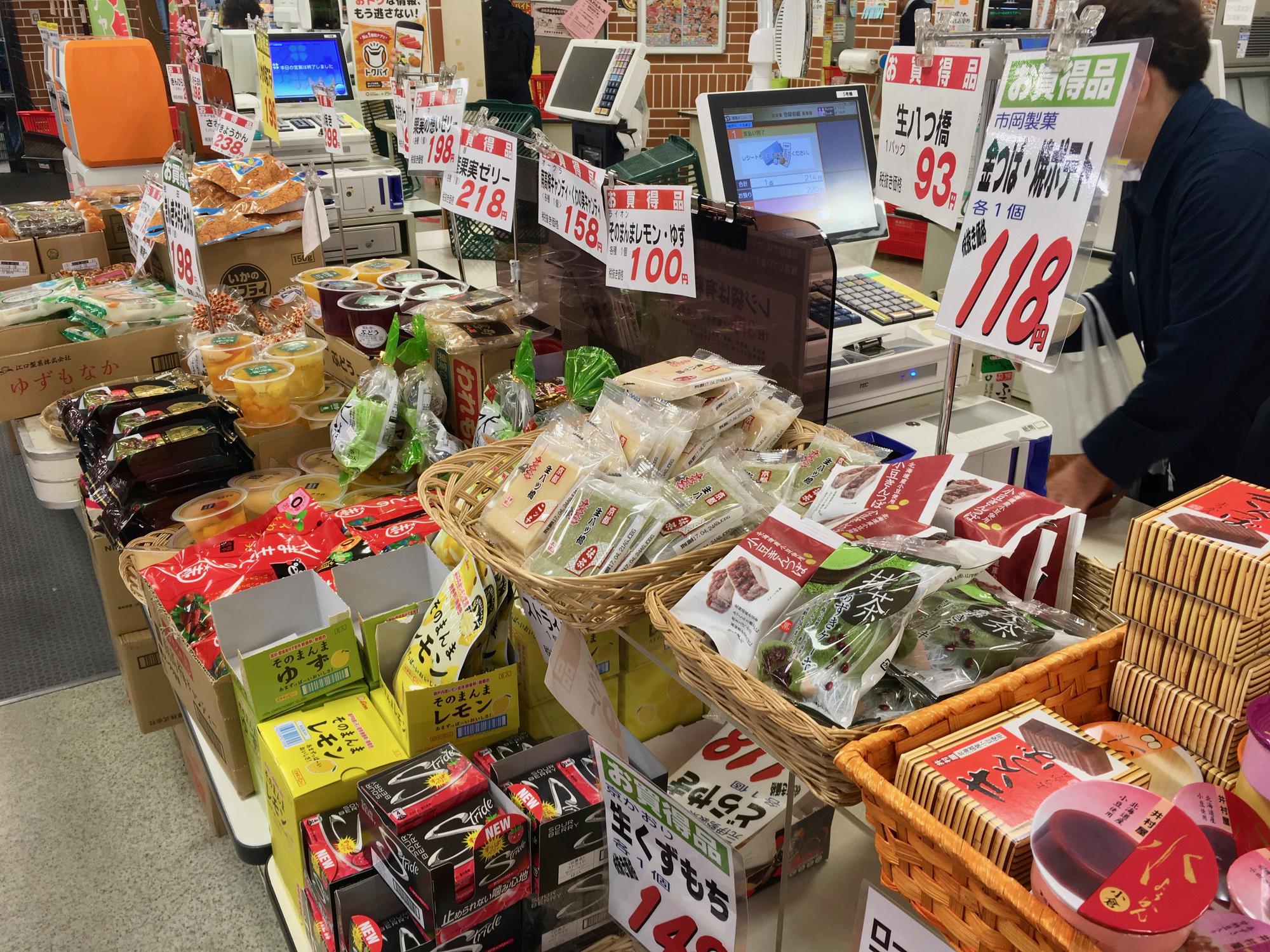 Some food. Fruits are expensive—more than $1 for one apple. It's a joy to buy yogurt, jelly, sushi, rice with fish, etc because the cashier will give you a spoon and chopsticks for free according to your purchase. Why don't we have such a thing? How many times has a lack of spoon stopped me from buying yogurt? Countless times! Cashier also puts hot and cold goods in different bags. Hot? Yeah, you can buy warm food or ask the cashier to warm it up. Sometimes there are microwave ovens and boiled water for noodles in the shop.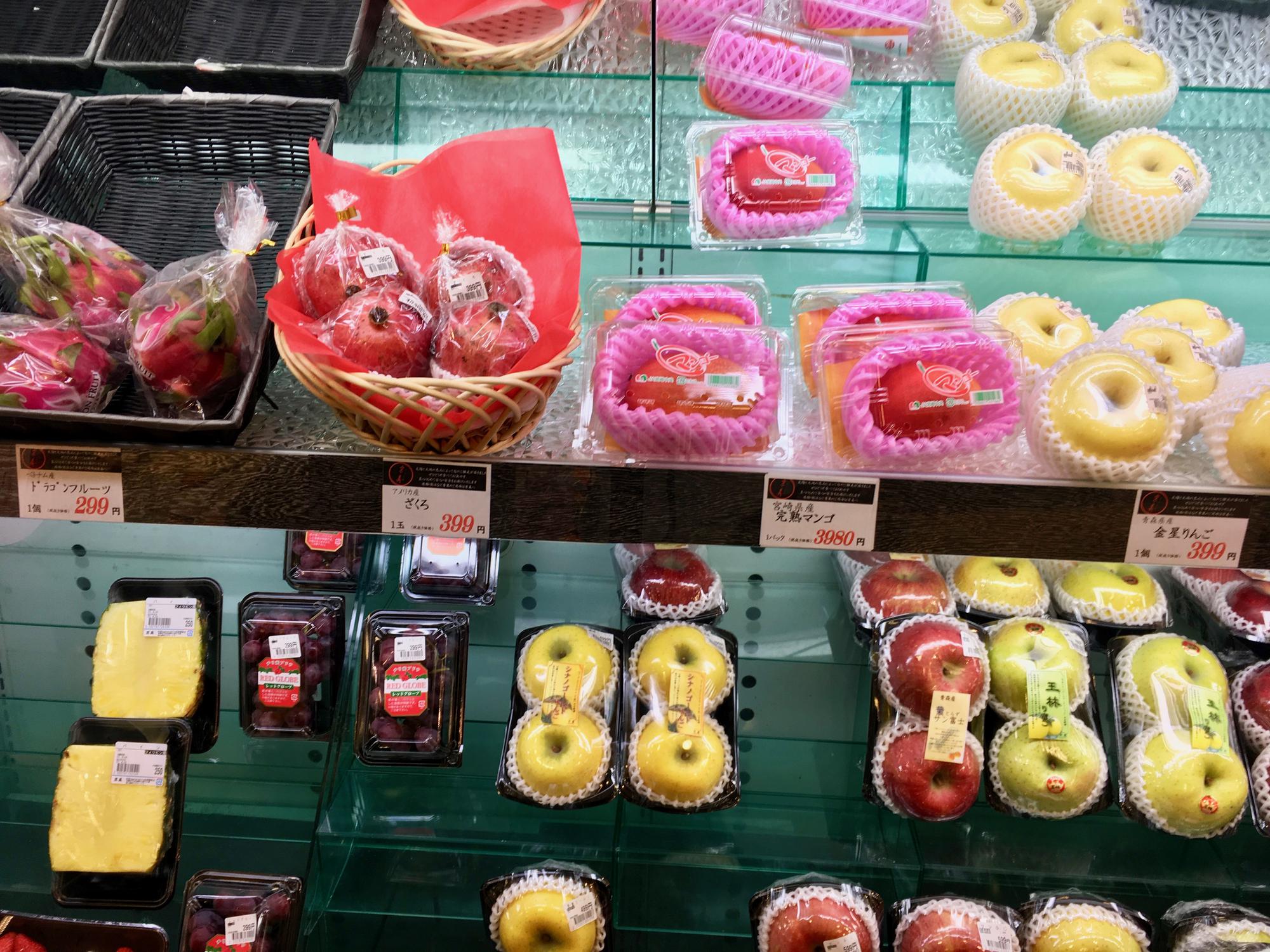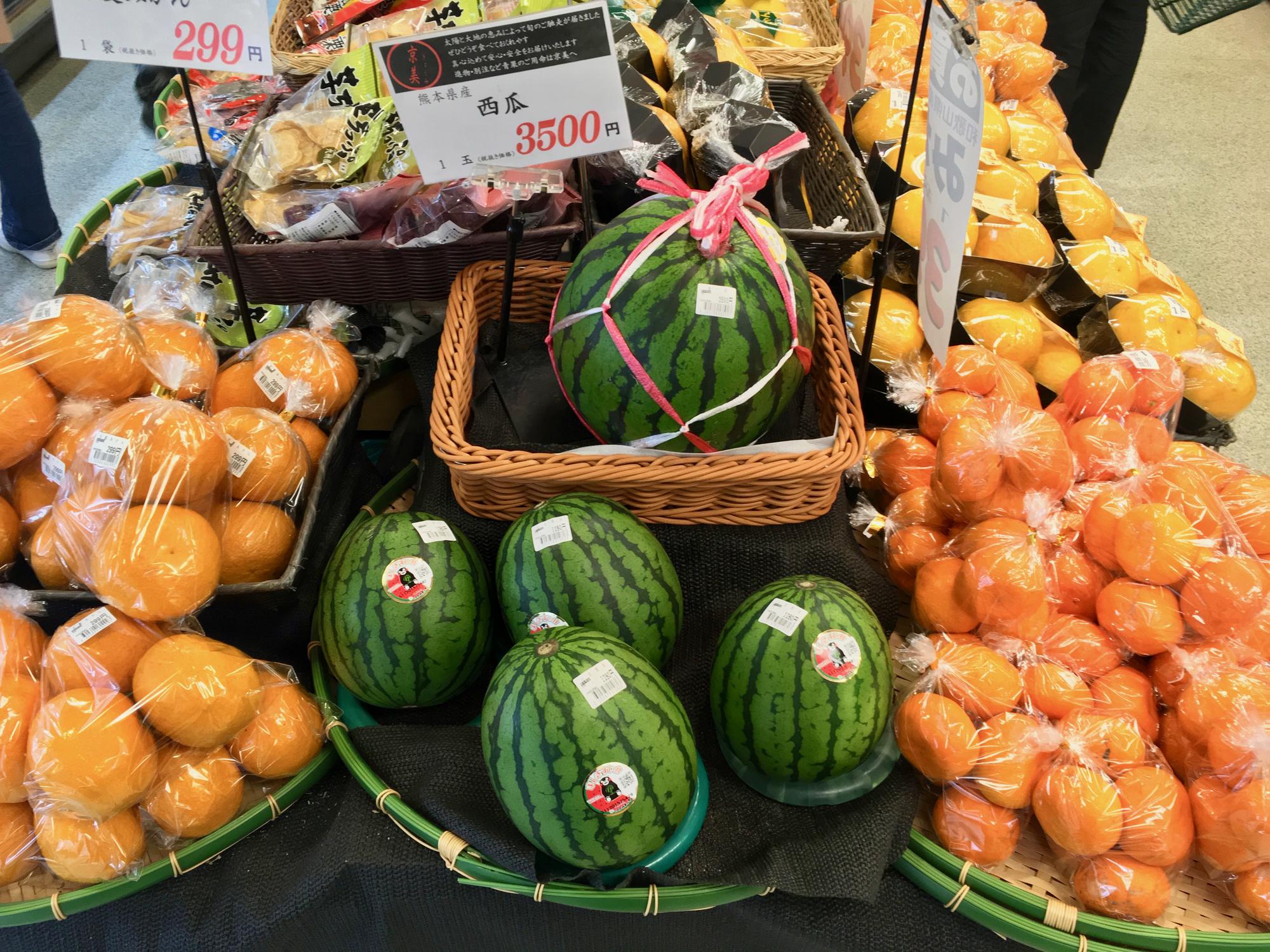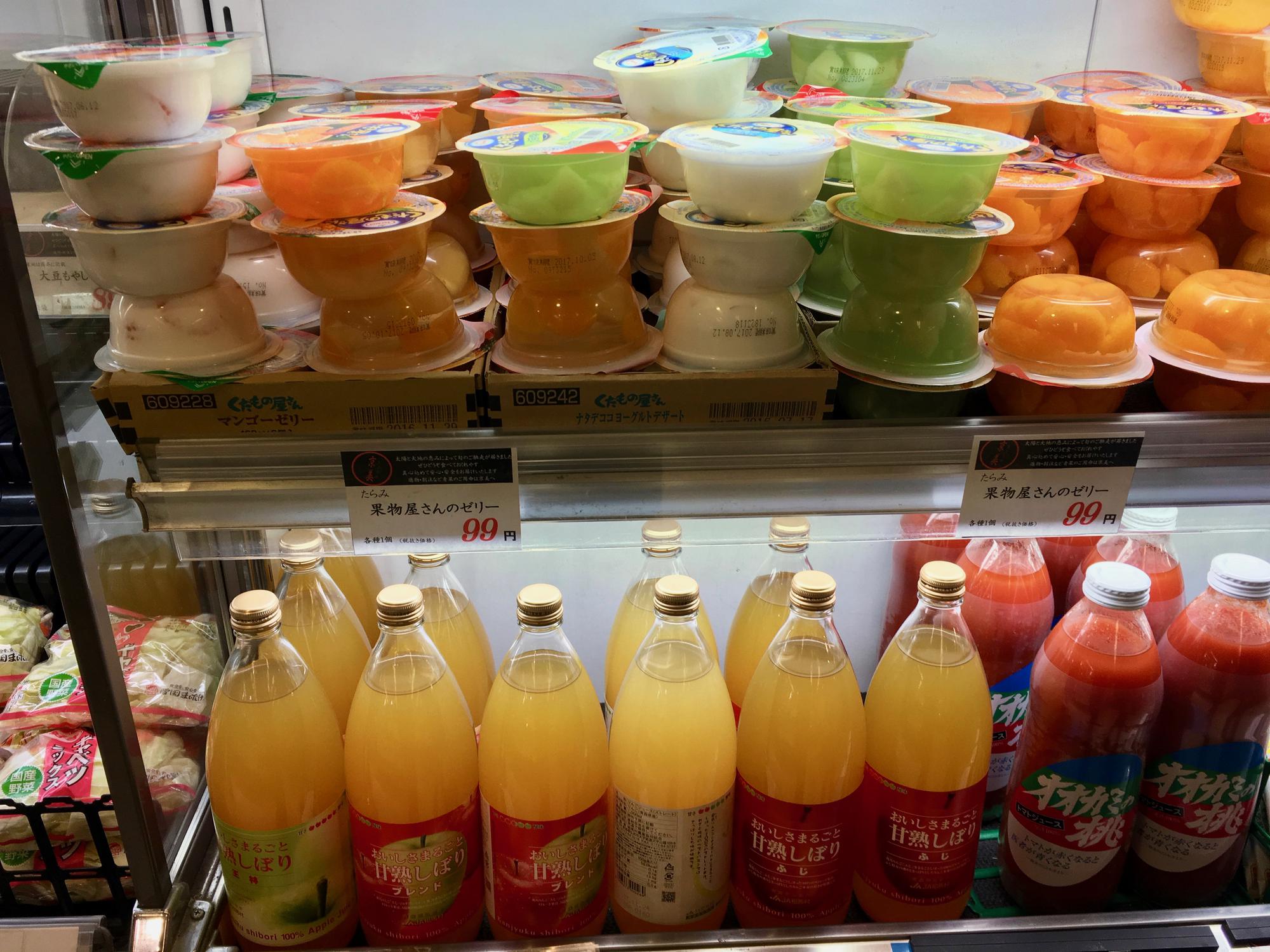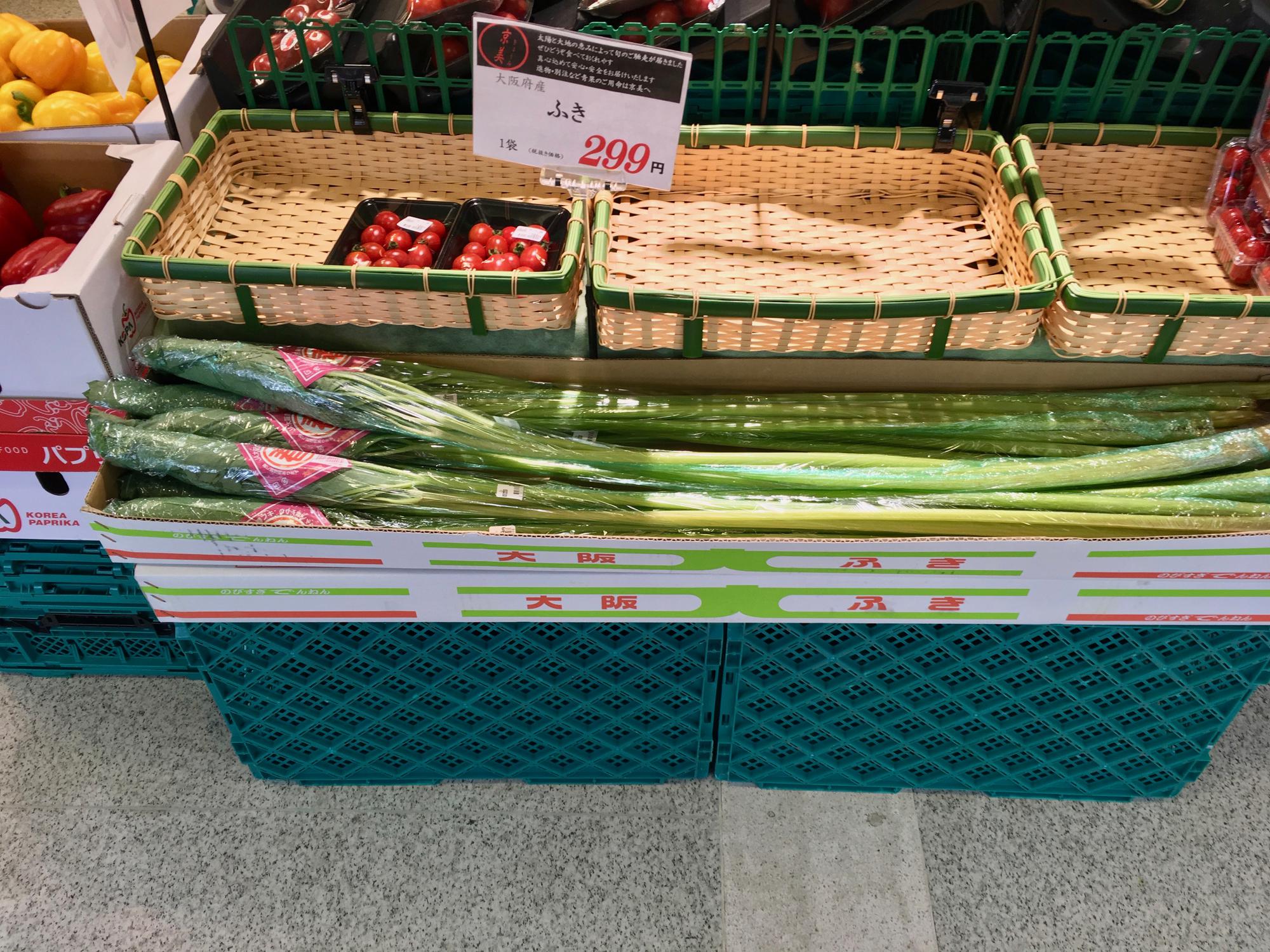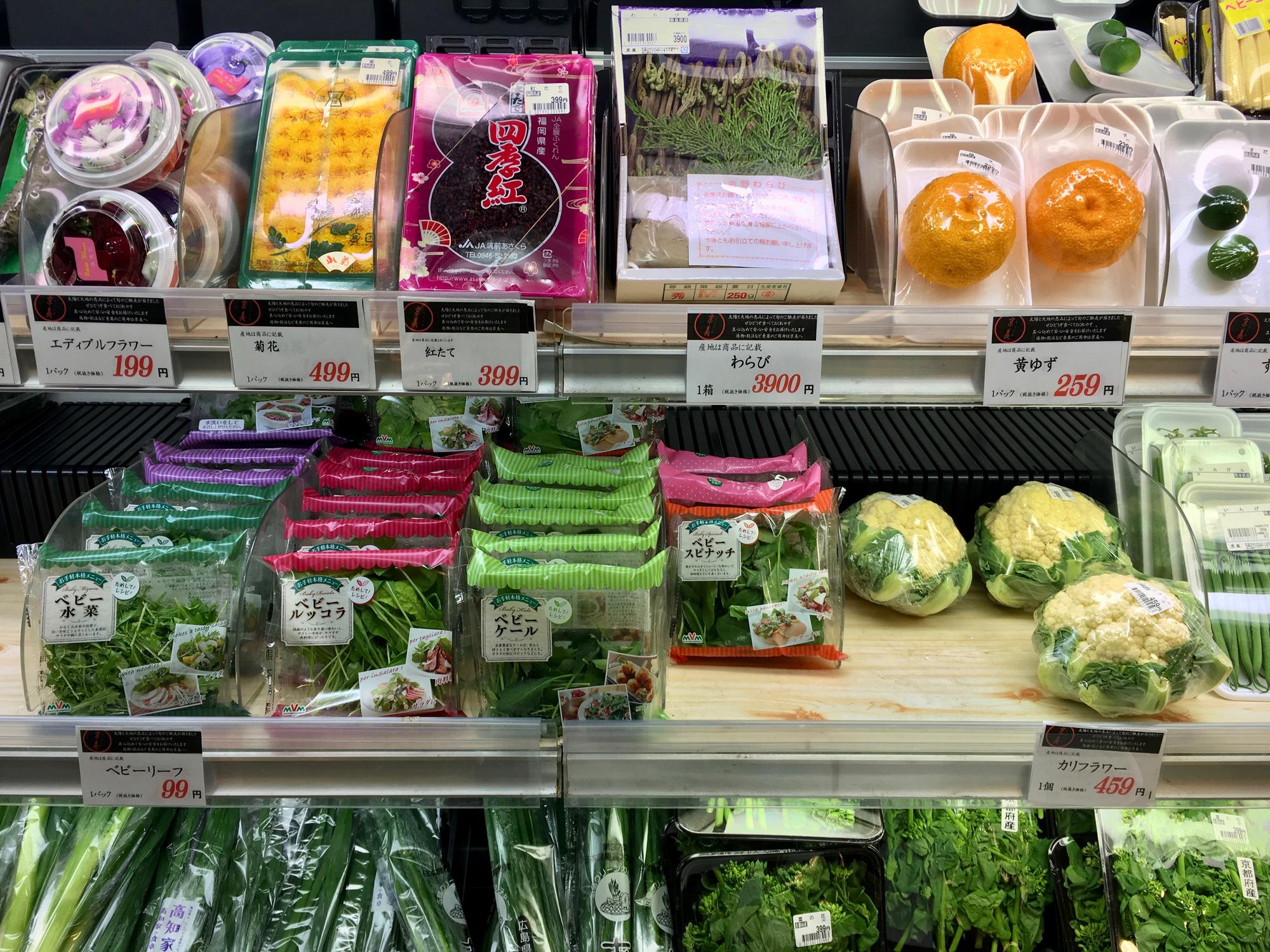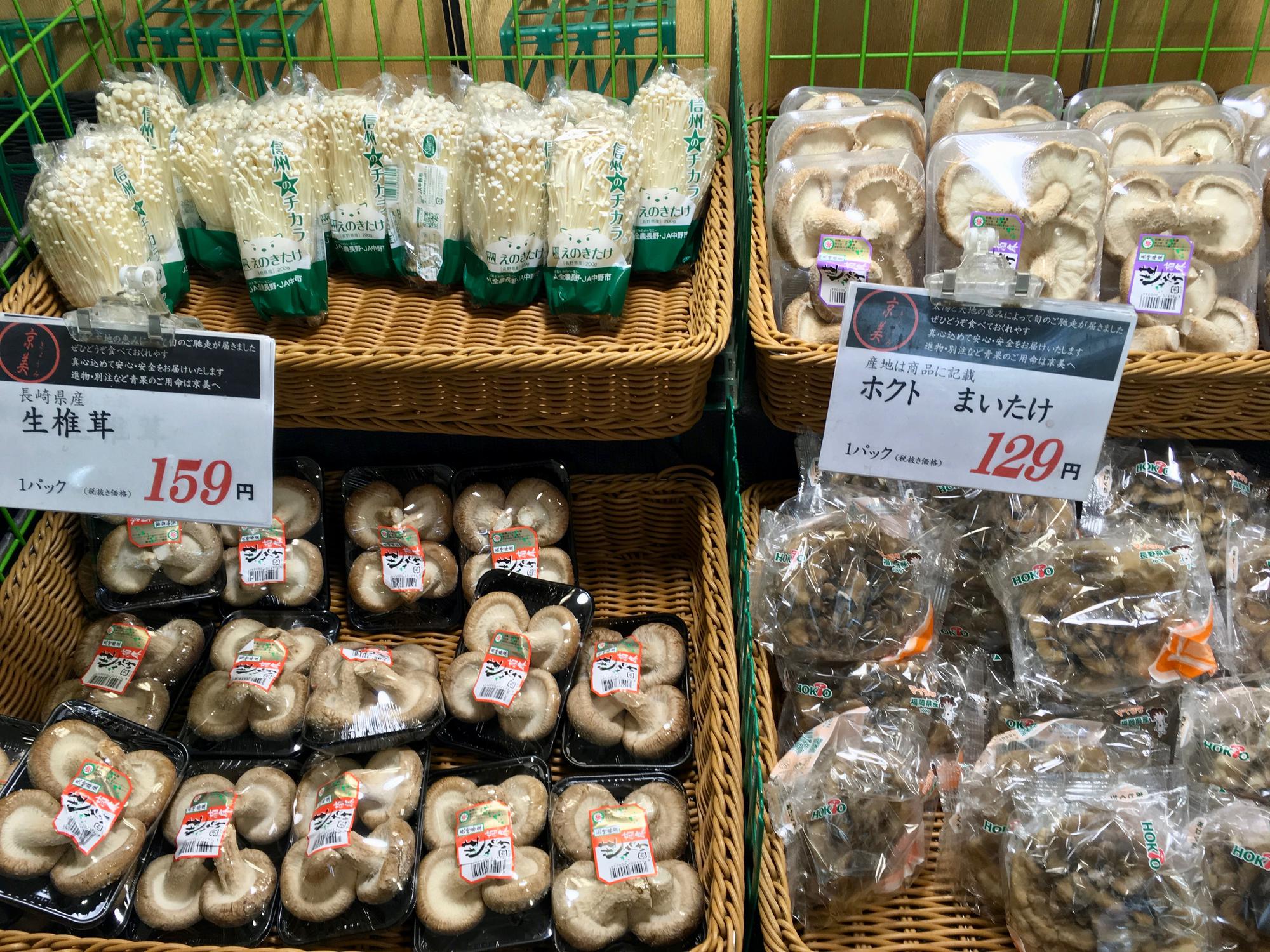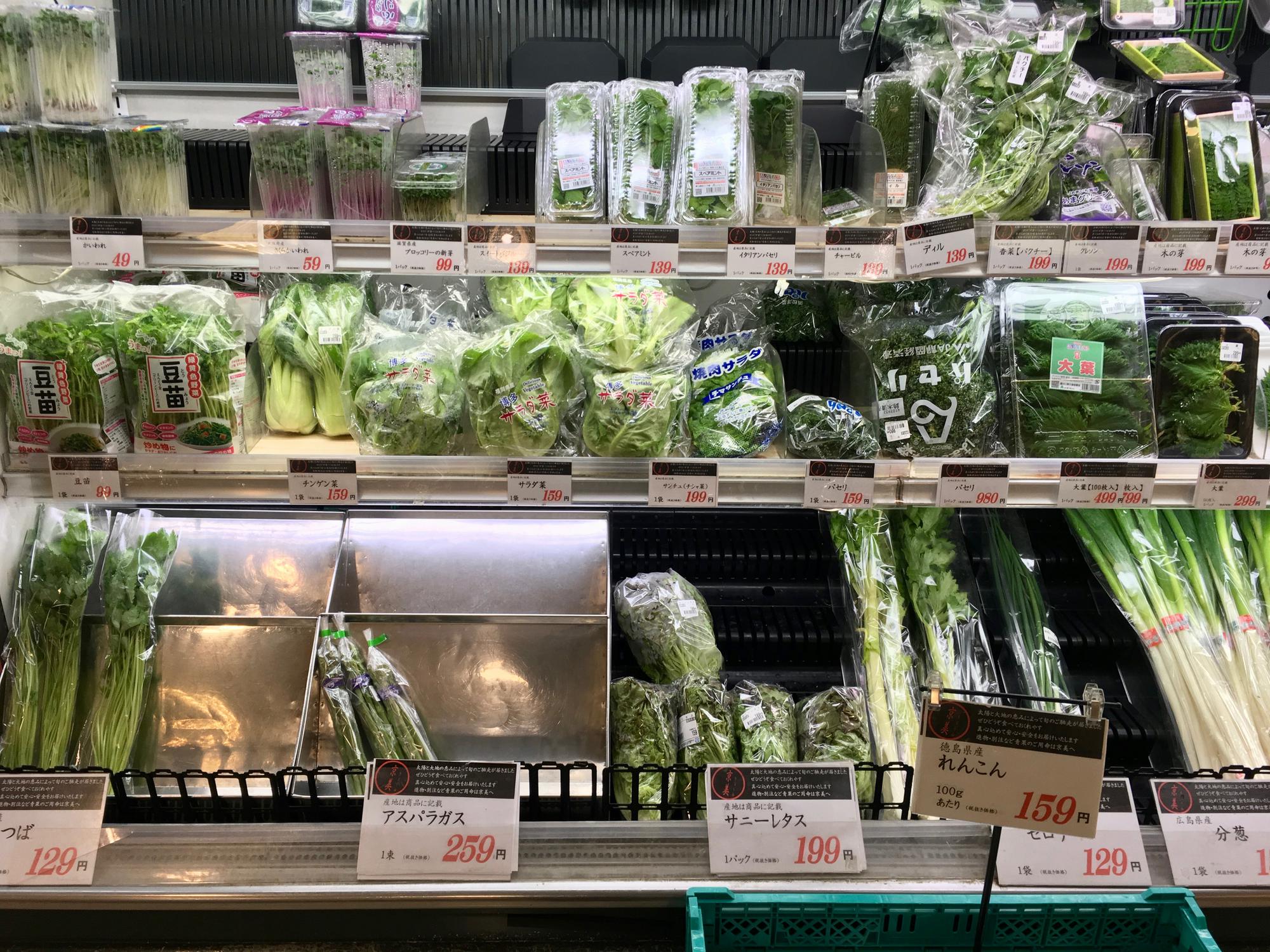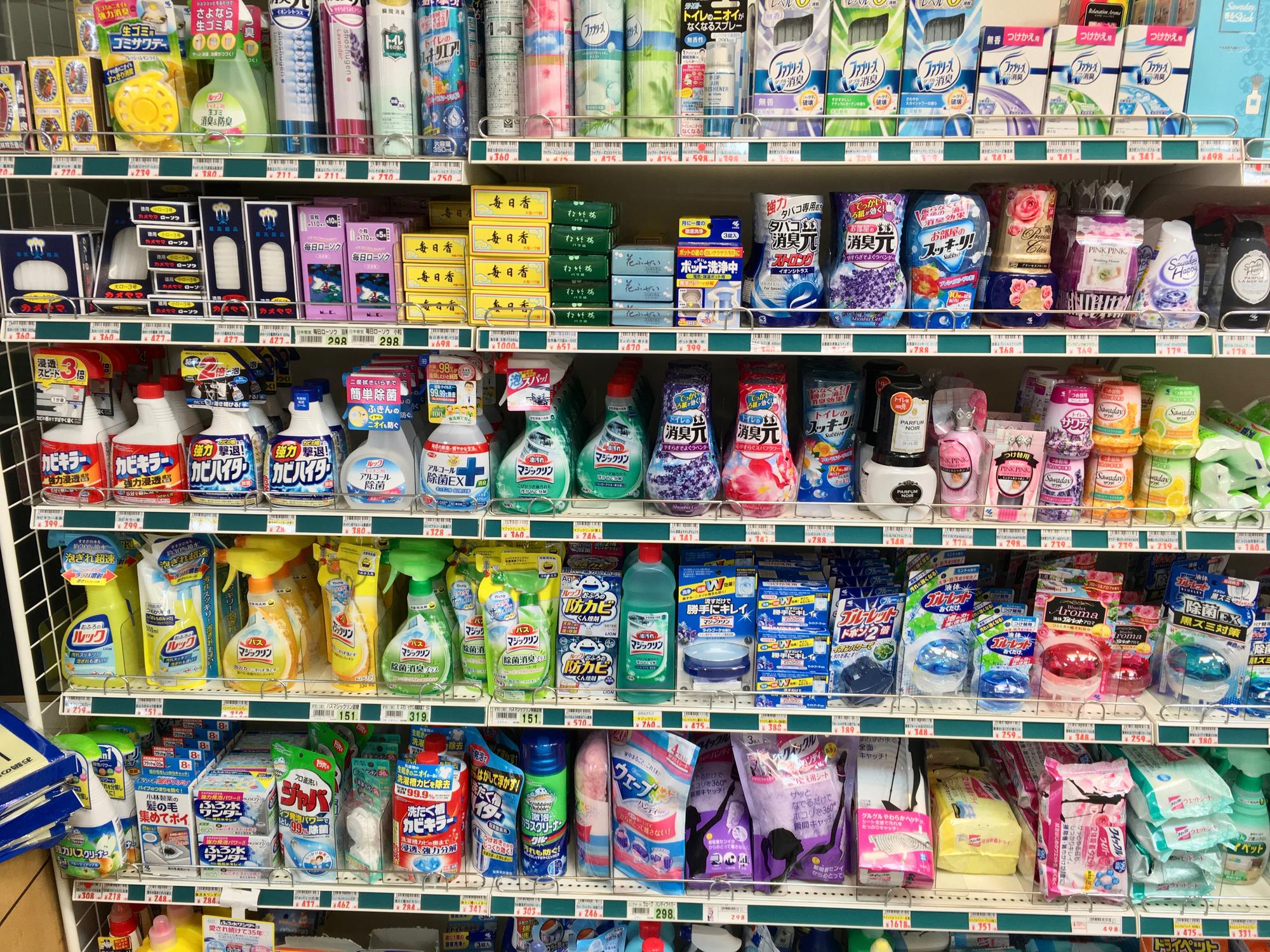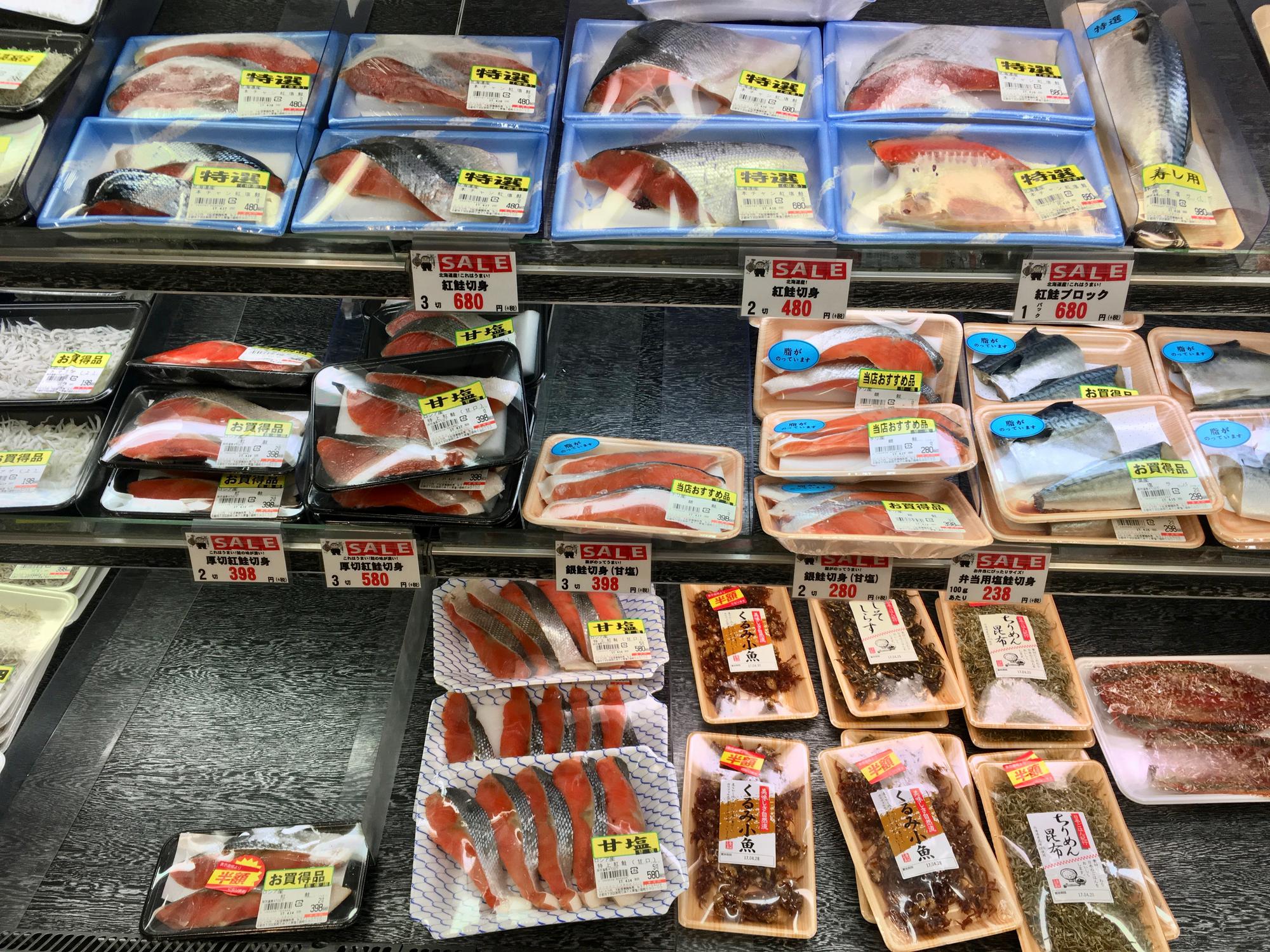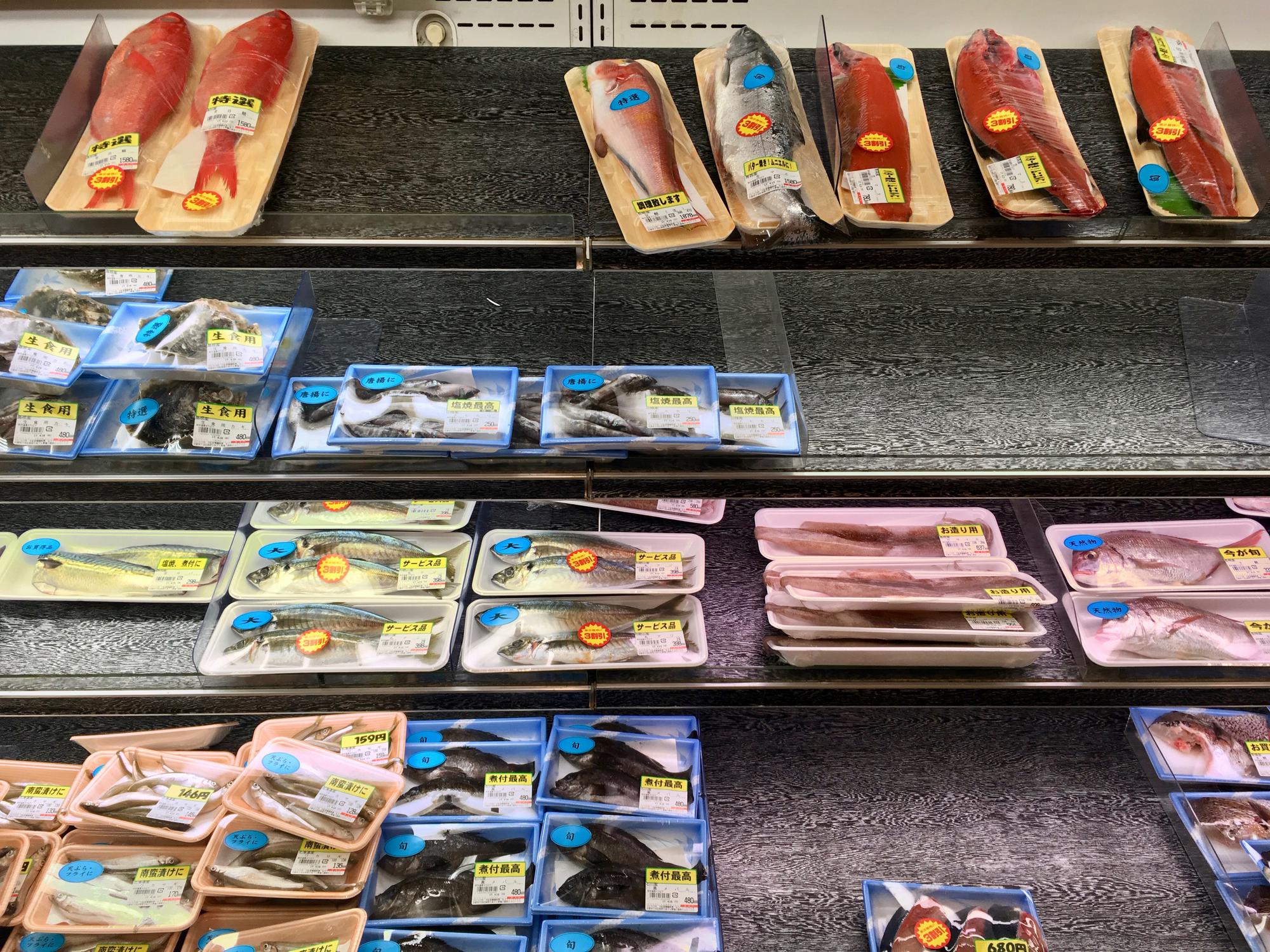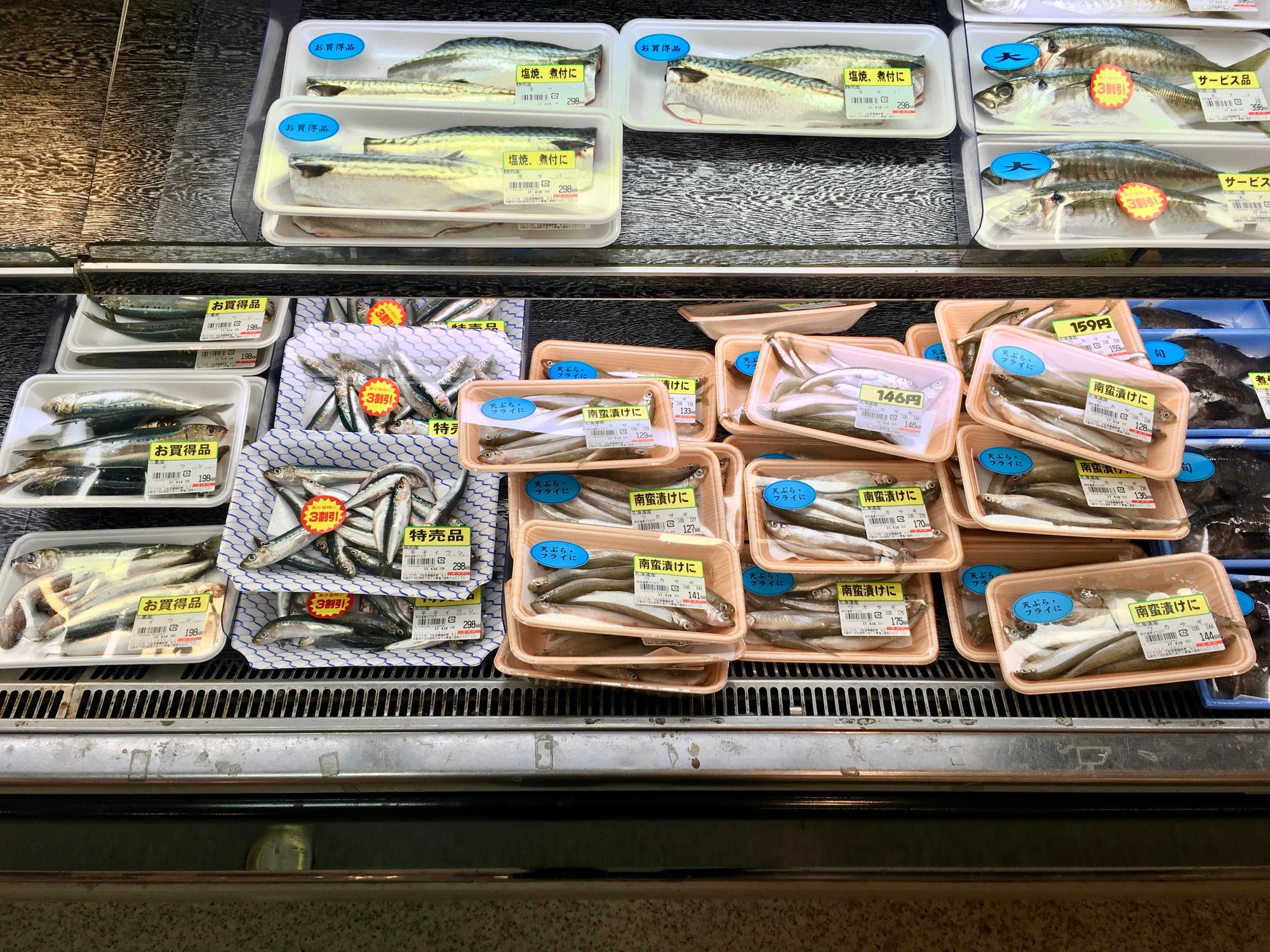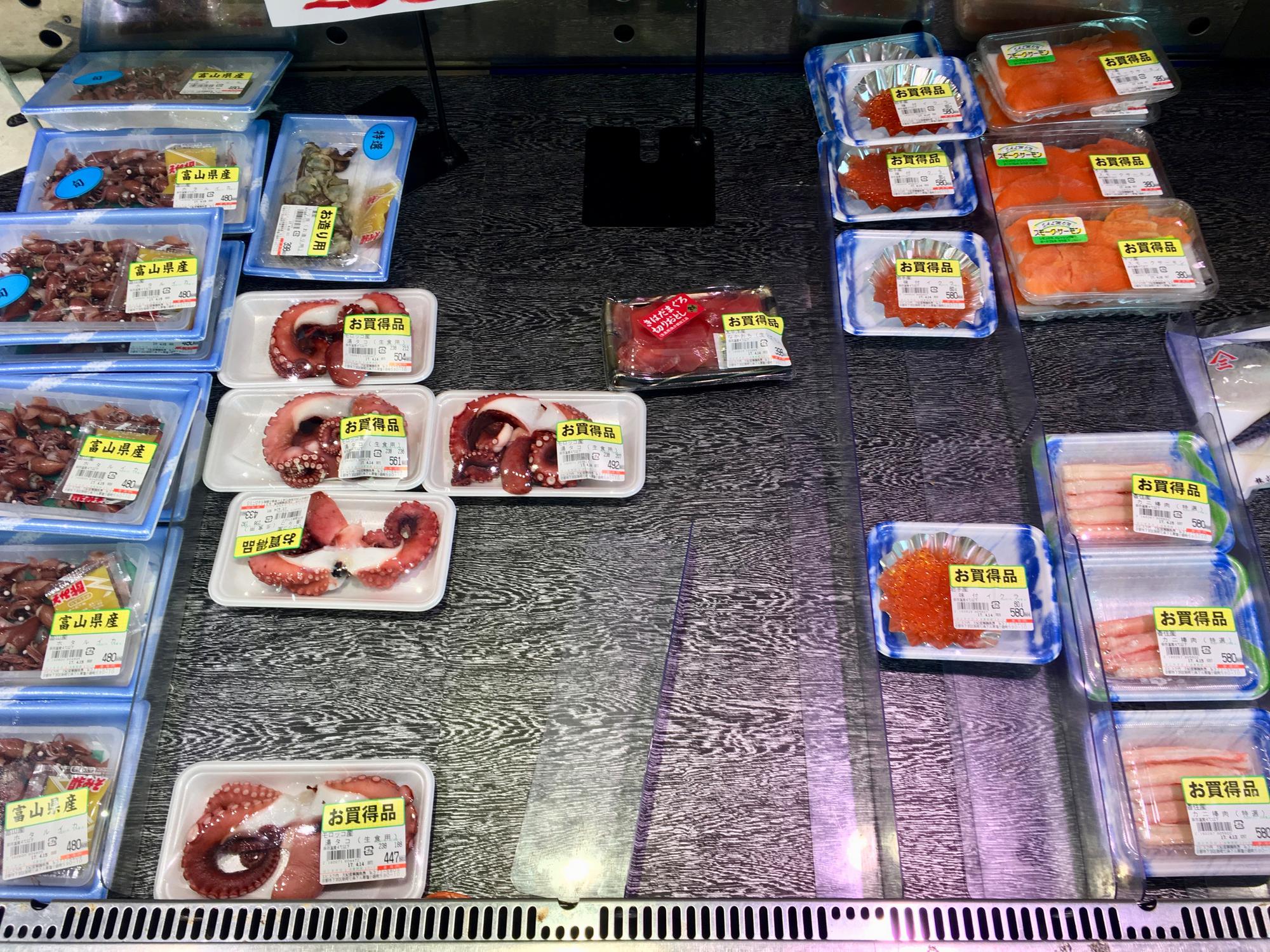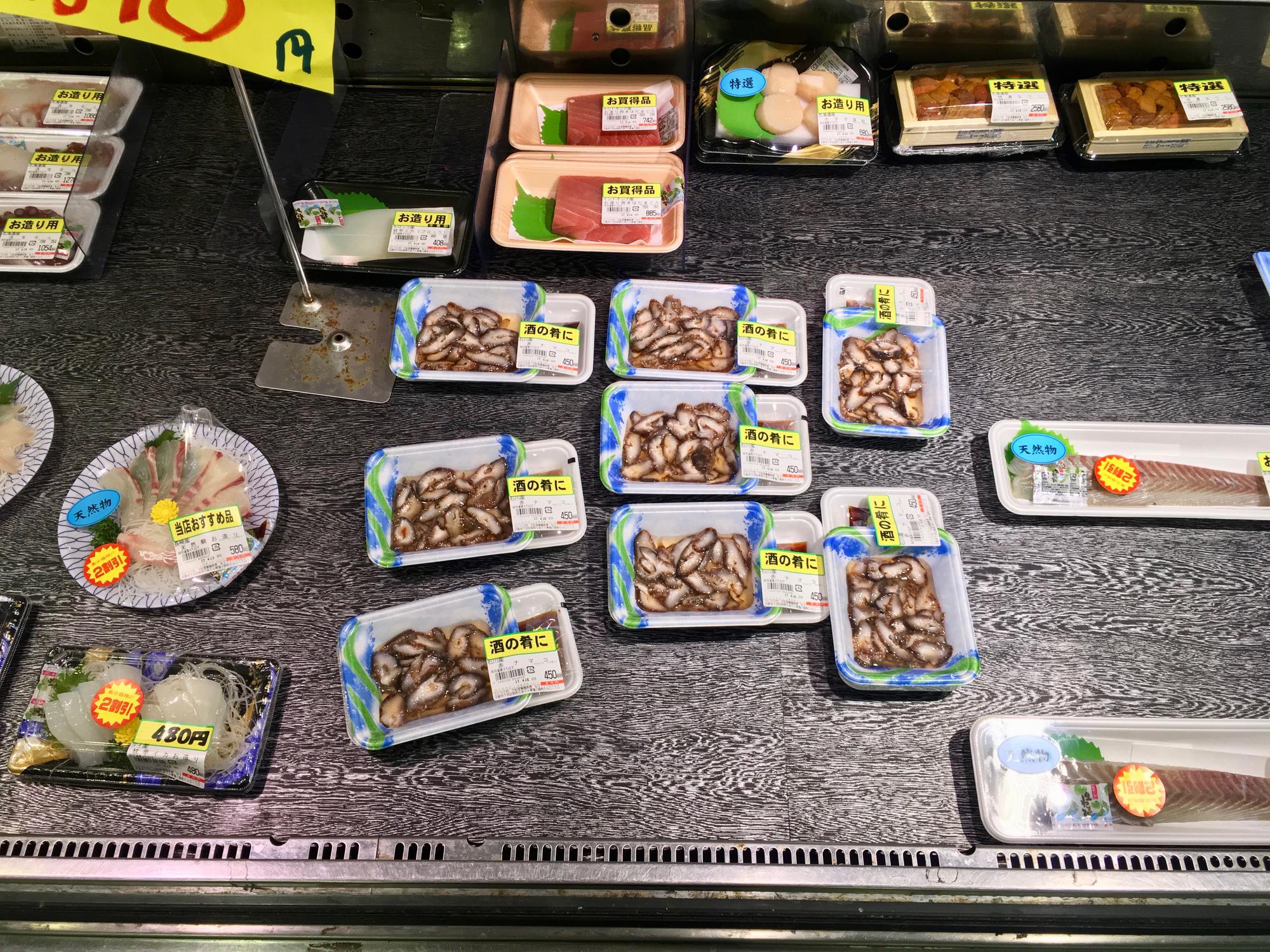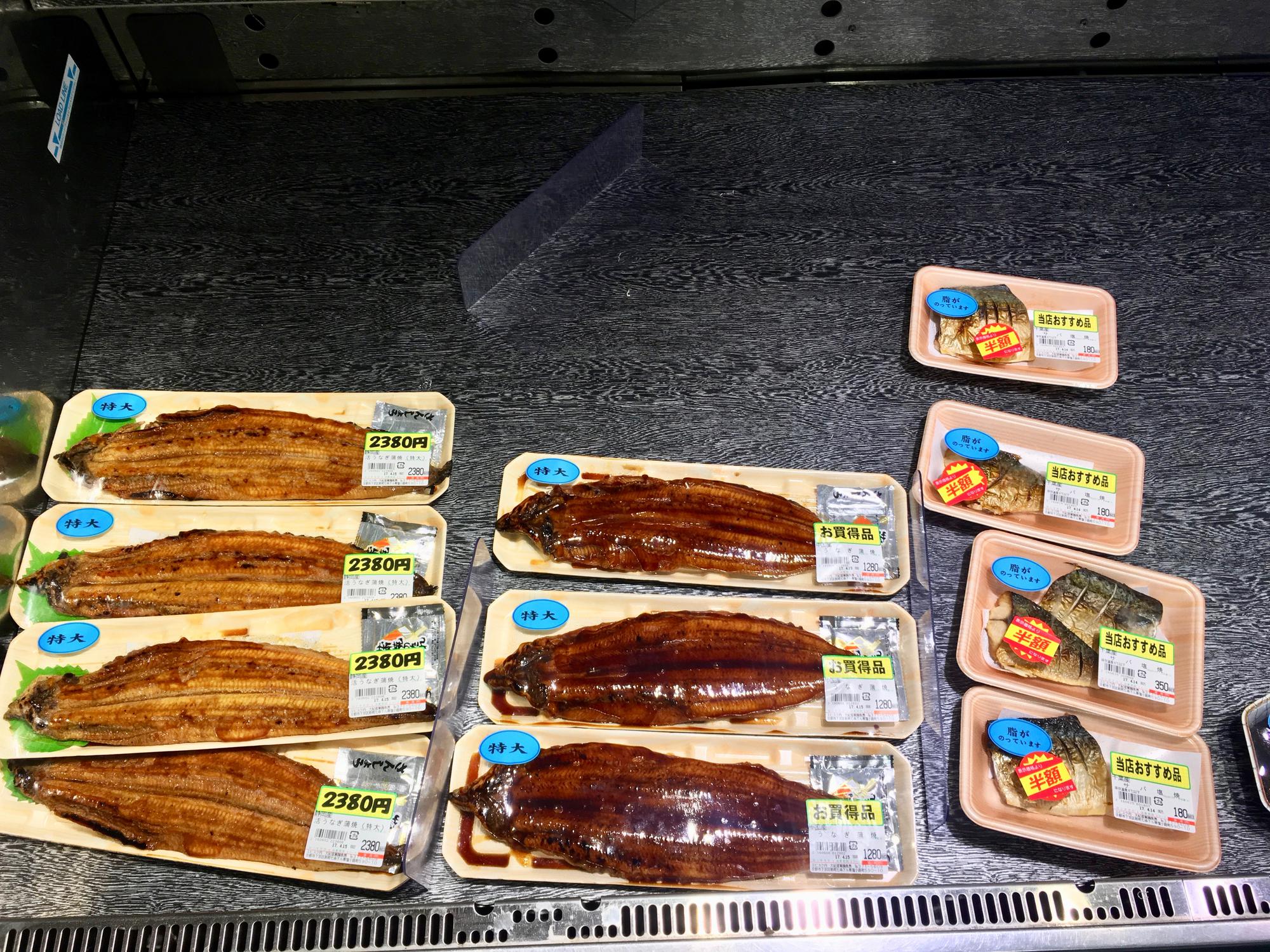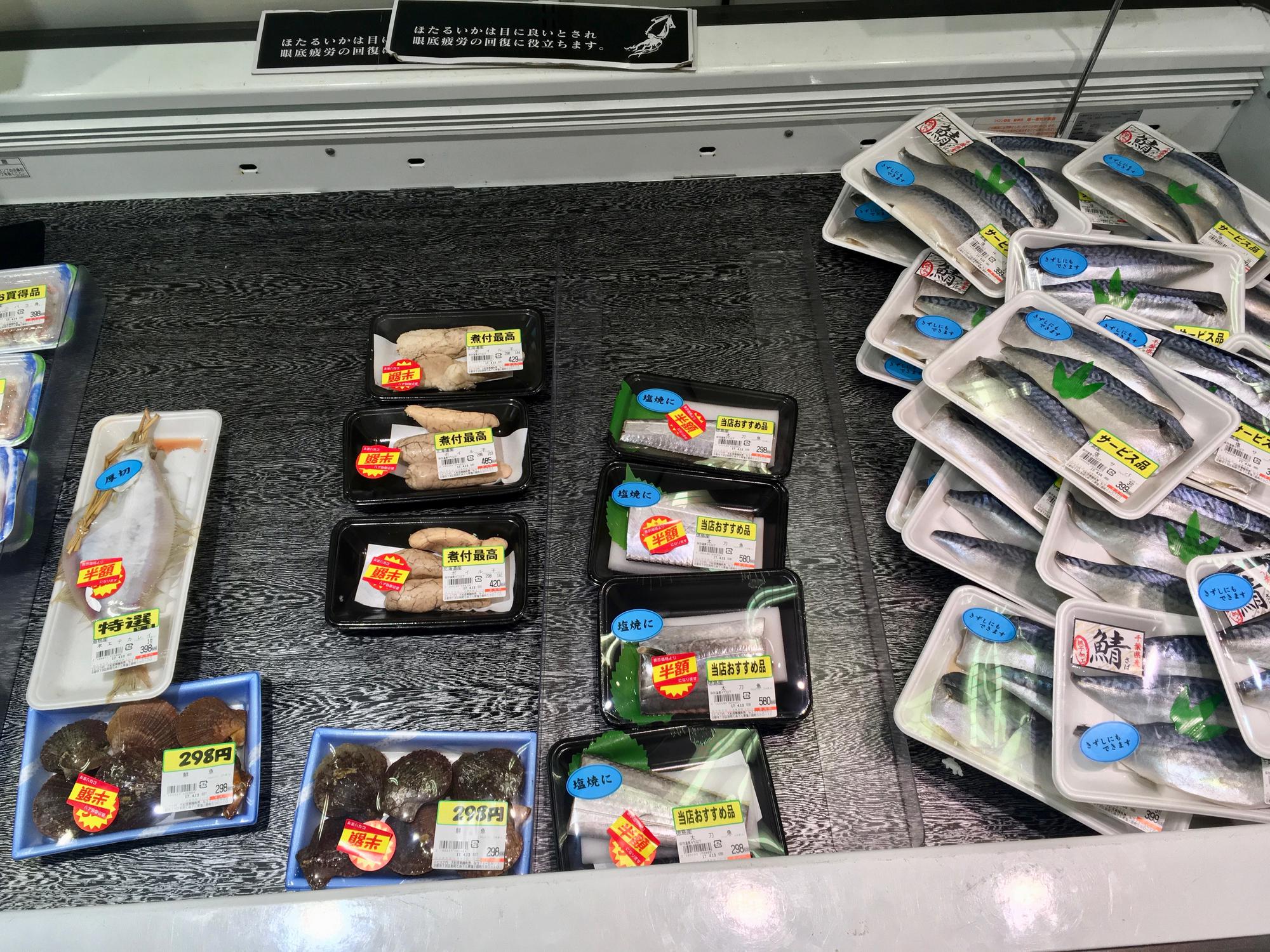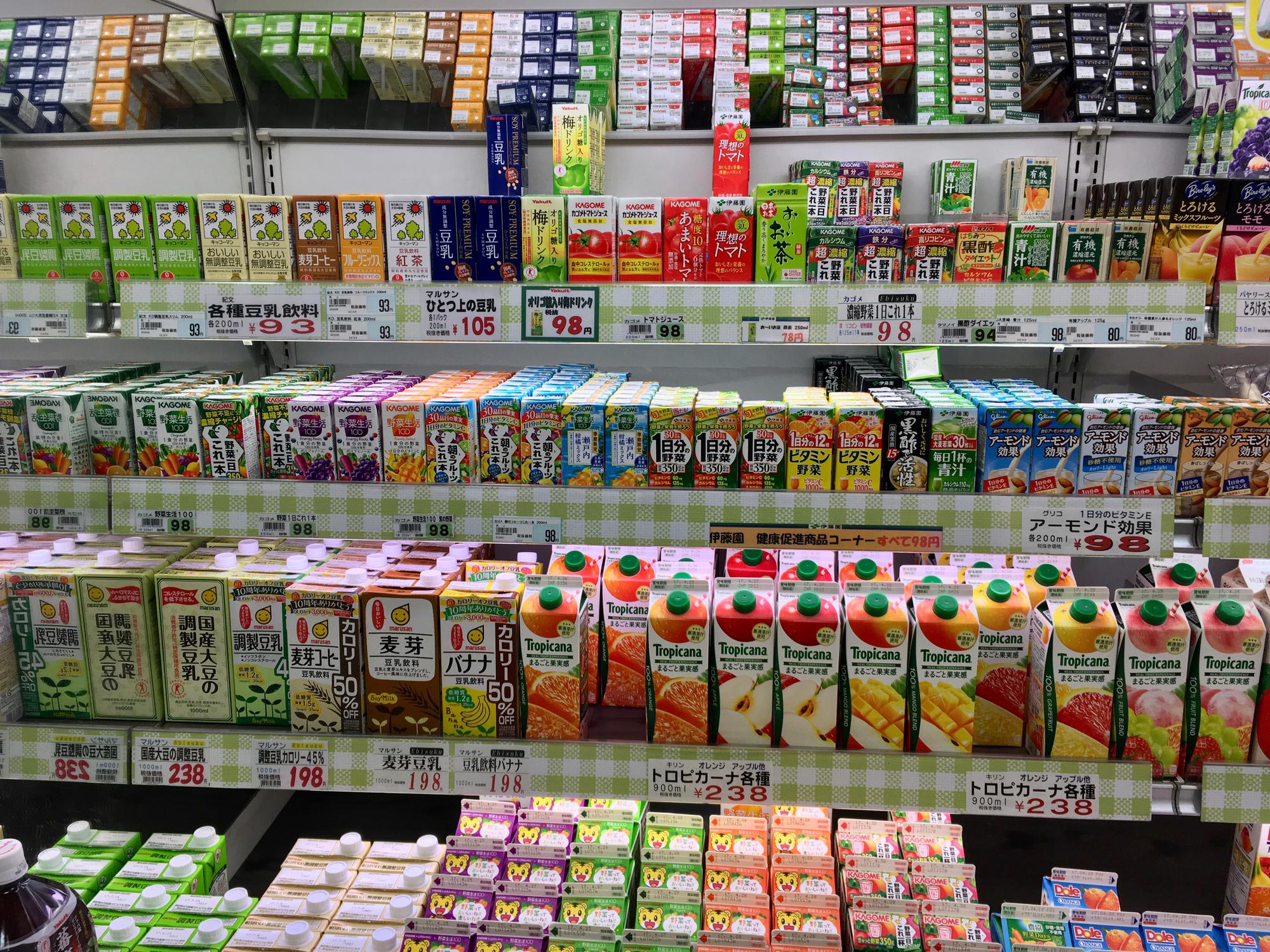 Night tower.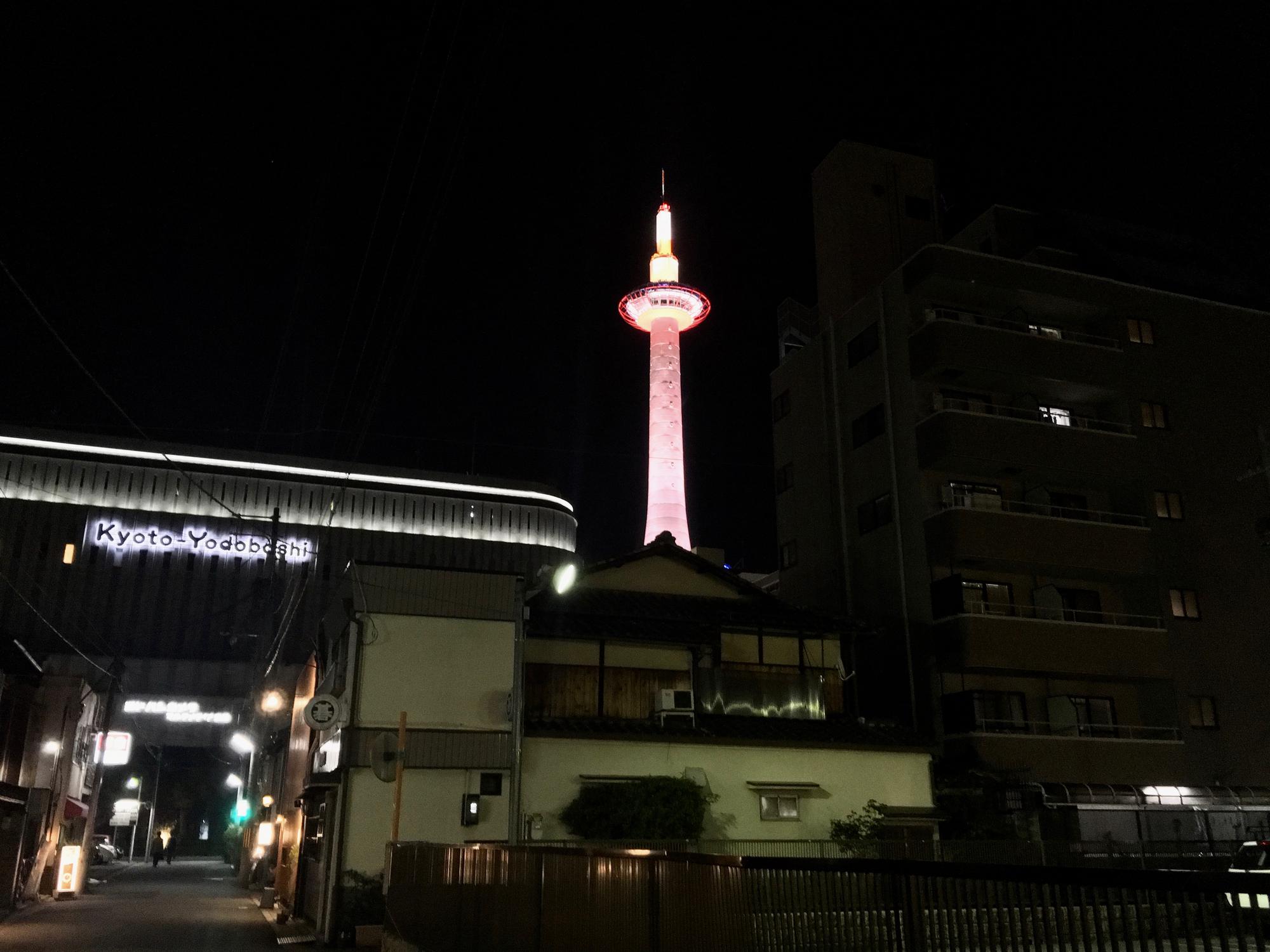 You need to open and close the doors by yourself in this train.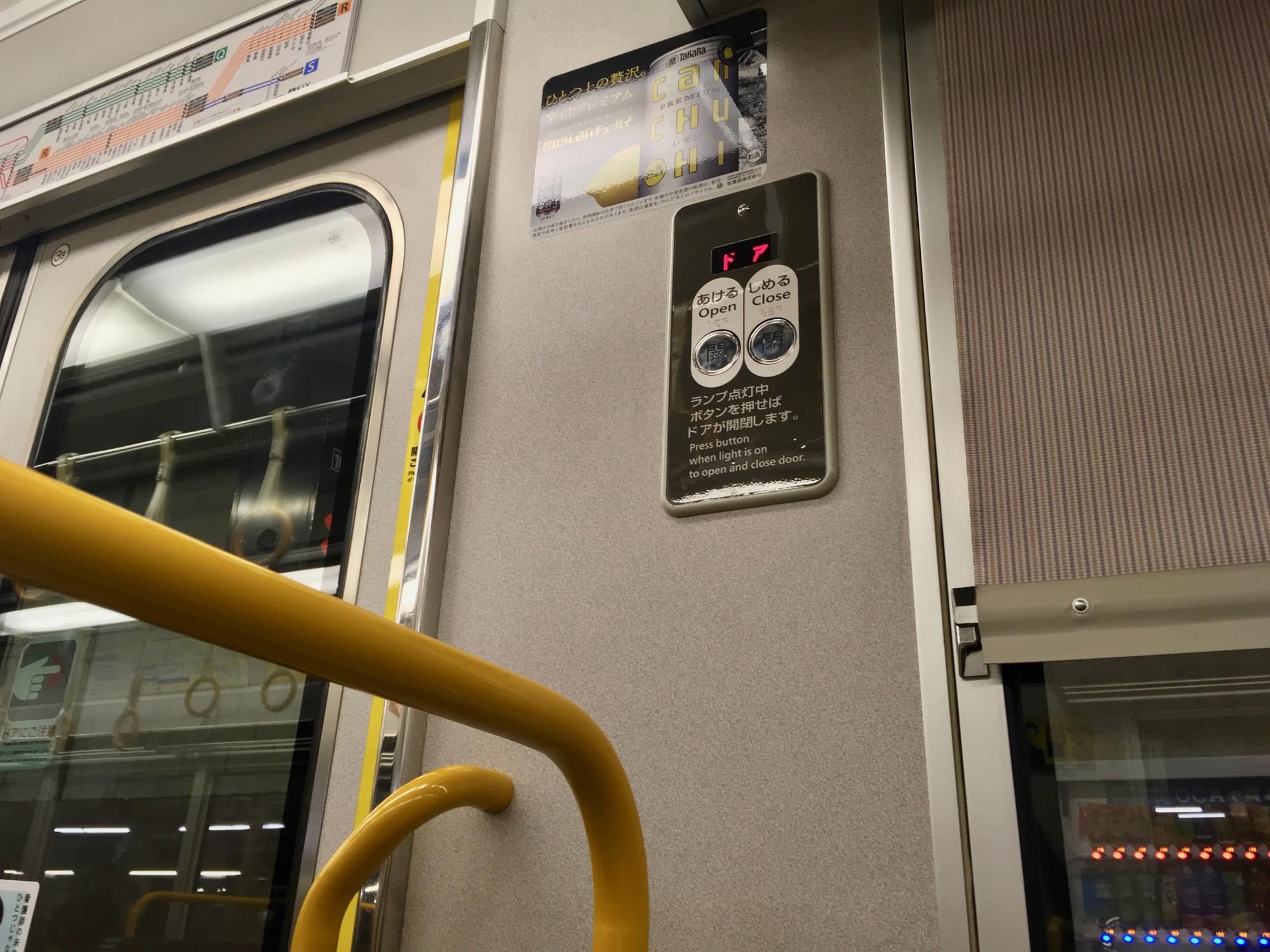 Japanese roofs.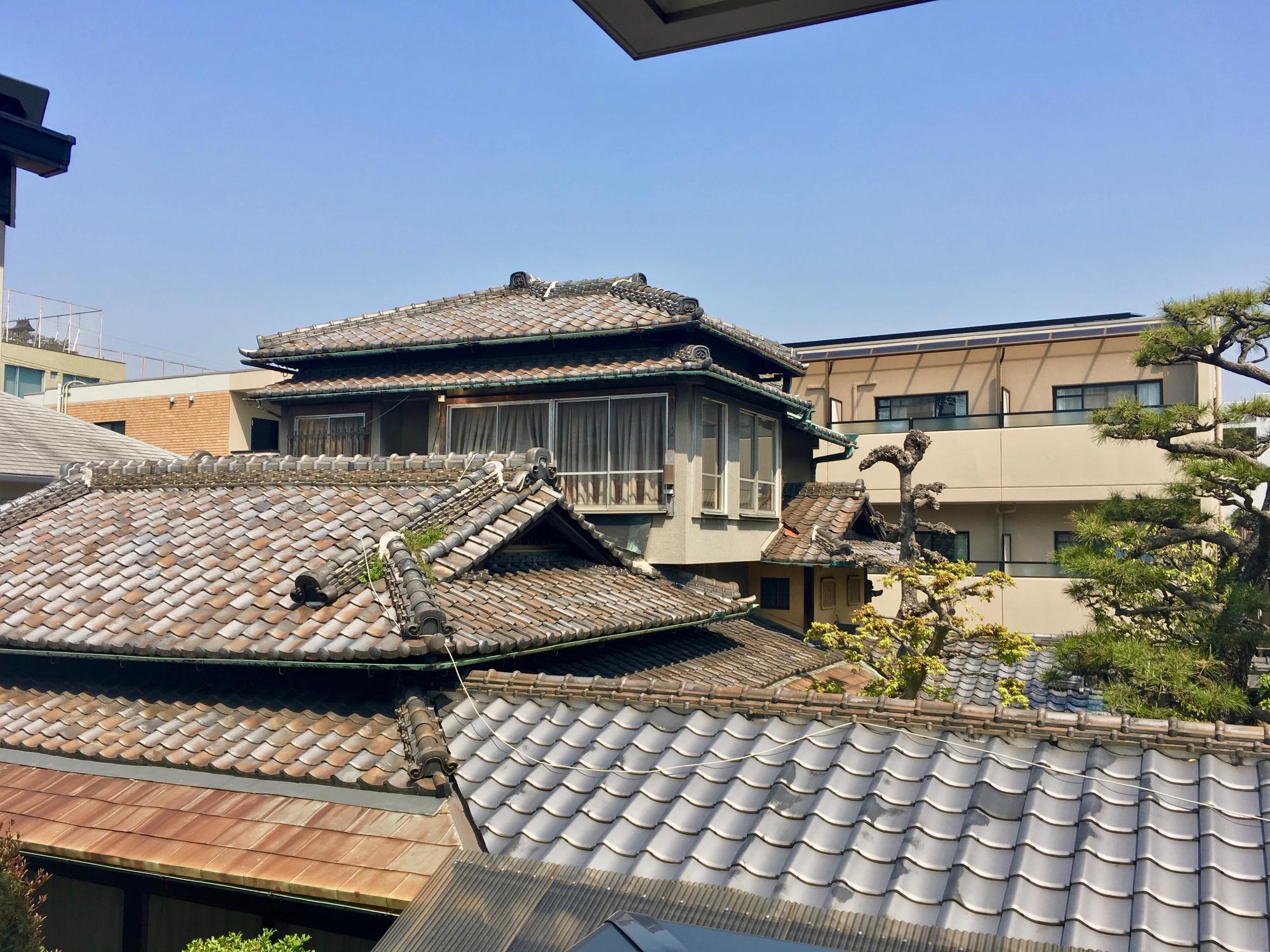 Smoking room.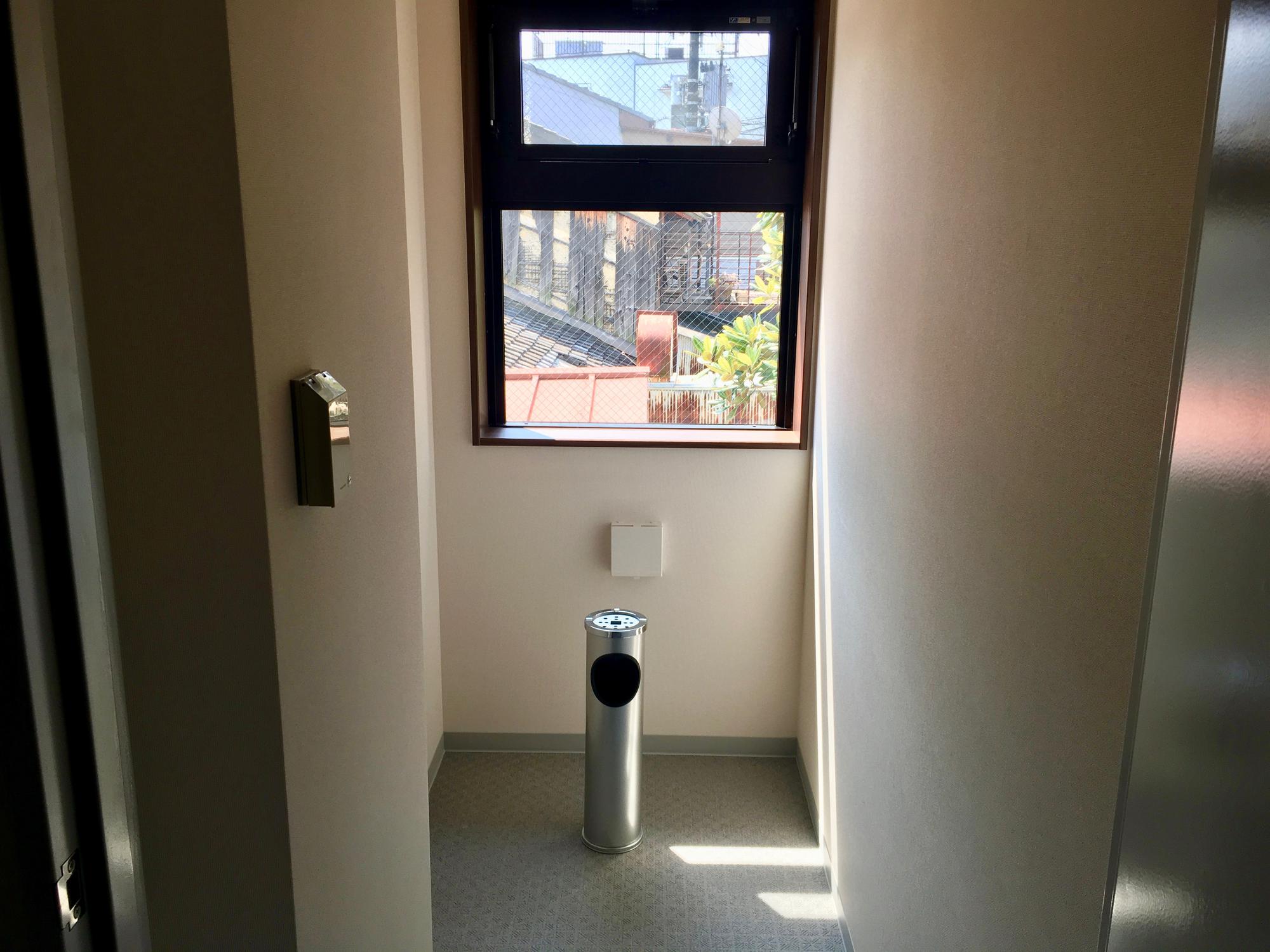 Gates at the station. JR Pass holders need to pass along the window.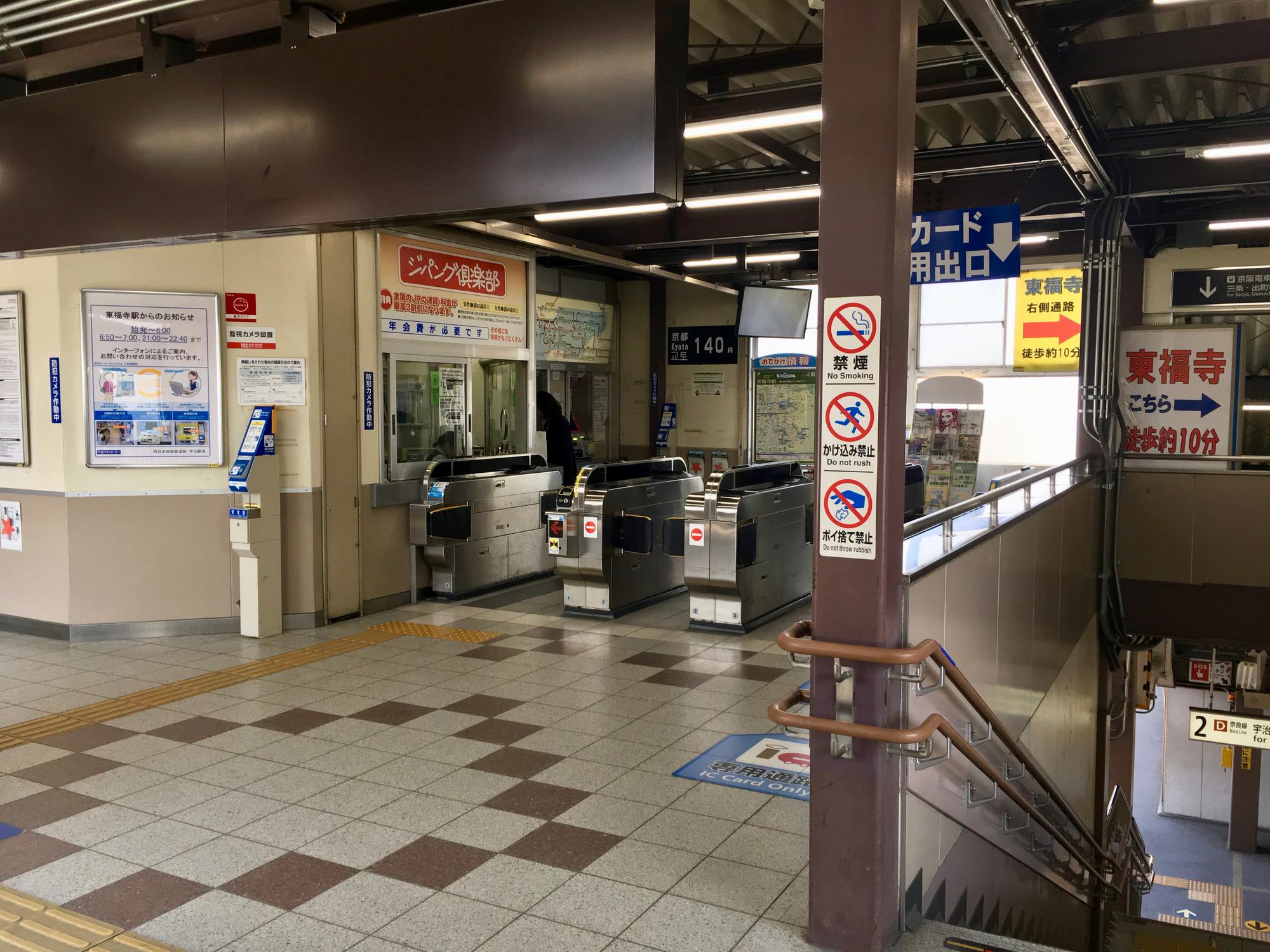 Most of the platforms are curved.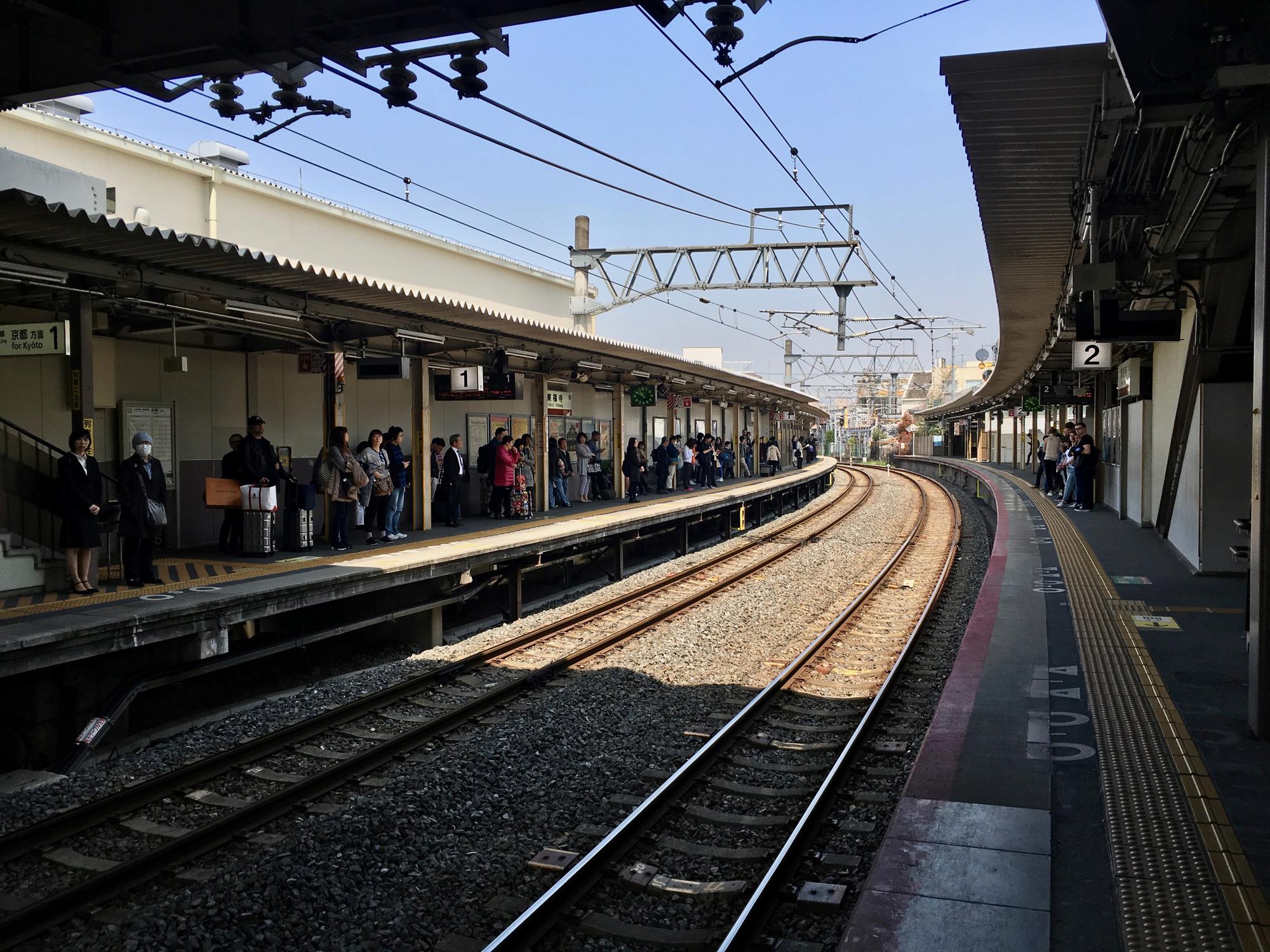 Ready to turn left.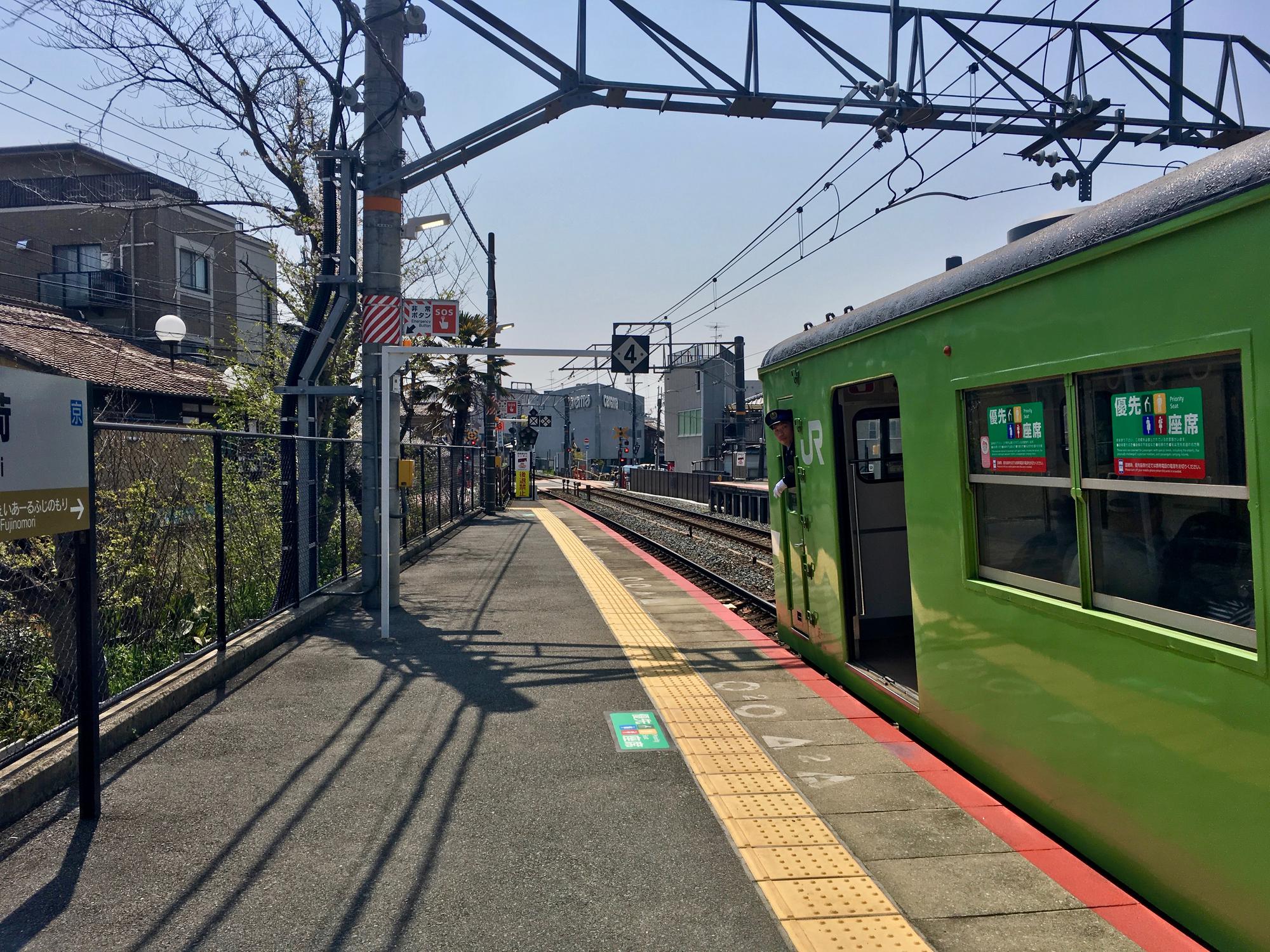 Postbox.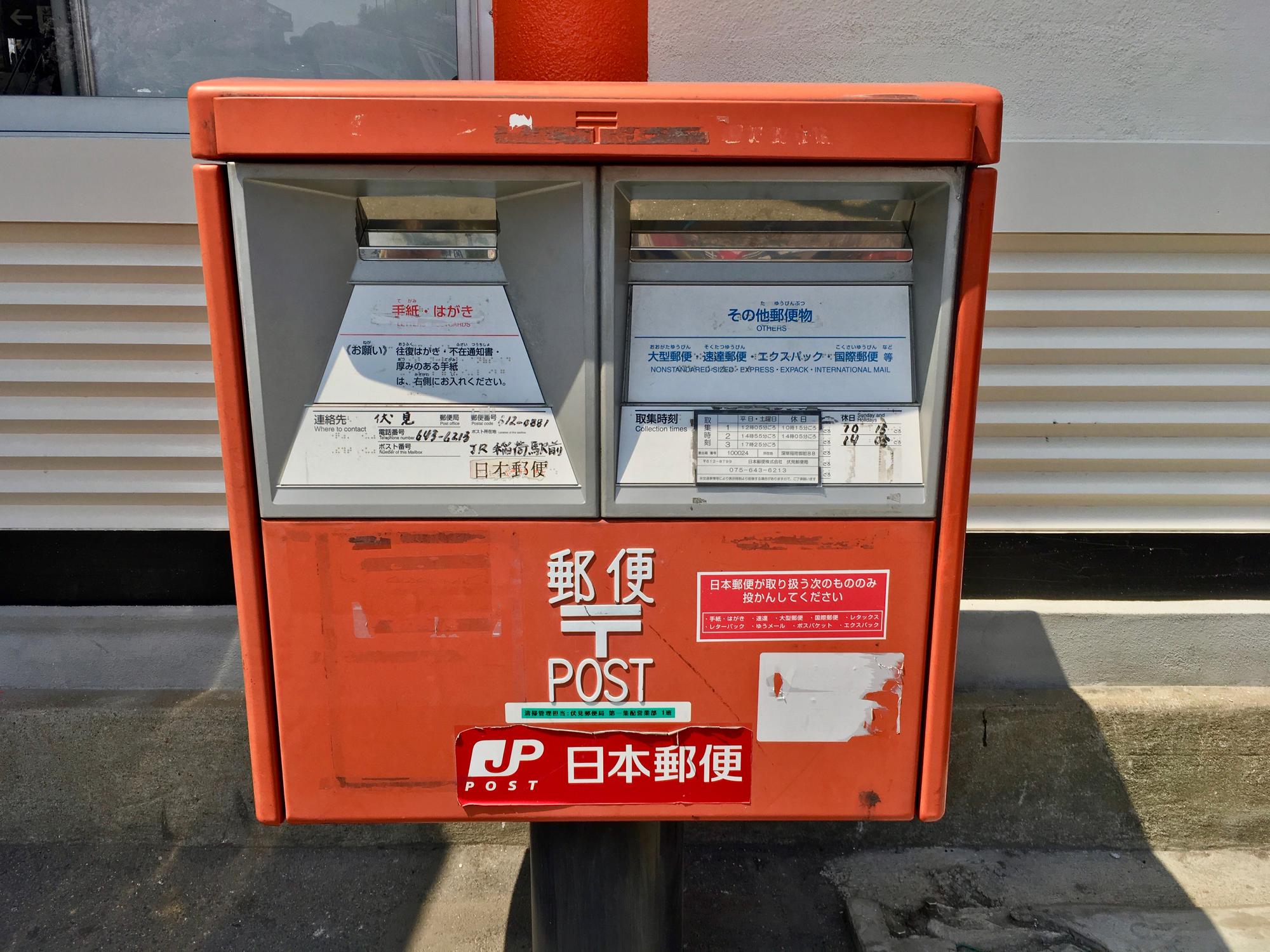 Automated external defibrillators are in many places. At the station.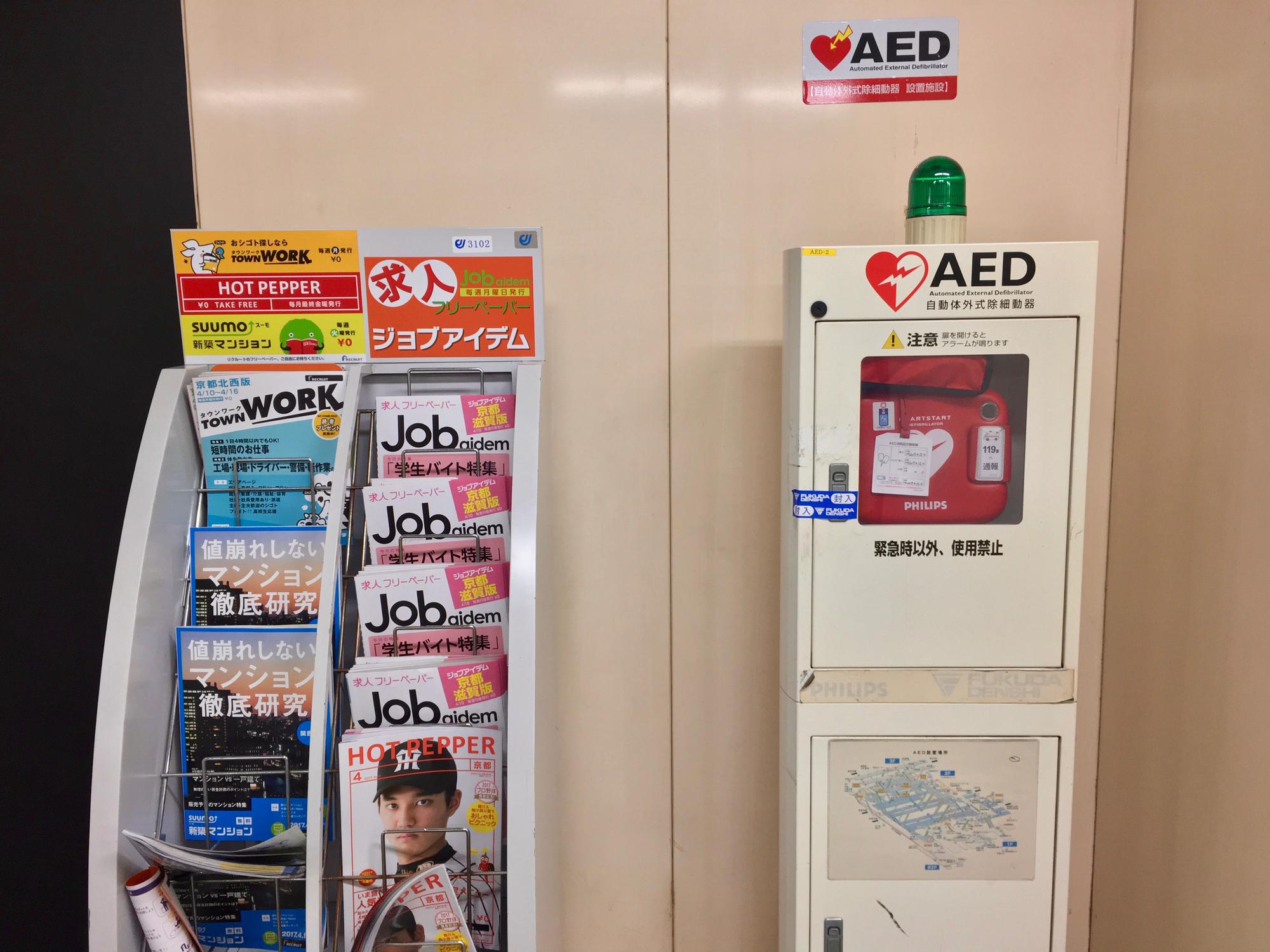 Or even in front of the house.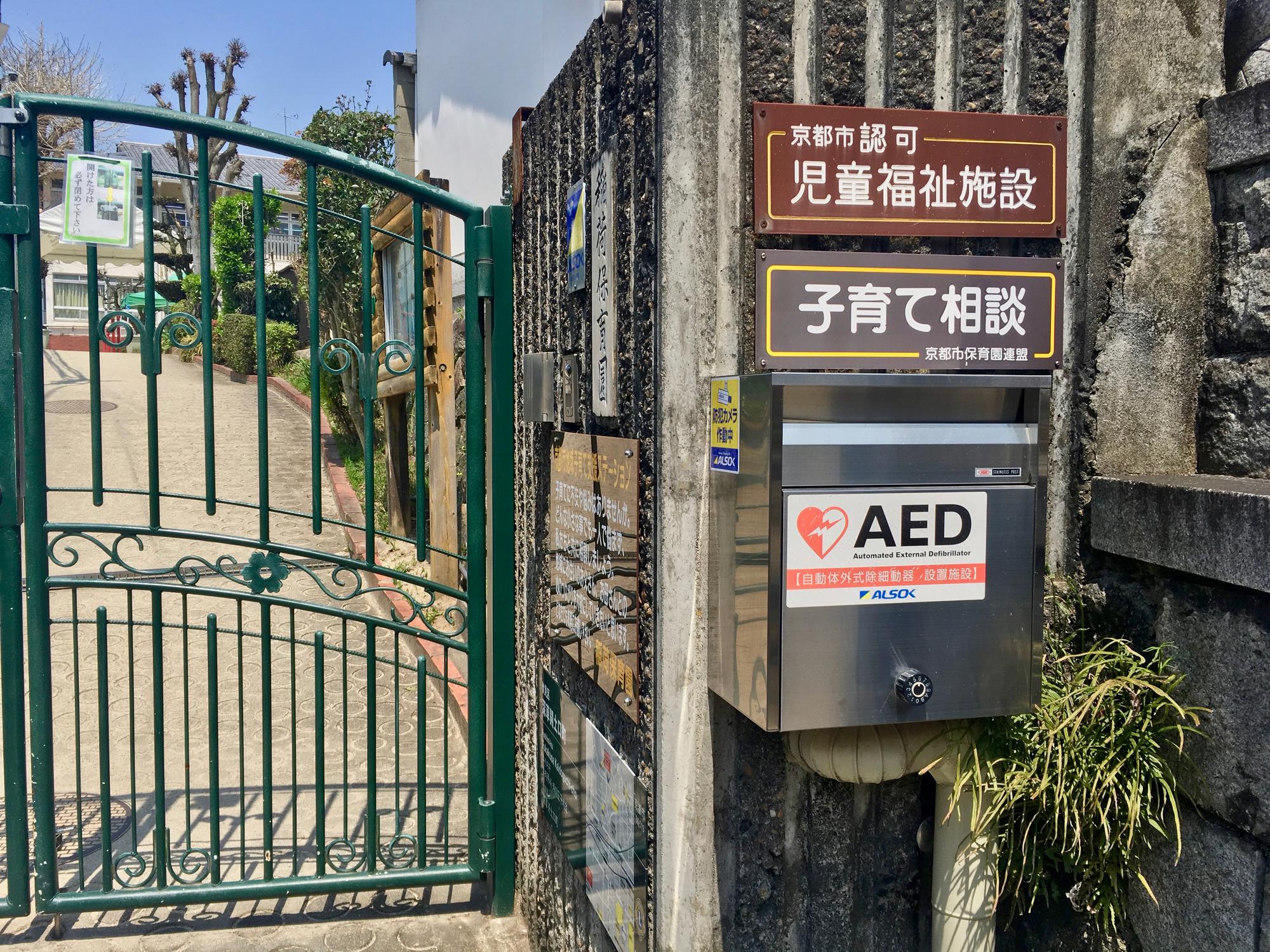 Navigation at the station. At first, I thought platform 0 on my ticket is a mistake and I would need to look my train up on the information board. But no, there is platform 0. It's Kanazawa direction.